Retro board games on the tables, a laid back pub location, a gorgeous heirloom vintage dress & yellow Vivienne Westwood shoes. What's not to love about Mike & Geraldine's Manchester wedding? Answer: Nothing.
The wedding was held at Manchester town hall and Odder Bar. The couple picked the pub location for it's quirky decor, laid back vibe and the ability to do anything they wanted with the space.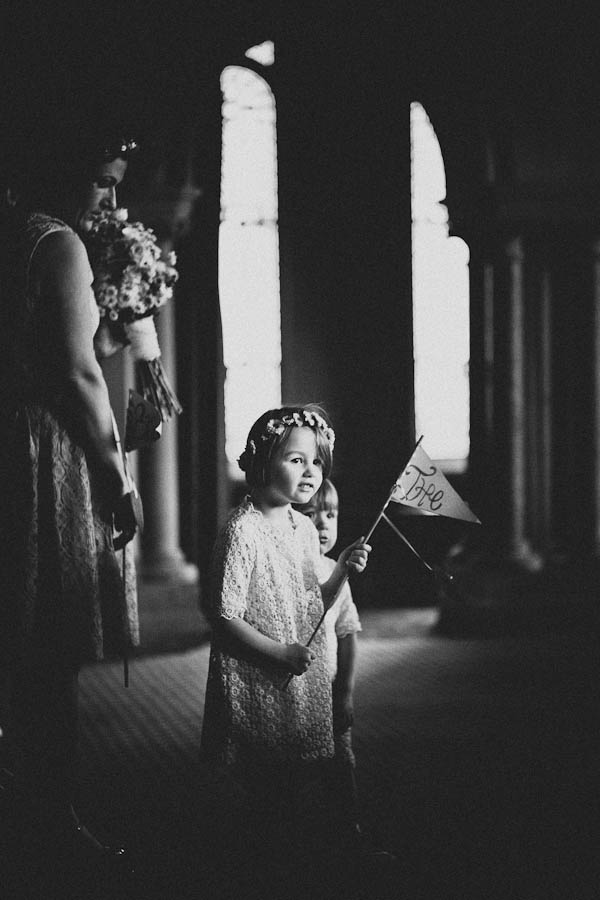 "I am one of those kind of girls that most people, especially organised list-making people, want to give a good shake to," Geraldine began with a giggle. "So just to bug people more I went and fell madly in love with Mr Practically Horizontal himself… Not being a planner means I jump out of bed, sling a few things together and then give people a mystified kind of look of gratitude when they compliment the finished look… And this is exactly what happened with our wedding as well."
"We've always loved the gothic beauty of Manchester Town Hall, even before a wedding was even on the cards for us, it was always going to be the venue that we had our ceremony in. However we had problems deciding on a reception venue. At the beginning we agreed on a barn and field in Glossop, but the couple who owned it ended up getting divorced and sold it so we were back to square one. We were sat in Odder bar one night and I realised just how comfortable we were there. It is so eccentrically decorated with walls of mirrors, butterflies and clocks so it just hit us that this would be perfect. They had never hosted a wedding before but gave us free run of the place and Dan, their head chef, organised an amazing mix of foods for our guests."
The couple also decided early on that they weren't going to spend a fortune or go into debt for just one day. They ended up spending just £6000 on the wedding. "Mike and I both knew that as much as we wanted to have an amazing day we didn't want to be in debt for years to pay for it," Geraldine continued. "We quickly decided on a budget and agreed on what we wanted to spend money on and what could go, such as awkward sit down meals and a huge expensive cake."
"I love looking at all the themed weddings on blogs and so it did cross my mind with our wedding taking place on the Jubilee weekend to go down the Great Brit route", she replied when I asked her about their wedding theme. "But when we sat down and discussed it, the only things that kept coming up were that we wanted people to be relaxed and have fun just like us, so we became the theme… and honestly, did the Queen really need another party in her honour that weekend?"
Another way the couple saved money was to DIY as much as possible. "I love making things myself so we had decided if there was anything that we could do ourselves then we would. It started with our invites which I designed and my dad then printed out on lovely brown card for us. He also made bus tickets and printed off some of our favourite poems and lyrics to be framed. I customised the kids Converse trainers by putting their names on the back in pearls and replacing the laces with ribbons. I also made flags out of Bamboo brown paper and ribbons for all the kids to wave and turned glass coffee jars into lace covered candy pots. My mum did any jobs needing sewing and my amazingly talented husband made a huge Victoria sponge and tons of cakes as did family and friends for our dessert table."
The bride's wedding dress was a family heirloom which belonging to her Grandmother. "My Granny B wore the same dress when she married my granddad in 1950 and I always knew that I would wear something vintage as that's what I like to wear in everyday life. This dress was just so darn special and it fitted beautifully after a slight alteration. Sadly my Grandad passed away in April but my Grandma's face seeing me in her dress was so lovely it felt right to have still worn it. It made the day a little more special."
"We had the most amazing stress free day it was everything we both wanted", Geraldine concluded. "Yeah there were no lists, it wasn't planned to the exact detail, I completely forgot about cake toppers and knives BUT everyone went home with their bellies full and hearts content. I am so bloody proud of everyone that contributed and joined us for ignoring the ideals of what a wedding should be and embracing what it can."
So friggin' gorgeous. I love this wedding so much! Huge love and thanks to Mike & Geraldine and their wedding photographers James + Lianne for sharing these today.