Today's gorgeous DIY tutorial was sent over by wedding planner and stylist Tiffany Grant-Riley. I think these would look amazing as a ceremony backdrop or to hang from your wedding venue's ceiling. In fact the possibilities are endless which is why you need to go buy some pretty coloured paper like, now!
Over to you Tiffany…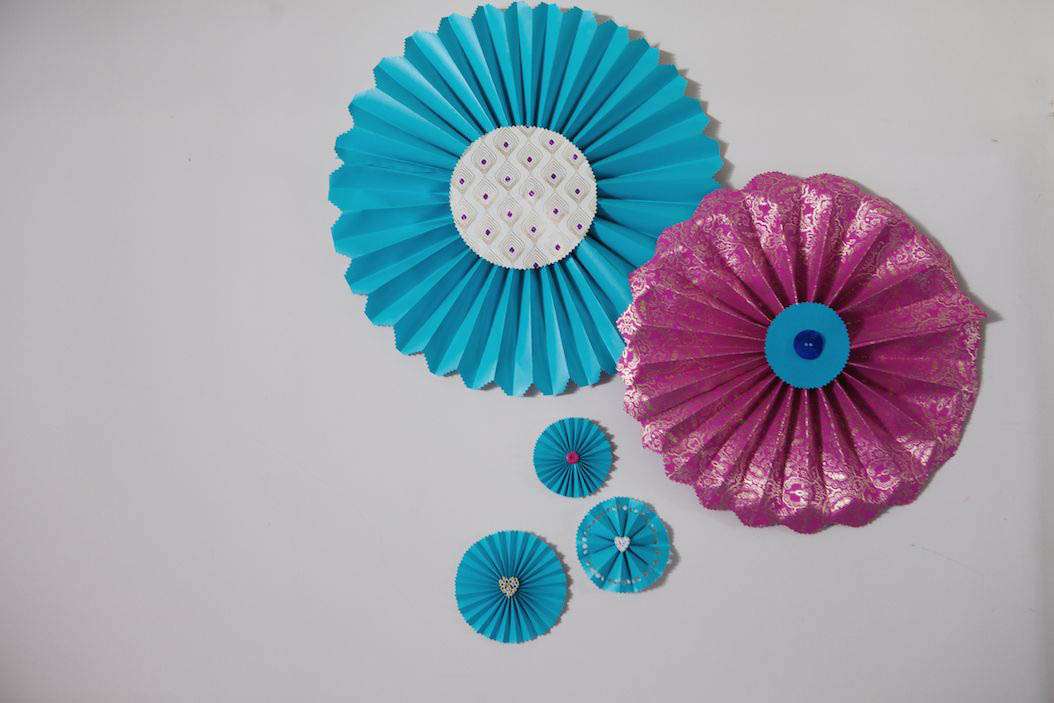 It's pretty difficult to escape paper decorations at the moment, they're a top trend and rightfully so! They add an instant splash of colour and can transform any blank canvas into an extra special space.
These paper fans look fantastic when grouped en-masse and used as a backdrop for your ceremony or photo-booth and I have them in varying sizes as a feature wall in my home. Here's how to make your own…
Supplies Needed
♥ A roll(s) of wrapping paper or some special handmade paper sheets
♥ Buttons
♥ A craft knife
♥ Pinking sheers for paper
♥ A pencil
♥ A ruler
♥ A glue gun
♥ Cutting board
♥ A selection of buttons
♥ A hole punch
♥ Blu Tack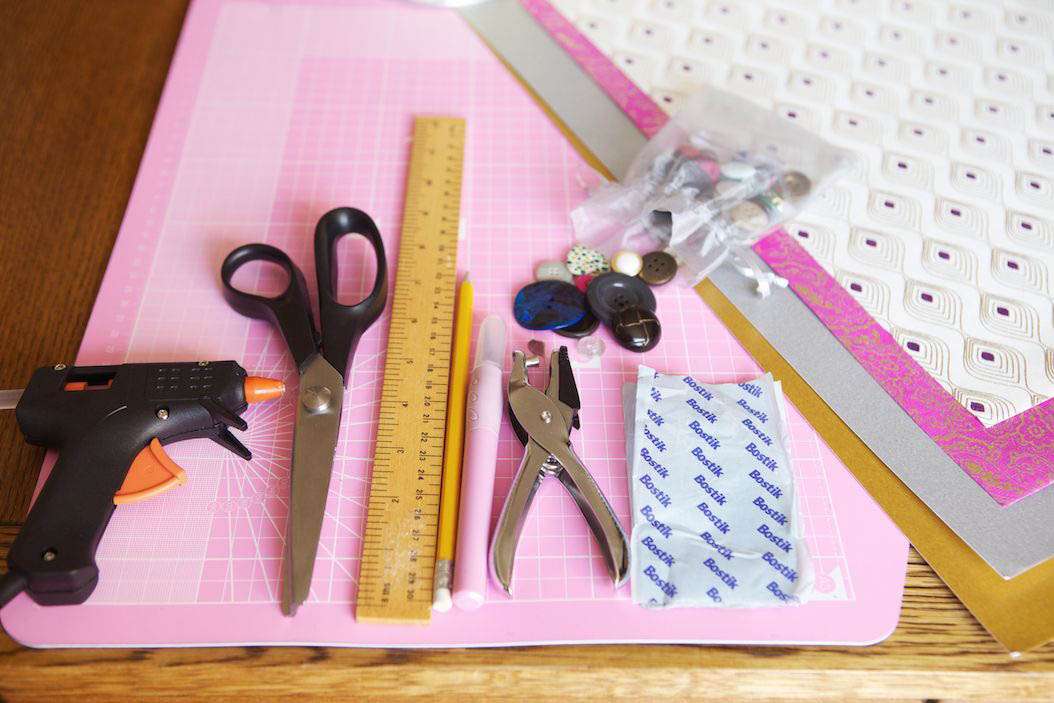 Size Guide
It may take you a little bit of practice to get them right, so it would be wise to play with some standard paper to start with. Essentially you need to make sure you have enough length as the wider the fan the longer it'll need to be (all will become clear later on).
2" wide = approx 10" long
3" wide = approx 15" long
9" wide = approx 60" long
10" wide = approx 70" long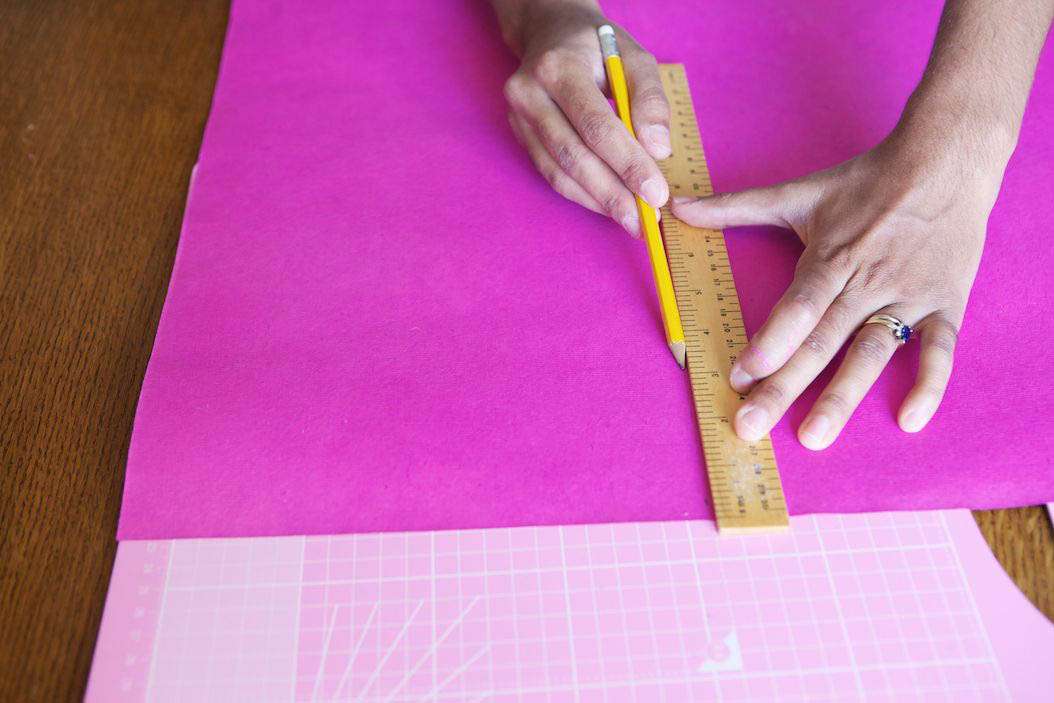 Method
Step One: Choose the size of fan you'd like to make and measure the width on the back of the paper. Cut your paper to the length and width required (you may need to cut several lengths for a larger fan).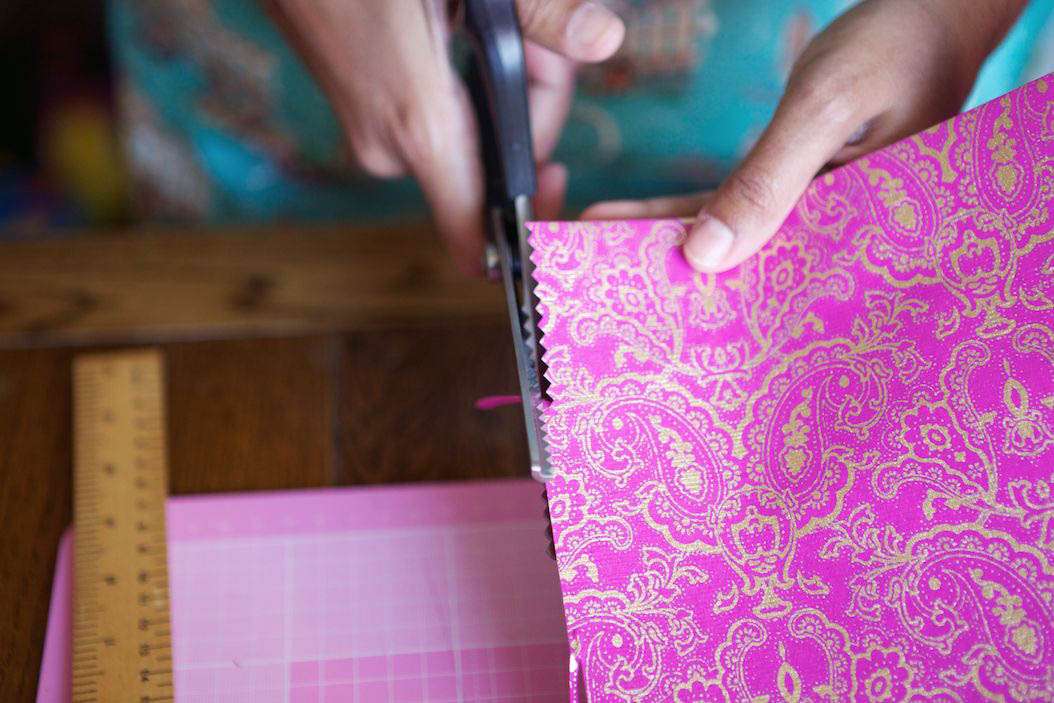 Step Two: Crimp the length of your paper along the outside with your pinking sheers-this will allow the paper to yield to the tension when you press it flat. Then measure one inch strips along the width of the back of the paper-these will become your folds. Take your craft knife and gently score along the lines being careful not to cut through the paper and fold them in a concertina.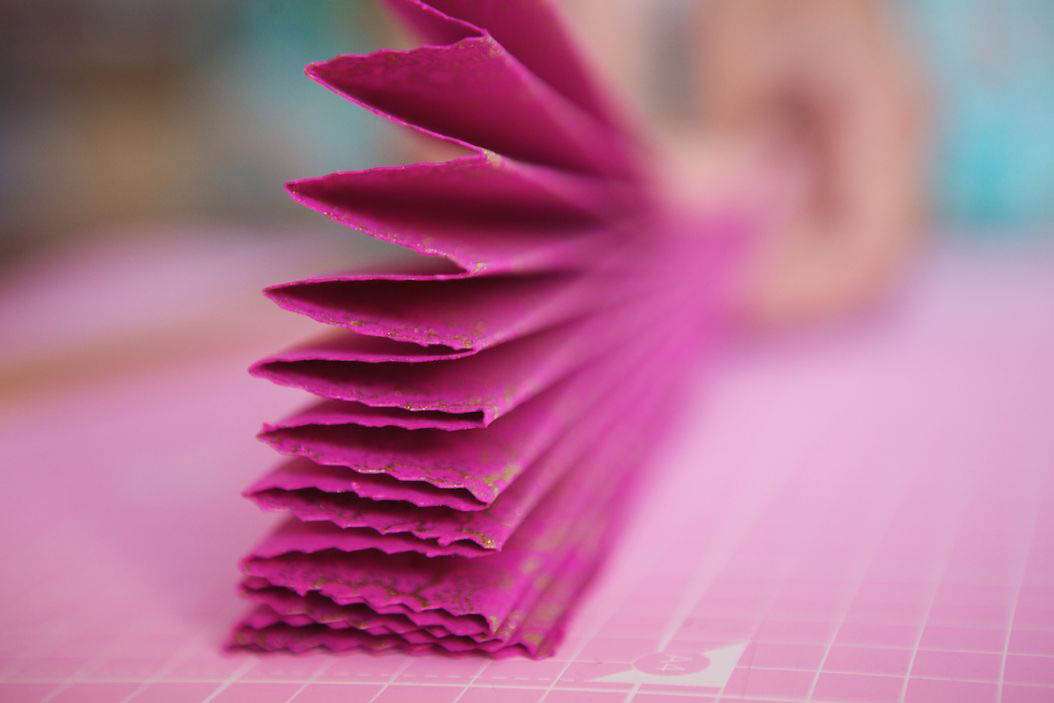 Step Three: Glue both width ends of your paper together, or attach your remaining lengths depending on the size of your fan with your glue gun (you could use a strong glue held with clothes pegs as an alternative). If you're using patterned paper this should be on the inside. You should now have a tube.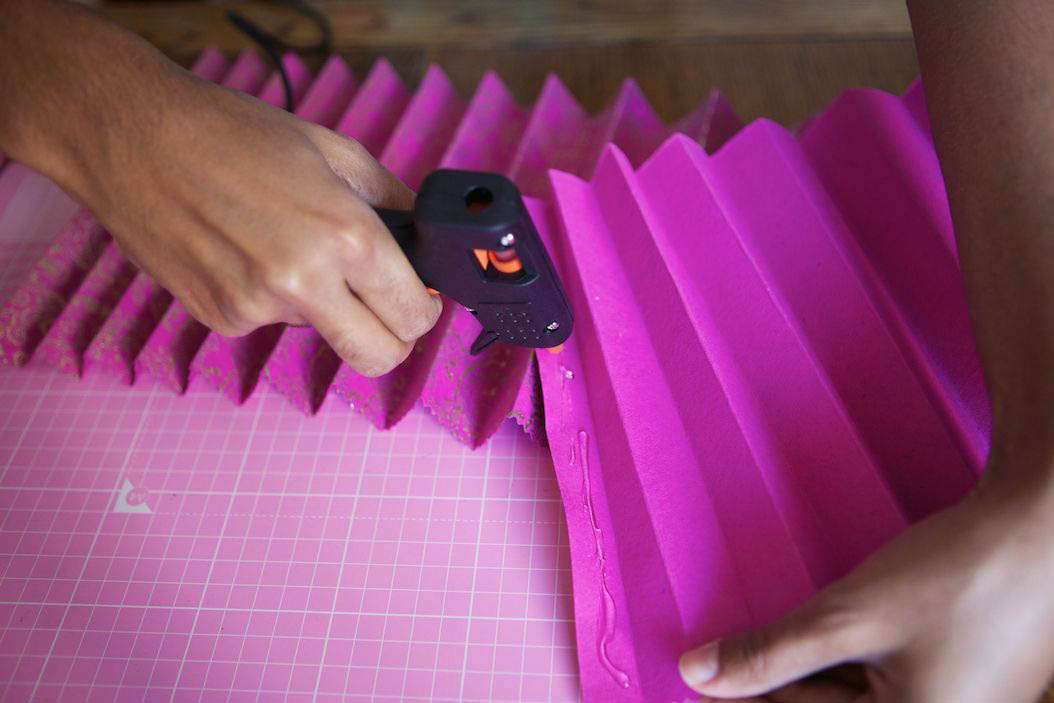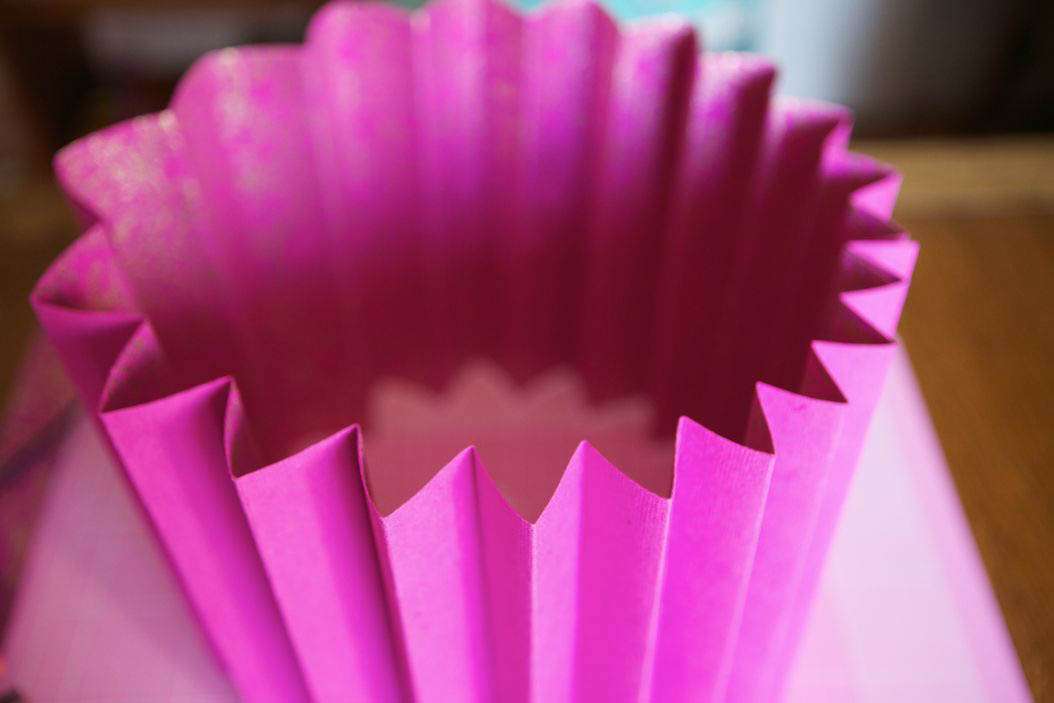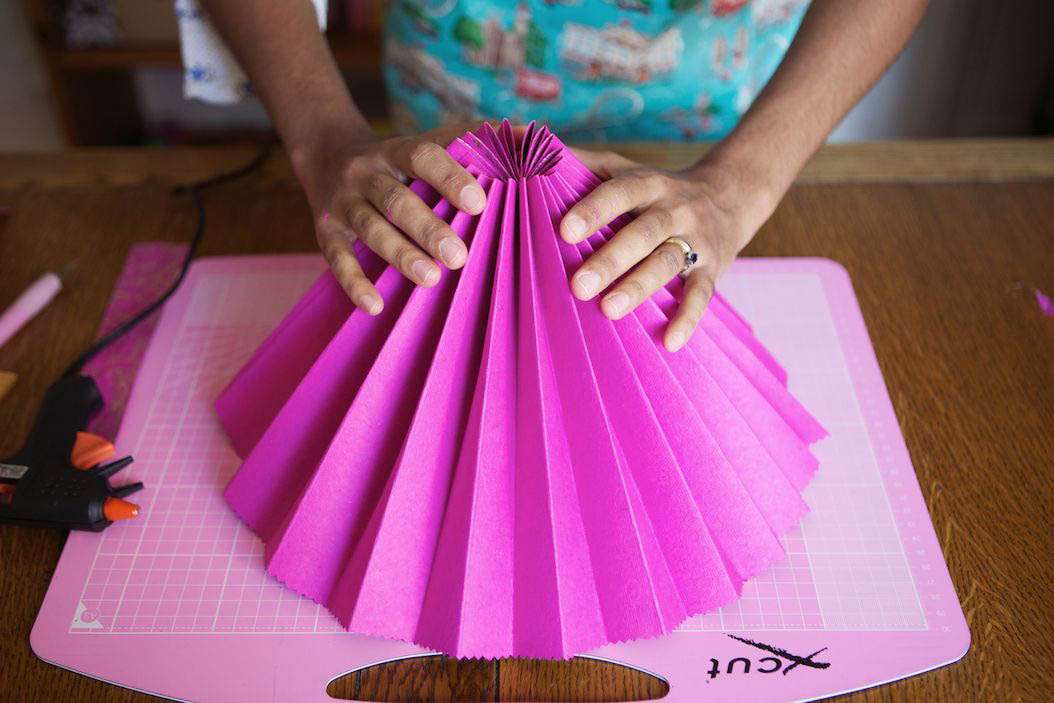 Step Four: Once the glue has dried, gather the centre of the tube together and gently push down until the tube splays out flat.  If it's not yielding to the pressure and tearing, you either need to crimp the edges a little more (try cutting semi-circles over each fold) or add a little more length to it.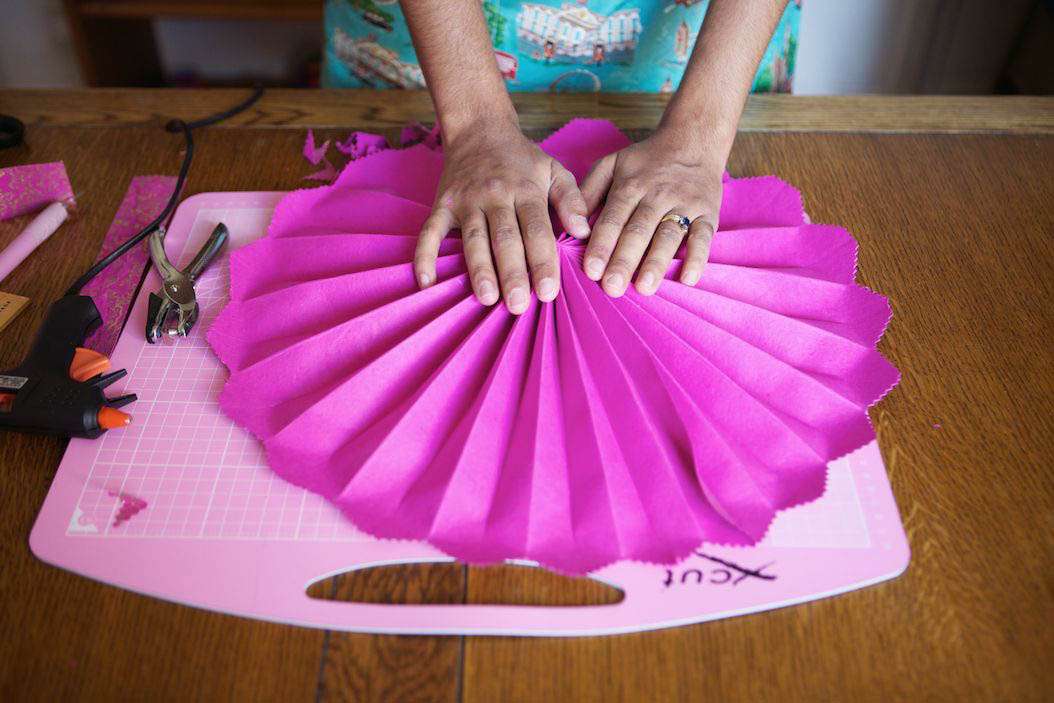 Step Five: Glue it closed and hold it until the glue dries (you can sit an upturned bowl on the top to weigh it down). Meanwhile, you can decide on what you'd like for the centre of your fan. I've chosen a mixture of buttons and paper. I used an ordinary drinking glass as a template for the paper centres.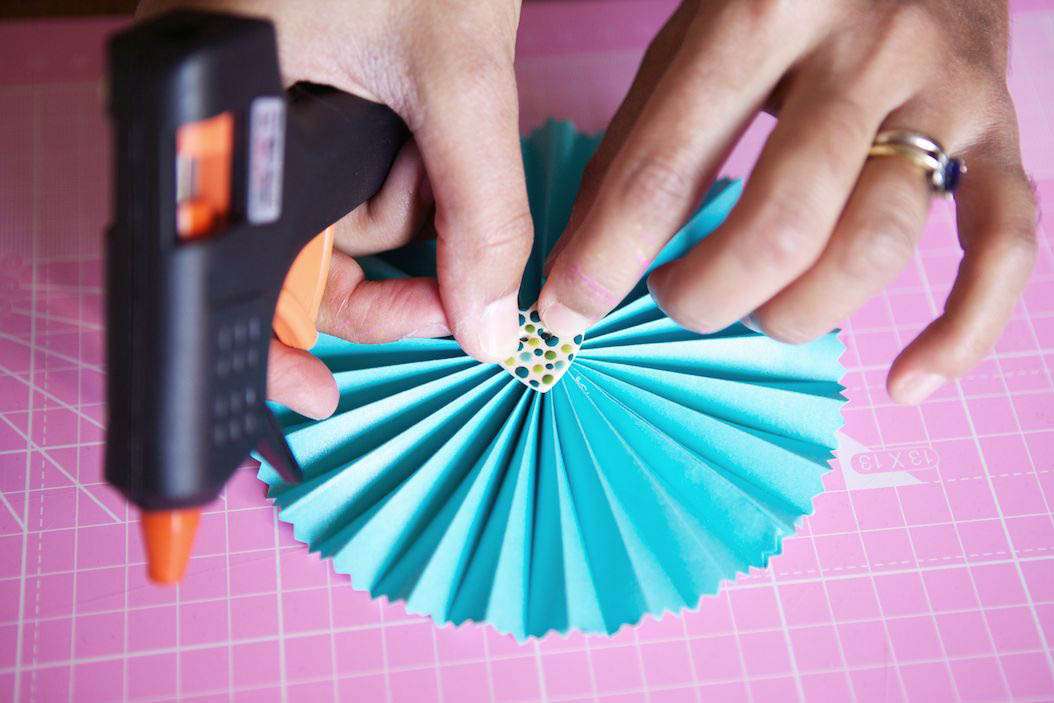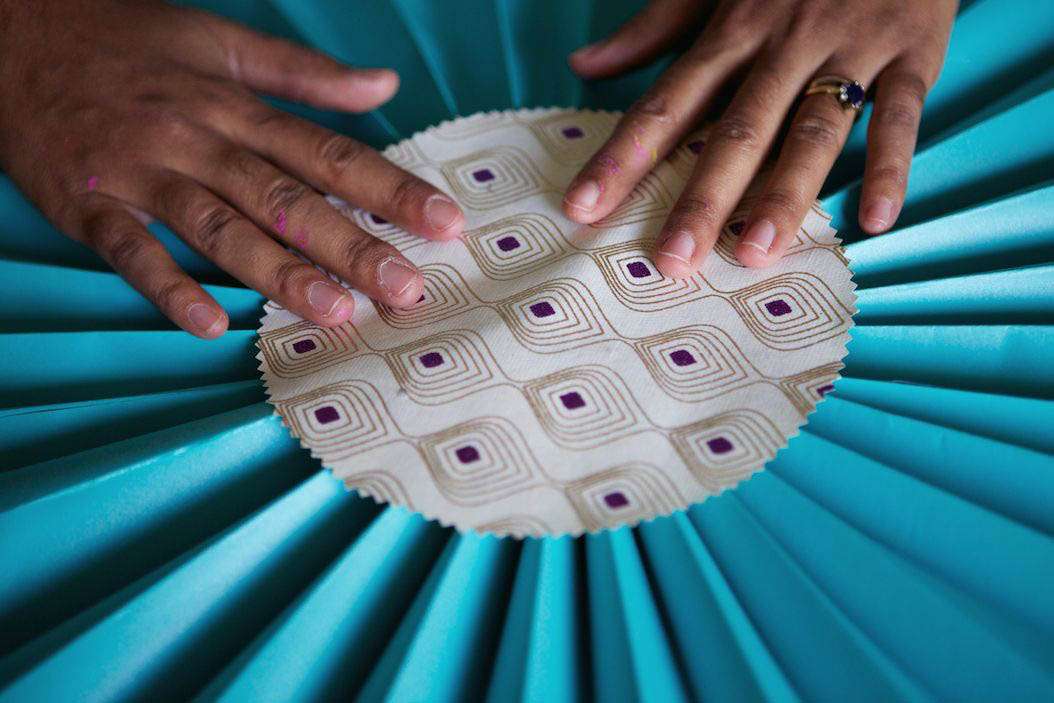 You'll need to add a paper disc to the back of your fan to give it some stability. Glue your centrepiece down and voila! you have your very own paper fan!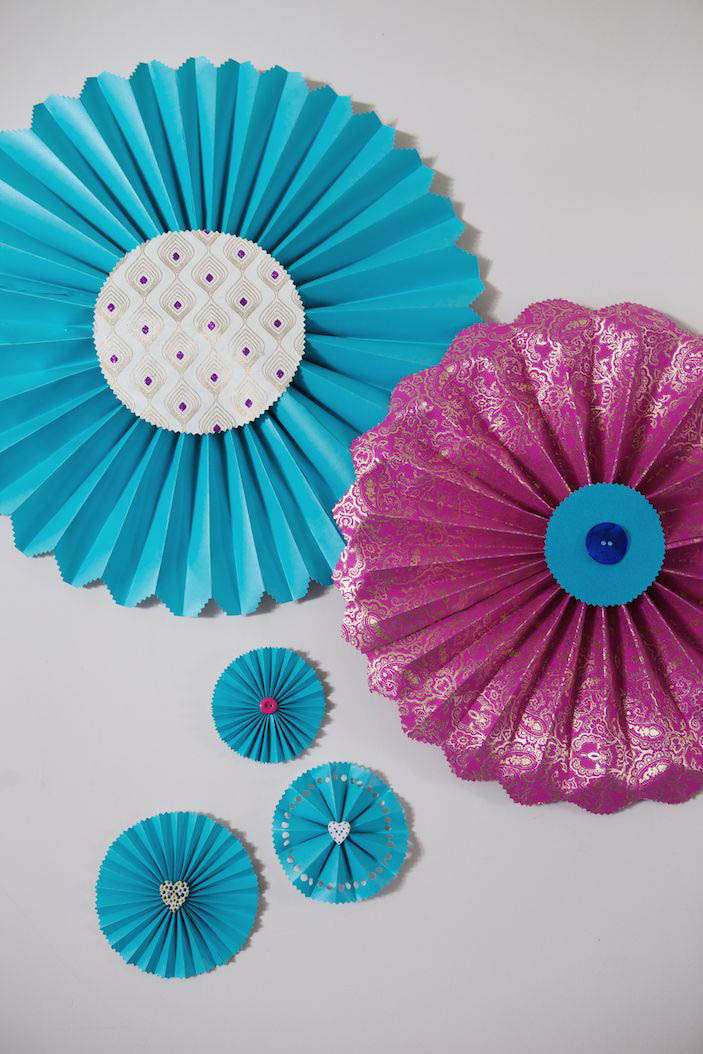 All Photography Credit: Devlin Photos