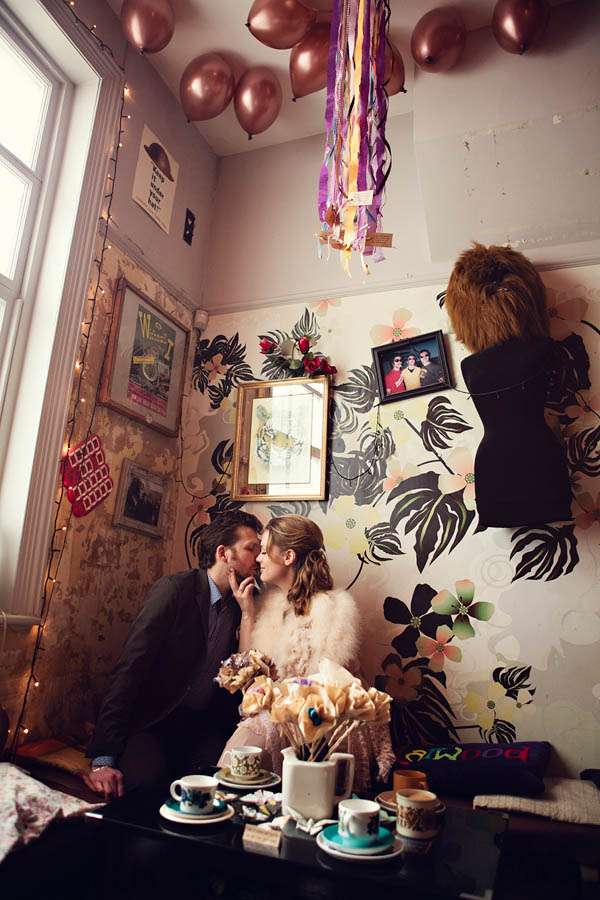 Being wedding photographers themselves, Penny & Martin wanted to have a wedding that was completely personal to them. With an intimate ceremony in the Scottish highlands and a quirky reception in a Brighton coffee shop, they achieve this in spades!
They had always wanted to get married outside and as this is currently still not legal in England they traveled all the way from Brighton to Scotland for their intimate (just the two of them!) ceremony at Kingairloch Highland Estate. "We wanted to be married somewhere beautiful, dramatic and remote – somewhere that was just ours!" Penny told me. "We got some recommendations from a friend who knows the highlands well, and fell in love with Kingairloch when we saw the photos. We hadn't visited the estate beforehand, so we spent our first day at the cottage exploring its stunning surroundings, and found the perfect little spot for our ceremony."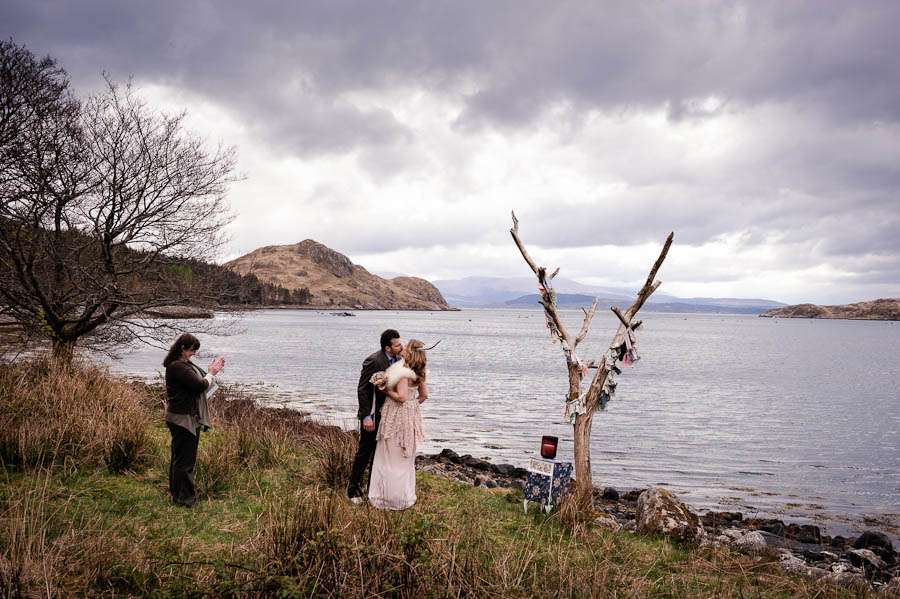 "We wanted to have an outdoor ceremony which isn't legal in England. We had considered doing the legal bit in our jeans the day before putting on the main ceremony for our friends and family, perhaps in the woods, but we were uncomfortable with the idea of already being married. Scotland (and most of the rest of the world) is more relaxed on their marriage laws so we would be able to have a legally recognised, humanist ceremony wherever we liked… and well, the Scottish highlands are stunning! We were really concerned that our nerves would overpower all other emotions on the day if we were to stand up in front of an audience, so we made the decision to have our little ceremony all to ourselves."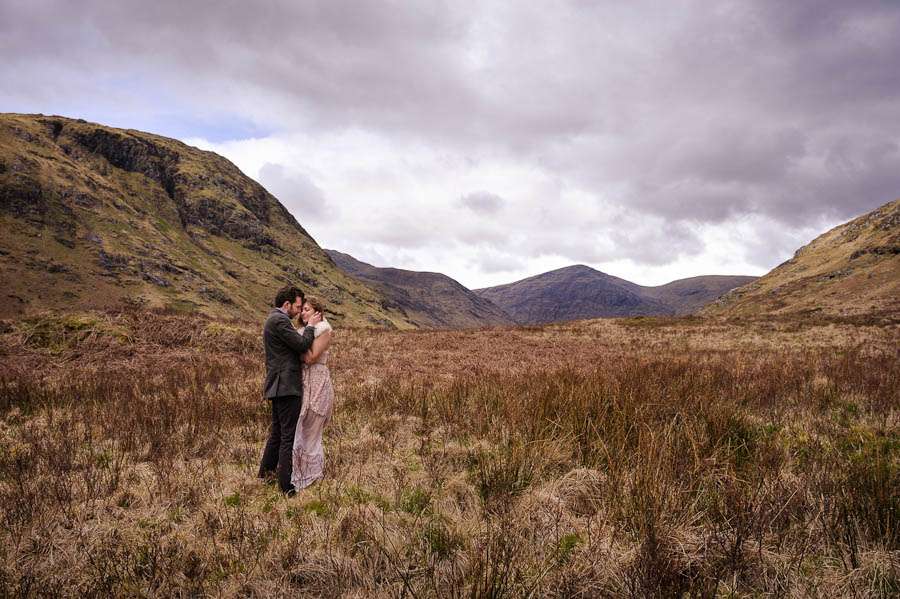 For the photographs they set up their own cameras to photograph the ceremony on a timer. "We just loved the idea of having our own little photo project and actually the photographs mean so much more knowing that we took them ourselves!" Penny continued. "Martin was super-clever in how he organised all the cameras on tripods hiding in every available patch of long grass, set to take photos every second during the ceremony and every few seconds during the 'couple shots'! We have loads of pics of Martin running into the frame, bounding over rocks and streams!" They even shot a video (which neither of them had ever done before!) themselves which they then played to their guests at the reception. You can watch it here. "It was so wonderful to share the wedding video with our friends and family at the reception, watching their reactions- laughter and tears, all of which we would have missed had we been at the front worrying about getting our lines right!"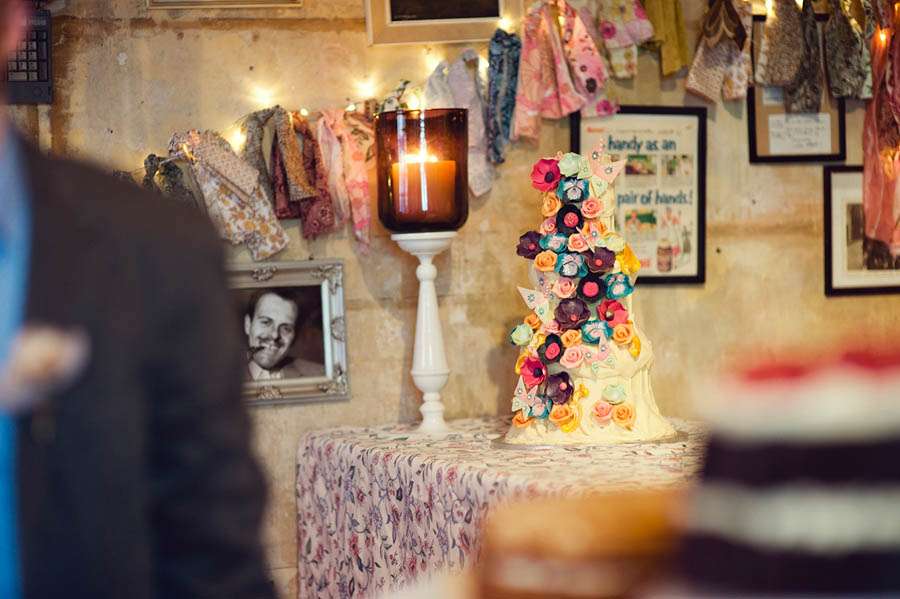 On returning to Brighton, the couple wanted a big party to celebrate with their friends and family. They chose the quirky Marwood Coffee Shop for its relaxed atmosphere. "We really didn't want anything formal and we wanted it to be memorably quirky! The Marwood with their extensive collection of awesome tat combined with skip-dived furniture and peeling walls was perfect! Plus it isn't actually a designated wedding venue so it was unique to us. Most importantly, they serve kick arse coffee and life changing cake!"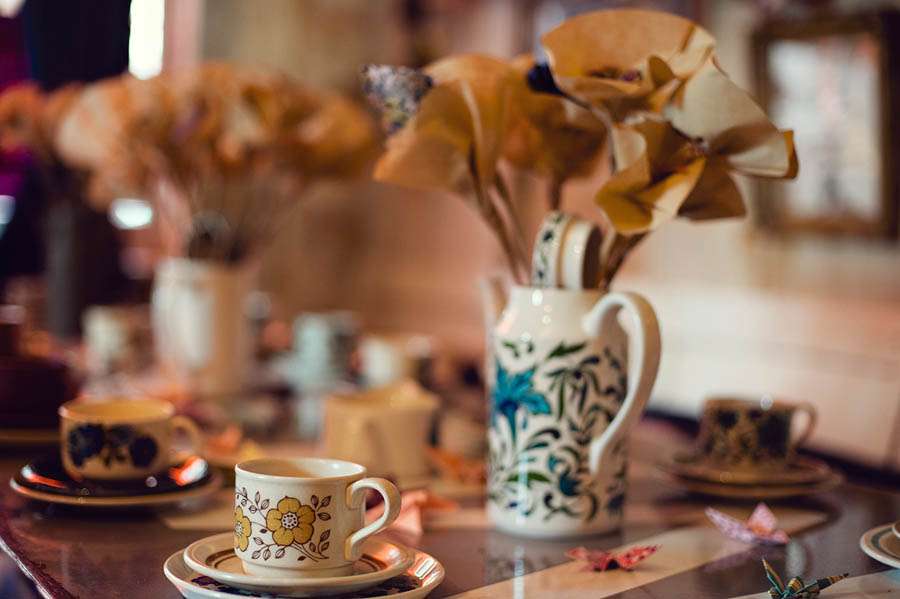 The venue didn't need much decorating but the couple added a few DIY elements to personalise the space. These included paper flowers, a Choccywoccydoodah cake and twinkly light fabric garlands made from strips of reclaimed fabric (which they'd also brought to Scotland with them and tied it to a tree for their ceremony backdrop!)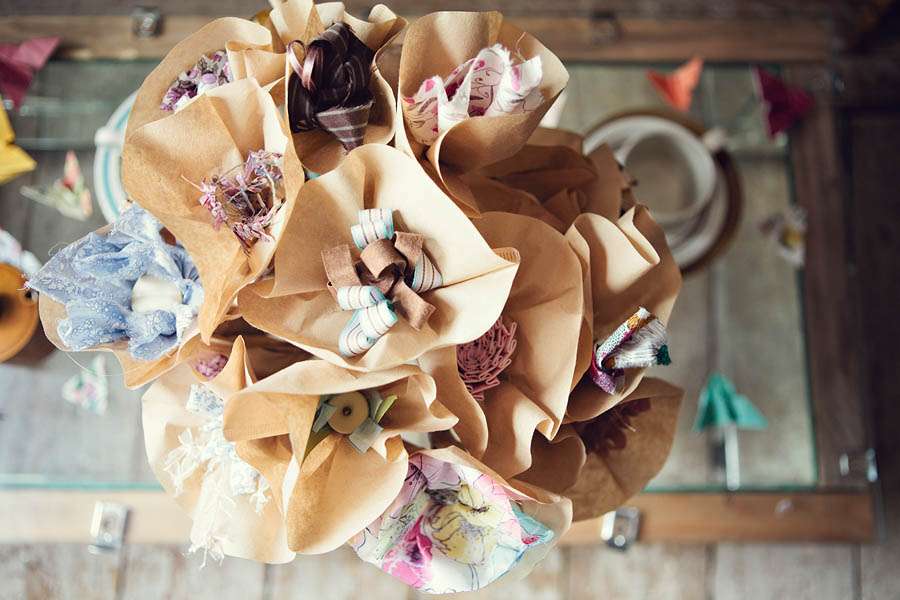 "We also pegged little 'wishes' on ribbons tied to embroidery hoops and hung from the ceiling," the bride explained. "On one side they read 'It is usually customary for the guests to grant wishes for the bride and groom – we are turning that on it's head! Pick a wish and keep it safe' and the other had little wishes such as 'find a pot of gold', 'find someone who makes your toes curl' and 'be visited by the stork'!"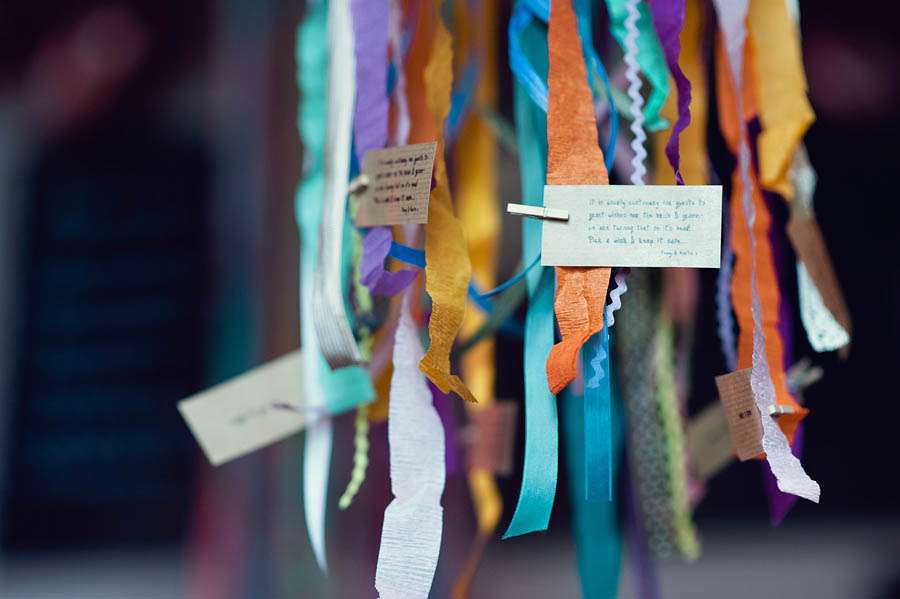 Just like the venue, Penny wanted her wedding dress to be unique and to scream 'her'. She found her perfect designer, Armour sans Anguish, on etsy. "I wanted something that was mine, a one off, designed for just me! I was gathering inspiration on etsy and toying with the idea of designing my own, when I came across the wonderfully talented Tawny from Armour sans Anguish who uses reclaimed fabric (girl after my own heart) to create one-of-a-kind garments to order. It was a bit of a risk ordering a dress for a designer in California without having any fittings or even seeing the colour of the fabrics in person (photos can be rather deceptive)! However it really paid off. A few tweaks from a local seamstress and it was just perfect!"
Are you as lost for words as I am!? Penny & Martin, huge congratulations on your wedding. It, and you, are totally gorgeous! Thank you to much for sharing it with us today. Also big love to the amazing Eliza Claire who shot their reception. Beeeeautiful!
Supporting Cast:
Photography Credit: Tino & Pip Photography (Scottish ceremony) and Eliza Claire Photography (Brighton reception)
Ceremony Venue: Kingairloch Highland Estate, Scotland
Reception Venue: The Marwood Coffee Shop, Brighton
Bride's Dress: Armour sans Anguish on etsy
Bride's Ceremony Shoes: Dizzy stiletto welly ankle boots from Treds in Eastbourne
Bride's Reception Shoes: Belle Luxe Couture
Bride's Headpiece: Circus Kinetica in Snoopers Attic, Brighton
Bags: Lupi-Lu (Bride's Mum)
Groom's Outfit: BN21 Designs
Cake: Choccywoccydoodah
Paper Flowers: DIY
Fresh Flowers (in drinks!): Freedom Flowers
Band: Friends
Hair & Make Up: Claire Wallace
Catering: Fish n Chips from Bankers, Brighton