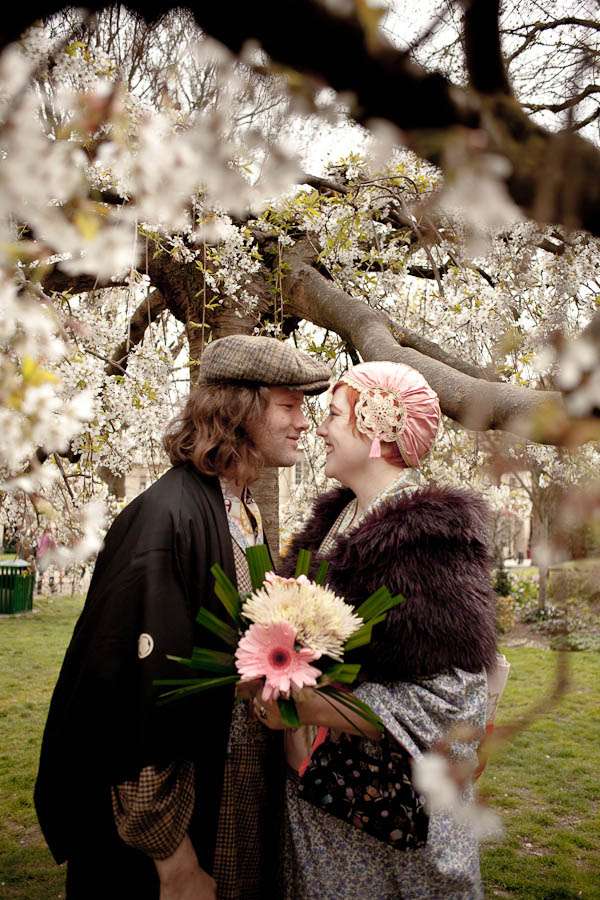 Adam & Klara had two weddings, the first in Osaka, Japan and the second in Brighton, UK. The Japanese ceremony was held in Kitahama and afterwards the couple and their select few guests headed to Tables in Shinsaibashi, Osaka for tea and cake! When back in the UK, the ceremony took place at Brighton register office and they recreated the tea & cake reception idea with a simple gathering at Metrodeco, a 1930s themed cafe that specialises in high tea.
For both events, the bride and groom wore kimonos which they had made to their specifications, "My kimono was by Misty Waters in Sunderland," Klara began. "I've never felt I was a traditional white dress woman, and nothing really turned me on when I went looking for dresses. When we decided to marry in Japan, kimonos sounded perfect, as Adam loved the idea of wearing something other than a boring suit. We looked into renting kimonos, but it would have cost us about £3,000, and we could only wear them for the day! Also, the whole idea of doing the very traditional Japanese wedding also felt restrictive, and not 'us'. We have a friend in the UK, Tracey, who makes wedding dresses, and we decided to design our own kimonos. I absolutely love Liberty in London, and can't get enough of their vintage prints, so I spent weeks choosing perfect clashing liberty prints for my kimono. Adam decided he'd love his Kimono in traditional British tweed. Traditionally, the inside fabric of a kimono is a chance to express the wearers personality, so we both chose fun linings for the inside. I had dainty tea cups, and Adam had vintage slide carousels."
"The kimonos used yards and yards of fabric and there were quite a few off-cuts," Klara continued. "Adam brought some with him to Japan and I used them to make fabric necklace/headbands as favours for my bridesmaids. It was lovely and personal for them knowing they were made out of actual bits of kimono fabric. And of course, they were liberty print. I also designed parodies of the Royal wedding tea towels, to go with our British theme, and I drew in Ghibli characters having a British tea party. We screenprinted them onto tea towels and tote bags, and we gave them away as wedding favours to our guests in Japan."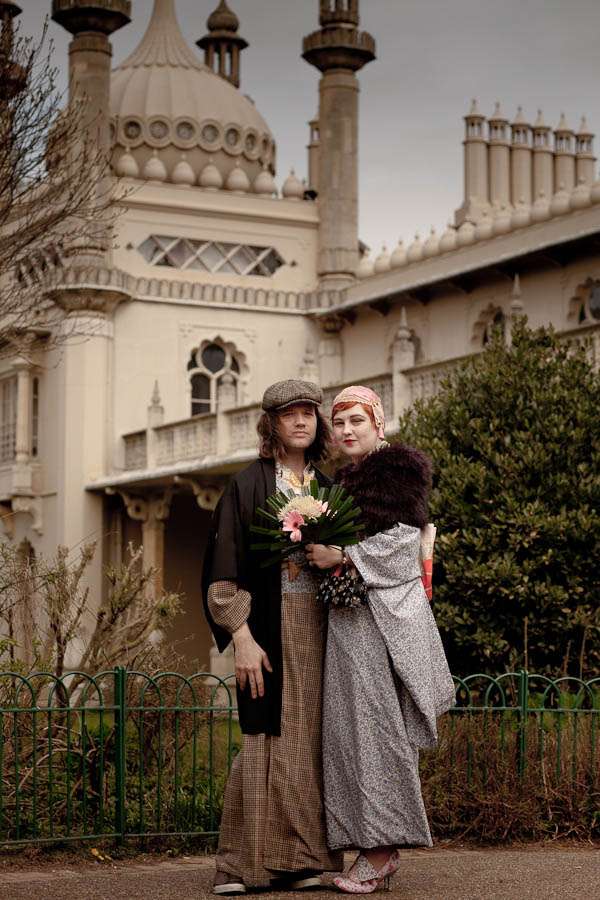 "As a couple we've never really done things in quite the most straightforward way", Klara answered when I asked why they wanted to marry in Japan. "We were living almost 6000 miles apart when we decided to get married and we only had about 10 weeks to organise everything. Kimono designs, fabric choices and all the logistics had to be decided over Skype. I didn't see my kimono in the flesh until a few days before the wedding. Right from the start we knew we wanted to do things our own way and make it very much a private affair. Our Japan wedding was just for 'us', and our Brighton wedding was for our family and friends. We were married by our friend Tom, who is a western priest in Japan. He adapted a ceremony from Universal Studios Japan, and we swore over Pukka Love Tea. The idea of the ceremony is that if your marriage is really in trouble, either one of you can produce an object; in our case, Love Tea; and you promise to give it another go. We drank Love Tea at our reception in the teahouse, and gave away Love Tea teabags to our guests after."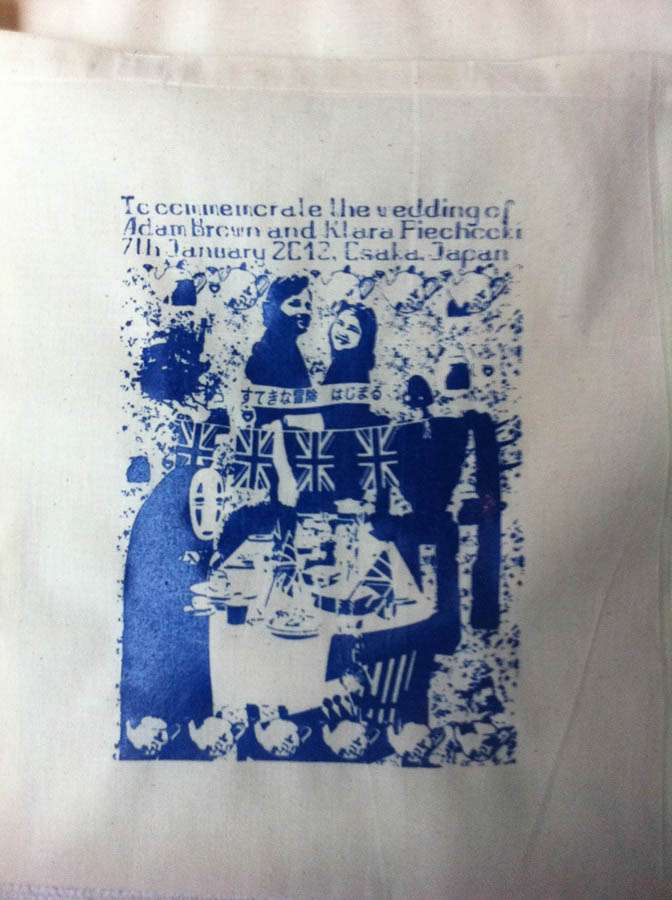 "The theme of our wedding ended up being 'Britishness' seen through Japanese eyes, and vice versa," the bride concluded. "I used to live in Japan I was enamored with the tweed, and the Sherlock Holmes style clothes available. I loved how our cultures were seen so differently through each other's eyes, and it made my own culture fresh and interesting. I loved visiting Japanese tea shops that were so meticulously 'British' as they saw it, and they were wonderful places. One in particular had clashing floral tablecloths, amazing china and teaspoons, and the theme began bubbling away from there!"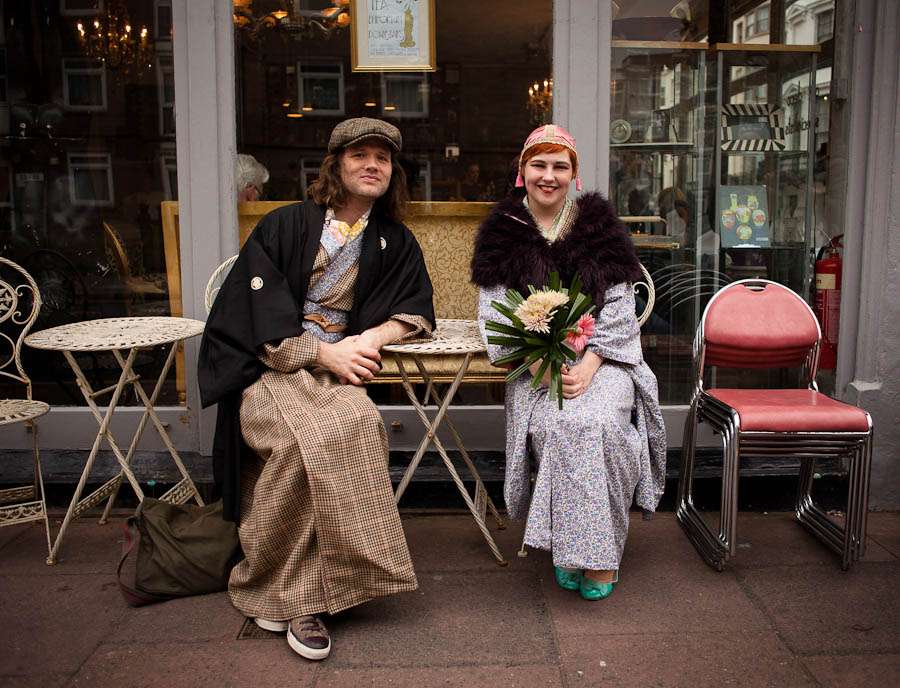 These guys are my heroes! I love love love Japan and am dying to go back – even more so after seeing their wedding. Thank you to you both for sharing both your celebrations with us.
You can see the videos that they had made of their Japanese wedding to show their families back home here.
Supporting Cast:
Photography Credit: Florian Seidel Photography (Japan) & Sarah Howe Photography (UK)
Bride & Groom's Kimonos : Handmade by Misty Waters
Bride's Shoes: Irregular Choice
Bride's Headpiece: eBay
Flowers: Florist Hiroko, Kitahama (Japan)