With Valentine's Day just around the corner, I fancied sneaking in an extra bonus DIY tutorial for you just before the big day. Get yourself to the supermarket sharpish and make these cute Valentine's themed cupcake toppers for your beau (and if you buy the cupcakes to put them on I promise not to tell…)
Thank you to the amazing Charlotte of Restoration Cake for the awesomeness. She would also like to offer all readers of Rock n Roll Bride 10% off any wedding cake order placed after seeing this feature. Simply email Charlotte on info@restorationcake.co.uk with the subject header ROCKNROLLBRIDEOFFER. Charlotte will also randomly pick one of you to receive a whopping 50% off your wedding cake (more info at the bottom on this post).
Happy day of LOVE!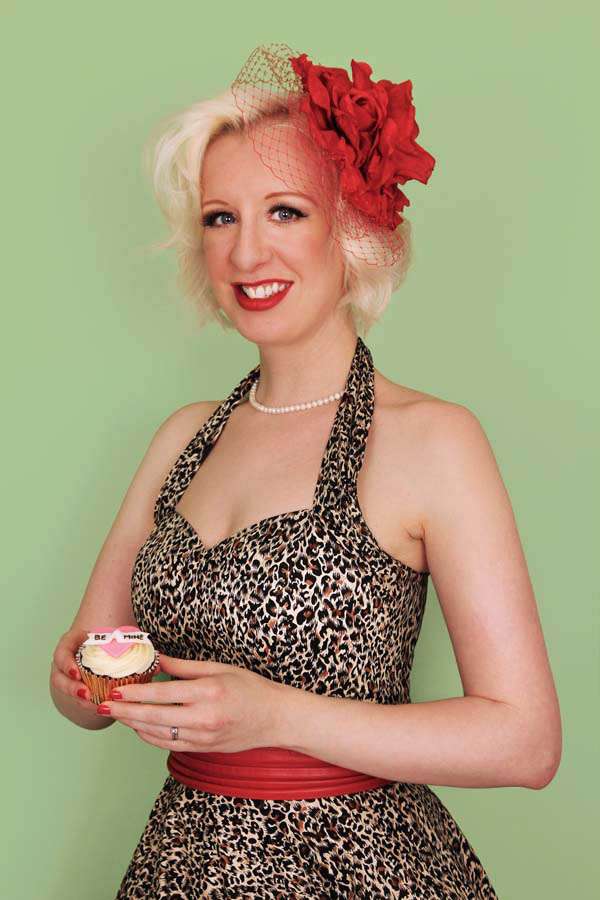 In case you have not been outside of your house for the last couple of weeks and have missed the annual onslaught of red roses, hearts, chocolates, and cuddly toys; tomorrow is Valentine's Day. You probably still have time to run to your nearest supermarket and panic-buy a card and a bear that says 'I Wuv You'.
However, if DIY gifts are more in keeping with your style, I have a little treat for you in the shape of these incredibly easy cupcake toppers. When Kat asked me to put together a DIY post for Rock n Roll Bride, I wanted to do something just that little bit inspired by the pink lady herself… so here it is, 'Be Mine' tattoo heart cupcake toppers.
These toppers are quick and easy to make and you will not need an awful lot of equipment to make them
Supplies Needed:
♥ Fondant Icing (also known as sugarpaste) in white
♥ Paste food colouring or some pre-coloured sugarpaste
♥ Non-stick rolling pin
♥ Small heart-shaped cookie cutter
♥ Pizza wheel or a small knife
♥ Food colouring pen
♥ Paintbrush
Method:
Step One: You need to start by making your hearts. You want these to be a bright, vibrant colour like hot pink or red. White sugarpaste can be coloured using paste food colours (Sugarflair is the best brand to use) and these are available in craft shops and online. Please do not try to colour sugarpaste with liquid food colours as you will make one heck of a mess! Also, if you want to achieve a true colour like red or black, you will need to buy ready-coloured sugarpaste as you will not achieve the depth of colour that you want from adding colour. Small packs of ready-coloured sugarpaste are available in the baking sections of most supermarkets (containing red, black, green and yellow usually) or at craft shops.
I have made up a hot pink using Sugarflair's Ruby paste colour.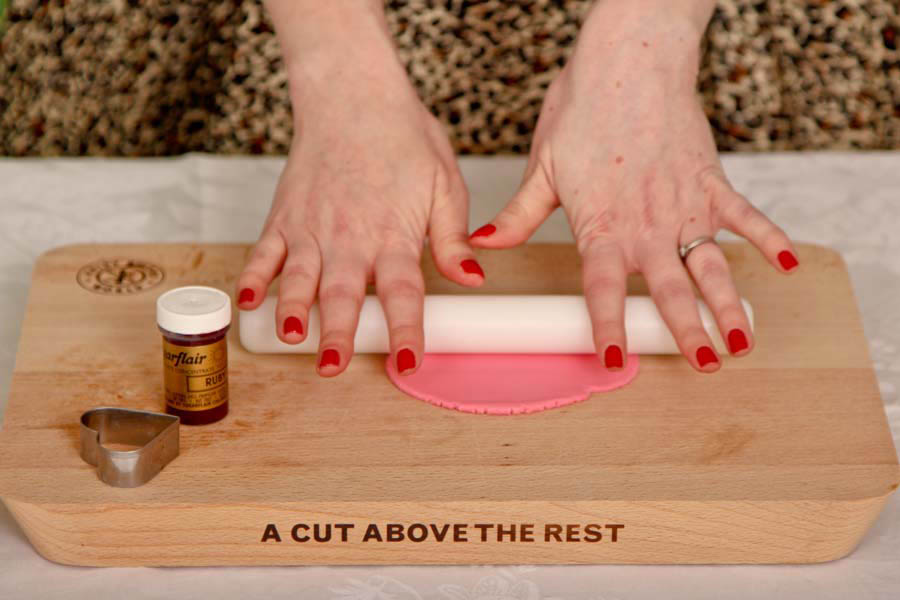 Give your sugarpaste a quick knead to warm it a little, then roll out to around 3-5mm thick. Cut out your hearts using a small heart-shaped cookie cutter (believe me, these are in your supermarket today!) Set the hearts aside to dry out a little.
Step Two: To make the scrolls, you need to roll out some white sugarpaste to 2-3mm thick. Cut strips using a pizza wheel (this is a cake decorator's trick, the wheel is the BEST way to cut fondant smoothly!) or a small knife. The width of the strip will depend upon the size of your hearts. Aim for about a third of the height of the heart as you don't want to cover the whole heart up.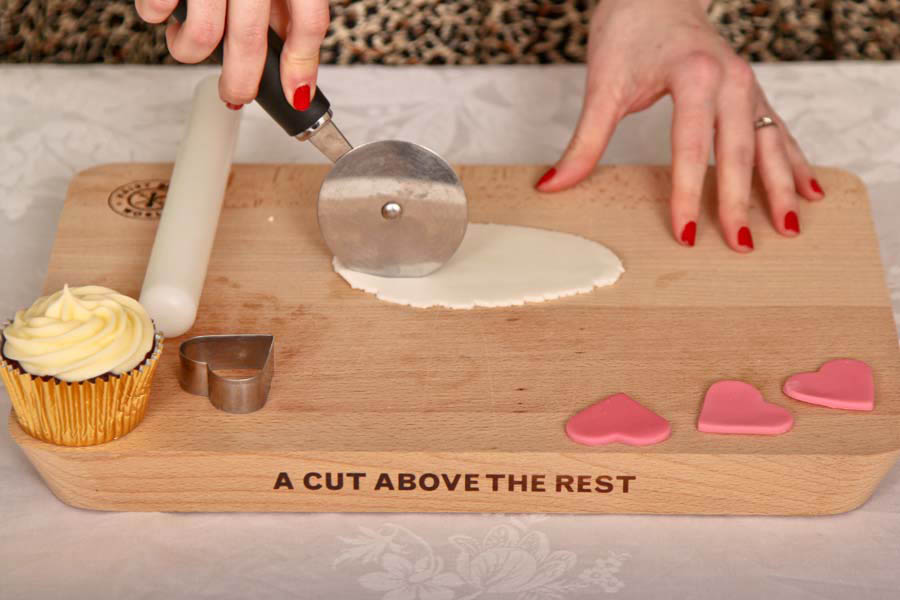 Step Three: Now for the sneaky little clever bit… using the pointy end of your heart-shaped cookie cutter, cut the tails of the scroll. The scroll should be around the same length as the cutter, so you can use it as a measuring tool too!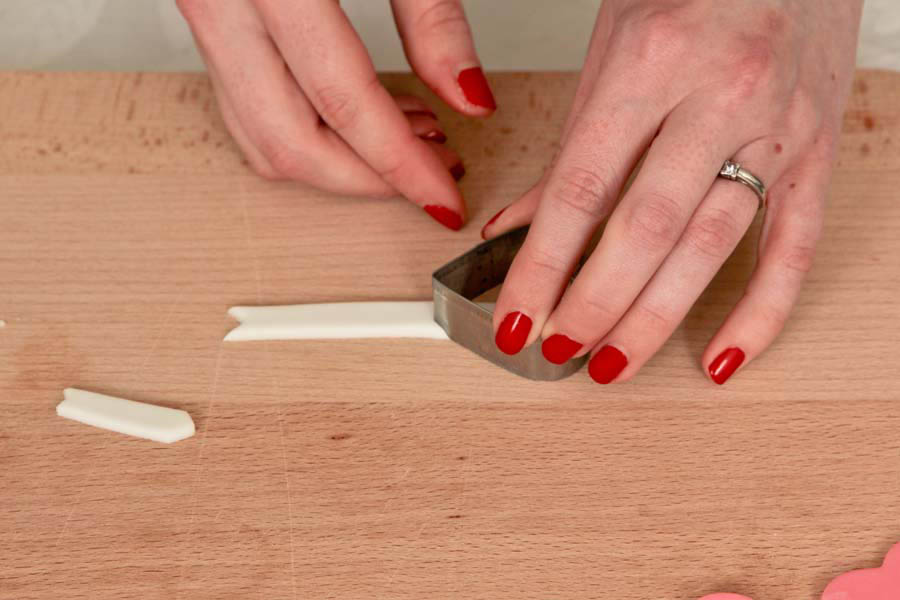 Step Four: Carefully pick up your scroll and twist it. You are trying to achieve the look of a retro sweetheart tattoo. Place this twisted scroll on top of your heart, sticking it on with a dab of water from your paintbrush. Press the scroll down gently and leave this to dry for a little while.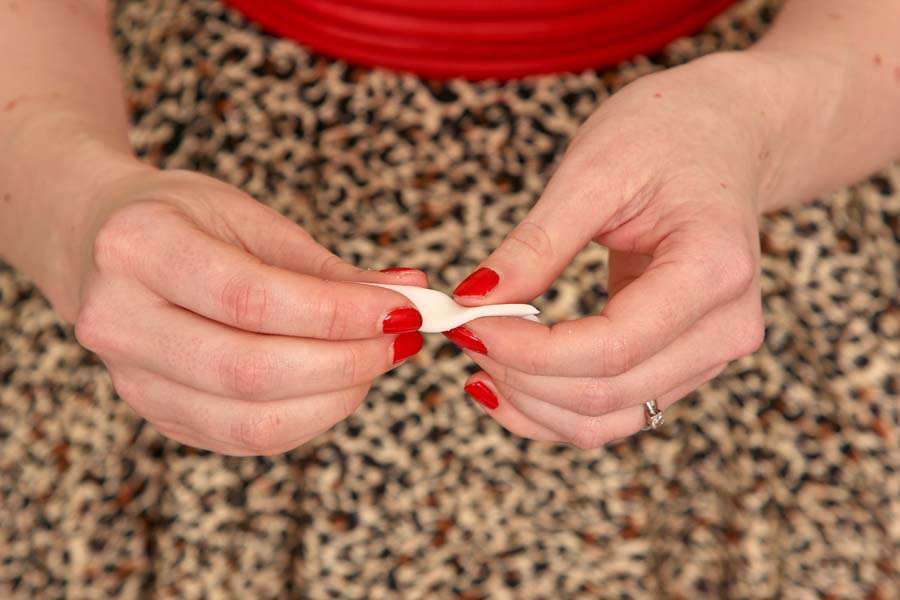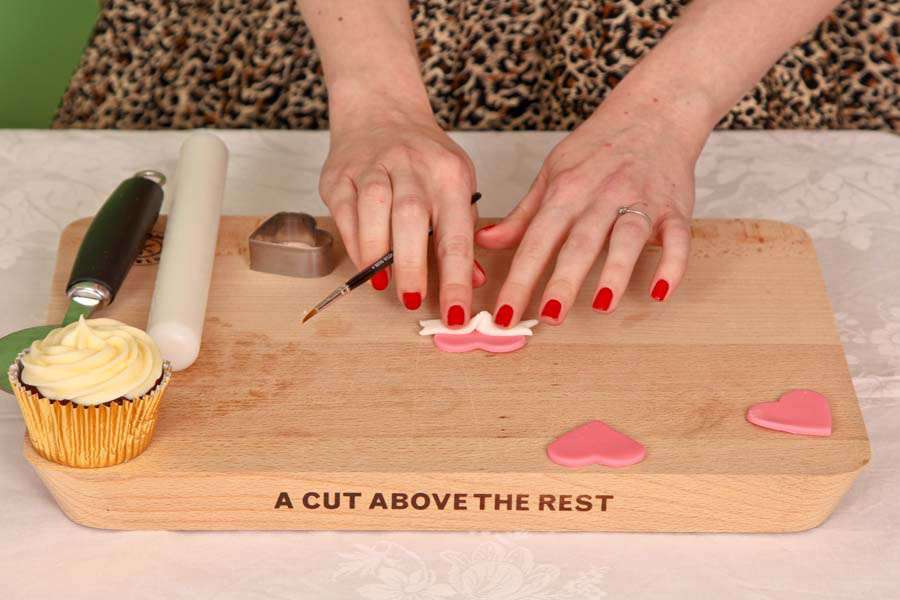 Step Five: After 30 minutes or so, the top of your scroll should feel dry to the touch (the longer you can afford to leave them to dry, the better, really). You are now ready to write a cheeky little love message for your Valentine. Foodsafe colouring pens are available in the baking section of larger supermarkets and in craft shops. They are not very expensive. Go lightly with the pen so that you can build up your lettering and write any message you like. Perhaps 'Marry Me'? Go for it!
These little hearts atop buttercream smothered cupcakes are the perfect way to say I love you without the 'I Wuv You'!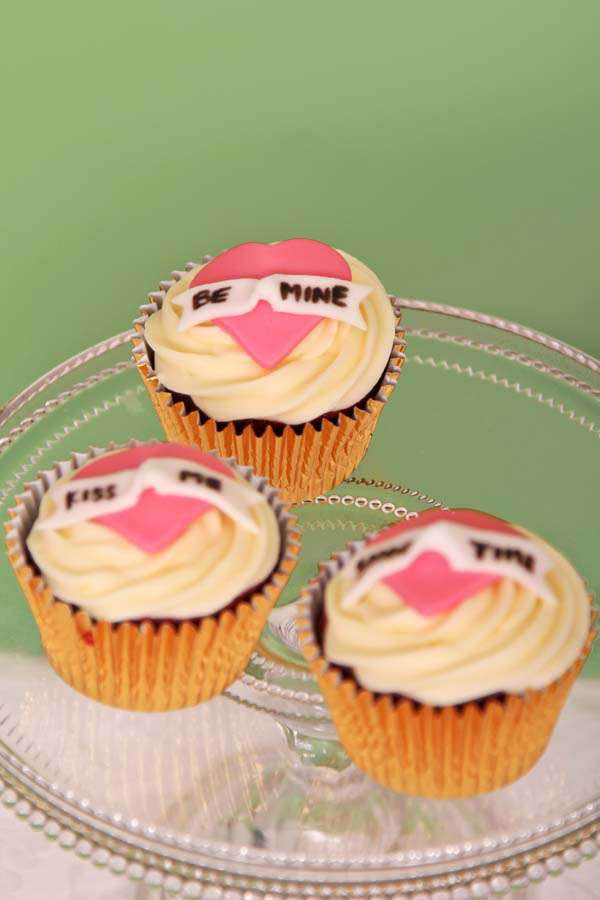 Sadly, I cannot claim to be free of the Valentine's Day spell. I love red. I love roses. I am also terribly fond of chocolates and champagne. So in the spirit of the day, I would like to offer a 10% discount to Rock n Roll Bride readers booking their wedding cake for 2012. To qualify for this discount, drop me an email at info@restorationcake.co.uk to arrange a consultation with the code ROCKNROLLBRIDEOFFER in the subject header.
As an added bonus, one lucky reader will get 50% off their wedding cake. You have until Kat gets back from Vegas (27th February) to get in touch… when we will be picking the winner in a typically Las Vegas fashion! Are you feeling lucky?
Photography Credit: Rockabetty Studios
Charlotte's Dress: Vivien of Holloway
Charlotte's Headpiece: Fur Coat No Knickers