After the popularity of the rainbow petticoat tutorial that Alexandra King created for Rock n Roll Bride, I was keen to get her to design us something else just as special. We came up with the idea of making your own 1920s cap style veil. Wedding veils can be sooo expensive so we thought having a DIY option would be a great idea! I really hope you like it. I LOVE it.
Over to you Alex…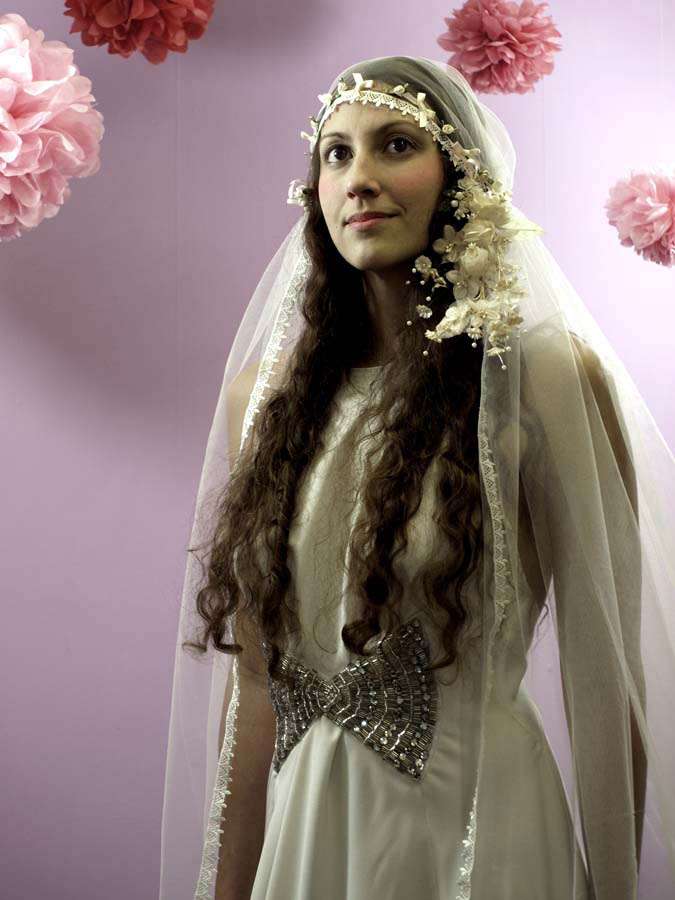 This cap style veil is inspired by the gorgeous twenties flapper veils and in this DIY tutorial you'll create something that, even if matched with a simple dress, will make a grand entrance. This is a lovely project to work on with your friends and/or family over time, you can embroider messages on the hem and use details that have been collected or personal to you. I imagine it being passed on to another bride, adding more detail with each wedding.
All of the trimmings for this veil were found in a local haberdashery with some vintage lace sourced from a charity shop and the veiling can be bought easily online. The material costs can be from as little as £40 and upwards depending on your base fabric.
Supplies Needed: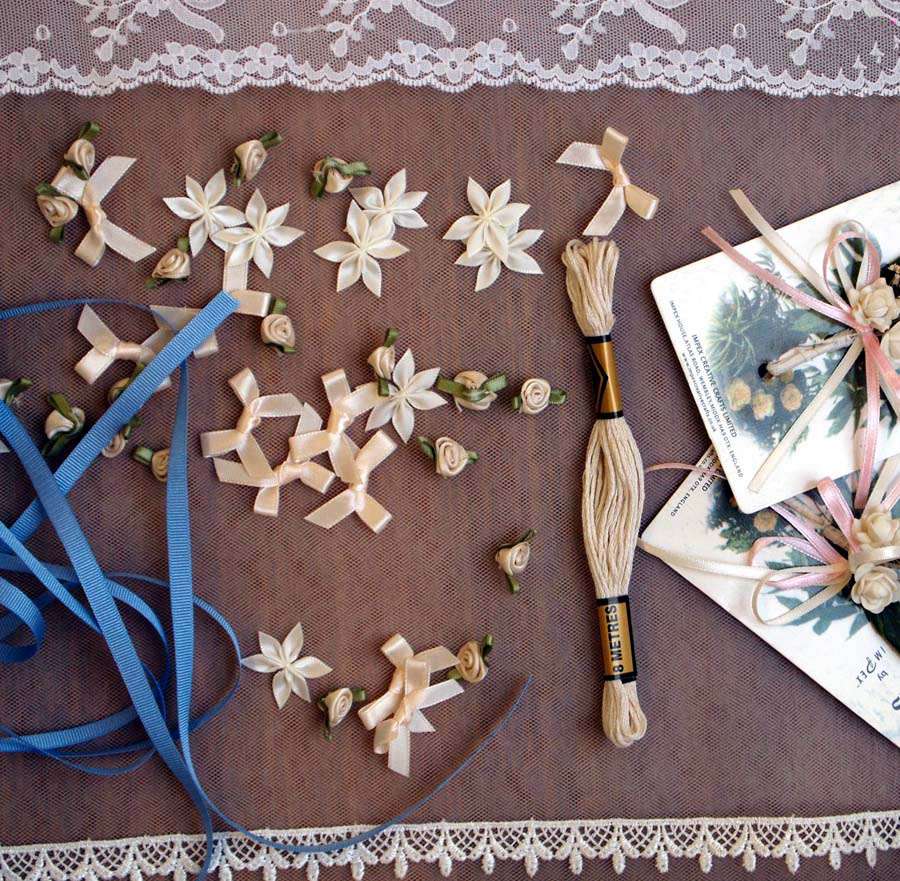 ♥ Tulle (this can be found cheaply online. To create a cathedral length veil like I have, you will need 3×3 metres. You can use a nylon tulle, cotton tulle or silk tulle. The natural fibres have a better drape but need extra care.)
♥ A sewing machine
♥ Needle and thread
♥ Embellishments of your choice – you can use corsages, lace, bows, ribbon, rhinestones, studs anything you like.
Method:
Step One: Edge your veil in a lace or satin trim. You can go as fine or as wide as you like depending on the look you want. I used a 15mm guipure lace trim.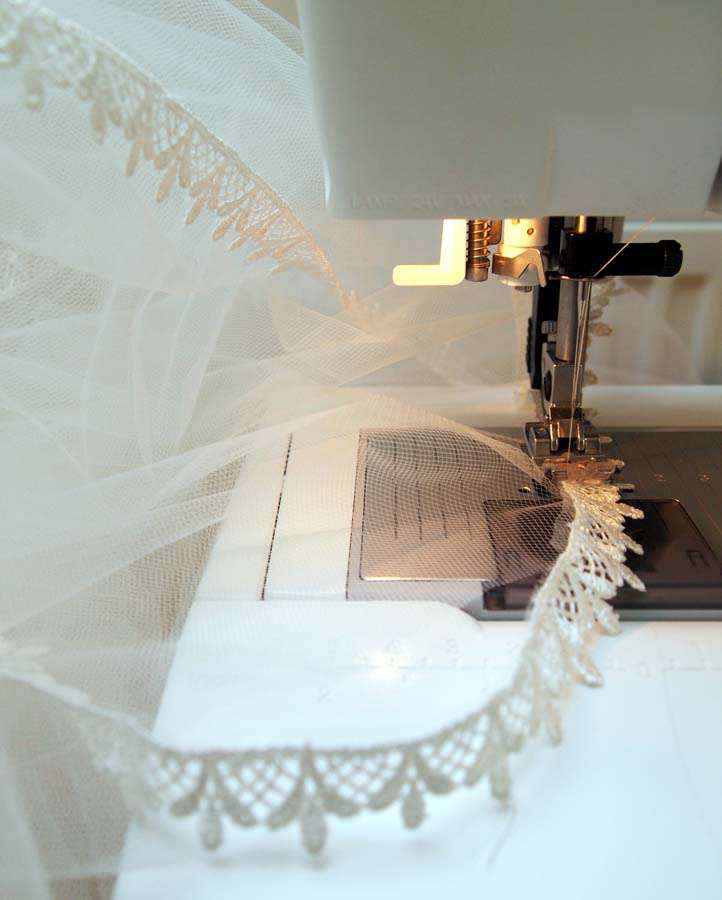 Step Two: Check the veil is hanging properly all around. You may want to curve your corners or leave them sharp depending on how you like the veil to fold.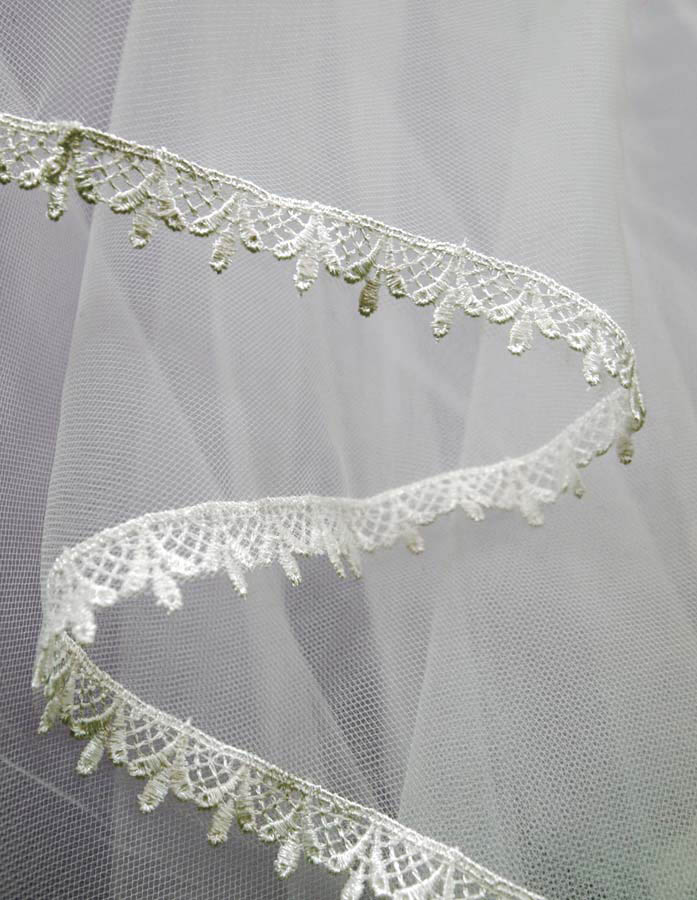 Step Three: Measure over the top of your head from ear to ear and mark on the centre edge of the veil. This is where you will place your veil and where the decoration will be.
Step Four: Add lace trims, bows, flowers along this length. You can tea dye all of trimmings to blend the colours together if you would like something more muted.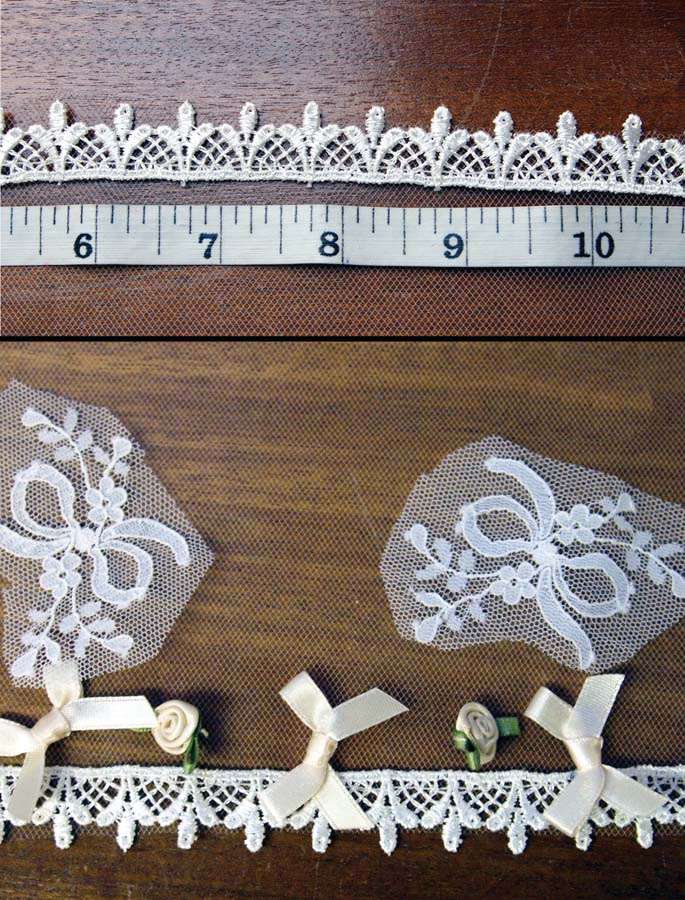 Step Five: Now add detailing to the hem of the veil. You can cut around the motifs of the lace, embroider, add studs, go as dramatic as you please.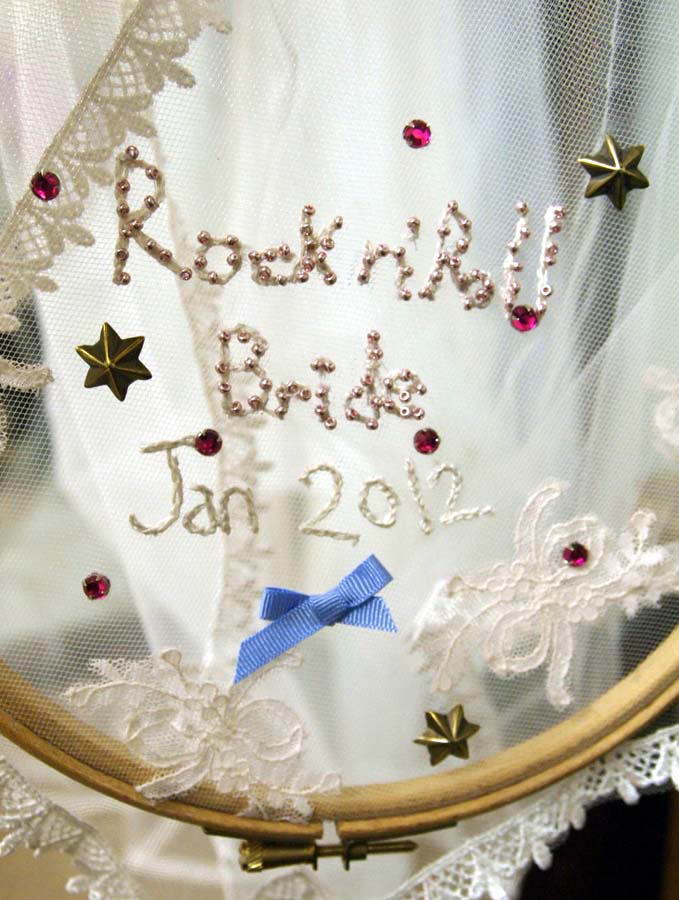 Step Six: Time to wear your veil. Pin the veil at each ear and then pleat the sides to shape into a cap around your head. Stitch this in place.
Step Seven: Now the veil is shaped, you can grip the veil properly in your hair and add the corsages and flowers to each ear. I used modern corsages and dipped them in tea along with the lace to tone down the colours a little. Be careful not to add too much bulk as you unintentionally end up with a twenties Princess Leia look.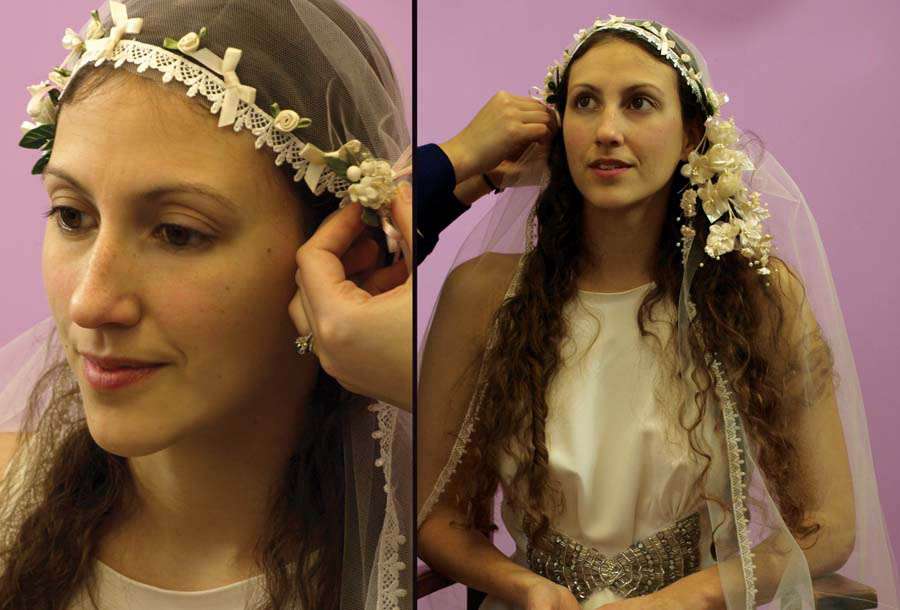 Step Eight: Enjoy wearing your veil as it's rare you'll have the opportunity to wear one and will take some real 'wow factor' photographs. It's easy to remove for the evening too instead of changing dress.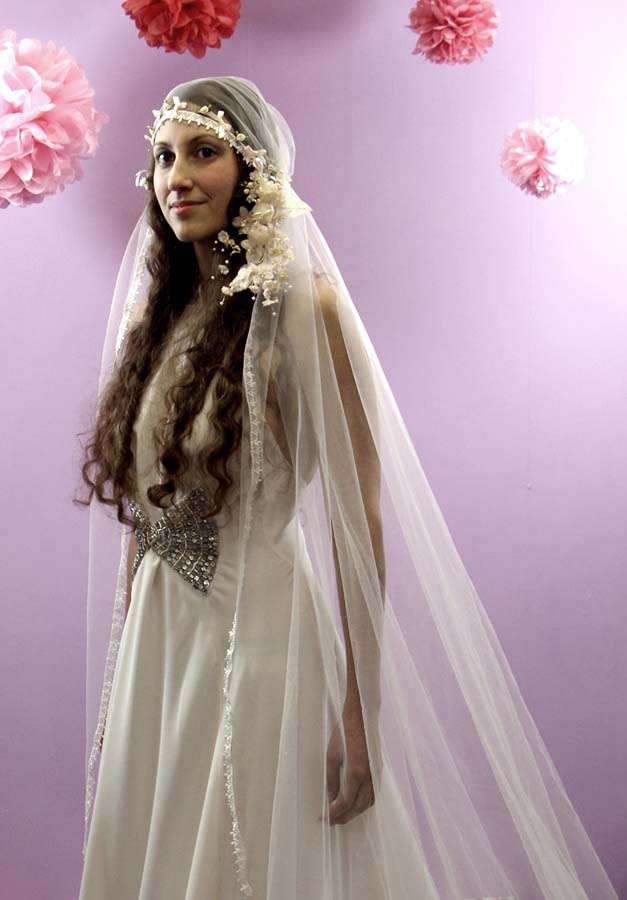 Wow factor indeed – Look at these! Thank you so much Alex for working so hard on this amazing tutorial. I can't wait to see some of my readers looking as glam on their wedding day!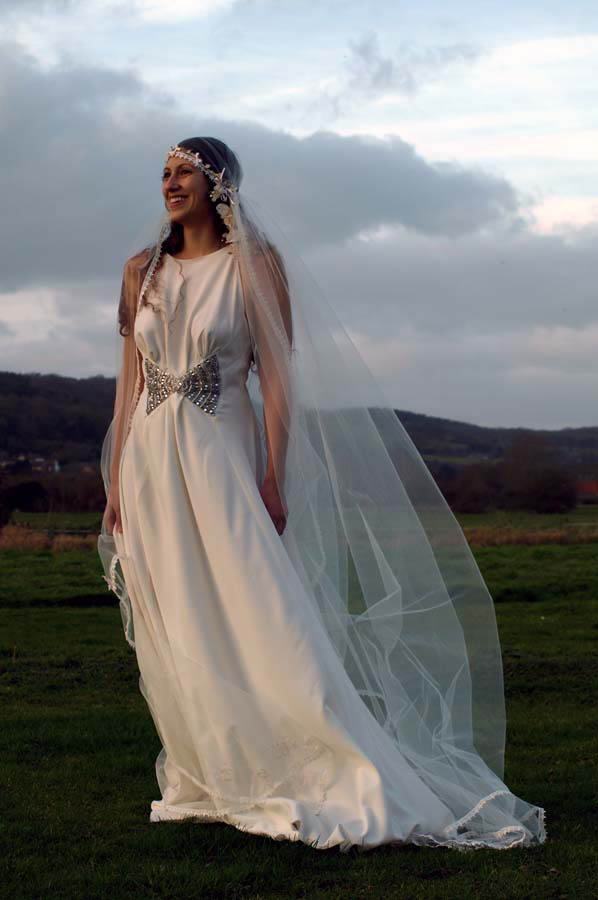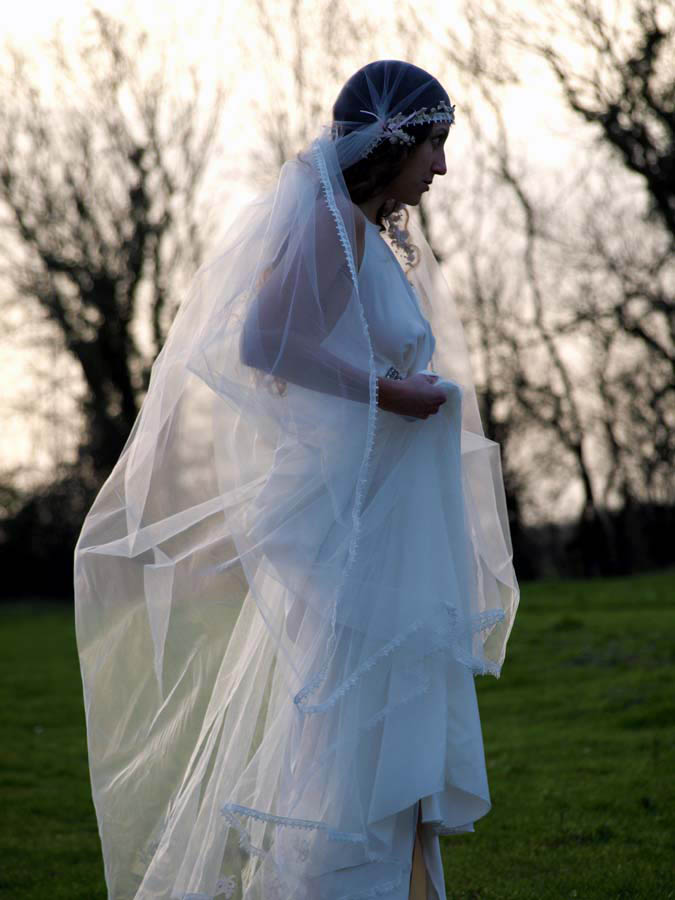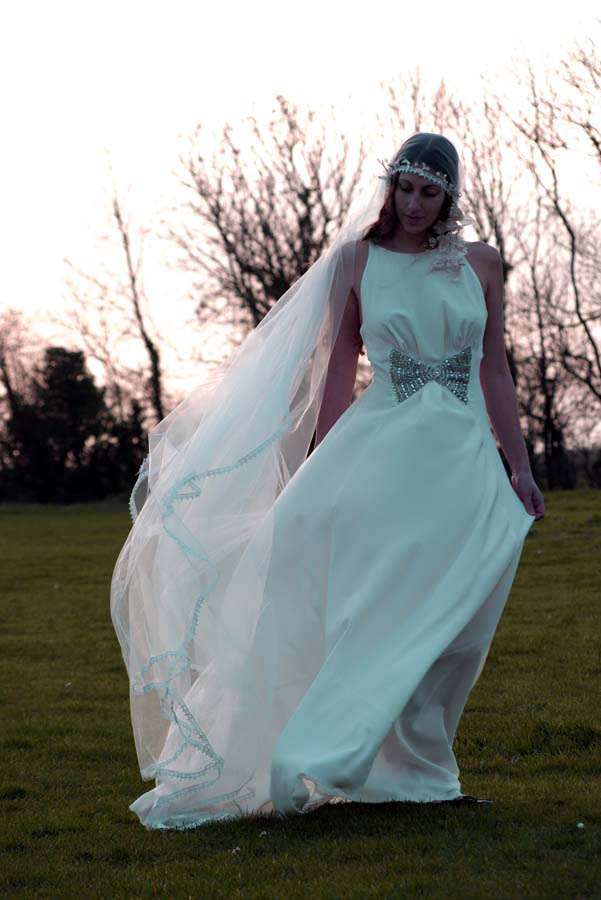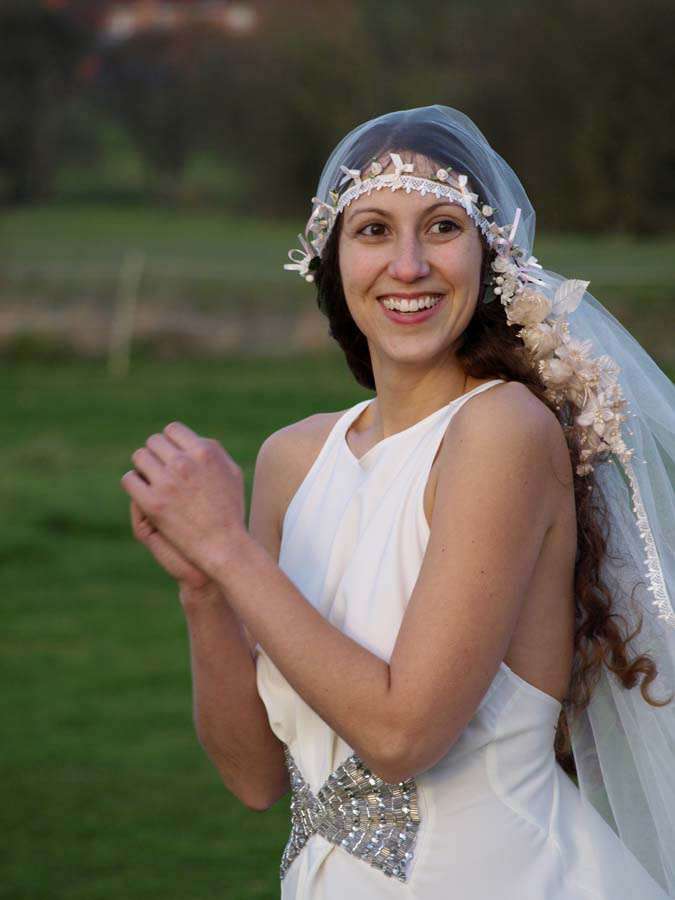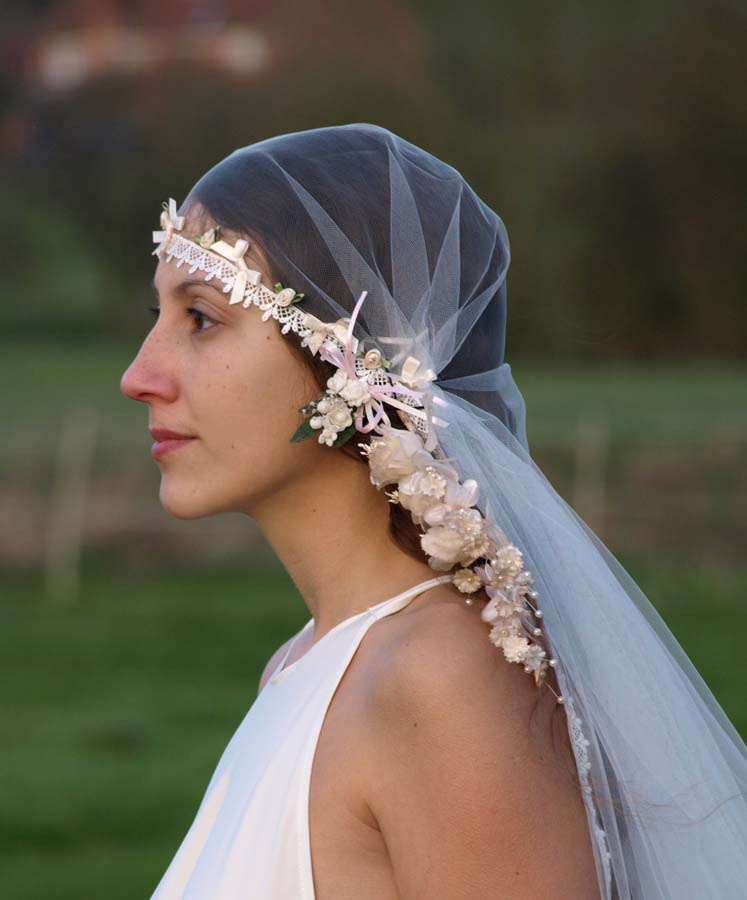 Alex is wearing her veil with the 'Faye' dress from her current bridal collection.