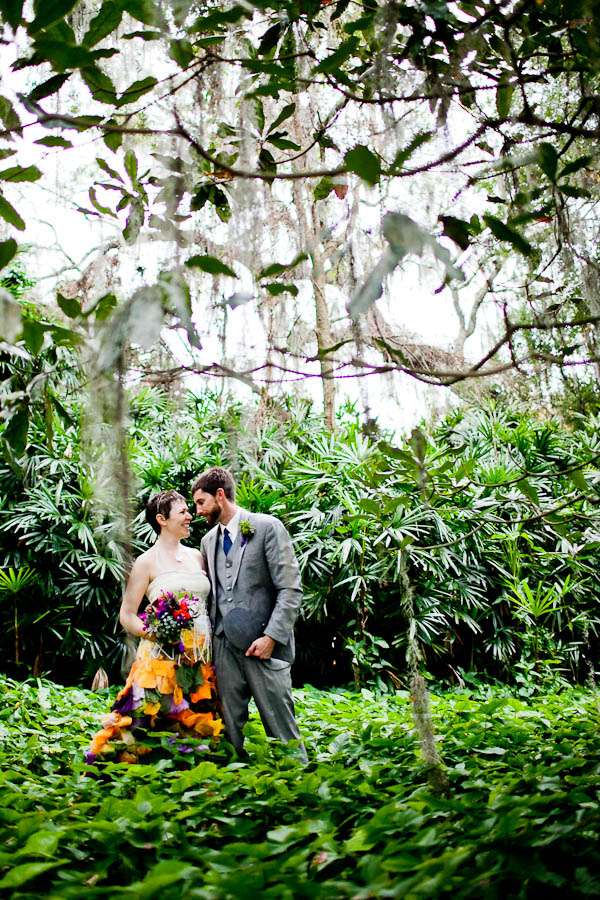 There's so much about Christine & David's wedding that I utterly adore – Christine's Wai-Ching wedding dress, the metal-welding ceremony, the Burning Man inspired after-party… seriously, if you don't love this wedding you're bonkers.
"Well, we started off by not trying to be anything other than ourselves," Christine told me. "The only thing I knew I wanted was my Wai-Ching dress and a gluten-free cake, and David just wanted a raucous party. Neither of us had expectations of what our wedding should be, so we just took the parts of the traditional wedding that we liked, ditched the parts we didn't care about, and made some things up along the way."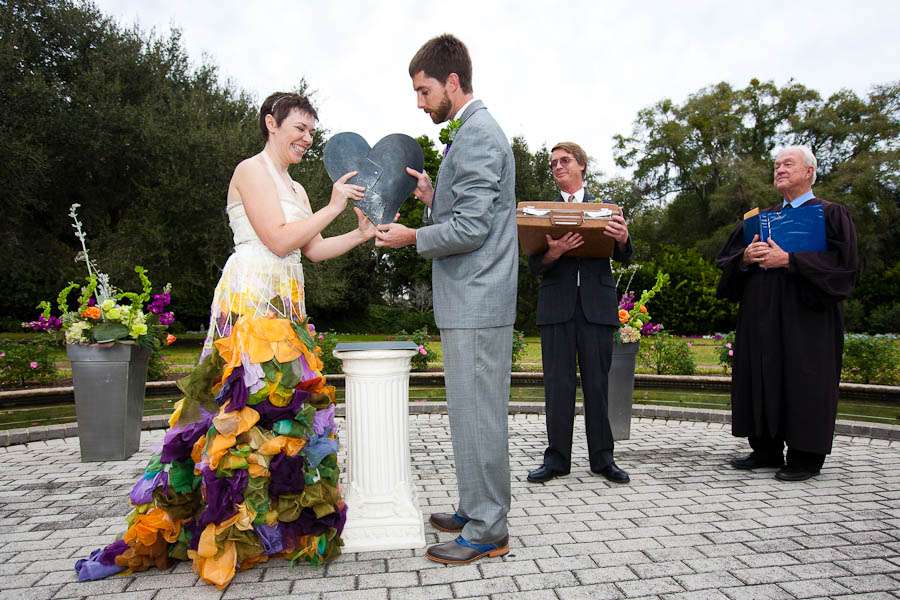 "A lot of our inspiration came from knowing that all but one of our guests was flying in from out of state. In fact our guest list included people from 24 different states and 5 different countries. We were so grateful that people would make the trip out to celebrate with us and we really wanted to make it worth it. Our wedding celebration was actually a multi-day extravaganza. Most people flew in on Wednesday and then Thursday was a trip to Disney World's Magic Kingdom. Friday we went to the Orlando Science Center in the morning and then to Wekiwa Springs State Park (where we got engaged) in the afternoon for swimming in the springs and kayaking in the river. Friday night we threw our first party of the weekend at our house with a good ol' Southern BBQ to welcome everyone to town. Saturday was our wedding and after-party and we wrapped it up on Sunday morning with a brunch at our house."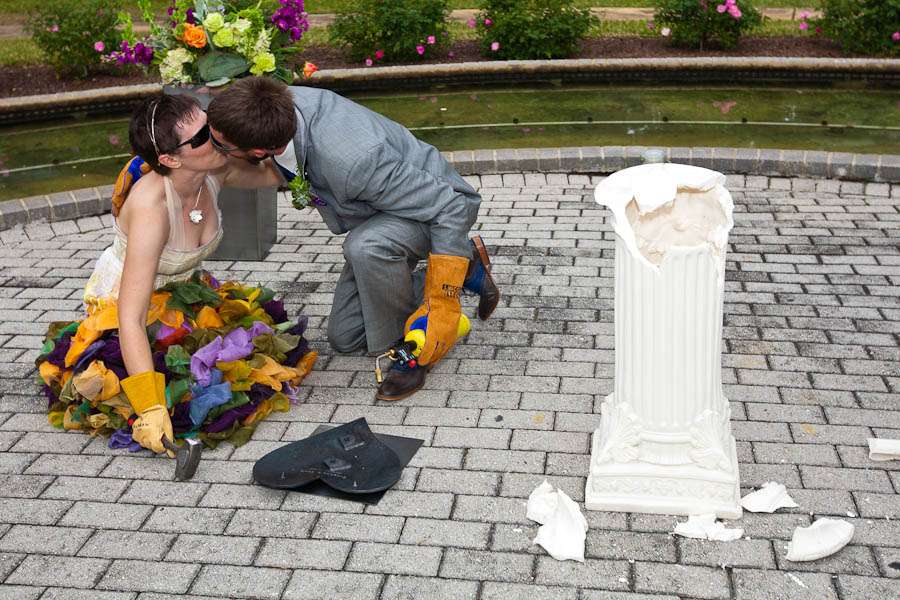 "One of the big things we did differently was our ceremony as we wanted it to be personally meaningful. First off we chose readings that spoke to us: Charles Darwin on marriage, a quote about love from Tom Robbin's 'Still Life with Woodpecker,' and an excerpt from Richard Feynman's autobiography in which he writes about dating his wife. As for rings, I don't think we ever even discussed them. I do have an amazing engagement ring, but I think we both assumed from the get go that wedding bands were not happening. All of types of ceremonies that we looked at, even the nontraditional ones like handfasting, unity candle, sand ceremony, etc – seemed forced as they meant nothing to us personally. We finally settled on including metal work in some fashion as I am a metal artist. We contacted a friend and artist who I lived and worked with last summer, Jon Sarriugarte, and he made us the amazing heart that we riveted together during the ceremony."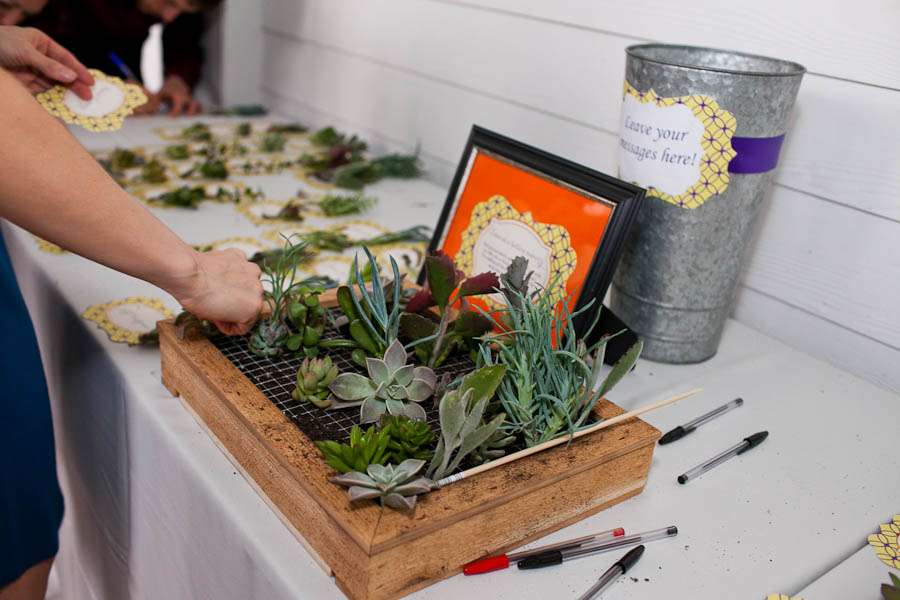 "We had a lot of little touches," the bride continued. "My cousin played the harp and a good friend played the trumpet for our ceremony. We had a 'living guest book'  where guests planted a succulent. We had a coloring book table as a token to how we met (we met at the children's coloring book table at a wedding in Long Island), complete with the picture I was coloring at the time. There was a table set up with pictures of us at Burning Man 2006-2011 (after we met at the Lond Island wedding we found out we were both going to Burning Man that same year so we arranged to meet there. We then ended up going back together every year after that)."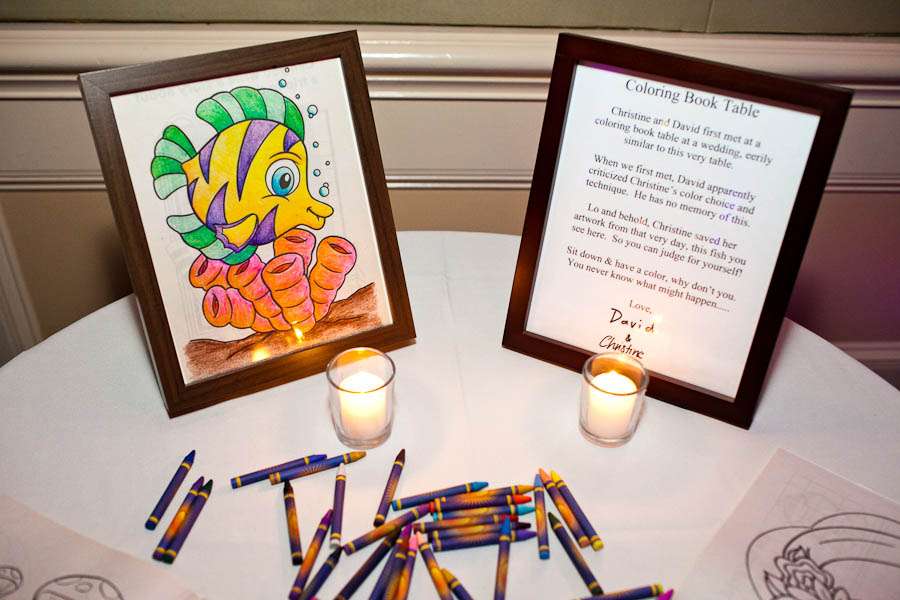 "Our after-party at our house was most definitely Burning Man inspired. We had set up our usual camping setup (a geodesic dome, a hexayurt, and five tents) in the yard for the 20 or so friends who camped at our place during the week. I surprised David at our entrance to the party with a tunnel of light sabers – his signature glow ornamentation at the Burn."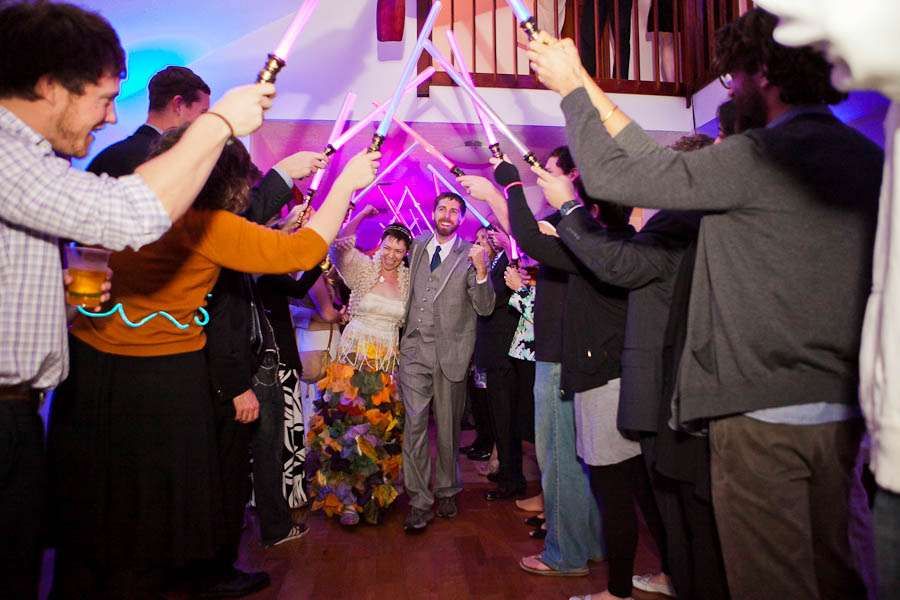 "Body glow adornments were available as well as LED hula hoops and poi. Our hot tub was open. I set up a sculpture I made for Burning Man 2010, a honeycomb piece named Propolis. A fire pit was out by the lake with couches, s'mores (with local hand-made marshmallows of course), guitars, and a variety of percussion instruments. We set up a star projection in the dome with couches and blankets for a chill space. Grilled cheese sandwiches were distributed at midnight. Our neighbor put on a fireworks show for us during our royal kiss on the balcony and some good friends put together an acrobatic performance. And there was off course dancing until the wee hours of the morning."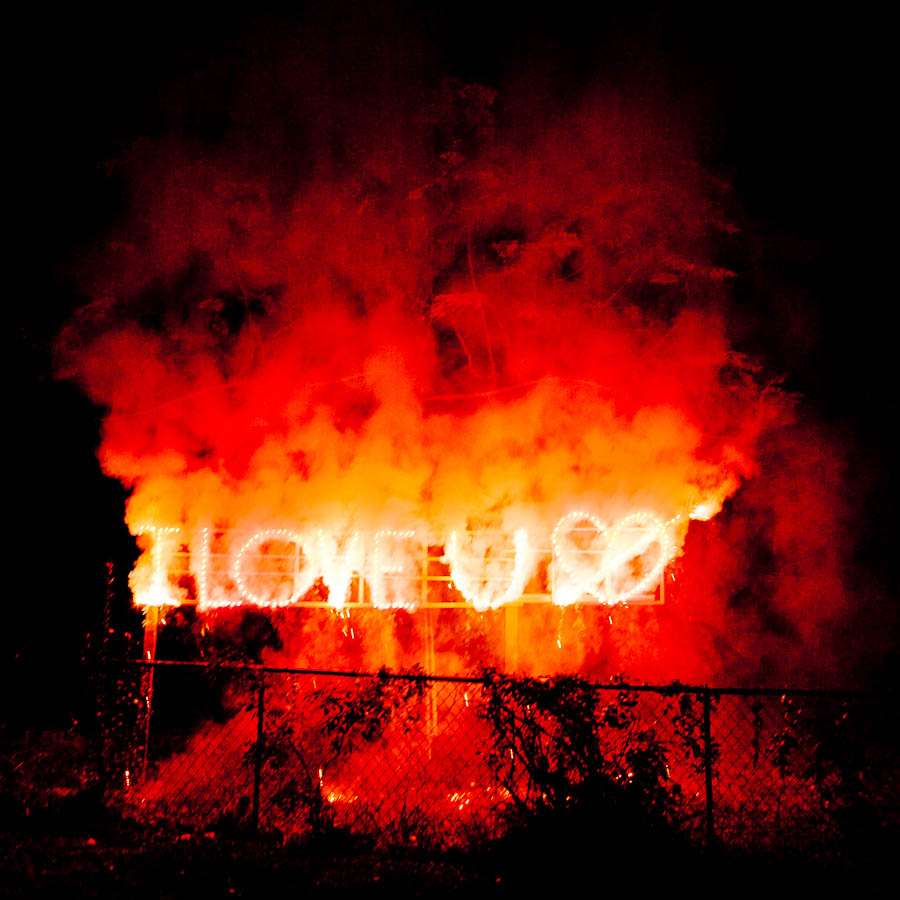 Thank you to Christine & David and their photographer Sarah Tew for sharing this seriously awesome wedding with us today!
Supporting Cast:
Photography Credit: Sarah Tew Photography
Venue: Leu Gardens, Orlando, Florida
Bride's Dress: Wai-Ching
Bride's Shoes: Cydwoq, Osmosis Shoe
Bride's Headband: Nordstrom
Cake: Raphsodic Bakery
Flowers: Lee Forrest Design
Catering: Arthurs's Catering
Wedding Coordinator: April Dorsey
DJ: David Meister
Stationery: Wiregrass Weddings
Living Guestbook: So Succulent on Etsy