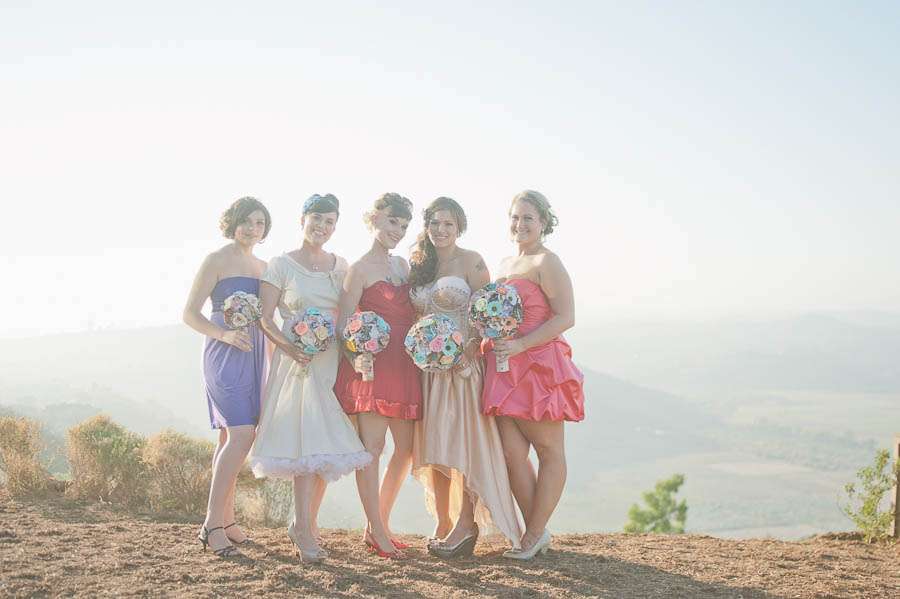 Photography Credit: Leila Brewster Photography (full wedding here)
I love love love the idea of making my own wedding dress. I am, however, more than a little bit sucky with a sewing machine. Alas!
However this week I chatted to eco-wedding dress designer Deborah Lindquist about some simple upcycling ideas.
Launched in 2004, Deborah's eco-conscious clothing line combines environmental responsibility with a cutting-edge aesthetic. Deborah works her fashion magic with a mixture of environmentally-friendly fabrications and the resulting designs are as striking as they are ecologically sensitive. As a trailblazer at the forefront of the stylish green clothing movement, Deborah is making an impact in the fashion world while remaining true to her love for the environment.
So as you can see, she's the perfect person to talk about upcycling with, I think even I could do a few of these things…
♥  ♥  ♥
Will you marry me?
It's not a question easily answered. There is a whole life to be created with the person you love so much. What do you like to do together? Who are your mentors? Your inspiration? How would you like your life to ultimately unfold? How do you stay important to each other?
It's all about the two of you, and how you plan your wedding, what you wear, how you spend your honeymoon and how you unfold the rest of your life together should reflect who you are as a couple. Since the bride usually does much of the planning, it can sometimes look like 'her' day, and we all know how that can get…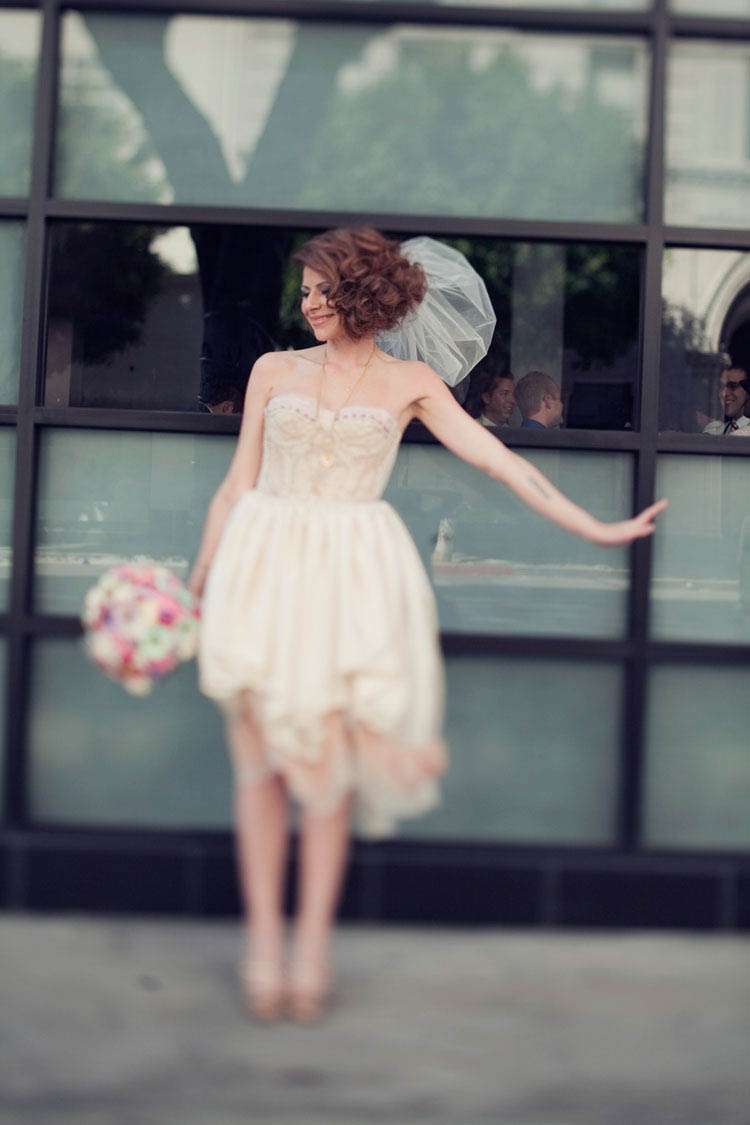 Photography Credit: Nicole Polk Photography (full wedding here)
I have seen the most creative, happy wedding celebrations ever on Rock n Roll Bride. I love how tradition is mixed with personal creativity to make the day such a celebration of love and happiness. You are, after all, your best influence and teacher. The things, people, and places you love should be an integral part of your wedding.
I'm an eco-clothing designer and I design many things, including wedding dresses.
Four of my brides have been featured on these pages, and I have been so inspired by all of the women I've come to know as I've created their gowns. I've even named some gowns after some of them. Today, I wanted to share with the readers of Rock n Roll Bride some ideas of how to customise your own wedding outfit, and to create a dress that should be named after you!
Photography Credit: Chennergy (full wedding here and here)
Take things from the past
As you begin your search for the most beautiful gown you can imagine, would you maybe like to include something from your past that makes you feel loved?  You can pretty much have anything you want it's just all about knowing how to incorporate it into your dress.
Recycle and Upcycling
Maybe you felt close to your Grandmother, and she loved to wear the most exquisite beaded wool sweater. It was special, she treated it with care, and stored it safely in her cedar chest. You want to get married in the winter, when the snow is falling. The days are short, and you want to be married by candlelight. You don't want to wear a sweater, but how about using this sweater in your wedding dress? You could even use the wool to create the top of the dress – perfect for winter! You'll be warm and toasty as well as wearing a one-of-a-kind creation with a lot of sentimental meaning.
My long bustier dress, 'Blair' is made of beaded wool and vintage cashmere, with a cashmere and feather pin at the center front bodice.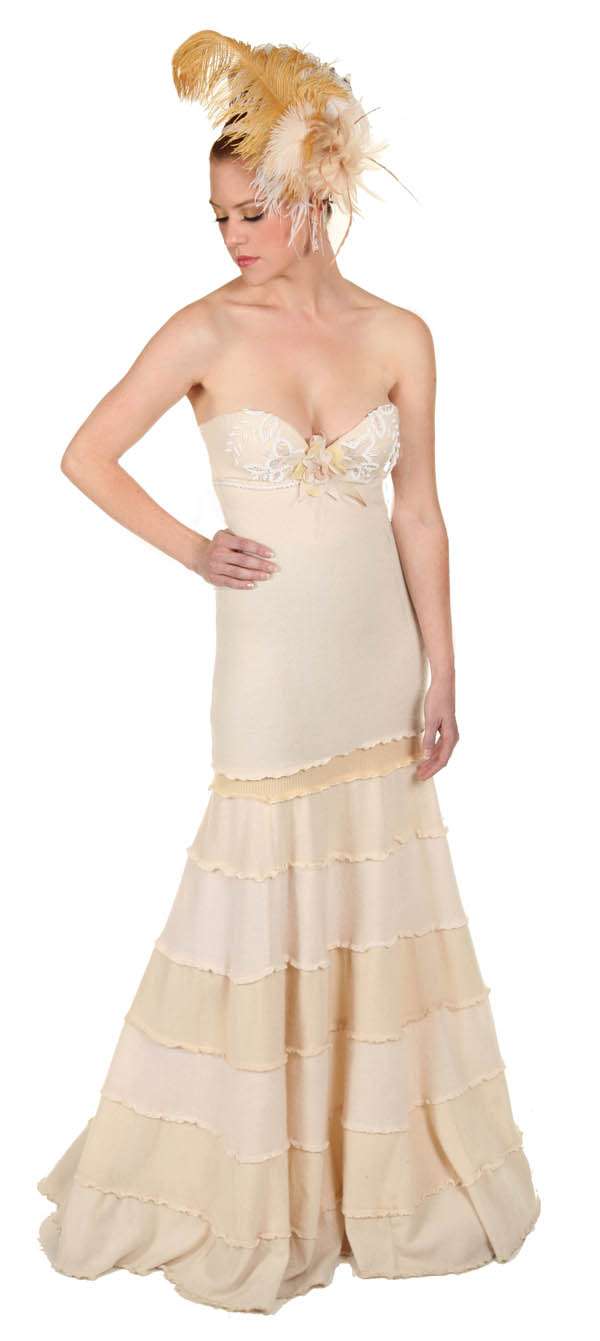 Or you could attach the beads to another dress or turn the sweater into a beaded bustier and pair it with a long bustled skirt like I did with this ensemble, 'Kate'.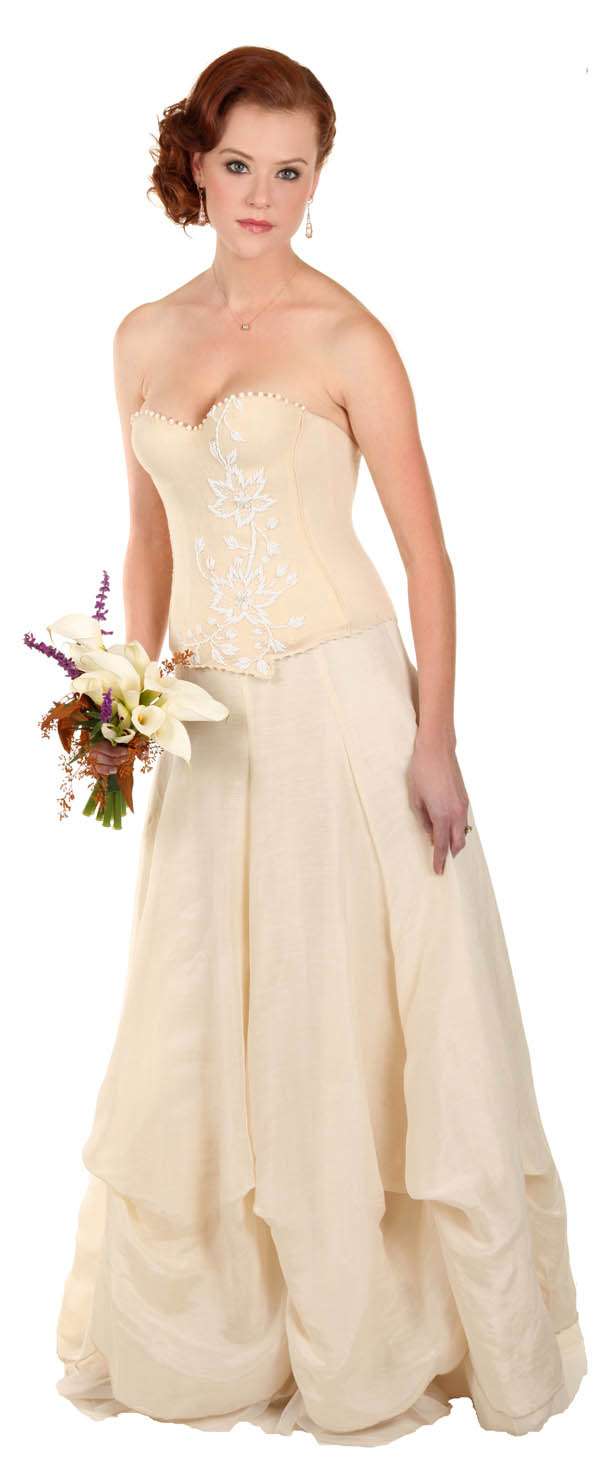 Thrift stores/charity shops and vintage finds
If you've always hunted for fabulous finds in the thrift stores then why not do the same for your wedding dress? These stores are amazing for finding the most amazing re-embroidered lace fabric – maybe as a tablecloth, don't let that put you off! Buy it and use it for your dress!
This two-piece wedding dress is entirely made of one vintage tablecloth, lined in organic cotton, and embellished with carved bone beads.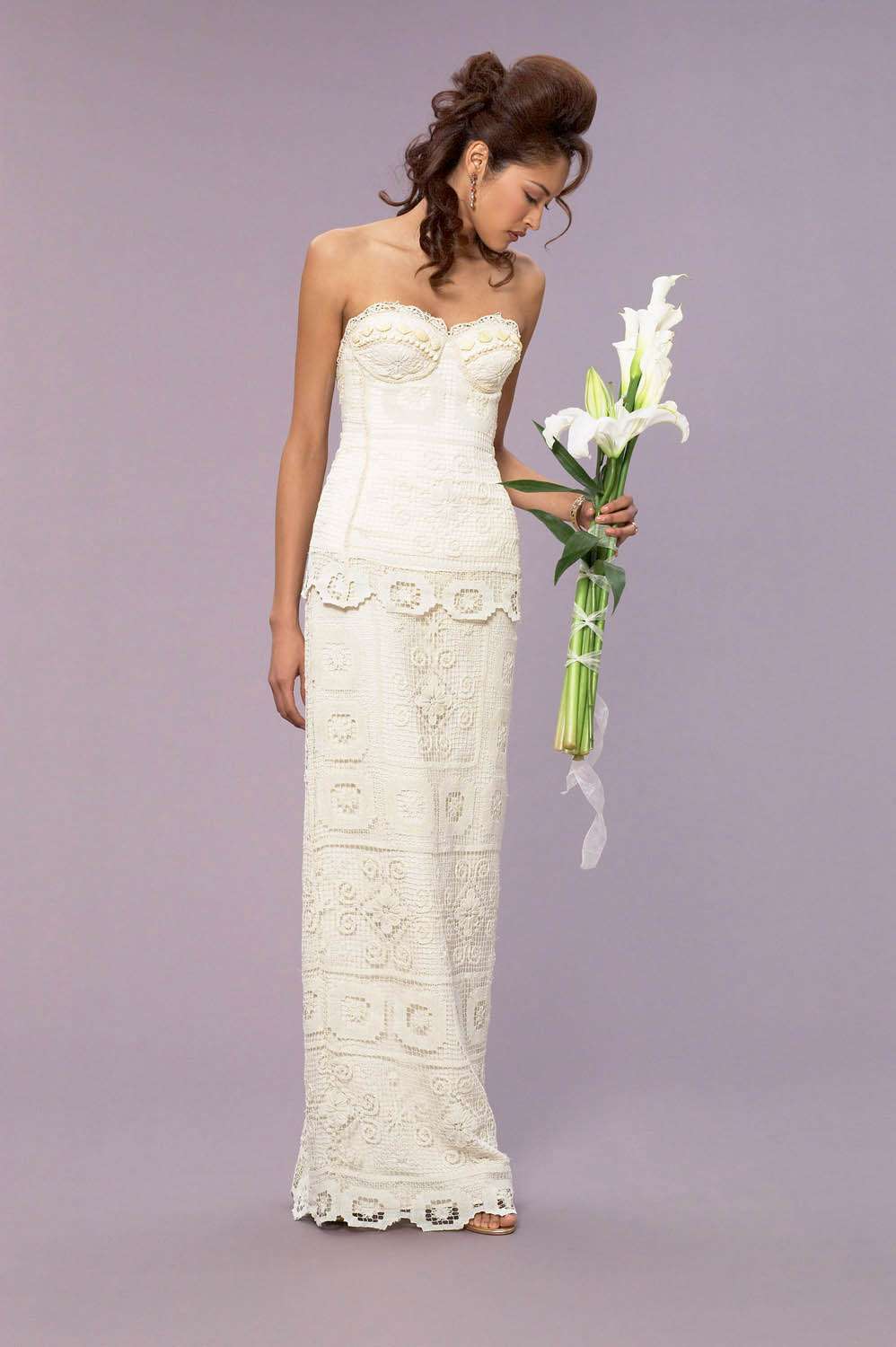 If you don't fancy a full-lace dress, how about just having lace as an accent? This embroidered lace bodice and organic linen gown I created is called 'Dana'.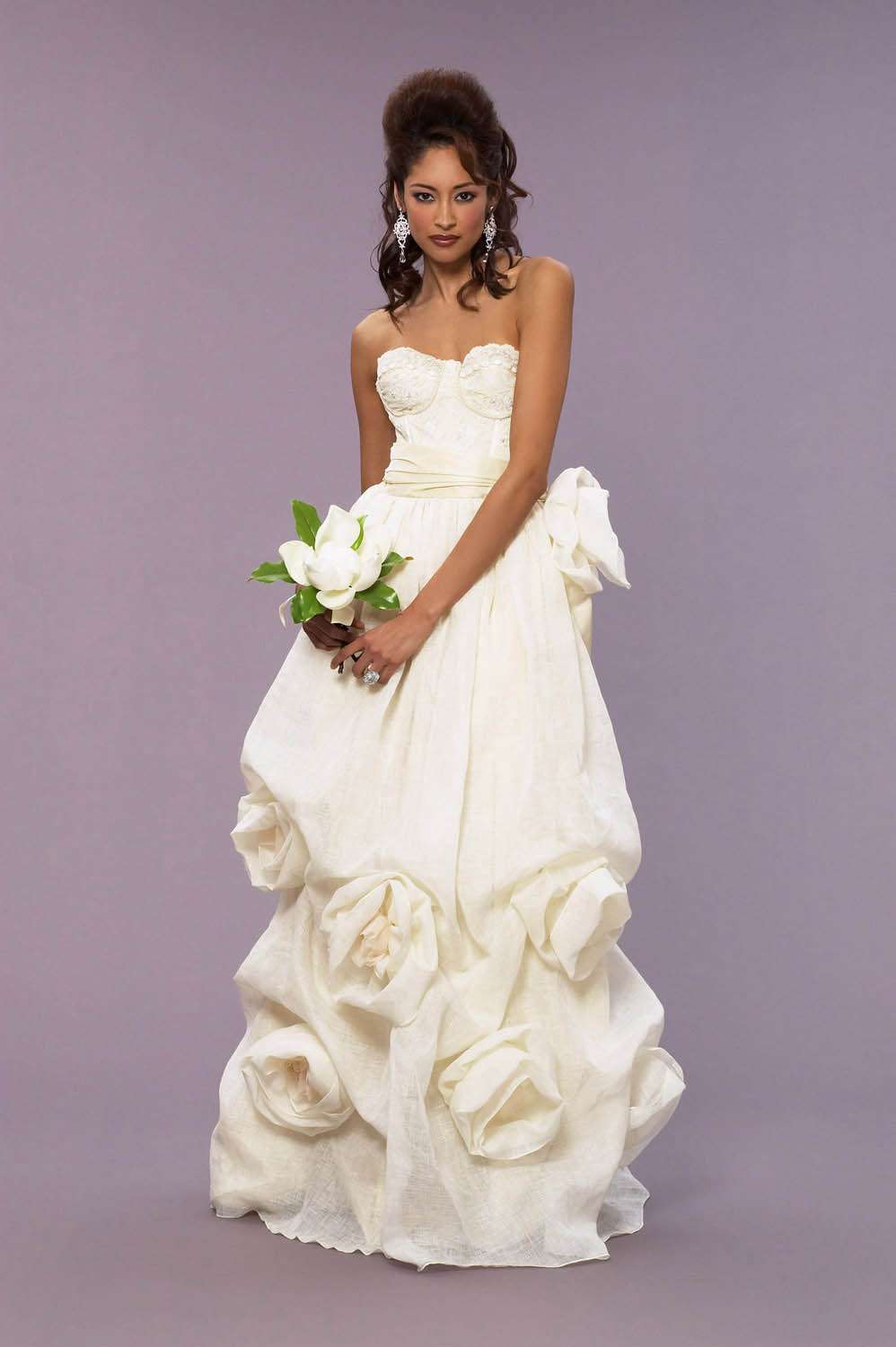 Jewellery
Do you have any crazy chunky beaded jewellery you used to wear all the time but somehow it's got left at the bottom of your jewellery box? Maybe your beau bought you a pieces on holiday that you wore for the whole time you were there, but once you returned to the city it didn't fit somehow?
Why not take it apart and use it as beading? Wedding dresses don't have to be white or off-white after all. Start with a bustier and embellish it with some favorite nostalgic pieces. I love this example of this bustier worn by Rihanna in her 'Unfaithful' video, made of vintage chantilly lace, freshwater pearls, and chunky semiprecious beads: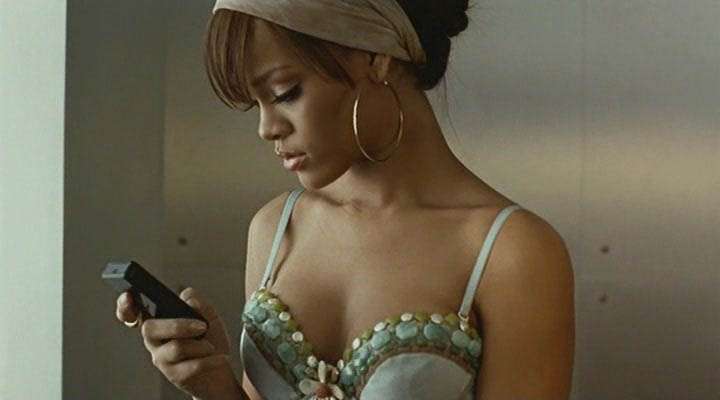 The point is simply this: Let your creativity shine and have some fun 'reincarnating' your memories into your future.
Many blessings, and congratulations on your new life together.
♥  ♥  ♥
Thank you to Deborah for this article full of fabulous DIY ideas! I'd love to hear in the comments about any more 'upcycling' wedding dress ideas you've thought of or come across on your internet travels.
Product Photography Credit: Greg Franco for Kendra Weddings & Glenn Campbell