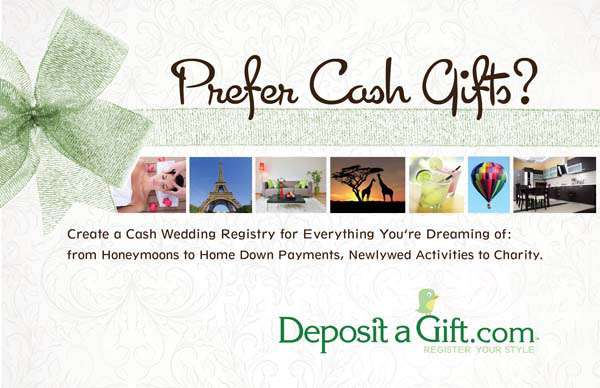 Earlier this month I went to lunch with one of my best and oldest friends, Katie. We've known each other for years, ever since we started skipping Sunday School together! Anyway, this lunch was extra special (and it wasn't just because we went to Wagamamas) because she told me she was getting married…in March! Yes in under 3 months time!
Anyway one of the first things we got talking about (after the dress of course) was the wedding gift registry. She told me they'd decided to go for the cash registry option and wanted to know if I thought it was 'tacky' to ask for money over gifts. They already live together, but they want to have the honeymoon of their lives. So, instead of asking for toasters, dinnerwear and cushions, they're asking people to contribute as much as they feel comfortable with towards their dream trip. They've added small things from as little as £5.50 for a favourite cocktail, all the way to a few hundred pounds for flights. I thought it was a great idea! Who needs another throw cushion anyway!?
So for this reason, I'm thrilled to introduce you to Deposit a Gift today. Deposit a Gift offers just the service Katie is after. Founder Dana Ostomel says,
"Deposit a Gift gives engaged couples what they want most: Flexibility. Our cash wedding registry lets friends and family contribute monetary gifts towards the dreams and experiences they actually want, not 'stuff' they don't. It's incredibly user friendly, and offers a great alternative to traditional registries. Simply put, it's a less crass way of asking for cash."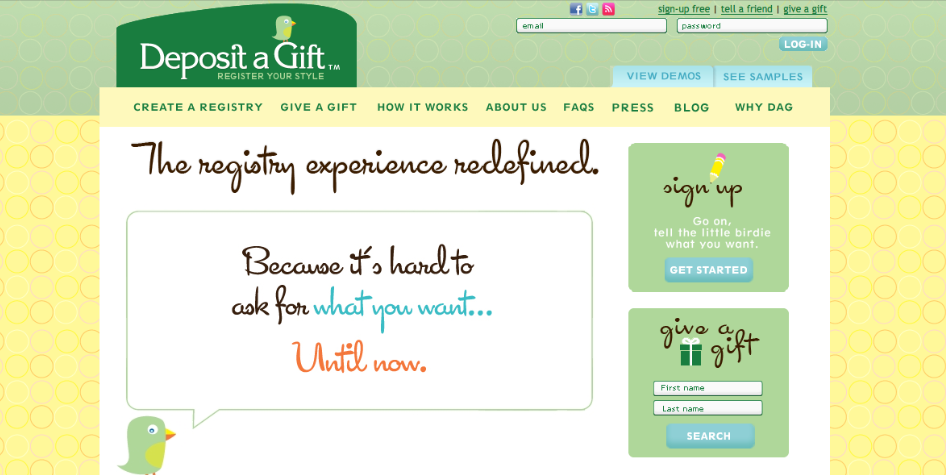 Deposit a Gift is really simple to sign up for, but similarly super easy for the gift-givers. It works in a similar way to a traditional registry but allows couples to register for anything they'd like – from honeymoons to payments towards a first home, and from activities to charity donations. "We are also the only site that includes a free wedding website, and room to list your other registries, so it truly is a one-stop-shop" Dana continues. "There is no shipping, no gift wrapping and no need for returns. In a nutshell, we make the awkwardness of asking for cash go away."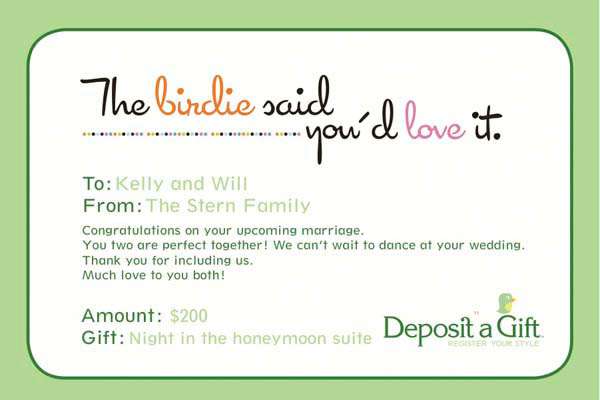 Key Features
♥ Free wedding website with discreet and customisable URL – up to 200 designs to choose from
♥ Password protection
♥ Rapid Registries – more than 50 pre-made gift lists for those wanting a quick and convenient way to sign up
♥ Unlimited storage to upload and share photos or videos
♥ Unlimited cash-outs – redeem your gift money as often as you want via free direct deposit (many other sites will charge for this), personal cheque or Visa gift card.
♥ Thank you note tracker
♥ International friendly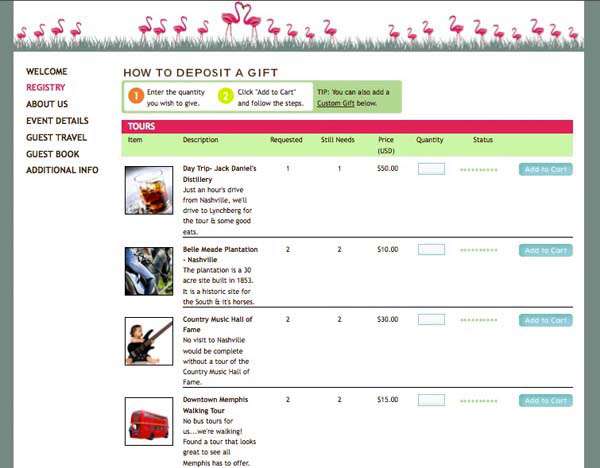 Still not convinced? Well check out what these happy newlyweds have to say!
For more information be sure to check out Deposit a Gift today! They can also be easily contacted via email on support@depositagift.com, as well as on Facebook and Twitter.
*Sponsored Post