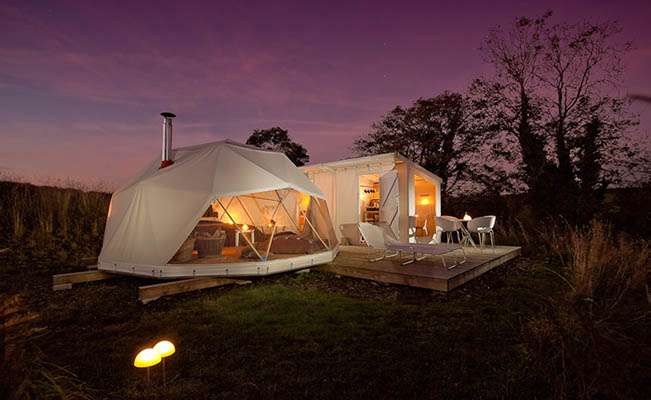 Another one of my goals for 2011 is to actually have a holiday with Gareth (are you reading this buster!?) With us both being workaholics plus parent's to two very needy Maine Coons, the idea of us actually making the time to go away seems like more of a daunting task than to most – can you believe the last holiday we had together was our honeymoon…THREE years ago?!
Anyway, when Canopy & Stars emailed me before Christmas…well, it was like all my Christmases had come at once. They offer the perfect solution to our little dilemma – the mini-moon. But these are not any old generic short break, oh no – Canopy & Stars offer holiday's under the stars (talk about getting away from it all!) but I'm not talking about  muddy fields, communal showers and sharing your tent with an ants nest (eugh.) This my dears is glamping – glamorous camping at its very best!
Canopy & Stars offer a number of different and unique locations and places to stay all around the UK, from super glamorous French imported Gypsy caravans in the Scottish borders and a luxury log cabin in the Lake District and prices start from just £120 for a weekend! They are also introducing new locations all the time. I'm particularly excited about The Treehouse at Harptree Court, available from June 2011. It looks AMAZING!
Here's some of their glamping locations that I'm just dying to visit…seriously. I'm there!
Sapperton Yurt (The Cotswolds)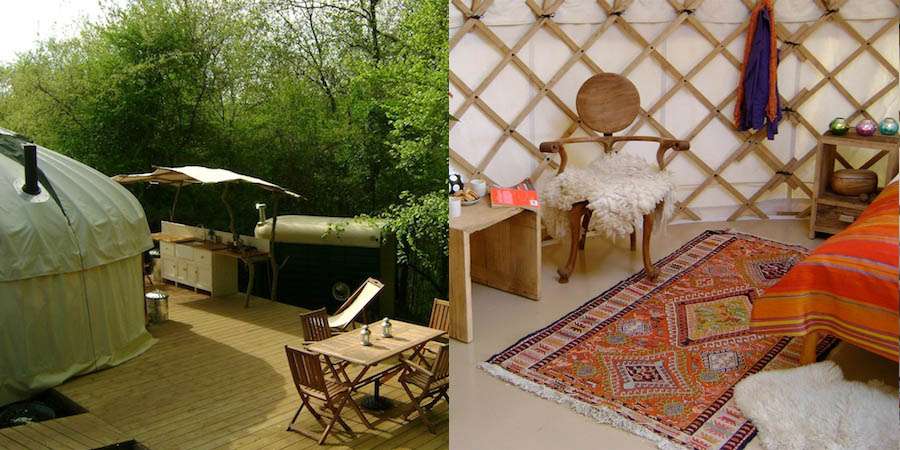 I have always wanted to stay in a yurt and Sapperton is one of the most glam I've seen. I'm loving the interior decor and the fire! Surrounded by woodland, Sapperton comes complete with a double bed, a wood burner, gorgeous rugs, your own private decking area and even a roll top bath. This place sounds more luxurious than my house!
From £370 to £420 for a 3 night weekend stay
The Roundhouse (Cornwall)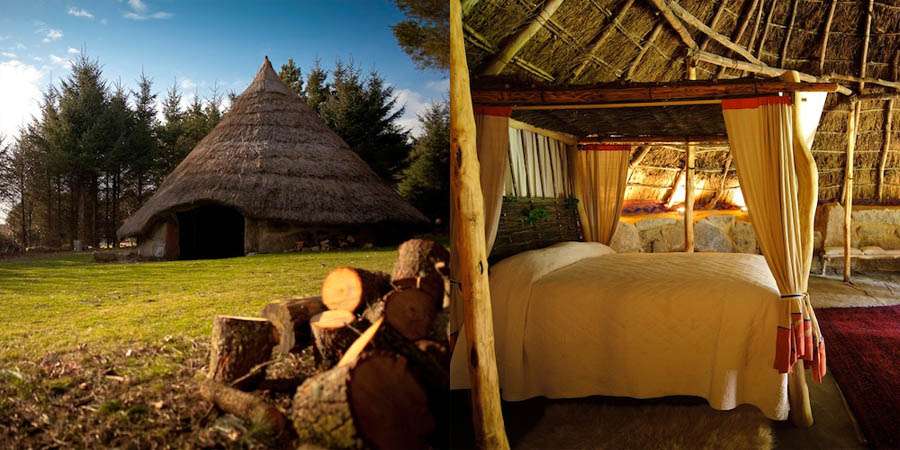 The perfect way to escape the hustle and bustle of day to day life! The Roundhouse is unlike any other camping experience out there. It is a heady blend of incredible luxury and opulence in an Iron Age roundhouse! Situated in the heart of Cornwall this tranquil retreat is the perfect way to transport you back in time and to revive and relax you on your weekend away. A roaring fire and a (hand-crafted!) four poster bed complete with luxury egyptian cotton sheets and a duck down duvet(!) make this location perfect for honeymoon's.
£390 for a 2 night weekend stay
Yarlington Yurt (Somerset)
Yarlington is perfect for newlywed's and mini-moon's. Why? Well, the yurt is located at the Count and Countess de Salis' Georgian home – where they do weddings! How perfect is that? You can have the wedding in the Georgian house and stay overnight in the twin pod luxury yurt!
The décor can be best described as 'late 18th century with French influence'…this is the poshest of posh camping.

From £190 for two nights


The Lovestruck
(Somerset)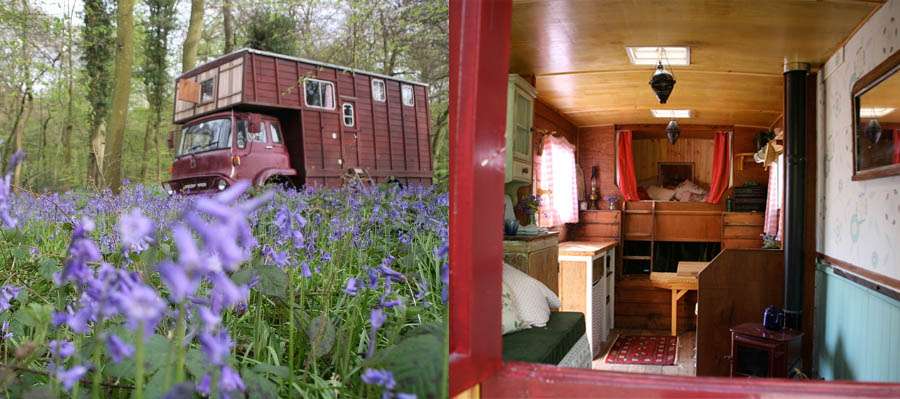 Part Gypsy Caravan, part Showman's wagon, The Lovestruck is a lovingly converted old horse truck. The caravan is currently located in the grounds of Harptree Court near Bath. The caravan actually moves around the country and will soon be moving up to Scotland to park by a stunning loch at the gorgeous boutique and foodie hotel – Mhor. It can accommodate four guests and includes a kitchen and a wood burner.
From £230 to £250 for a 2 night weekend stay
Lochhouses (Scotland)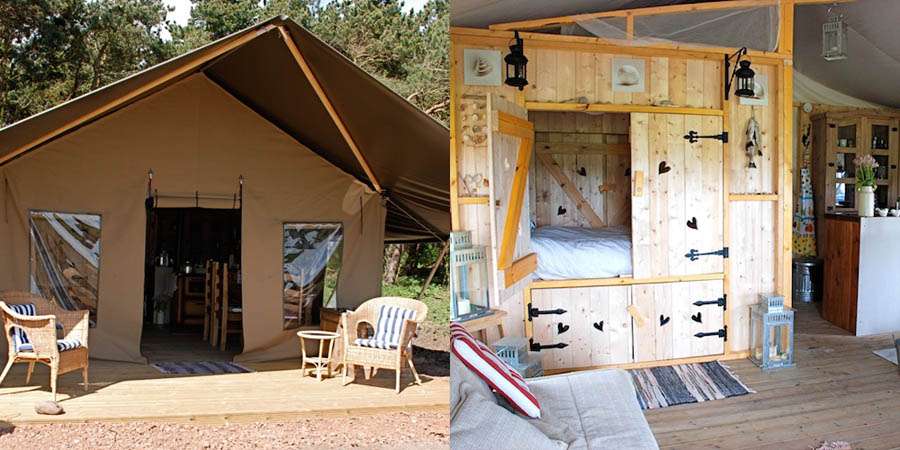 Lochhouses offers glamping on the beach! Located just past the sand dunes are 6 luxury private safari tents. The location makes it perfect for pets too as you can wake up and walk the dog along the sand, right outside your door. You can even ride a horse in the surf!
The tents at Lochhouses are all fully equipped and sleep six to eight people.
From £350 to £550 for a 3 night weekend stay
Dapper Camping Club (Powys)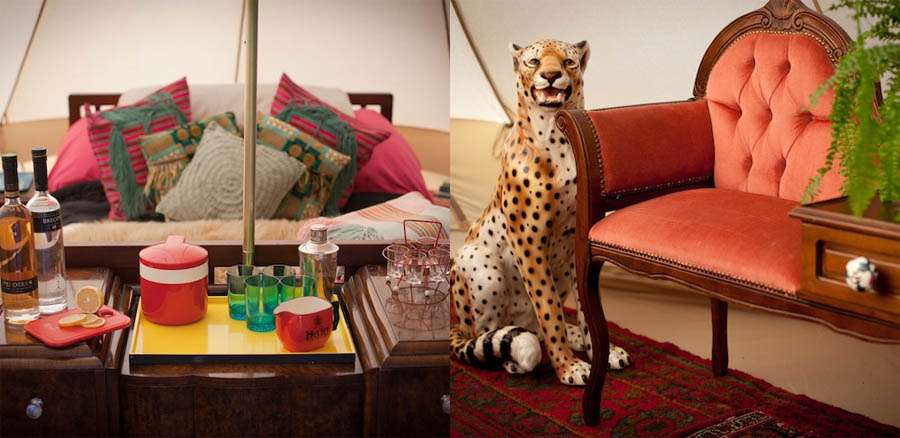 Dapper Camping Club may be my favourite location of the lot. With a nod to 1920's glamour, the tent is fully kitted out with everything from dark wood furniture to patterned carpet and a fully stocked drinks cabinet. The tent has a large double bed and who could ignore that ceramic leopard…just what every glamping trip needs!
On the terrace is a stocked kitchen and a bathroom with a gas heated shower. Bliss!
The tent comes complete with two spare singles mattresses so can sleep up to four.
From £330 to £365 for a 2 night weekend stay
♥  ♥  ♥
So, if you're not feeling super flush but are on the lookout for a unique and fabulous UK holiday/honeymoon/mini-moon then look no further! For more info and to book a Canopy & Stars glamping holiday be sure to check out their website.