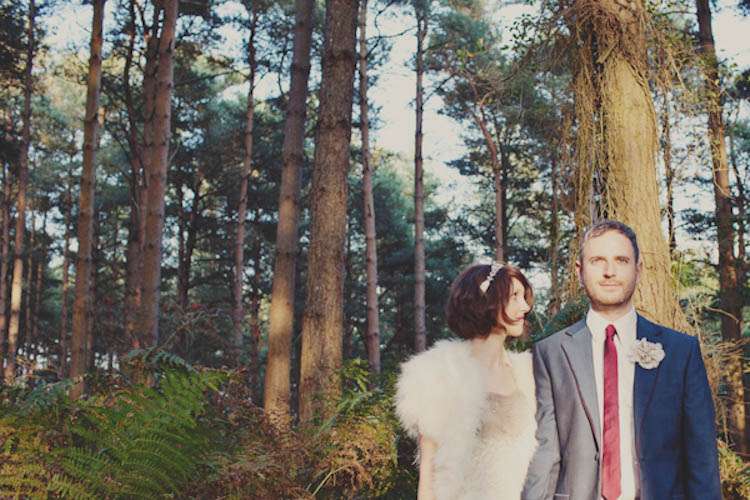 Don't gorgeous handmade weddings like Katie & Will's just make you go weak at the knees? So much of what went into their amazing wedding was hand crafted by the couple and their friends, making the day a really special one.
Katie explains, "I didn't want a traditional bouquet and so inspired by the web, I opted for my Mum and Mum's friend to make a bouquet out of brooches and rings that I found on market stalls where we lives in Spain. It looked amazing and is something I can keep forever. To match the brooch bouquet, My Mum made Will's buttonhole out of pieces of lace and a satin brooch."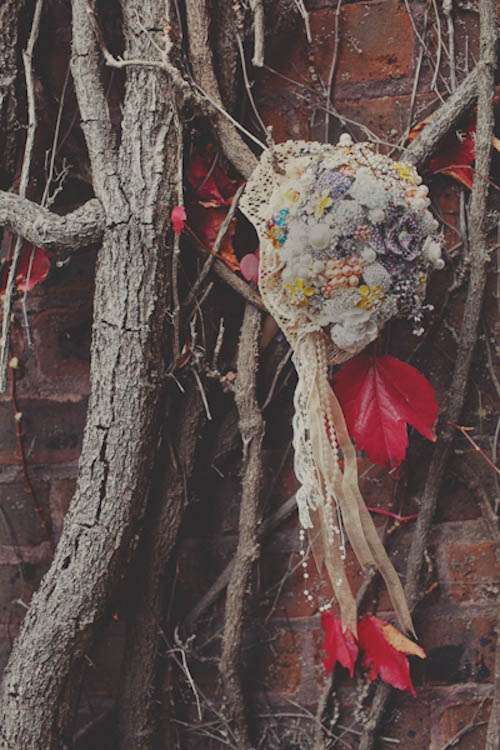 "We bought an authentic US Post box to use for the wedding cards," the couple continued. "This came from eBay and was in a sorry state. Will restored it to a beautiful condition by removing all the old paint and resprayed it in cream gloss. He then stenciled 'Mr & Mrs Dorling' onto the side using some homemade stencils and paint from his hobby supplies."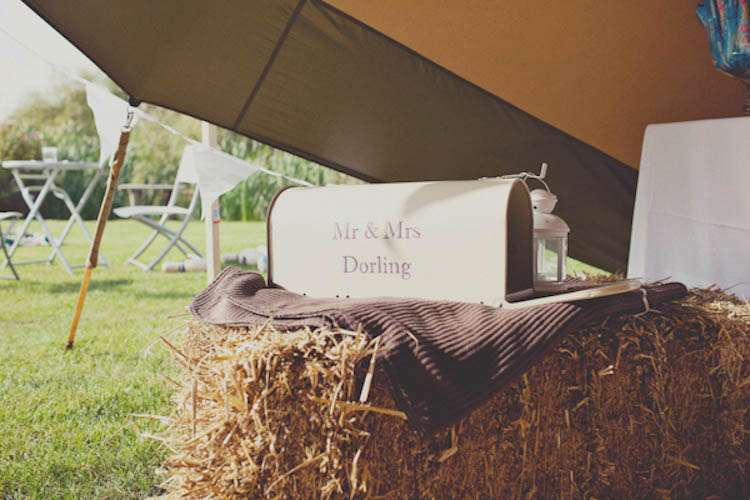 "To make the cake personal we bought two plain wooden cake toppers from Goose Grease on Etsy. Again, Will painted these using acrylic paint to match the outfits we were wearing on the day. He knew what his suit looked like but as Katie's dress was a surprise so she gave him a colour palette to work with."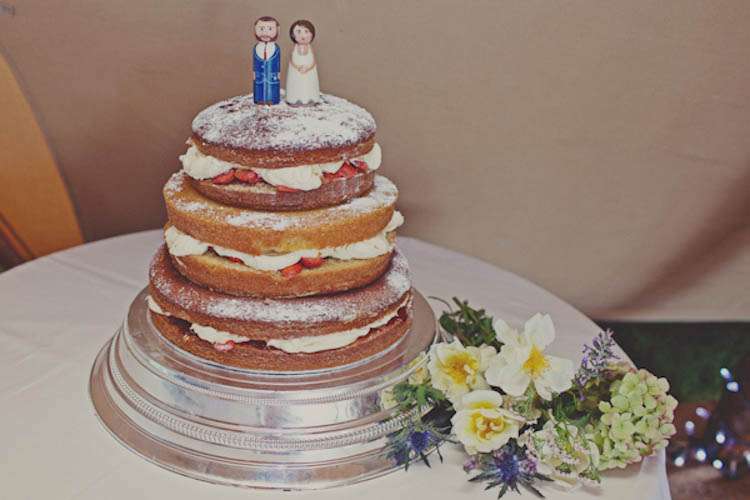 "We opted out of having a table plan as we wanted a relaxed feel to the day. To make sure people had fun during the meal we made a selection of moustaches on sticks for people to play with and take pictures. We printed a selection of 5 stencils online and used thick black card as the moustache. We trimmed around the stencils making 2 at a time -100 in total! When all the moustaches were cut out we glued them to the sticks in batches – wooden kebab skewers bought at supermarket with sharp points trimmed off. These were presented to guests tucked into a folded napkin with a copy of the 'Heads Up' order of events sheet."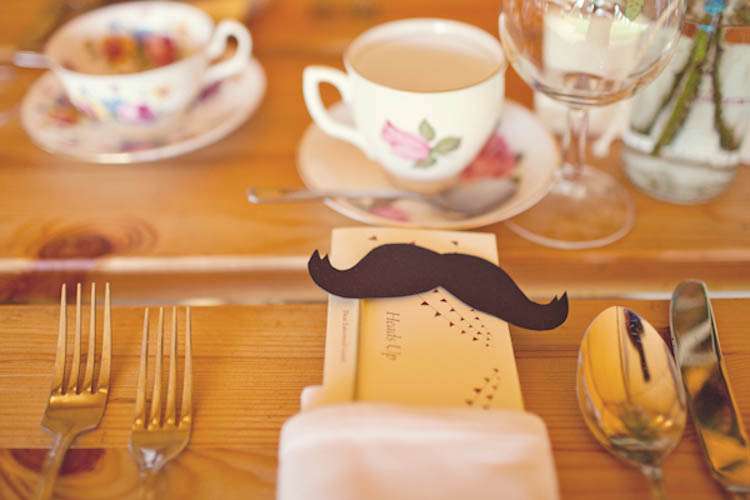 "We also handmade some signs directing people to 'The Wedding', the 'Loos' and the 'Favours Buffet'. These were made from some free MDF sheets left outside a woodwork shop in Brighton, painted purple using home emulsion and the text was stencilled on then brought out using a cream chalk pen bought online. Instead of a Guest Book we thought we would get one pun in relating to the earlier wedding of Will and Kate. We bought a souvenir apron crossing out the wedding date and adding our own. Guests then signed the apron with their message."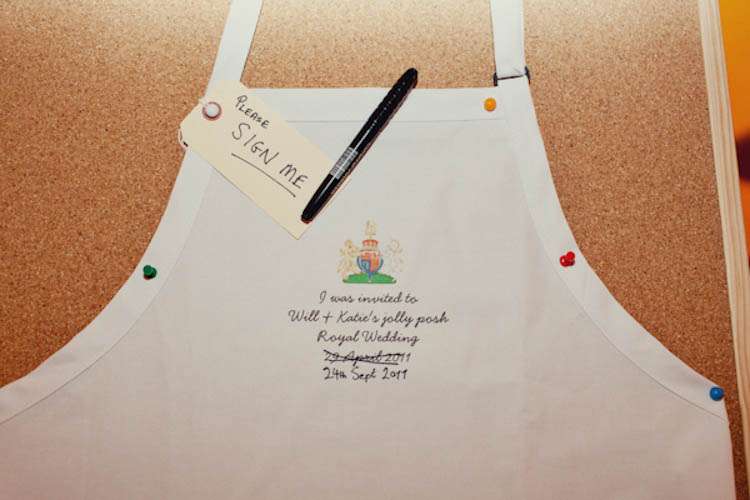 Katie wore an incredible dress by Jane Bourvis who has a shop on Portobello Road, London. It was made of vintage lace from 1910. She also wore a 1970s white Marabou bolero jacket was bought from a vintage wedding fair.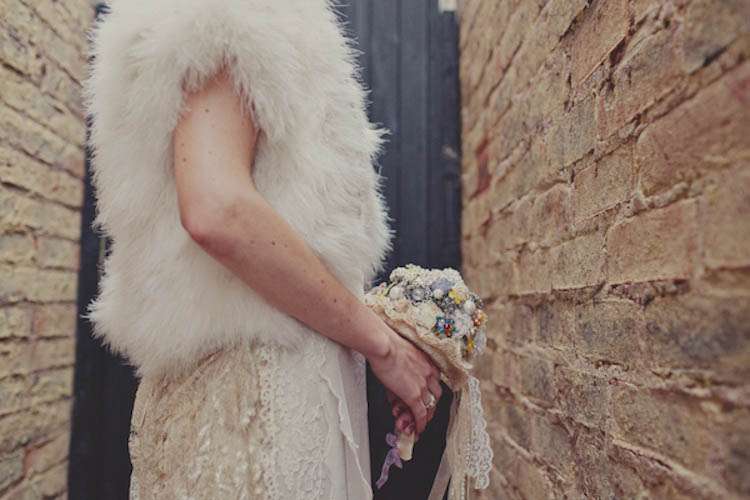 "Katie managed to get halfway through one bridal magazine before deciding that the options she saw were very samey and not for us and so she immediately turned to the web for inspiration," the couple continued. "Katie took a lot of inspiration from blogs such as Rock n Roll Bride and Ruffled which gave us the initial ideas that we could do whatever we wanted on the day and not to be restricted by traditional formalities. We found our wonderful and unique photographer Joanna Brown on Twitter and other suppliers via the web."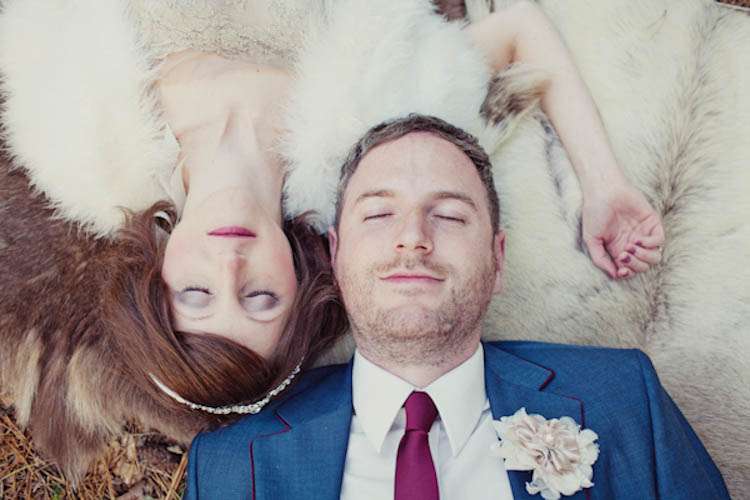 "We must add that the photos taken throughout the day by Joanna were perfect and provide a real story, capturing the events of the day. We love her style especially the way she photographs people in a really natural way whilst they are enjoying themselves. Another skill of hers is to pick out the finer details and touches so that they aren't forgotten."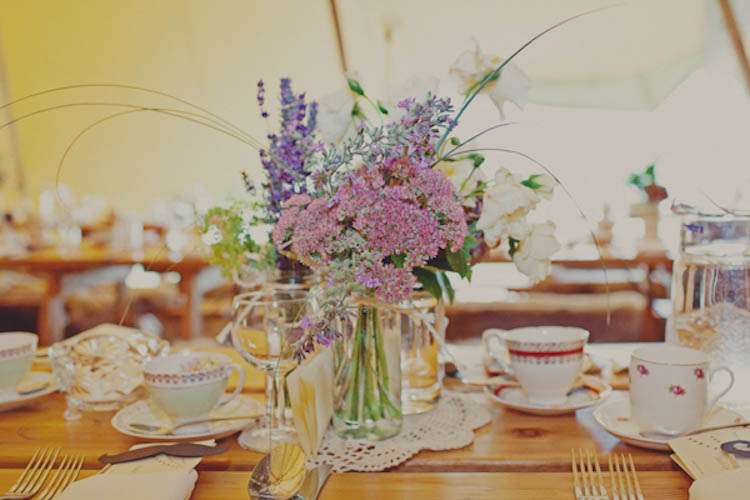 "Overall we wanted the day to be super relaxed, fun, and a really nice party – a wedding without the formalities. Where we chose to go down a slightly more traditional route, i.e. the venue for the wedding, we tried to pull it back into theme using variables we had control over such as the music. We wanted the reception venue to be different and the Tipis supplied by Beautiful World Tents are out of this world. When they are dressed with all the twinkling fairy lights they look stunning and were a huge focal point on the day. Most guests had not seen anything like them and the setting on the side of the lake at Duncton Mill was perfect."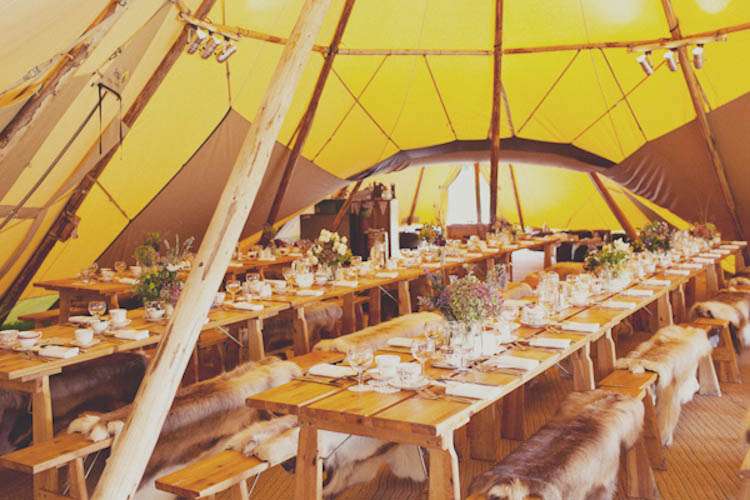 "Our day was rounded off staying at the 'Old Railway Station' down the road from our venue. This unique accomodation has converted Pullman railway carriages as guest rooms resplendent with many original art deco features. Breakfast was served in the old ticket office. We will definitely be making a return visit."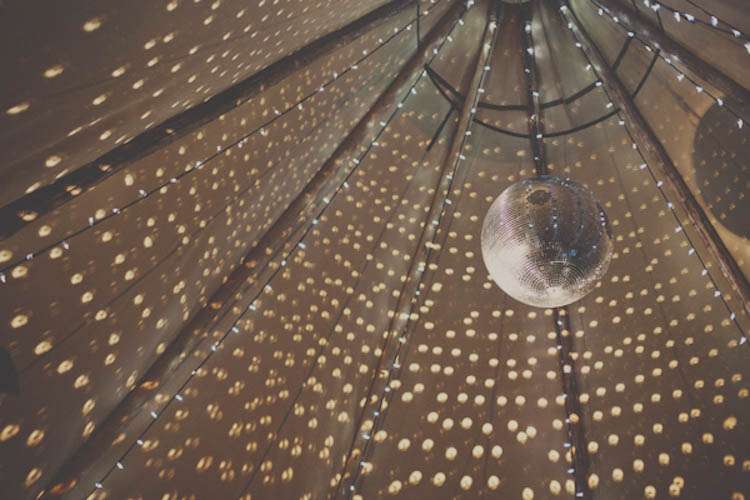 Wow…I just know you guys will have loved this one. Thank you so much to Katie & Will and photographer Joanna for sharing.
Photography Credit: Joanna Brown Photography
Ceremony Venue: Arundel Town Hall
Reception Venue: Duncton Mill Fishery
Bride's Dress: Jane Bourvis
Bride's Shoes: eBay
Bride's Veil: Chantal Eveleen on etsy
Bride's Bouquet: DIY
Groom's Outfit: Gresham Blake, Brighton
Cake & Catering: Pink Pig Caterers
Flowers: The Flower Pot Shop, Pulborough
Band: Acacia Road
Stationery: DIY
Reception Decor/Props: DIY
Transport: The Big Lemon Coaches (they run on eco fuel AKA chip fat!)
Fireworks: provided by Aurora Fireworks – set off by Father & Uncle of the bride