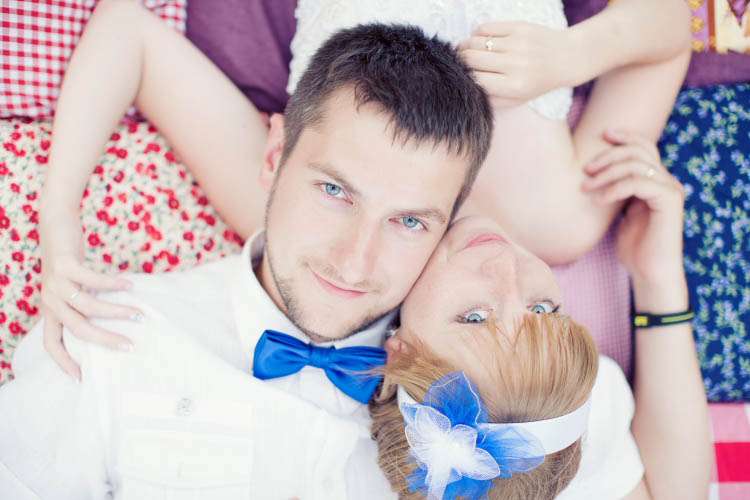 I don't think I've ever featured a wedding from Lithuania on the blog before, but I'm pleased to say that's all about to change…and if there are more Lithuanian weddings as awesome as this one I want to share them as well please!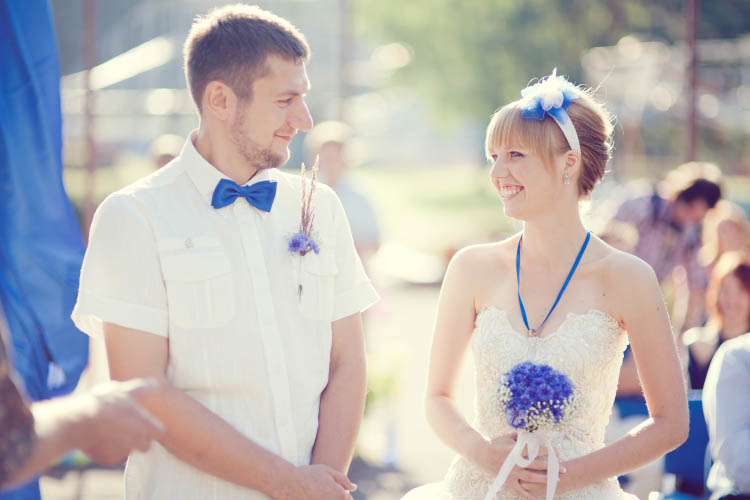 Alma & Aleksandras' wedding was sent to me by their planner Laura Vagonė. "I met these two six months ago, both of them are photographers so wanted to have wedding in some special and at an interesting place. I've offered them an old carousel park and they loved the idea."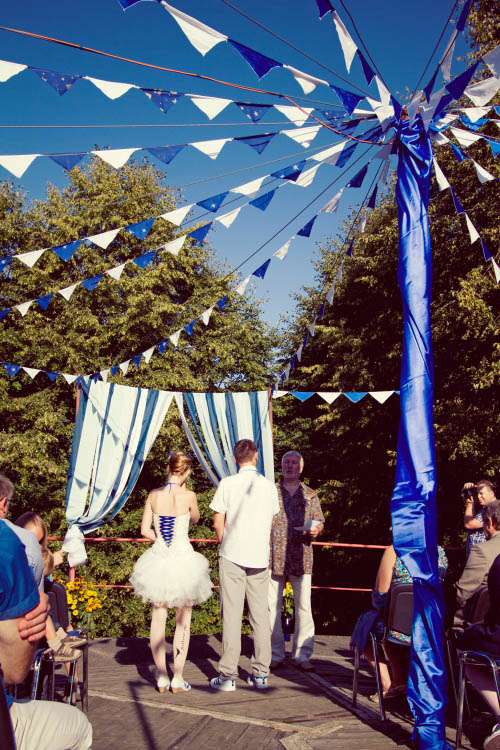 "The ceremony was held at 8am and officiated by the the father of the groom. We had amazing party and the guests were invited to try carousel. They were happy as kids, trust me. We also had a live band playing the whole time. Everything was so great that I'd like to share that colourful joy with you!"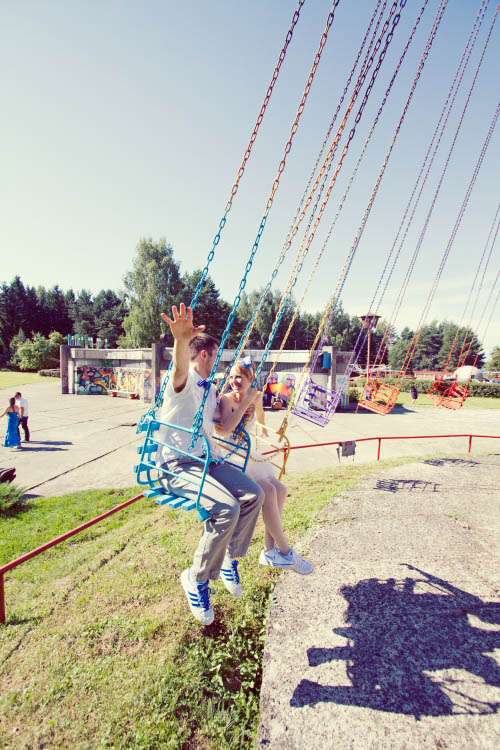 Well I'm very pleased you did Laura!
The wedding had a blue colour scheme which was reflected in both the bride and groom's outfits. Alma wore a second hand dress which she found on eBay with cute flats and a headpiece, both by Agne Giedriene (she also changed into Nike trainers later in the day) and the most amazing twitter-inspired tights by Tattoo Socks on Etsy. Aleksandras wore a second hand suit with a blue bow tie he was given one Christmas.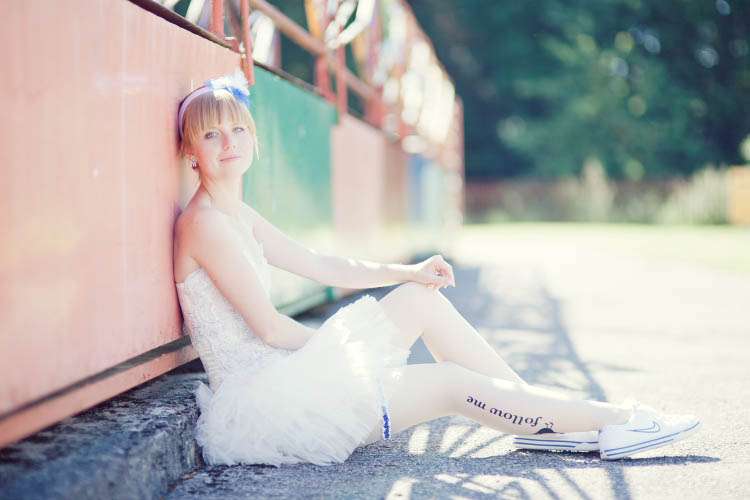 Their were also handmade touches throughout the wedding including the cake, the ceremony décor and the flowers, which were all put together by the groom's Mother.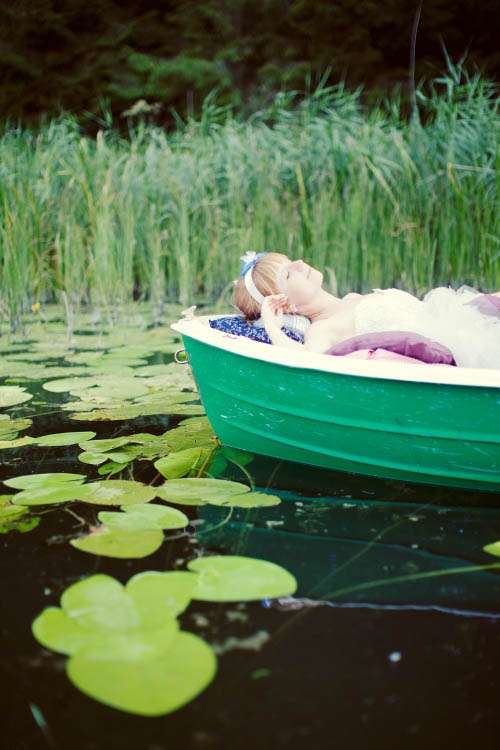 The wedding day finished with a boat ride and the couple jumping into a nearby lake! Rock n Rooooll!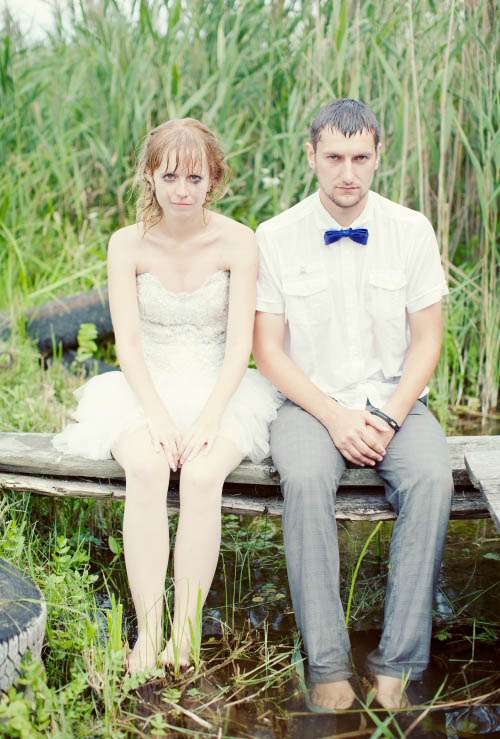 Smitten! Thank you so much to Alma & Aleksandras, their planner Laura Vagonė and their photographers Fotopastelė for sharing these with us today.
Photography Credit: Fotopastelė
Venue: Elektrenai Carousel Park, Lithuania
Bride's Dress: eBay
Bride's Tights: Tattoo Socks on Etsy
Bride's Shoes & Headpiece: Agne Giedriene
Cake: DIY
Flowers: DIY
Band: Avenue Acoustic
Wedding Planner: Laura Vagonė