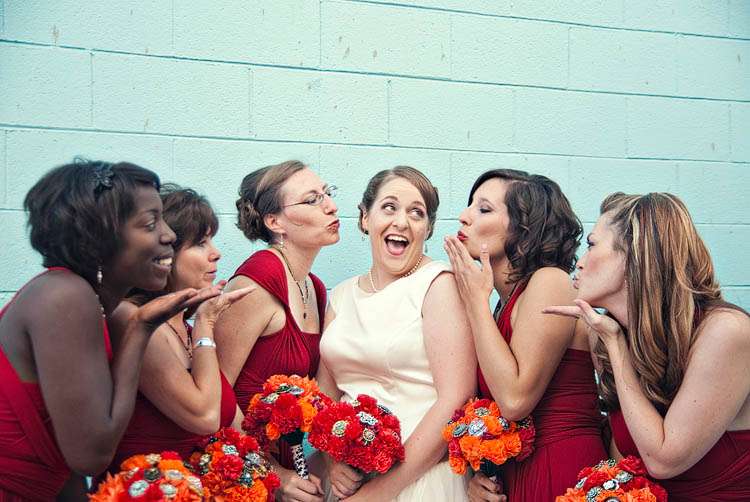 Aimee & James were married on
The Boardwalk
in Santa Cruz, Ca. The day was a 1950′s inspired vintage one with a carnival vibe. The bride wore a custom made dress inspired by Audrey Hepburn in Funny Face and amazing blue shoes by
Moda in Pelle
. The couple were engaged in Paris. James proposed on new years and the stroke of midnight.
"We wanted to have a 1950's vintage carnival theme wedding because we were having it at the Boardwalk in Santa Cruz, Ca. Due to the rich history of the location, we were not short on ideas for how we would bring the nostalgia of the times through. We wanted to almost transport our guests back to a time when family values and marriage were really celebrated. For me the idea of marriage is an old-fashioned concept, but one that should be pursued if you find someone that makes your heart sing."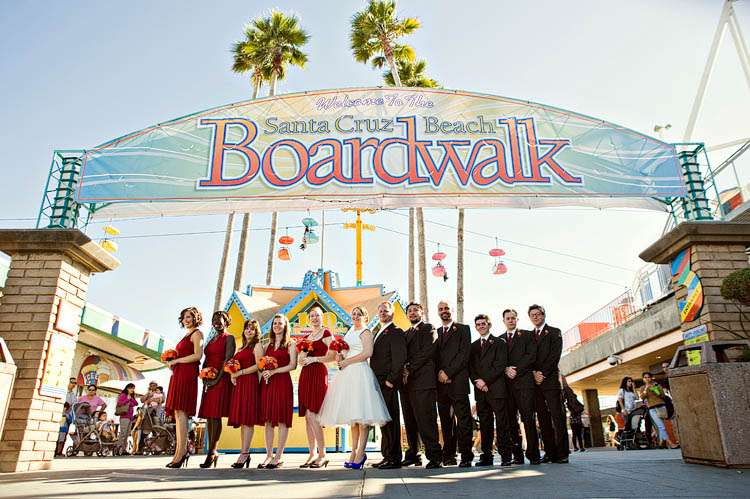 "The entire wedding was DIY," explained the bride. "Most notably were the carnival games. What would a 50's carnival be without games? One of the groomsmen was very generous with his time and volunteered to make the carnival games as a gift to us. We had a hat toss, bottle toss, beanbag toss, ping-pong toss, and a photo wall. The beanbag toss and photo wall were probably the most involved games with regards to execution."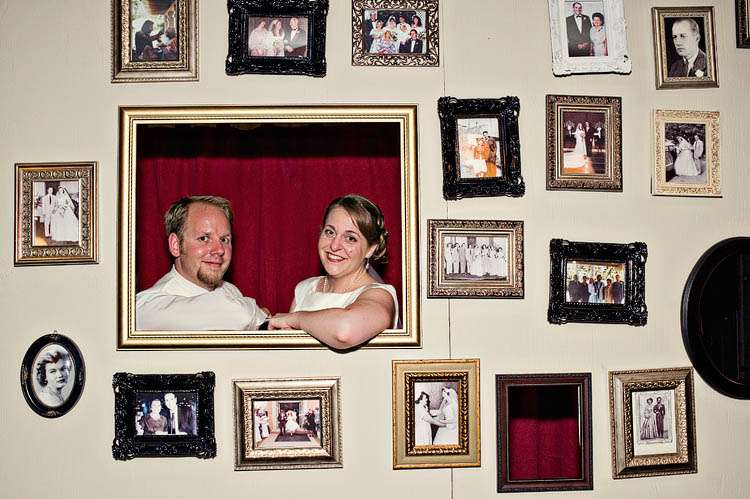 "The photo wall was a freestanding wall with 3 holes of various sizes cut out and lined with frames. Photos from the bride and groom's sibling's, parent's, and grandparent's weddings were framed and placed on the wall. A photographer friend of ours took professional photos of our guests and let's just says that it was a good thing this booth was set up next to the bar."
"The flowers were a big deal for me. I did not understand why flowers could be $3000 – $5000," she continued. "That would have been a 3rd of my budget. I was looking through my wedding porn and I came across an article in Martha Stewart Weddings, which is by far my favorite wedding magazine, where the bride's flowers were made out of paper butterflies. I loved the idea! Butterflies didn't make sense for me, but it opened my mind up to the idea of other possibilities. I liked the idea of paper flowers, so I started looking for different patterns. The ones I settled with were crepe paper roses and tissue paper flowers for the bridal bouquets. I used pipe cleaner for the stems and covered them in flower tape."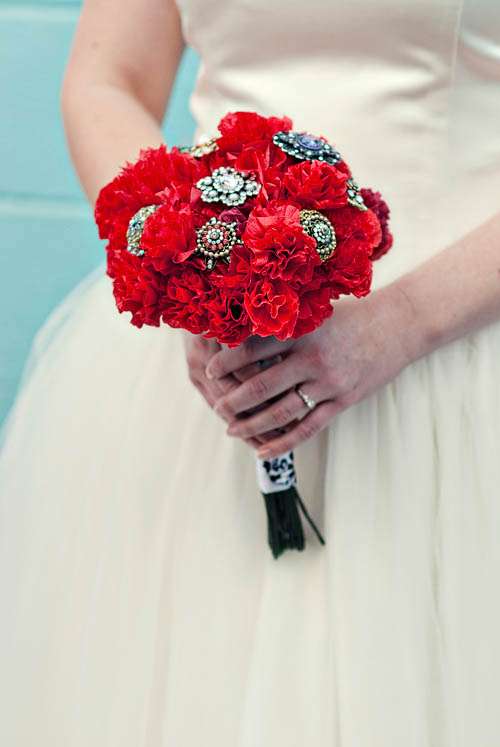 "Then I had the idea to have the jewellery flowers when I was at the groom's parents' house. His mother makes handmade jewellery out of jewelry she finds in stores and cannibalizes it to make it unique. She has tons of left over pieces that are too large to use in her creations, so I got the idea to have her make flowers out of them. She really got creative by gluing them in tiers and adding crystal accents. We then took wire and glued them to the wire to make the stems and covered them with flower tape."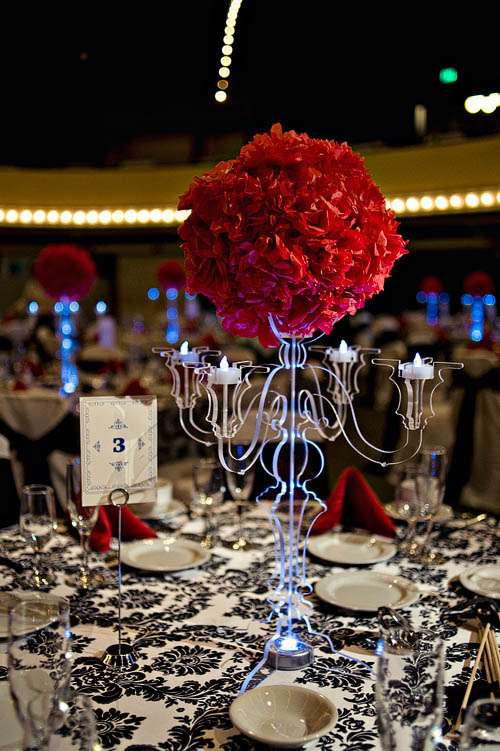 "Our centerpieces were also different. They were handmade paper flower pomanders by the bride, groom, wedding party, and family.
We put them on top of acrylic candelabras lit with LEDs. We used one type of flower to make it easy (tissue paper flower) and made hundreds of them every day for 4 months. I am still finding slivers of red tissue paper in my living room. I had the idea for
acrylic candelabras
but could not afford them. Then it occurred to me that my friend works in plastics and I asked if he could do it, so he designed it for me to be in a baroque style with a slot for an LED tap light at the base to light it up."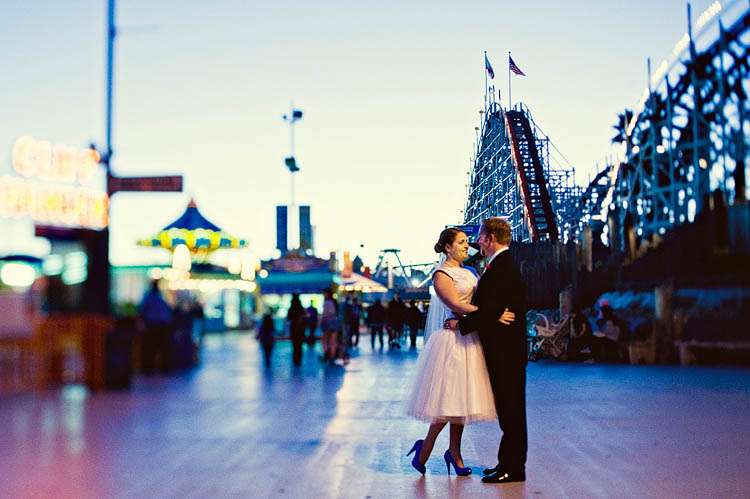 "The one thing we take from this whole experience was that the elements that really made it different were the most important to us and ultimately what we received the most nay-saying about leading up to the wedding were things we received the most complements on afterward," Aimee concluded. "People would ask me about elements of the wedding like my shoes and I would tell them they were going to be a bright blue and people would kind of look at me with this odd stare and say, "huh". Then when the photos went out the one thing that everyone commented on was how beautiful the shoes were."
"When we started talking about paper flowers people didn't really get it. I think a lot of people didn't think we knew what we were doing. To be fair, we didn't always know what we were doing, but we knew that it was going to be amazing and it was. We have been told that our wedding was the best wedding that some guests had ever been to and is a benchmark for all future weddings in our community of friends and family."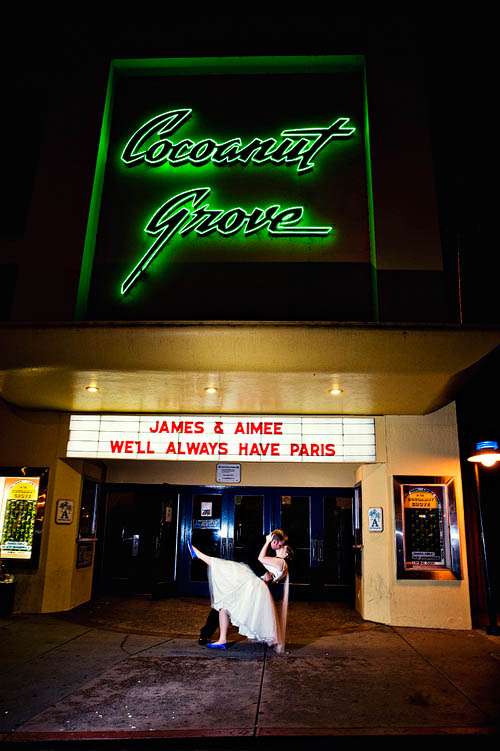 Big love and thanks to Aimee & James and their photographer Michele for sharing these today. You can see more of Aimee & James on their wedsite.
Photography Credit: Michele Beckwith Photography
Venue: Cocoanut Grove on The Boardwalk in Santa Cruz, Ca.
Bride's Dress: Lightinthebox
Bride's Shoes: Moda in Pelle
Bride's Veil: DIY (Bride)
Bride's Under Garment: The Vargas Girdle Dress by Kiss Me Deadly
Groom's Suit: Rented
Cake: Margaret's Bakery
Flowers: DIY
DJ: DJ B-Somebody
Wedding Day Coordinator: Mandy Buttler
Bridesmaid Dresses: DIY (handmade by the bride from this tutorial)
Hair: The Last Resort Salon