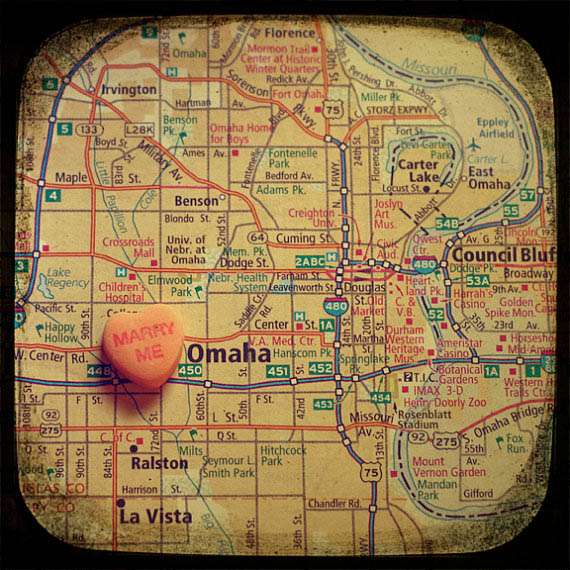 Credit: marry me omaha custom candy heart map art print by capow on etsy
Only 20 days until Gareth & I go to The States! I've been invited by one of my blogging (and design) idols Princess Lasertron to go and model in her fashion show for Omaha Fashion Week and I'm just about to burst with excitement and nerves. This will be my second sashay down a catwalk (after my début in February at The Luella's Boudoir Wedding Show at One Marylebone London) but this time is oh-so much more nerve-wrecking. Not only am I travelling half way across the world for the event, but Princess Lasertron is designing a dress especially for me! It's going to be called the 'Rock n Roll Bride' (d'oh) and yes it will be available to purchase! I can't wait to see it and share it with you afterwards…and nope I haven't even seen it yet. However if her Fall 2010 dress collection is anything to go by it's going to be ahh-mazing.
We're also hopping over to LA while we're there for a 'lil holiday and to meet some of my other internet friends including Bowie Bride, Broke Ass Bride, Jasmine Star, Tinywater Photography and many more. Gareth & I aren't big travellers and we haven't had a holiday since out honeymoon to Tokyo, over THREE YEARS AGO. I'm quite nervous about the whole thing but as you can imagine I also seriously can't wait!
Anyway, enough of my squeals of excitement and diversionary tactics…On with the treats!
♥ Sabrina Alashi and Rodney Clouden Real Wedding
♥ An Elopement at a Little White Chapel
♥ Southern Fusion Wedding
♥ A Contemporary + Minimal Vivienne Westwood Wedding
♥ Naomi of Rockstar Diaries was bridesmaid at this gorgeous wedding!
♥ Nail Tutorial: Simple Triangles
♥ This indoor/outdoor pool is just what I need right now…
♥ before & after: ideas for a birdcage chandelier
♥ Terrarium Centrepiece DIY Tutorial
♥ Haiku Mill Photo Shoot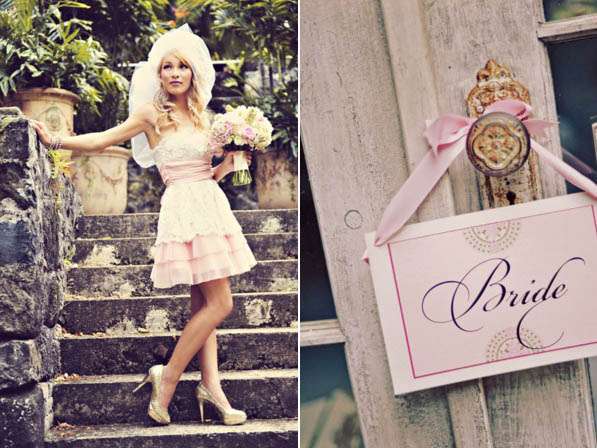 Photography Credit: Tamiz Photography
♥ My girl Noa of Feather Love Photography is coming to London (and Belgium) for her first European photography workshops. Tickets are selling fast so check out the info and sign up here (and I'll see you there. Yes, I'm going along for the after-party…)
♥ I was featured on Junebug Weddings this week. I'm HONOURED to be considered one of their favourite wedding blogs, especially as I read this blog religiously when I was planning my own wedding.
♥ Amazing dip-dyed blue wedding dress!
♥ Nat and Jez's Sweet Sydney Wedding
♥ The Olsen Twins fashion inspiration – love love loooove
♥ Cute n Colourful Californian Wedding
♥ A Vintage Airplane Wedding in Italy
♥ Babycakes allows you to make both donut holes and cake pops! OMG I want need this in my life…
♥ Vintage Southern Wedding in Tennessee
♥ And finally, don't forget that there's still time to enter to name this fab Angelberry Organics lippy. The winner will be announced on the blog on Sunday.