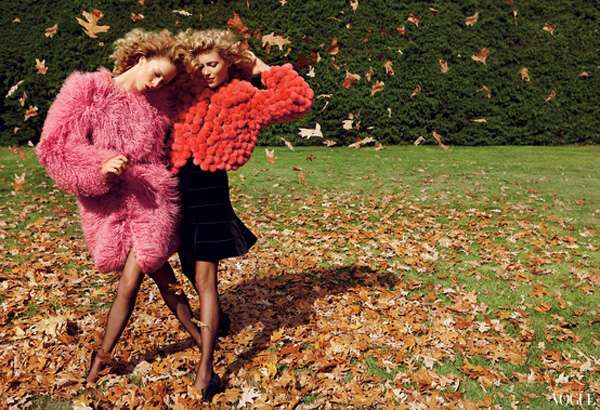 Photography Credit: Inez Van Lamsweerde and Vinoodh Matadin for Vogue, October 2010
Happy Thursday my little muffins! The weekend is nearly upon us as we're edging closer and closer to the big C… oh yes I am so excited for Christmas already. We haven't got our tree up yet but – and this is a big but – I have managed to start my Christmas shopping which is always a huge weight off my shoulders. Does anybody else get Christmas shopping anxiety!? I never want to be the one to buy the rubbish gifts! Anyway, I've broken the seal this year and – shock horror – I've actually been enjoying it. I am on the look out for gift guides for geeky, picky and very specific long haired men though. Gareth is impossible to buy for! Any ideas?
How's the wedding planning going? Are you taking a bit of a break from it for Christmas or forging full steam ahead? Either way, I've seen some seriously pretty around the interwebs this week. It seems there's been a lot of super saturated and really colourful weddings being blogged, which suits me fine – they're my faves! I know some of these gems will inspire you too…
Until next week…
Weddings & Weddingy Things
♥ Married on a boat – I love the bride's sailor outfit!
♥ Colourful Hot Springs wedding
♥ Adorbs & colourful backyard wedding
♥ Wisconsin backyard Wedding
♥ Cute New Year's Eve wedding ideas
Photography Credit: Ben Q. Photography
♥ LOVE this extra-ordinarily helpful introduction to planning a wedding by Veronica Dearly
♥ You have to check out Fourteen – a clothing line of ready to wear suits and accessories especially for lesbian, queer, and trans weddings and events – at last!
♥ Cute bridesmaids' luncheon ideas
♥ Handcrafted picnic – bohemian DIY wedding inspiration
♥ Joshua tree elopement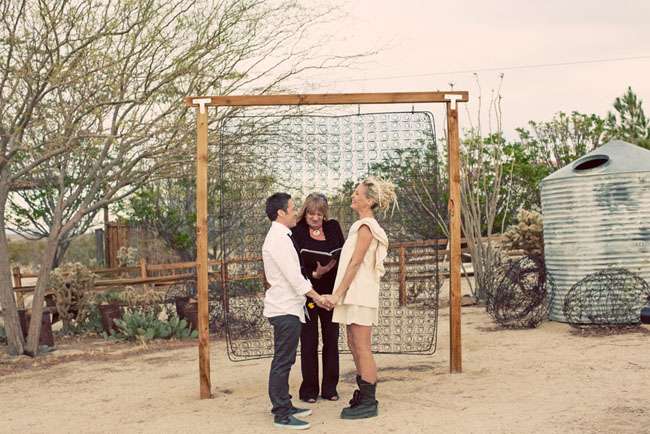 Photography Credit: Justin Lee Photography
Sales & Events
Some of my lovely wedding supplier friends have pulled together some AMAZINGLY special December offers for you. How generous are these guys?!?
♥ If you're getting married in January, February or March 2013 and you didn't think you could afford a professional wedding photographer, we'll I'm here to prove you wrong! Sassy of Assassynation would like to shoot your wedding at a whopping 40% off!! Offer valid for bookings made before Christmas. Simply quote 'rockmeup' when you enquire.
♥ Jo at The Couture Company would like to offer all readers of Rock n Roll Bride 10% off all wedding gowns and corsets ordered before Christmas. Simply quote 'Rock n Roll Bride 10% off' when you enquire.
♥ Restoration Cake are offering Rock n Roll Bride readers 15% off all wedding cake orders placed before New Year's Eve AND 10% off her new Wedding Cake 101 class on 8th January if booked before New Year's Eve! Quote 'Rock n Roll Bride' when you enquire for either offer.
♥ A Suit that Fits are offering a £50 voucher towards any suit order when you buy one of their Christmas gift packs.
♥ Alexander Leaman is running portrait sessions for just £99 until the end of the year. Offer includes shoot, two prints AND a disc of images!
♥ Online wedding boutique Ruby + Diva are offering 10% off all orders placed before 24th December (excludes art prints). Use promo code 'RD10GIFTFORYOU' at the checkout.
♥ ASOS Marketplace are offering 30% off vintage boutique orders this weekend only.
Best of the Rest
♥ Photographers – add this to your Christmas list!
♥ In love with both these wallpapers (I'm having a wallpaper obsession at the moment because we're trying to decorate our front room and Gareth & I can't agree on anything!)
♥ This cotton candy Christmas tree ornament DIY from Twinkie Chan is way cute!
♥ This sweet and spicy peanut brittle looks seriously yum. I can't cook – can someone please make me some?
♥ DIY custom stenciled wall
I'm so excited for Girls season 2!
Haha! we're all guilty. ALL OF US!