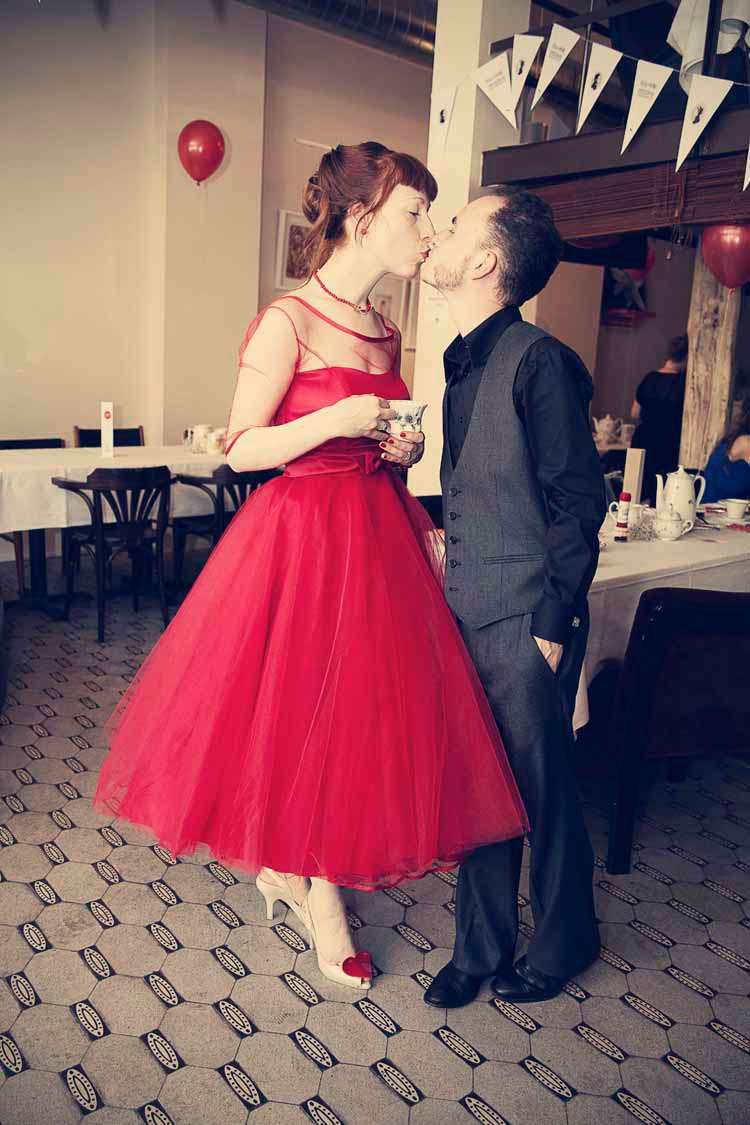 Remember Regula & Bruno's spooky Rye wedding? Well they're back, not once but twice today! I'm kicking of this Wednesday morn' with the Belgian leg of their wedding and this afternoon I'll be sharing their creepy wedding portraits taken at an abandoned fairground! Originally from Belgium the couple were keen to have a tea party reception in their home city for all their friends & family that didn't come over to the UK for their ceremony.
Writer Regula told me all about their tea party. "We knew what we wanted to do for our wedding reception immediately. Because we were getting married in England we wanted our friends from Belgium to feel like they were in the UK. We decided we were going to do a wedding afternoon tea."
"The biggest task of all was making our wedding tea invitations, both of us being graphic designers we had an image in our heads of how we wanted it to look. We combined these visions and worked on the designs for over 6 months only to get them ready just in time. Our invitation was actually a folder filled with a number of cards people could discover as they opened it, in each invitation we sowed a customised teabag. We also made a wedding blog with our digital invitation so people could check the blog for details if they didn't have the actual invitation with them. We put some homemade video's on it of us assembling the wedding invitation packs, together with some 1940's video's of how to prepare the perfect tea. We had information on it explaining people what afternoon tea is all about as most Belgians don't know a lot about the custom."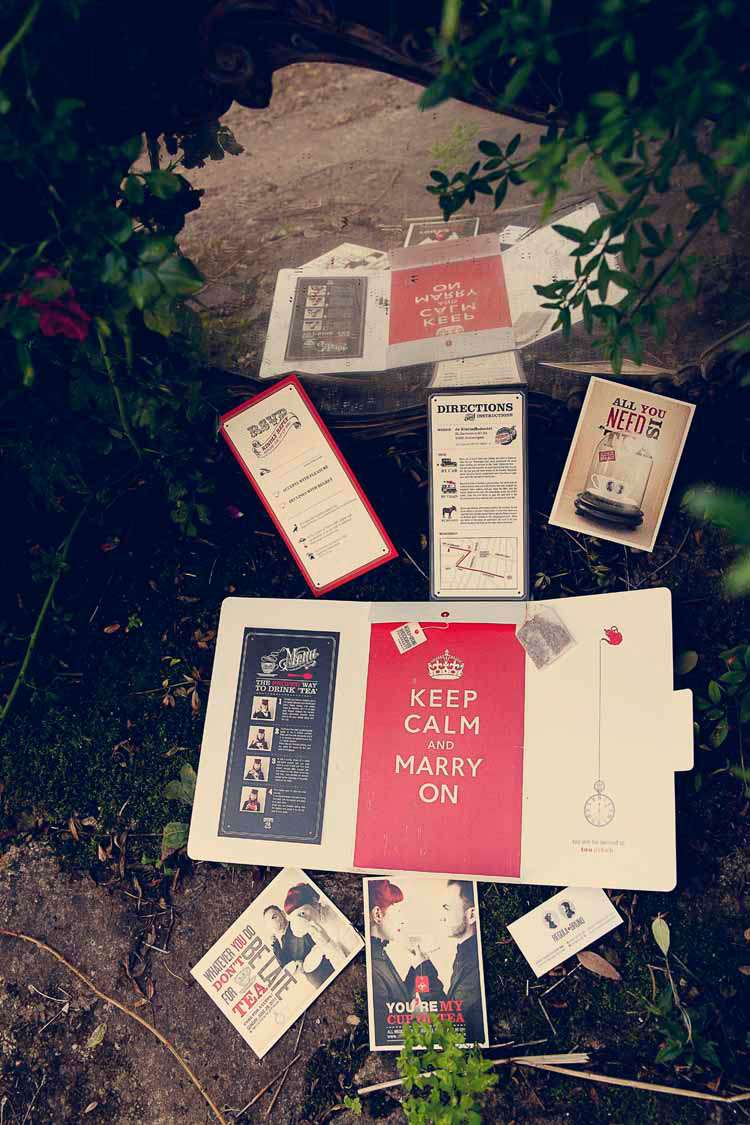 "For our venue we chose a bar/gallery in Antwerp owned by friends, Bruno designed their logo website and front of the building and was given full creative liberty so we knew the place was perfect to be our venue. Bruno's illustrations were still up on the walls from his exhibition so the wall's were all ready decorated with our things. Since it was our friends bar we were allowed to do what we wanted with the place. We unscrewed things and took them out and cleared everything we didn't need. The furniture in the bar was all vintage or DIY, perfect for our vintage theme."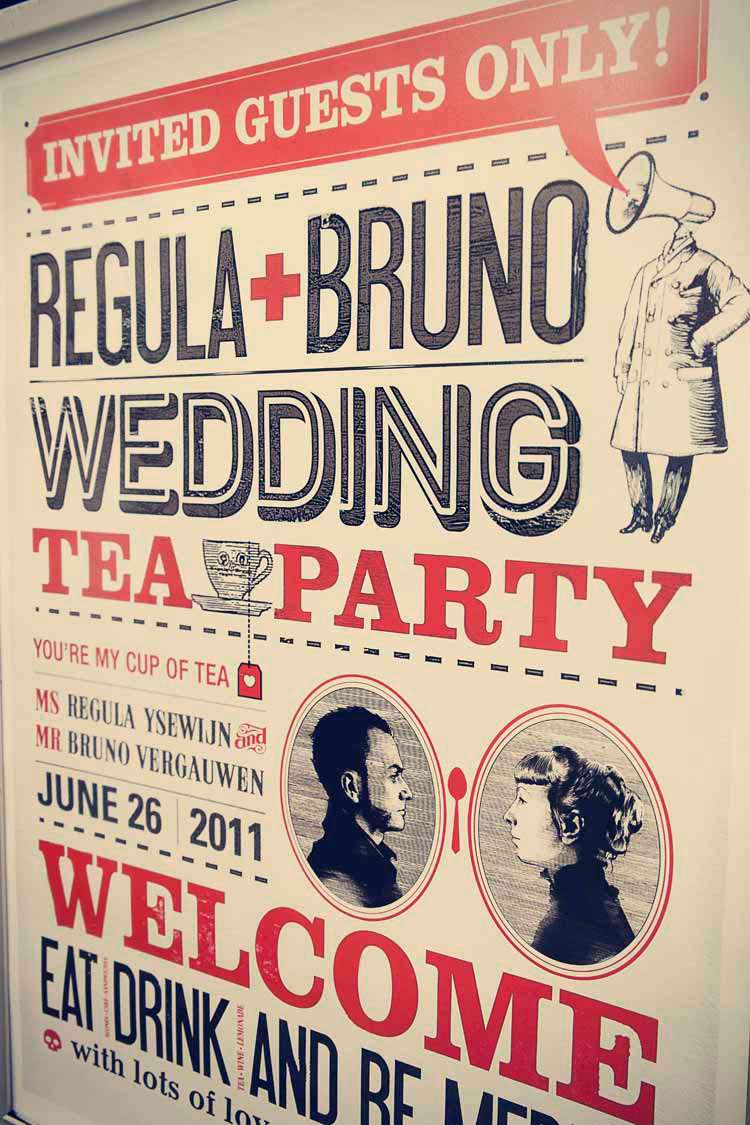 "For the decoration, we collected vintage crockery and bell jars for a year, and by the end of may our  house was full of boxes. We made bunting, posters, cards, labels… from making decorations to hanging them up, also the catering we did ourselves. Most of the food we brought home with us from the UK the rest was made by us. Then we had to do all the things that you have to do for getting a bar that has never seen a wedding into wedding-land."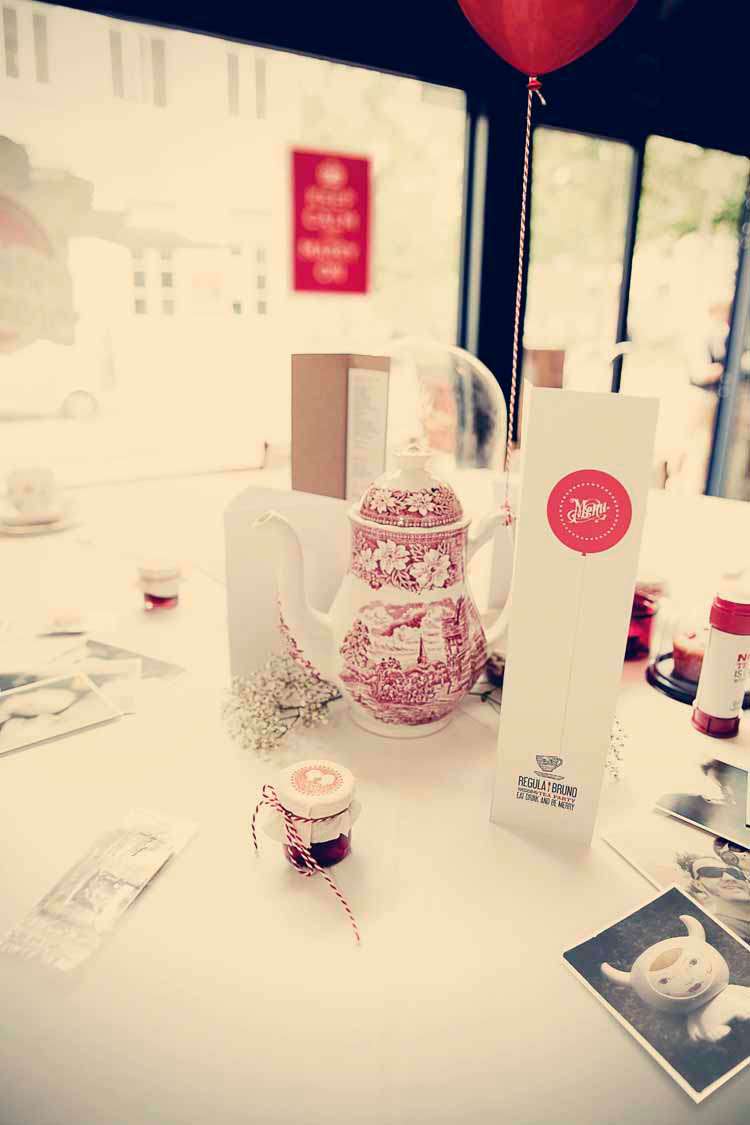 "We decorated the tables with vintage teapots, sugarbowls and milk jugs. We attached a red balloon to every teapot like it showed in the design of our menus. We put bell jars on tables, each containing things from our house including the little doll's dress I've treasured whole my life and inspired my wedding dress. We had little pots of jam with a cotton cover we stamped our wedding logo on. We scattered around pictures of me and Bruno which me made to look vintage and we had rock candy made with our names and logo as wedding favours. On the tables we put paper spoons with table conversations and we customized bubble blowers with our design. It was so much fun seeing people blowing bubbles and enjoying themselves with looking at our photograps. Mind you after the party all the bubbleblowers, decorations and most of our pictures were taken home by our friends."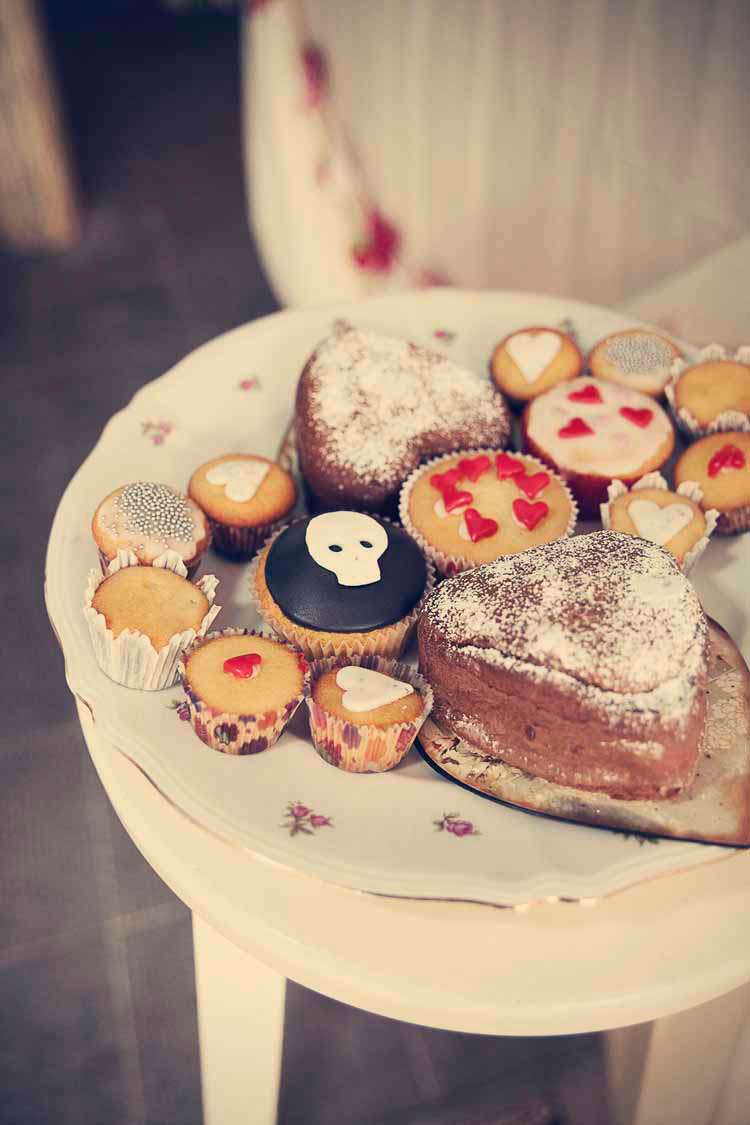 "We had paper cups with our logo to drink from, for the toast outside, as we only found out last minute that there weren't enough glasses. For the reception we wanted everyone to drink their wine and beer out of the old teacups. Mind you, we were very surprised everyone did so. For our buffet we had all the English classics like scones, sandwiches, cakes, cookies and even real clotted cream which our lovely photographer brought with her from the UK. We had a British cheese selection and cupcakes, sweet and evil but mostly loads of them. Our beautiful wedding cake was made by the lovely Becky from Consumed by Cake. Being a food blogger my cake was a big thing! It featured two swallows flying to a heart. A classic 1950's sailer tattoo image."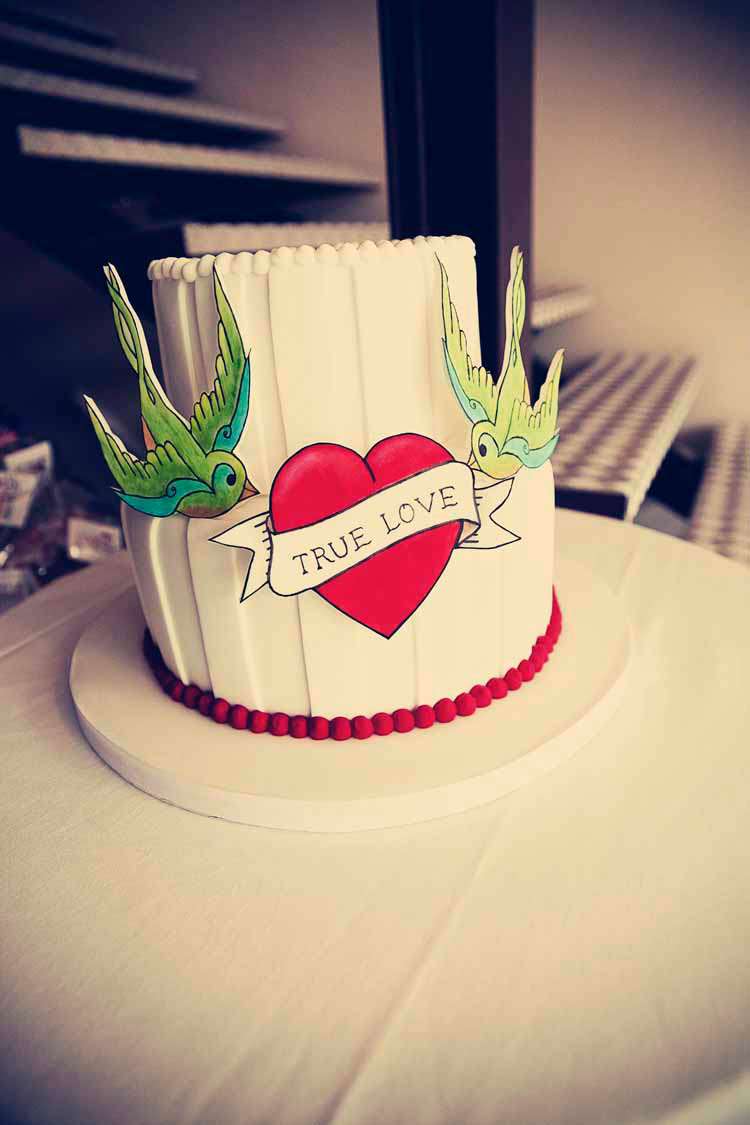 "We had a British candy buffet for people to fill bags to take with them and a glass dispenser with the homemade lemonade I made in the morning and one with Pimms. Instead of a DJ we had an Antwerp street musician playing his old piano in the most melancholic way."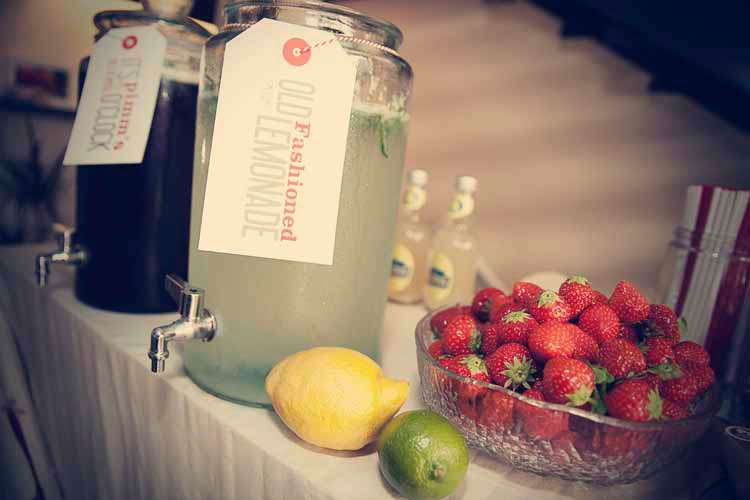 "This guy composes his own songs and plays them from the heart. He plays in the streets of Antwerp and pushes his piano around the city by hand. I had him in mind to play at our tea party but sadly didn't see him the months before the wedding. The day before we left for the UK for our ceremony I heard his music and tracked him down through the sound. I was so excited I found him and asked him to come and play."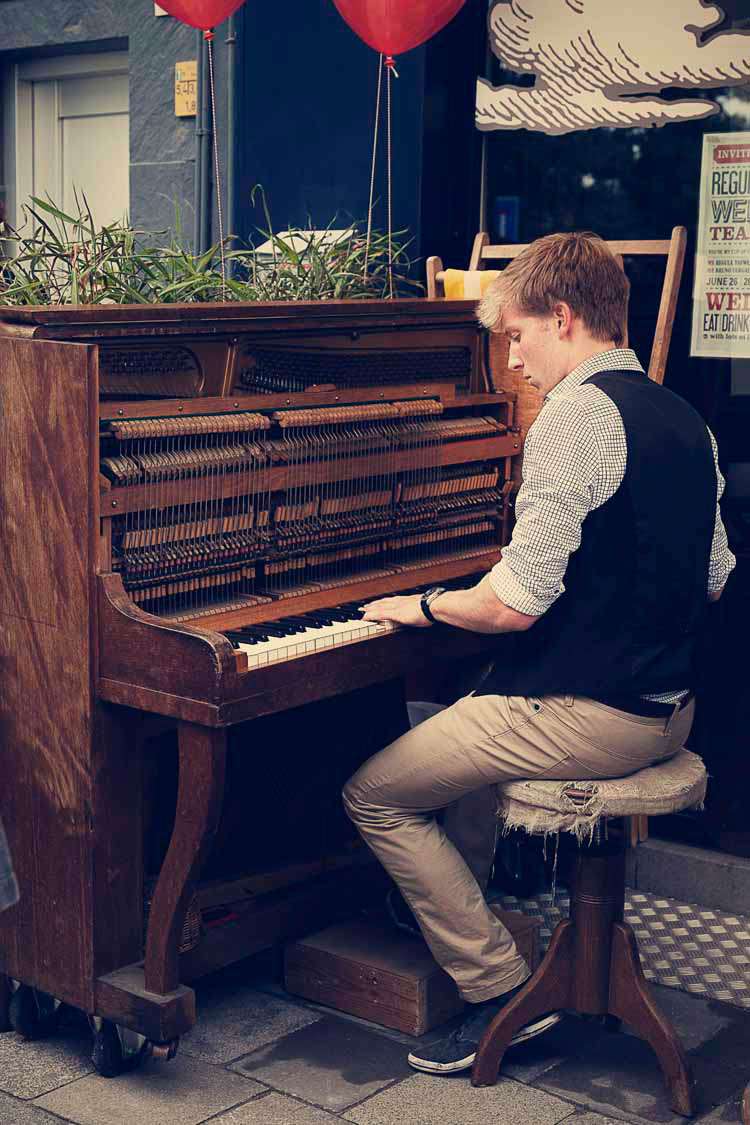 Don't you just love it?! Be sure to come back later today for part three of the Regula & Bruno saga – their wedding photo shoot in an abandoned fairground!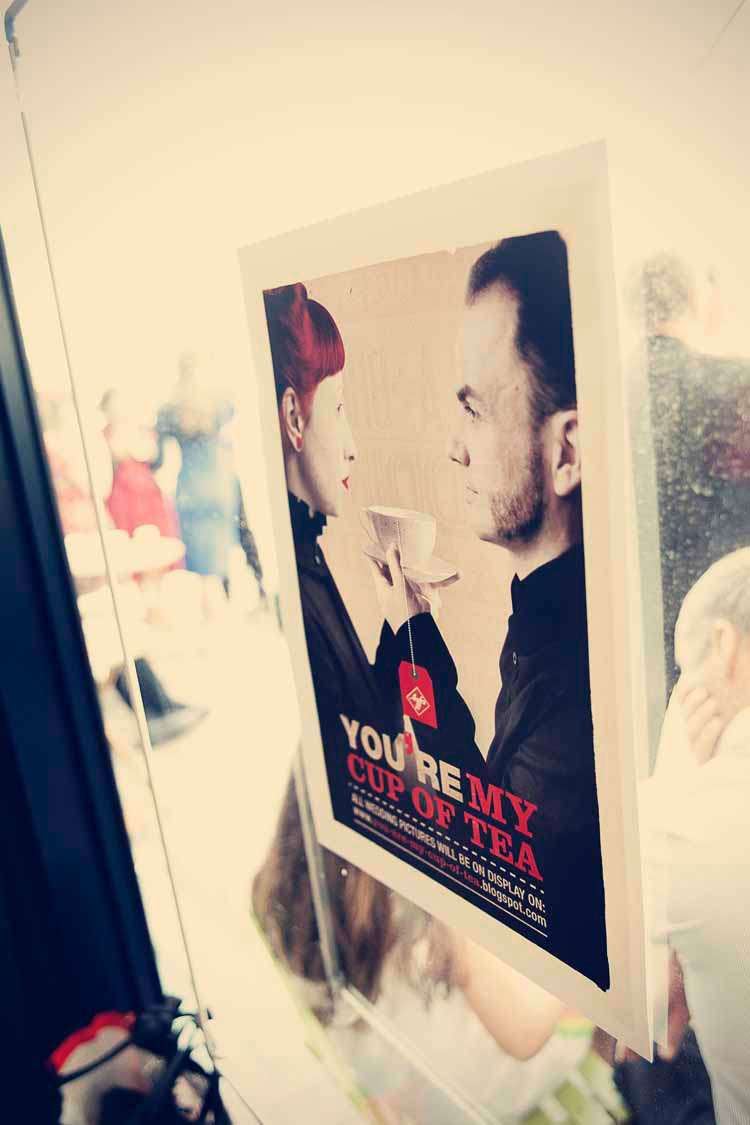 Huge love and thanks to Regula & Bruno and Sassy of Assassynation for sharing this awesomeness.
Photography Credit: Assassynation
Reception Venue: The little Hedonist
Bride's Dress: Candy Anthony
Bride's Shoes: Vivienne Westwood
Bride's Hairpin: Victorian Swallow brooch from eBay
Bride's Swallow Necklace: DIY
Bride's Handbag: Alex Schrijvers
Groom's Outfit: Café Costume
Wedding cake: Consumed by Cake
Bunting: Little Bundles Bunting
Invitations, menu's and all other designs: DIY www.thetinyredfactory.com