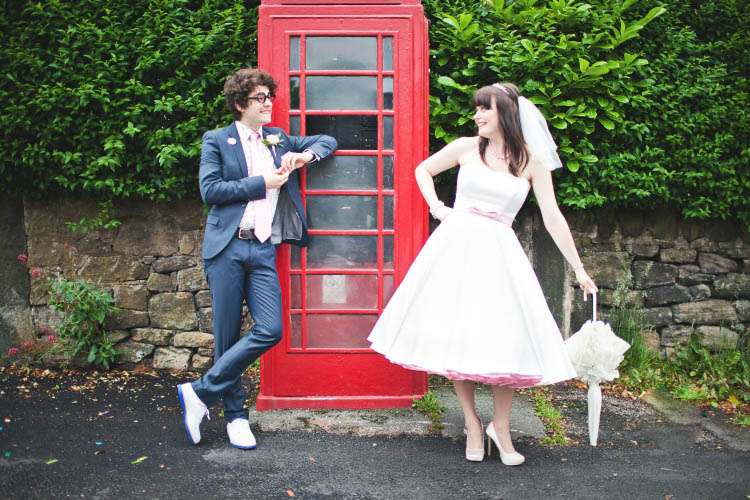 Lucy & Michael's candy coloured cute-as-hell wedding stole my heart! The pastel colour palate is so fresh and totally perfect for their DIY wedding. Lucy & Michael actually found their photographer, the fabulous Shell De Mar, through an engagement shoot featured on Rock n Roll Bride too so it's really cool that I'm allowed to feature their gorgeous wedding too.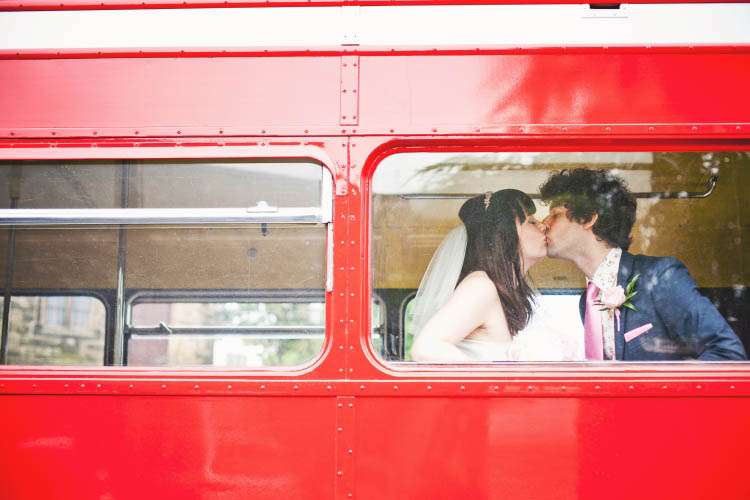 "We knew that it was important to have a wedding photographer who understood the style and inspiration for our big day and would capture all of the details we had so painstakingly created," Lucy told me. "We wanted a fun and creative record of our day rather than a set of stuffy portraits. We discovered Shell De Mar when we saw a seaside engagement shoot that was featured on Rock n Roll Bride. We immediately fell in love with her use of light and colour, and the way she captured her couples."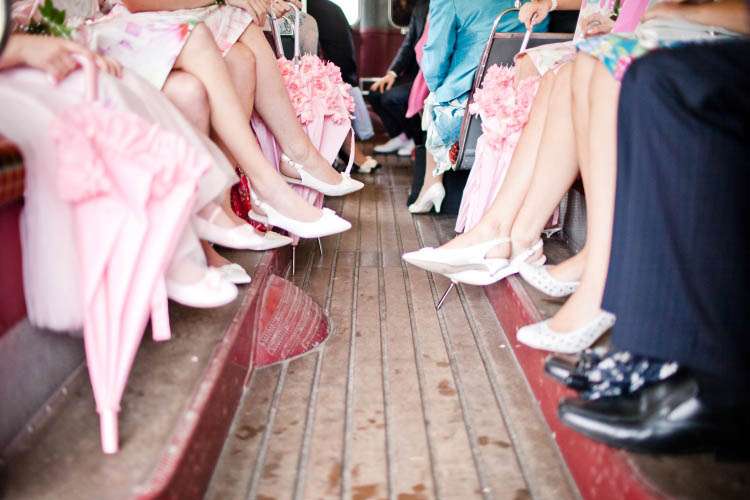 As readers of Rock n Roll Bride, the couple knew that wanted to create a wedding that reflected their personalities (yey!) Lucy explained, "When we started planning our wedding, we wanted to make sure our personalities were reflected in every last detail, that we incorporated the wedding traditions people would expect without being ruled by them, but most of all that we threw an amazing party with something for everyone that all of our friends and family would enjoy. I scoured the internet and took inspiration from wedding blogs (I am a daily Rock n Roll Bride reader!) and magazines, pulling out all of the elements we loved and adding a few extra ideas of our own."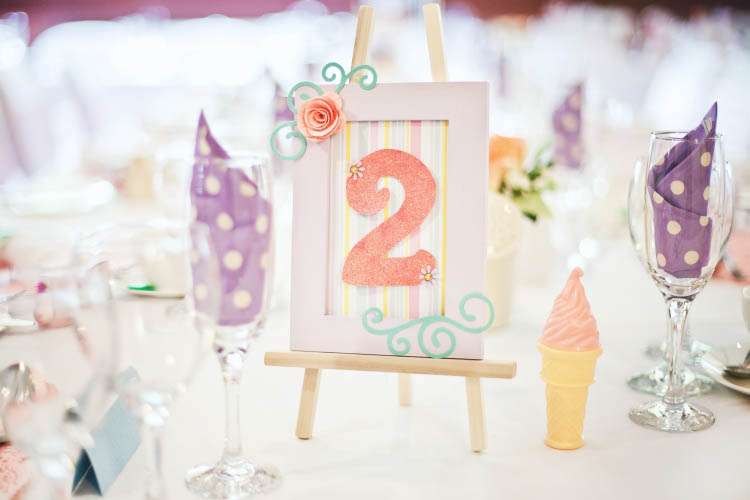 "The theme for the day was vintage village fete. When we first went to see our reception venue, a traditional village hall out in the countryside, we knew it was perfect for our theme and it even had beams to string our bunting from! We loved the idea of having a sweet table and a cheese table as these were one of our favourite 'wedding trends', and Michael suggested that we could set them up as market stalls to tie in with our village fete theme. After numerous prototypes Michael and my Dad constructed amazing market stall backdrops for our cheese, sweet and cake shops."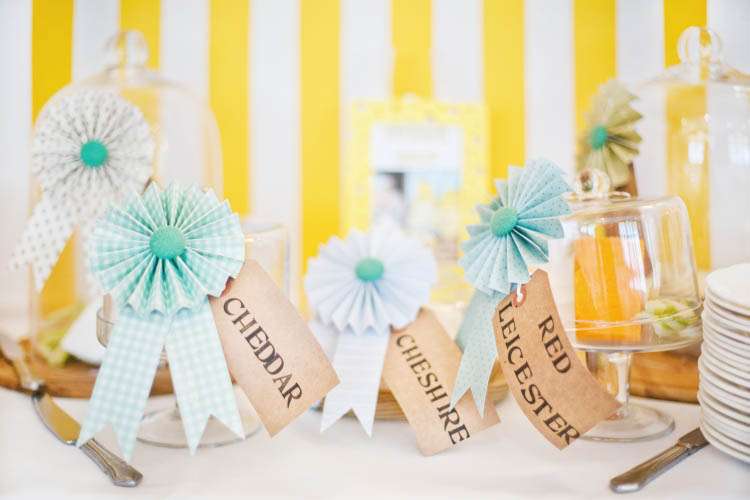 "Another wedding trend we were excited about was having a photo booth at the reception. I mentioned the idea to my brother and he not only created a photo booth computer programme using a camera linked up to a laptop, but also made us a 'booth' and created a website to showcase all the photos after the day. We topped it off with a dressing up box, including of course moustaches on sticks as no indie wedding would be complete without these!"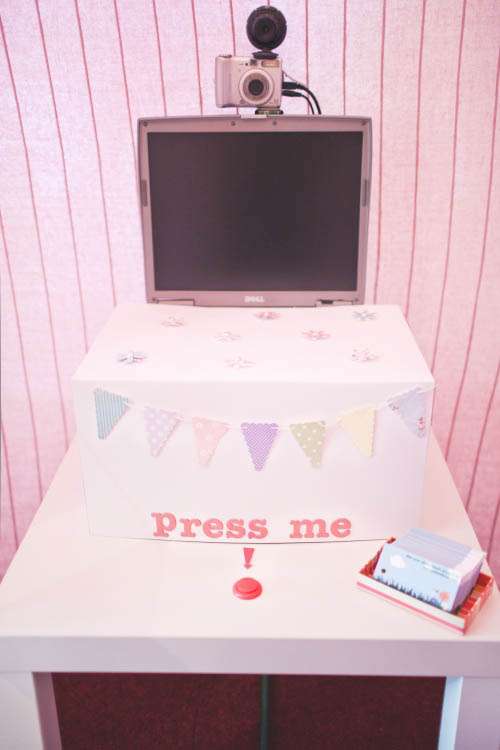 "Music was also a really important part of our day as it is a huge passion for Michael! We had a vintage record player set up for our arrival drinks, and created a background playlist for during the wedding breakfast using soundtracks from our favourite films. Instead of hiring a wedding DJ, we decided to ask Michael's friends to each do a DJ set for us, and Michael even played a few tunes on the night! We ended up with a really great variety of music which was all carefully chosen and meant something to us."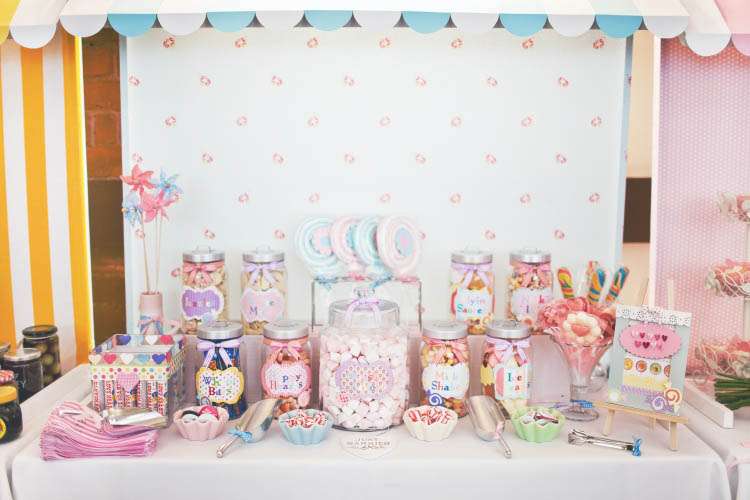 As you can see, DIY was also something the couple wanted to tackle for their wedding. They made a number of things themselves including the save the dates, the photo booth and the candy buffet. "We love making things and are always working on DIY projects, so we DIY'd as much of the wedding as we possibly could!" Lucy continued. "We really enjoyed coming up with an idea for the wedding, then trying to think up a way to make it into a reality. We started off with handmade save the dates styled like vintage postcards (complete with vintage stamps). When it came to the invitations we decided to use a professional designer we found on etsy to design the suite which we then printed and assembled. We also added bus tickets for all our guests coming on the route master bus!"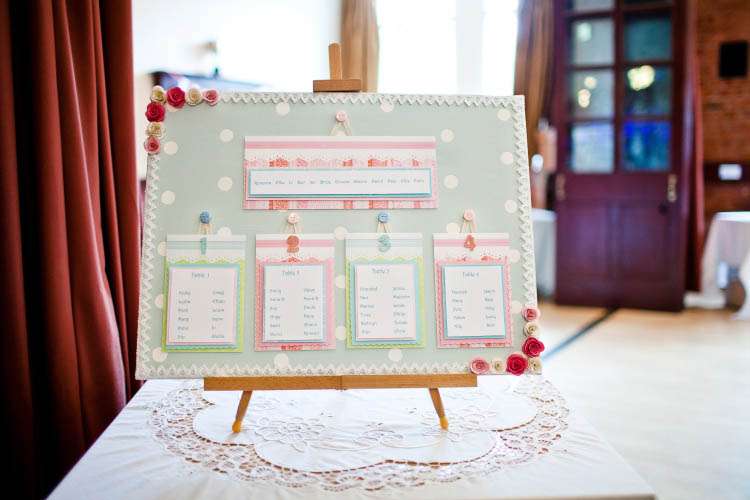 "My Mum and I created most of the decorative elements – from placecards, table plans and sweet shop labels to tissue paper pom poms, cushions and napkin rings. Mum also created the beautiful Mr & Mrs letters we displayed on our top table. Mum now has her own website (spottydaisy.com) and creates a whole range of handmade and bespoke wedding decorations and occasion cards to order. I think the biggest DIY project I took on was the wedding favours. I loved the idea of having little thank you gifts, but couldn't find anything that would appeal to all of our guests, so I decided to make favours tailored to each person. I sewed corsages for the ladies, monogrammed handkerchiefs for the men and then handmade all of the favour boxes."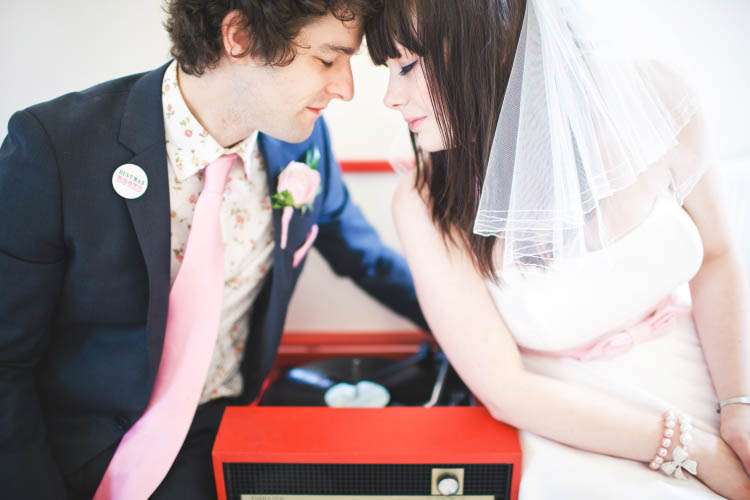 Oh this is so cute and a wedding I wish I could have been at!
Thanks so much to Lucy & Michael and their photographer Shell De Mar for sharing these today.
Photography Credit: Shell De Mar Photography
Ceremony Venue: Newcastle-under-Lyme Registry Office, Staffordshire
Reception Venue: Brown Edge Village Hall, Staffordshire
Bride's Dress: Candy Anthony
Bride's Shoes: Dune
Bride's Headpiece: Ivory & Co
Bride's Jewellery: Debenhams
Bride's Gloves: Accessorize
Parasol: Brolliesgalore
Groom's Outfit: TopMan (Suit), Marc Wallace (Shirt) TieRack (Tie)
Bridesmaid's Dresses: Oasis
Cake: Pete's Cakes
Flowers: Helen Bryan Florist
Hair: The Parlour Hair Boutique in Wolstanton
Reception Décor: Spotty Daisy
Invitations: Ticklemeink on Etsy
Bus: Routemaster Buses
Car: Now and Forever Wedding Cars