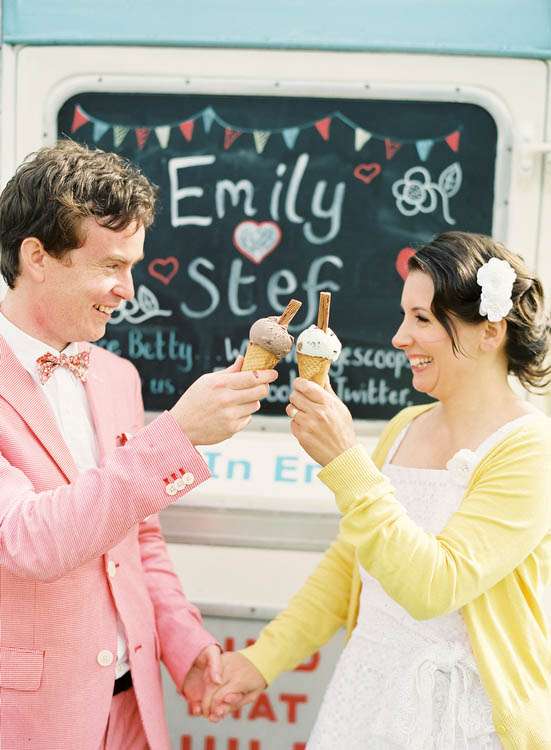 If you're a blog addict like me you may have seen some of the following images from Emily & Stef's incredible festival wedding around the interwebs already. Emily is a wedding photographer herself and so a lot of the suppliers they used for their wedding weekend were friends as well as being exceptionally talented wedding industry peeps!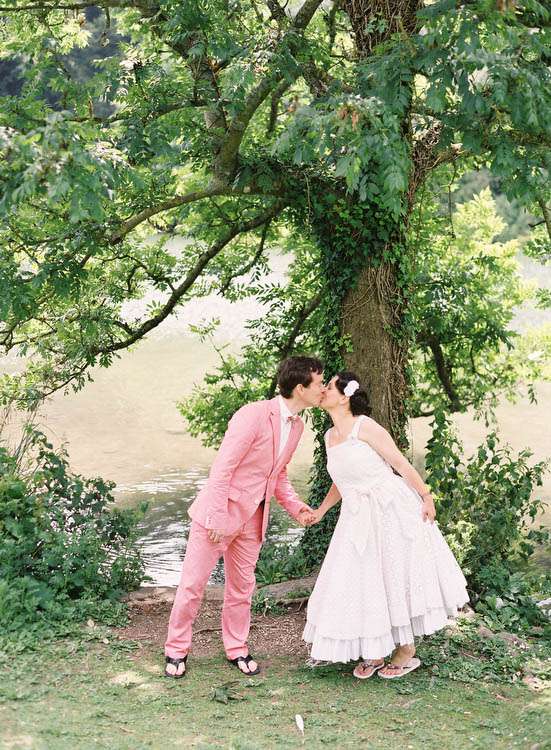 After proposing to Stef, Emily set to work planning a unique and quirky wedding to suit them and their family. Being a wedding photographer herself Emily had seen a lot of things she didn't want for her own big day. It was important to them to have a wedding that reflected them, was chilled out and laid-back and fun for all their guests. "We had a bright, colourful, happy wedding that was all tied together with buttons," Emily began. "We have shot weddings together for the past 5 years and wanted to have something that didn't feel like we were at work. We also wanted an environment that was going to work well for our three children and lots of other little ones who would be at the wedding (about 27!) We both love music and festivals, so we wanted a lovely big party where everyone could relax and have fun. Someone described it as a mini summer holiday. That was the vibe."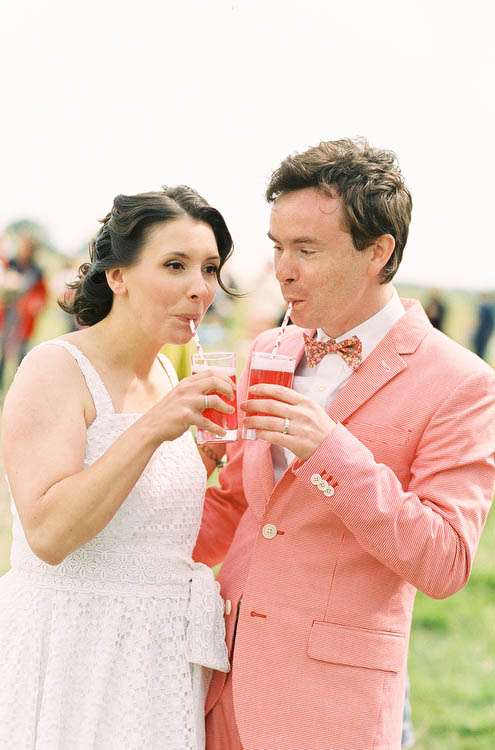 "There was craft, games, cake decorating, a tuck shop, two DJ set-ups, BBQ breakfasts, a sushi brunch, a hog-roast, falafel, a BYO bar, face-painting and balloons. We also really wanted to get married outside and have a humanist ceremony (something important in our lives), so Billycan Camping offered a perfect space for that too. The dress-code for the wedding was 'please wear whatever you want so that you are comfortable in a field for a weekend but please can all the guys wear a bow tie.' And people did just that! It was fabulous!"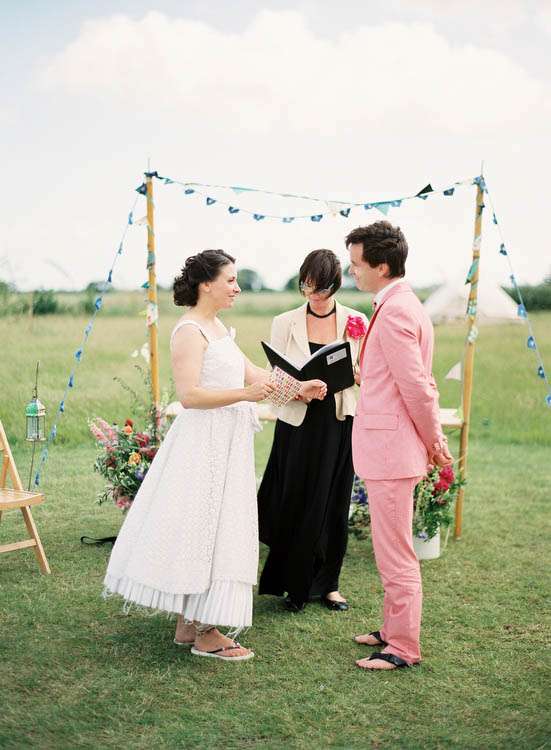 The couple were legally married on the Thursday before their wedding weekend. You can see more info, photos and a cute video of this day on Steve Gerrard's and O & C Photography's blogs. They photographed this part of the wedding for them.
However the day the couple consider to be their actual wedding day took place at Billycan Camping in Sussex. Emily actually found this venue after seeing this wedding on Rock n Roll Bride! As the wedding had a festival vibe, the majority of the guests camped over the nights before and after the wedding, making the whole thing a big massive weekend celebration!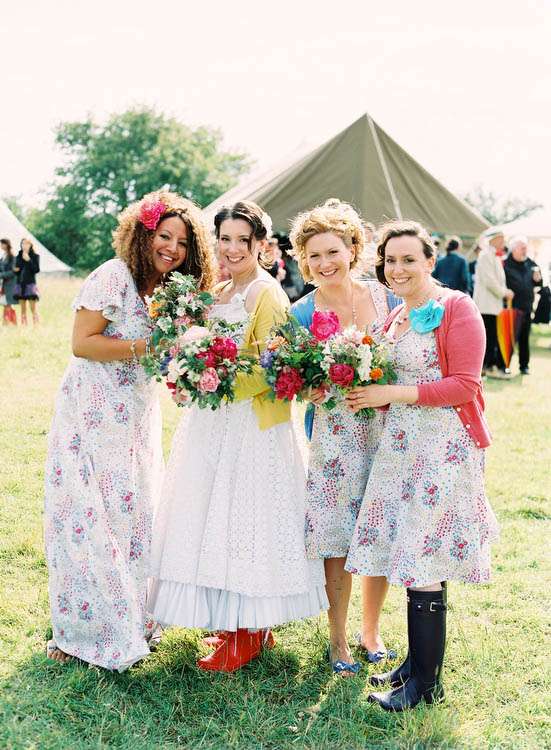 Emily wore a bespoke dress made with vintage cotton lace from 1976 (the year she was born!) by Mr Christian. In the evening and for the after-party she changed the underskirt and bow from white to bright pink. Stef wore a pink suit from Aubin and Wills, but he had no idea that Emily had planned to add some pink to her outfit in the evening. It just all worked out perfectly you could say!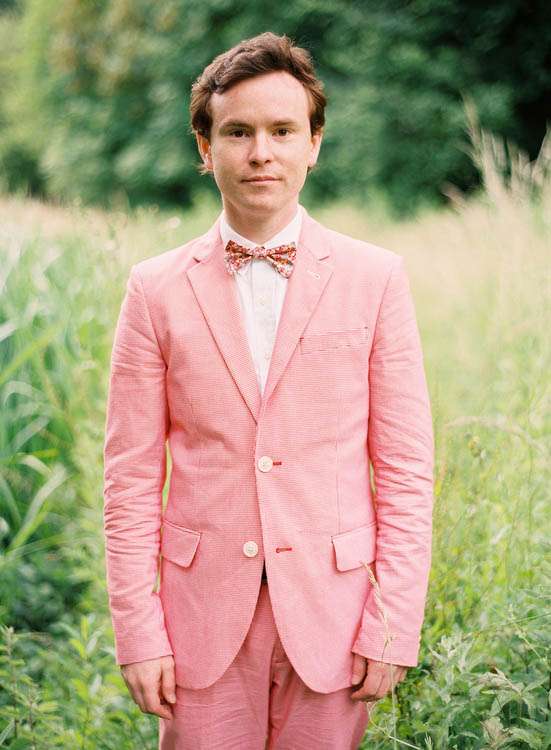 Almost all of the wedding decor was DIY and they bought a lot of items (crockery, picnic baskets, jars, board games) from charity shops. Emily explains, "I made lots of things before the weekend from corsages and ribbon wands to ceremony programmes and the guest book. Then on the the Friday I showed a few guests how to make the big paper flowers hanging in the yurt and they spent Saturday morning making them. We had a craft area so all the guys could make a bow tie (I really wanted all the guys to wear a bow tie!) and the ladies could make a pretty hair accessory or a corsage. My friend Charis and I made everyone a pinwheel corsage from felt and a button. There will be lots of DIY inspiration on our new lifestyle site New Homely over the next few weeks."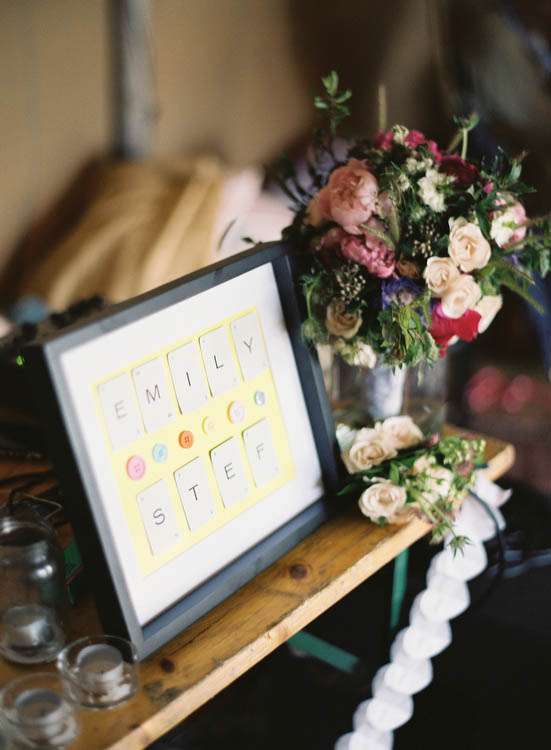 "We had a do-it-yourself wedding with friends and family giving a huge amount of their help instead of traditional wedding presents. This is exactly how we wanted it to be but it's not for the faint hearted. You have to really want a wedding like this as it takes a huge amount of planning, logistics (we hired and organized everything ourselves from the hog roast company to the main yurt, even the generators, everything apart the cake table, which we hired from Billycan Camping.)"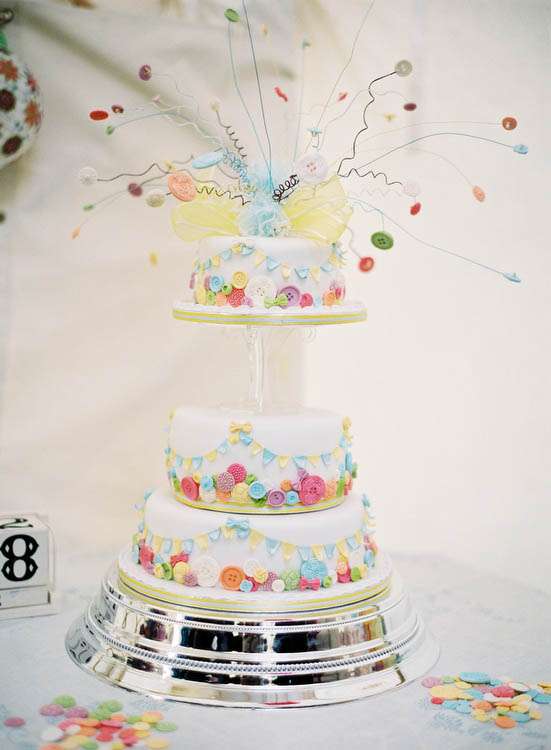 "I definitely couldn't have done it without the amazing help from Paige of Paige One Events and Charley of London Bride. Paige helped me so much with making phone calls and sending emails, creating timelines and spreadsheets (with a three children under 5 this was tricky for me to do all by myself!) Both Paige and Charley were amazing on the day making sure that everything ran smoothly and co-ordinating all my friends and family so that everyone could join in and help to create the weekend of our dreams without me having to worry about a thing."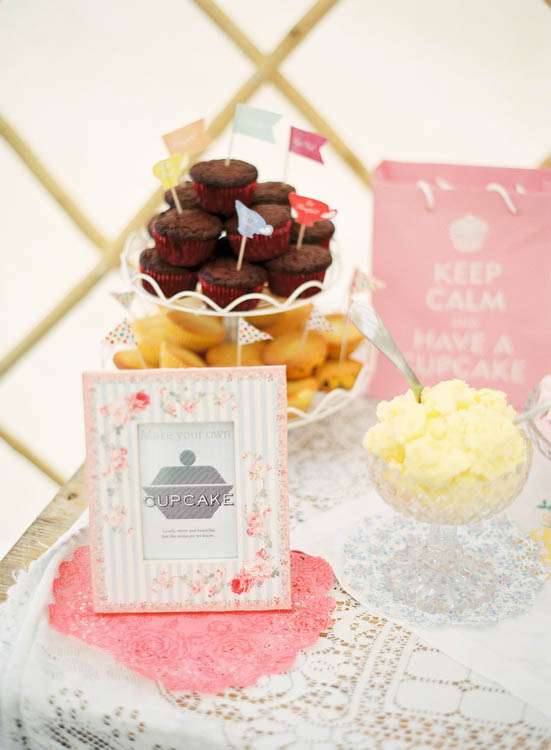 Their wedding was photographed by the fabulous Polly Alexandre, someone who's work both Emily & Stef have admired for a long time. "We had a first look before the ceremony by a lake near Arundel Castle. Completely amazing and perfect walking up to meet my husband-to-be through long grass in my flip flops, tapping in him on the shoulder and him turning round and seeing me for the first time in my dress. Amazing and intimate. It gave us some really special time together that we knew we wouldn't get later with our three young children and lots of family and friends. Polly photographed it beautifully and we also took the opportunity to do our couple portraits then too, so that after the ceremony we could just go with the flow."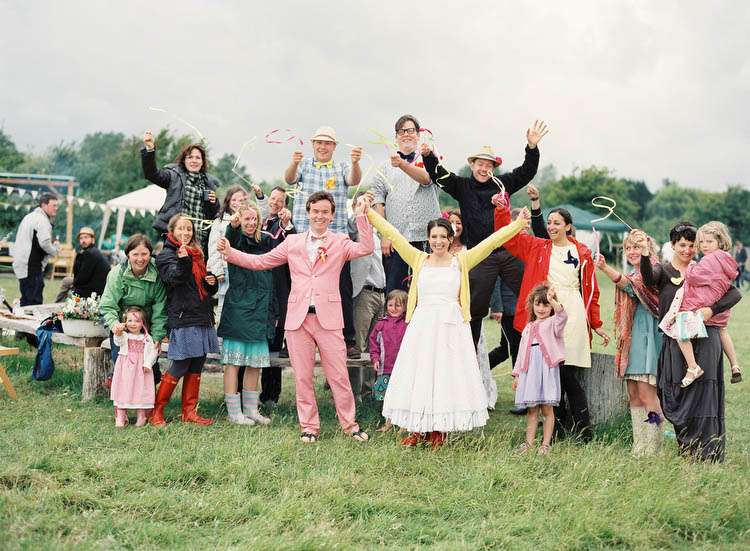 The couple also employed The Wedding Reporter to come and write their wedding story for them. If you want to read more about how the day went and what it was like to actually be there, then be sure to go and check out her report on her blog (part one and part two.)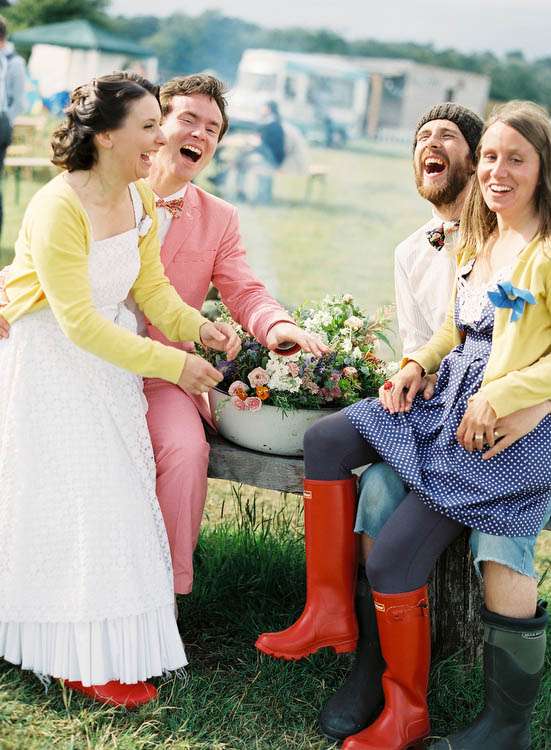 Huge congratulations to Emily & Stef on their fabulously Rock n Roll wedding! And big big biiiig love and thanks to the happy couple, all their suppliers and friends and Polly Alexandre for letting me be the lucky blog to share this with you today. I'm honoured!
Be sure to also go check out Emily's new venture, her craft and lifestyle blog, New Homely now! New addiction? I think so…
Photography Credit: Polly Alexandre Photography
Venue: Billycan Camping
Bride's Dress: Mr Christian
Bride's Shoes: Flip flops from Accessorize & Wellies from Joules
Bride's Cardigan: H&M
Bride's Jewellery: 3x bracelets (Gifts) from The People Shop, Lucy Quartermaine & vintage
Groom's Outfit: Pink suit from Aubin and Wills & bowtie made by Mr Christian
Bridesmaid's Dresses: Mr Christian
Bridesmaid's Brooches: Vicky Trainor's The Vintage Drawer collection
Cake: DIY (Bride's Step-Mother)
Flowers: Miss Pickering
Hair: Severin Hubert of The Hepburn Collection
Make Up: Make Up By Katy
Wedding Planner/on the day Coordinator: Charley of London Bride
Reporter: The Wedding Reporter
Vintage Ice Cream Van: Vintage Scoops
Yurt: Yurtopia
Catering/Hog Roast: Pigs Do Fly
Humanist Celebrant: Victoria Denning
DJ Equipment & Dancefloor Hire: Sussex Party Shop
Furniture & Glass Hire: West Sussex Party Marquee Company
Rings: DIY (made with Magnus & Bella and Rachel Jeffrey)