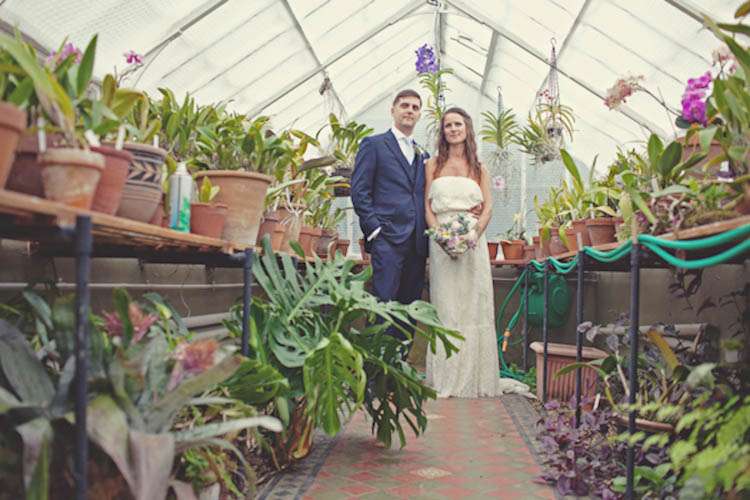 Laura & Graeme were married at Marle Place, Brenchley which perfectly suited their laid-back boho wedding. "It is a peaceful, privately owned Wealden garden, ten acres of formal planting and many more acres of woodland and orchard," Laura explained. "None of our guests had ever heard of or been to Marle Place, before and neither had we. I didn't find it on my original wedding venue searches, eventually I found it by searching for something like 'secret garden'. It has been described as a hidden gem and I totally agree."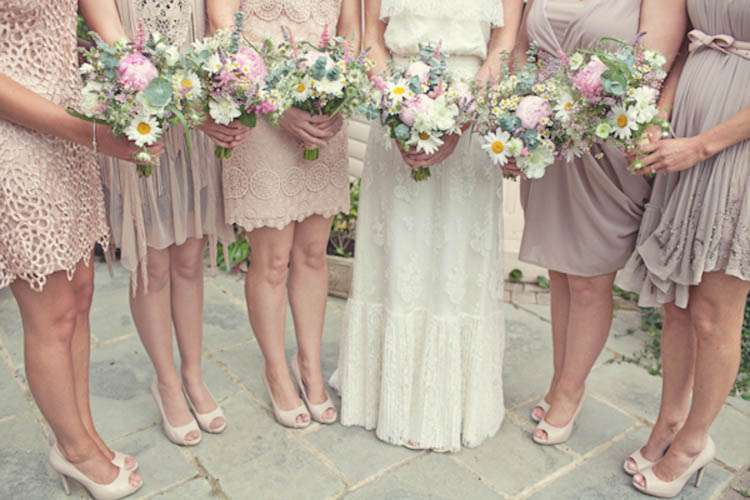 Their photographer Joanna Brown agrees, "As I drove to Laura's parents house I totally got it that Kent is described as the garden of England… Field upon field of fruit, rolling hills, and acres of sky I decided there and then that I loved Kent and I looked at the blue sky and just knew that this wedding was going to be gorgeous it had all the ingredients for a belter and boy it did not disappoint."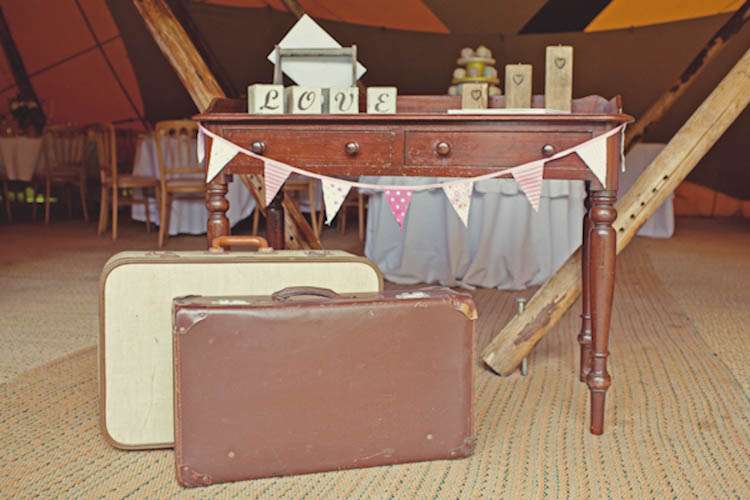 "A wedding is full of beautiful things, dresses, flowers, tea cups (which this wedding had in bucket loads) but what really makes a wedding is the people and the story of the day unfolding with real emotion and meaning and I saw this every minute of the day.  I loved it when Laura got ready and it was just her and her mum savoring that moment like a rite of passage it felt really symbolic and then to witness her Dad coming in to see her for the first time and his reaction {and Laura's} was so precious it actually made me cry it was so tender and honest.  I loved also the bridesmaids when they saw Laura for the first time and they could not contain their excitement of seeing her in her dress.  Equally I loved Graeme and the boys eagerly awaiting the wedding party to arrive and the pacing around to calm his nerves at one point he even went to the corner shop."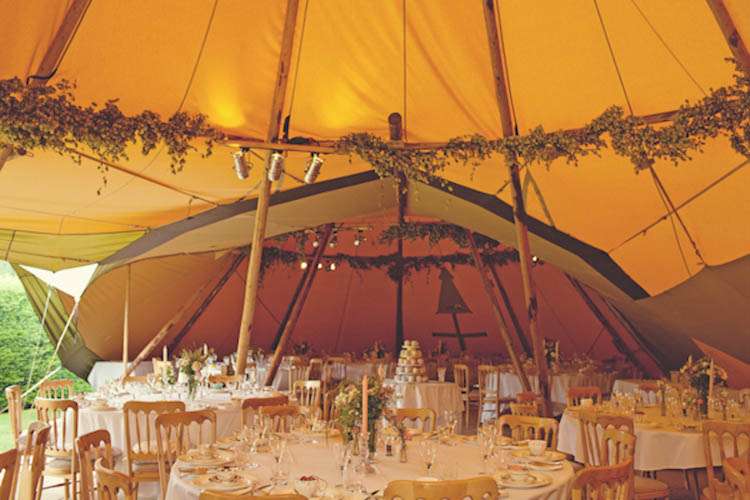 The couple hired three Giant Hat Katas instead of a traditional marquee, because they wanted a less formal or traditional wedding. "We wanted a boho, relaxed feel to the day and they were amazing! My brother and his wife  made us various signs for the reception including Parking, Rest Rooms, Graeme hearts Laura 23.07.11 etc. I loved them! I filled a basket up with flip-flops and they made a sign saying 'Help Yourself'; these were placed in front of the decks for our guests to take if they wanted to take their heels off to dance. They had all gone by half way through the night!"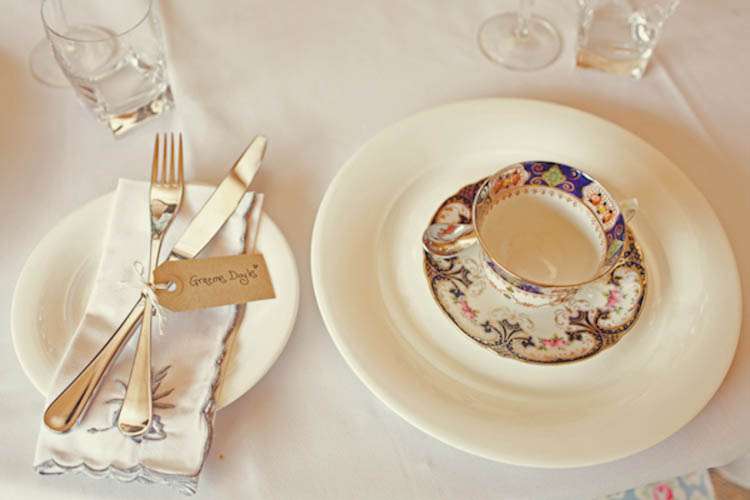 "We also hired various vintage accessories from Vintage Flair; tea cups and saucers, milk jugs, napkins, candlesticks, bunting, cake knife, cake tablecloth etc. I bought lots of different tea light holders (from Velvet Wedding and Live, Laugh, Love ) to decorate the exterior/gardens and also floor lanterns. I also bought heart table name holders and large manilla luggage labels as table names (to match our manilla invites)."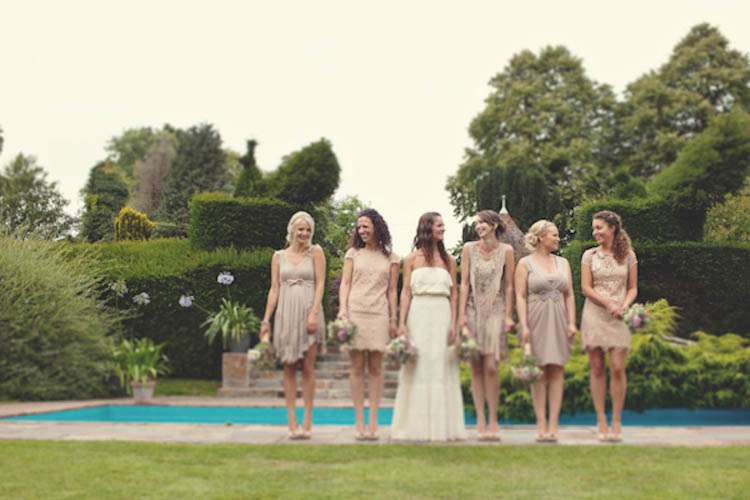 Laura wore 'Zachary' by Delphine Manivet. She wanted something boho in style and this fitted the bill wonderfully. She also wore a vintage headpiece and jewellery from Vintage Bridal Jewellery. Her bridesmaids wore nude coloured dresses of their own choosing (from various high street stores) and nude peep toe shoes from ASOS.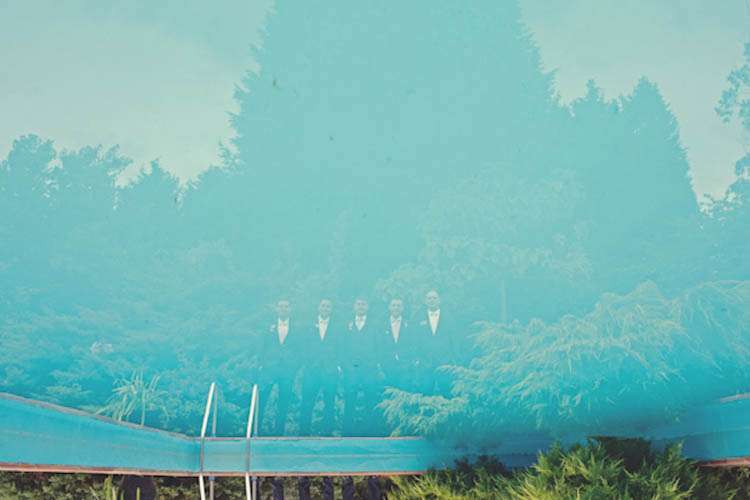 So beautiful! (and ps how cool is that final shot of the boys by the pool!?) Oh Joanna Brown you are so clever!
Big love and thanks to Laura & Graeme and their photographer Joanna for sharing these with us today.
Photography Credit: Joanna Brown Photography
Venue: Marle Place, Brenchley
Bride's Dress: Delphine Manive
Bride's Jewellery: Vintage Bridal Jewellery
Bride's Garter: Vintage Styler
Groom's Outfit: Charles Tyrwhitt, London
Cake: Confection Perfection
Flowers: Jenny Woodgate at Thornley Studios, Sutton Valence
DJ: Nick Carter
Hair: Lau Hairdressing, Maidstone
Marquees: Beautiful World Tents