Inspired by Gala, I've decided that a weekly list of things I'm grateful for each week will potentially help me to realise how lucky I am. Sometimes life's stresses can get in the way and we forget to stop and smell the roses. I'd encourage you to do the same. I'm planning on keeping a notebook with me at all times to jot down the small things that make me smile (and that might otherwise pass me by.) It's so easy to focus on the bad and ignore he good right?
I woke up this morning in a crappy mood and just writing this list has made me feel a whole lot better.

♥ Jasmine Star ♥ cute mini cakes ♥ pink flowers ♥ yellow dresses ♥ gorgeous light ♥ rain ♥ thai food ♥ afternoon tea ♥ pod bathrooms ♥ unicorn temporary tattoos ♥ quiet hotel rooms ♥ loud nights out ♥ cocktails with friends ♥ a seat on the tube ♥ American accents in London ♥ new make up experiences ♥ neon hair bodyguards ♥ handwritten notes ♥ new stationery ♥ to do lists ♥ new friends ♥ holding hands ♥ invites to radio shows ♥ Marie Claire Greece (!) ♥


We all love the Vivienne Westwood/Melissa shoes don't we? They've kind of become a staple for any self-professed Rock n Roll Bride. However this week I was browsing in Schuh and I came across Mel. I asked the assistant if they were their own-brand version of the Melissa range, but I was pleasantly surprised to be told that no, they were still under the Melissa brand but a cheaper range!

This bargain range starts from just £16!

Secondly, after a crazy-busy week with Jasmine Star (full report and behind-the-scenes video to come soon), Elbie treated me to a Wah nails manicure. They have a concession in the Oxford Street Topshop and I'm already planning to go back again soon!
Their designs are totally one-of-a-kind. We walked in and were greeted with a wall of choices – different designs which you could customise with which ever colours you wanted. We were even asked if we wanted to add glitter, gems or embellishments…I said yes of course!
I went for the 'drippy' design on my fingers, with each 'drip' in a different colour and the 'pow' design on my thumbs. When the artist asked me what words I wanted written on my thumbs, I of course said 'Rock' and 'Roll'! Elbie had the 'pow' design on her fingers and some freaky (but very cool) bloodshot eyeballs on her thumbs!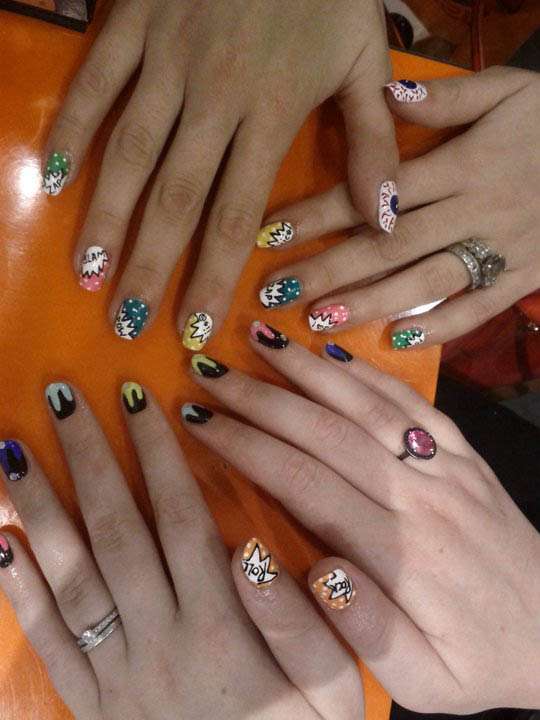 I'd highly recommend a visit. However make sure you book an appointment as they're super popular.

Also a quick reminder that today is the last day for you to get your intern applications in. The top three entrants will be announced on the blog tomorrow for you to vote for your favourite to win.