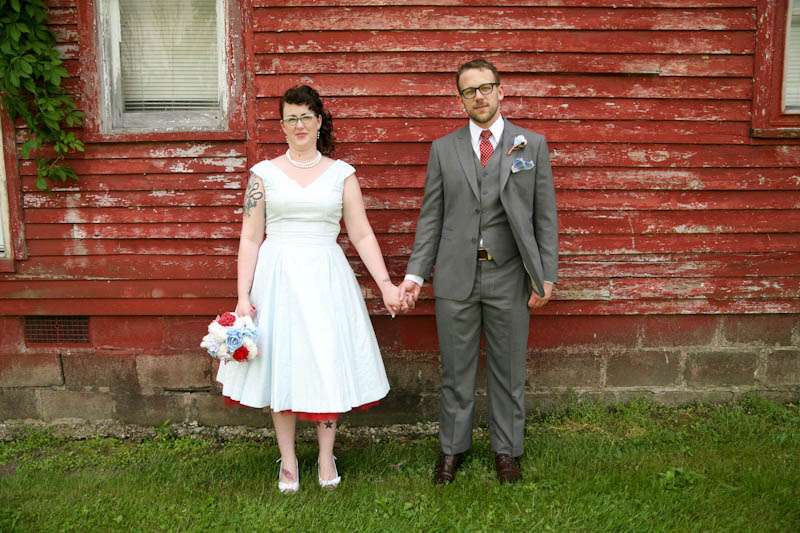 Heather & Wil's crafty wedding was held at a friend's house, which just happened to be an ex-church and was big enough to house all their guests as well as looking quite impressive. They kept things simple, didn't have a bridal party and kept everyone fed and happy with a good old fashioned BBQ! "We did everything just how we wanted it," explained the bride. "We walked down the aisle together, didn't have a bridal party, only invited 35 people and were very happy with the results.  The most important thing that happened that day was that I married the man that I have loved for almost 10 years, it wasn't about impressing or out-doing, it was about love and I think finding true love is pretty damn Rock n Roll!"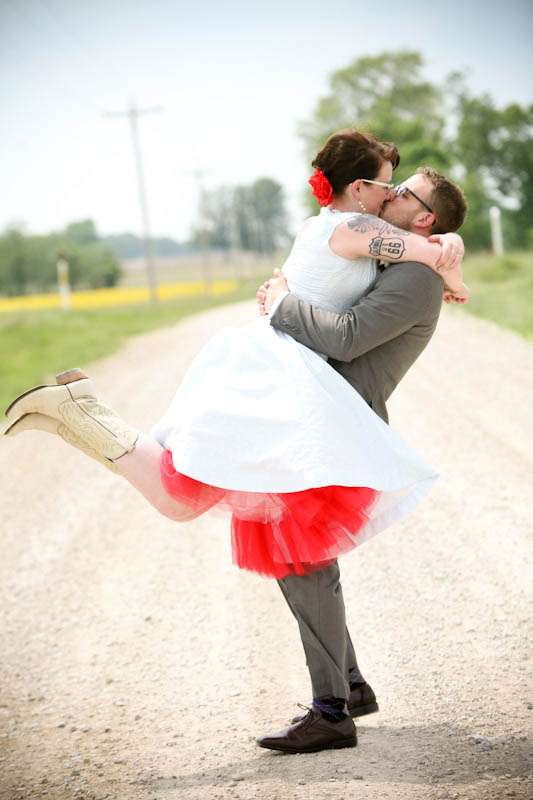 Heather's Mother made her dress based on an 1957 pattern, "Since my Mom lives in Idaho and I live in Indiana there was a lot of mailing back and forth and some final touches that waited till we were all in the same state," Heather continued. "The underskirt with the bit of red peeking out was an altered thrift store find.  I was tempted to use a Square Dance skirt but they were too short so I cut the bottom tier off a full length skirt and added the red.  I think I would have been lost without it and it totally made my dress!" With her dress Heather wore vintage cowboy boots and vintage jewellery.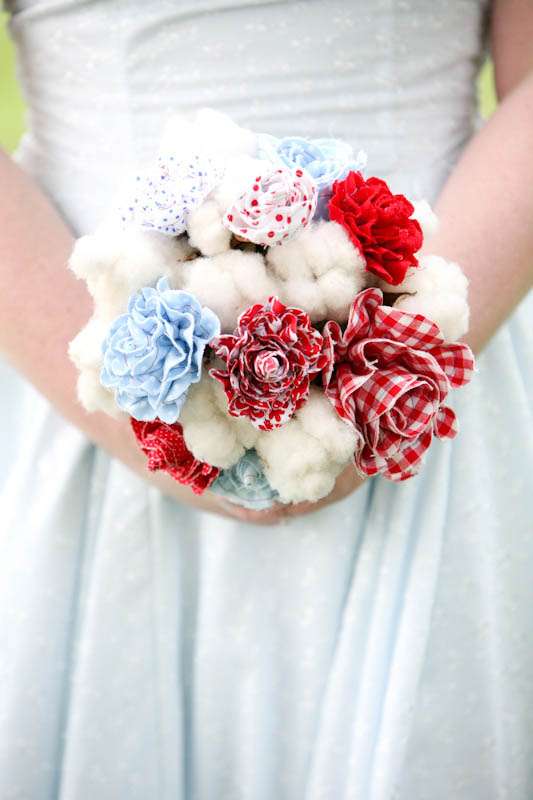 Heather also crafted her own fabric flower bouquet and you can see the fabulous tutorial that you used here. The centrepieces were created by J Morse Designs. "She used a combination of dried cotton balls and fabric flowers made by my friends and I," Heather explained. "The cotton used in my bouquet was cotton that we got from a field in Arizona but most of it be bought from cottonman.com. We added in a few other elements, put everything in my extensive collection of milk glass and it all came together perfectly!"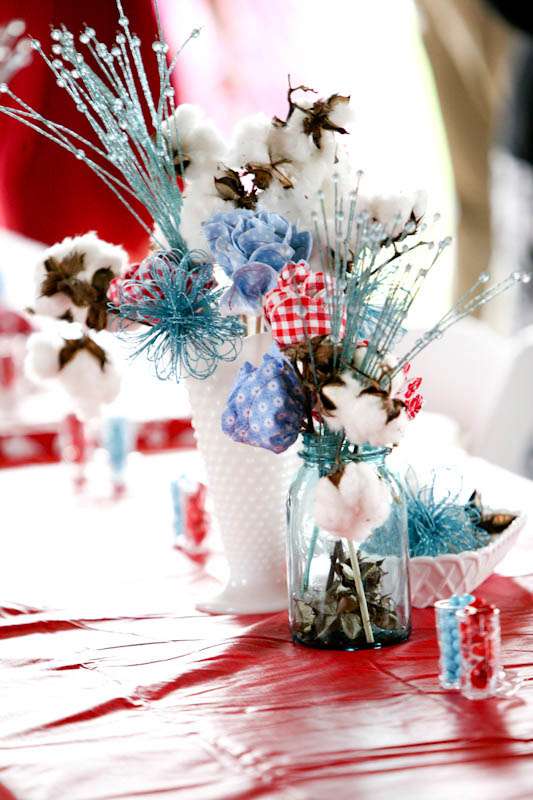 Beautiful and funky – I love it! Thanks so much to Heather & Wil and their photographer Samantha for sharing this fabulous wedding with us.
Photography Credit: The Roxy Studio
Venue: Friend's House
Bride's Dress: DIY
Bride's Shoes: Rocket Dog & vintage cowboy boots
Bride's Ring: Jorgensen Studio on Etsy
Groom's Outfit: J. Ferrar from JC Penney
Bridesmaid's Dresses:
Cake: DIY
Flowers: J Morse Designs
DJ: SlyOne Entertainment
Hair: Angelia Ijacic
Catering: Ricks Smokehouse