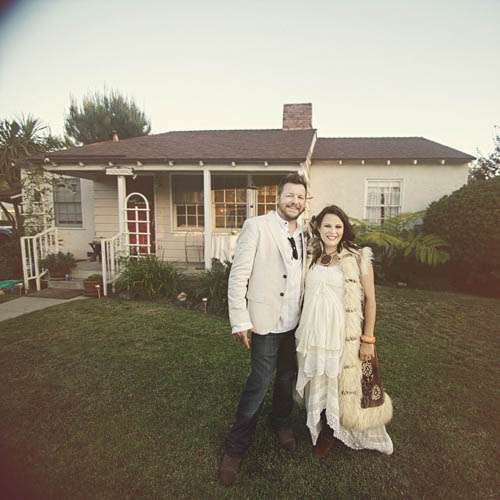 Joli & Gary eloped in San Francisco. They had planned to have a big wedding party afterwards with their friends and family at a biker bar in Palm Springs, but then Joli got pregnant and everything changed. So 7 months pregant, the couple had a kick ass celebration in the backyard of their Los Angeles home. They described their  party as a celebration of  "Love, Freedom, Wild, Raw, Family, FUN, Village, Community!" and that's exactly what it was.
The couple's friends and family all pitched in to organise the fabulous event, "My Mom and I made the centerpieces from thrift store found bowls and succulent plants from Cactus Ranch," Joli told me. We had a photo booth made by Gary's Brother, at the party and so people were asked to leave the bride and groom photos of them. Gary and his Dad (and sometimes my Dad and Gary's Brothers and best friends) did all the lighting, built a mounted video screen, re-seeded all the lawns, planted flowers and herbs in every available receptacle including Gary's old Doc Martens, laid walking stones, and built a dance floor on our deck for the event complete with moving disco ball!"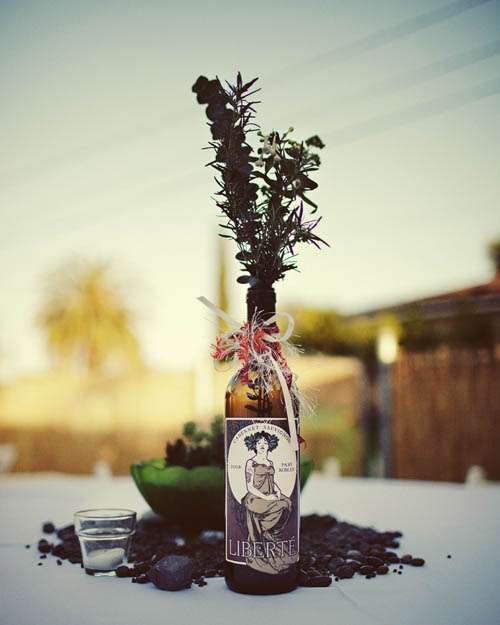 Their friend and photographer Jonas Seaman had similarly amazing things to say about this awesome wedding when he initially emailed me. "Their backyard wedding party was pure balls out celebration. Joli was decked out in a beautiful white cotton hippy dress with a furry sleeveless coat, a peacock feather in her hair, feather earrings, and what I believe was a cross-section of a tree branch dangling from her necklace. Although part of the time she had moccasin boots on, she also spent a good amount of time barefoot with henna designed feet. Barefoot and pregnant."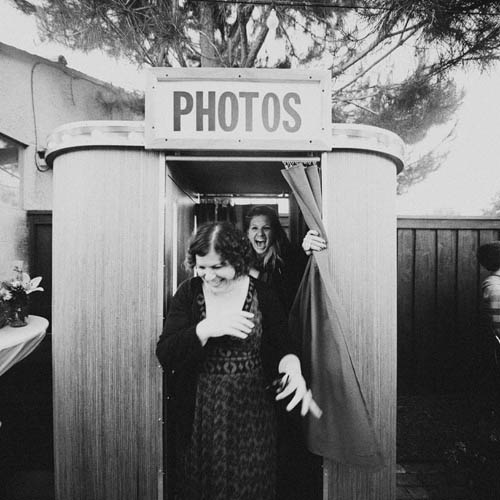 "They had a tented dance floor and full bar. They put up hand painted signs pointing to the backyard. They had flowers in a pair of combat boots. They had flowers coming out of old wine bottles and cactus plants for table settings. Even their daughter Charlie's Barbie Dolls were out partying in a little Jacuzzi. The atmosphere was so fun, so unconventional, and so full of real unfiltered love."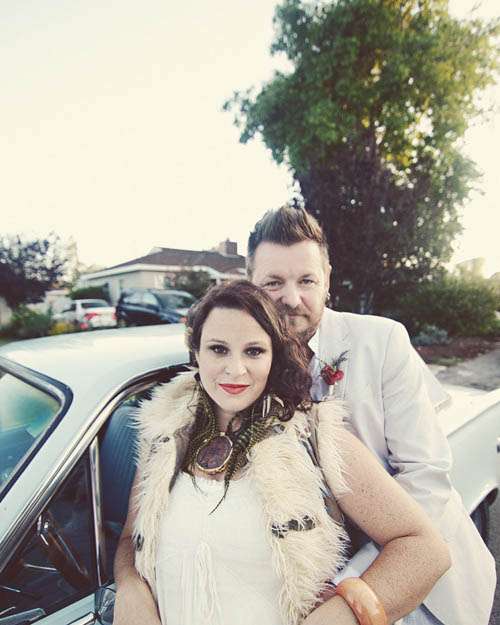 Wow. How cool are these guys? Big love and thanks to Joli & Gary and their awesome photographer Jonas for sharing these today.
Photography Credit: Jonas Seaman
Venue: Couple's Back Garden
Bride's Dress: Free People
Bride's Shoes: Buffalo Exchange
Bride's Earrings: Gift (Etsy)
Bride's Necklace: In.Joy
Groom's Outfit: H&M
Groom's Holster: Ahni Radvanyi on Etsy
Cupcakes: Porto's Bakery
Flowers: DIY
Band: Sarah Roiko and Jeremiah Roiko from the L.A. band 'The Elizabeth Kill
Hair & Make Up: Jennifer Daranyi