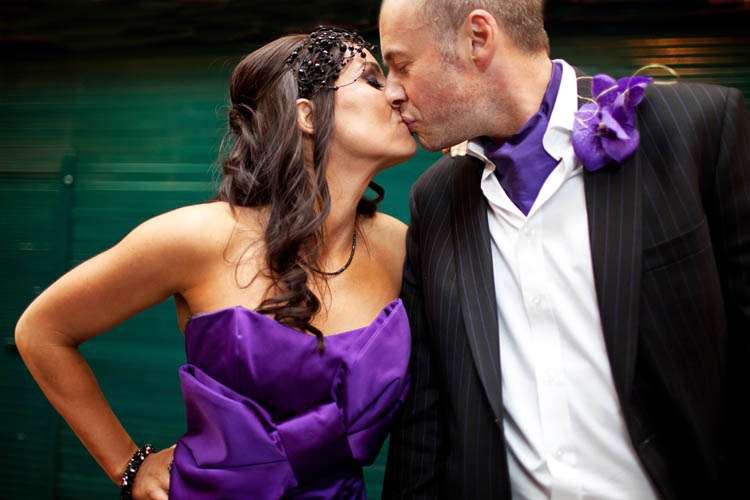 I was actually really excited about Sarah & James' wedding before it even happened. My friend Alicia Barron, events manager of One Mayfair, told me about this fabulous wedding she had coming up at her venue – a bride in a purple dress, loads of dramatic lighting…ie right up my street! I told her to try and find out who the photographer was so I could beg them to let me feature it afterwards. But low and behold, would you believe that the lucky photographer was actually my friend Annamarie Stepney! I saw these images pop up on her blog last week, but before I could even email her with my request, she'd already sent them over…and told me that the bride had read Rock n Roll Bride throughout her planning too. Woo! Happy faces all round.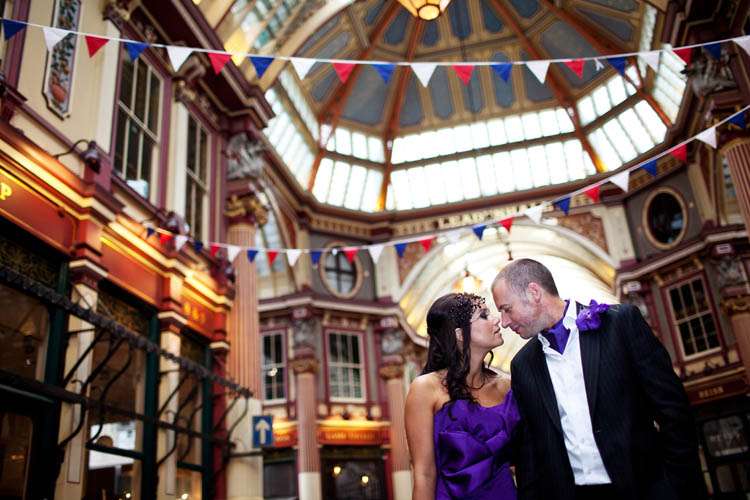 The ceremony was held in the vaults of Vinopolis World of Wine by London Bridge (One Mayfair is currently in the process of getting it's licence so you will be able to actually get married there soon.) After cocktails in the great halls the couple headed out with Annamarie for some portraits around London. The second part of the reception was held at One Mayfair. The venue is a deconsacrated Roman Catholic Church right in the centre of London with all of the original features still intact (you can see more of this awesome venue on my blog here) "We were dancing in the alter and the speaches took place in the pulpit," Sarah told me. " It was massively gothic and we had really dramatic lighting which picked up alot of the features in the building."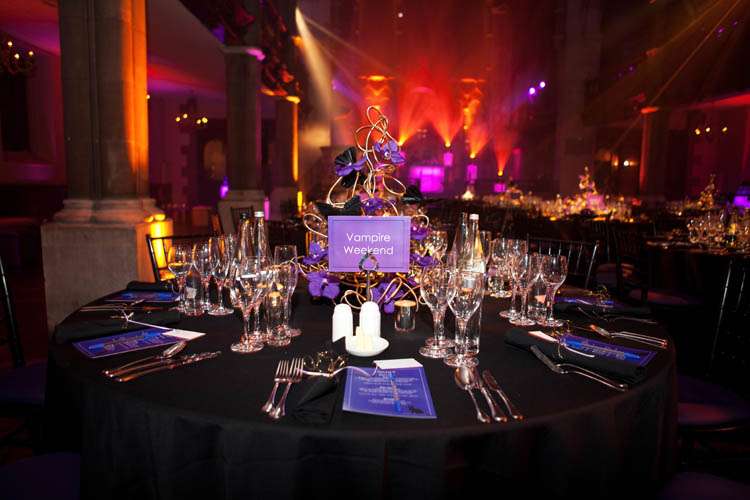 Sarah wore a purple dress by Britta Kjerkegaard from The Couture Gallery, YSL shoes and a black diamond necklace. Her bridal look was anything but traditional! Her bridesmaids wore 1950's style swing dresses from swing dresses and birdcage veils from Honeypie Boutique and the boys were in gold, black and purple outfits to also matched the dramatic theme. "The theme was black, gold and purple and all guests were asked to dress in accordance with the colour theme.  All the lighting was done in these colours too, and even the cocktails followed the theme: Black Russians, Raspberry mohitos and passionfruit bellinis," the bride explained.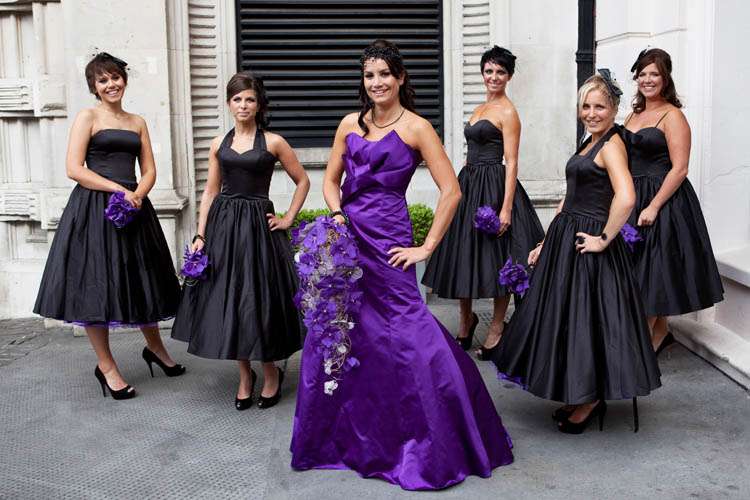 "The thought of being a bride in white made my stomach turn and the notion of a traditional ceremony or party in a country house practically bought me out in hives for starters," Sarah continued. "My favourite colour is purple and I love the 'Rock n Roll-ness' of black and gold so I just had to have those three as the colour theme which is where a lot of the details evolved from.  I really wanted to get married underground orginally but couldnt find anywhere that held 120 guests, and so found the vaults under London Bridge in Vinopolis served as a striking alternative. We looked at loads of venues for the party and the only one that really captured our imagination and could deliver on the key components of drama and individuality and was also completely untraditional was One Mayfair.  We also couldn't resist the Rock and Roll irony of getting married in a wine museum and having the party in a church! The day basically was all about informality, hi-jinx, drama and indulgence."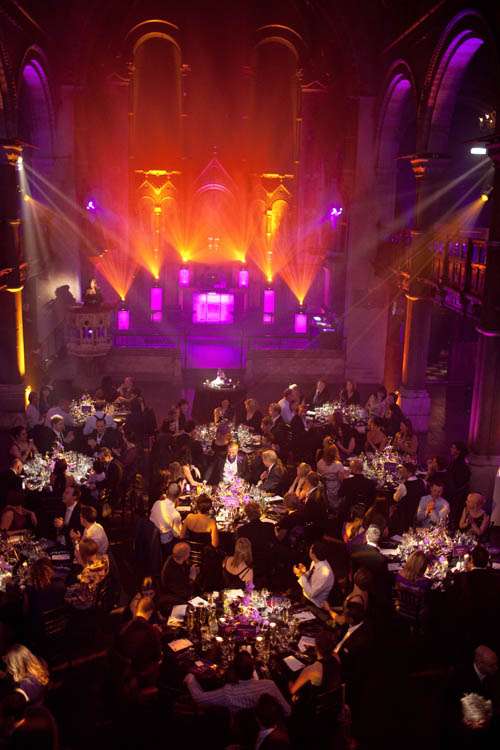 "The wedding invites were an extremely tongue in cheek take on the Royal wedding which was happening the week after our wedding.  Each guest received a 'commerative royal wedding mug' in the post which had a very cheesy soft focus pose of James and I, with our cats posing as lions on the side and the venue details printed on the other side!! I am cat mad so the cats featured quite heavily in the details. We had a massive ice vodka luge in the shape of the cat too.  This helped administer the the punishment for those who got questions wrong in the very risque  'how well do you know Sarah and James Quiz' that we had in between courses."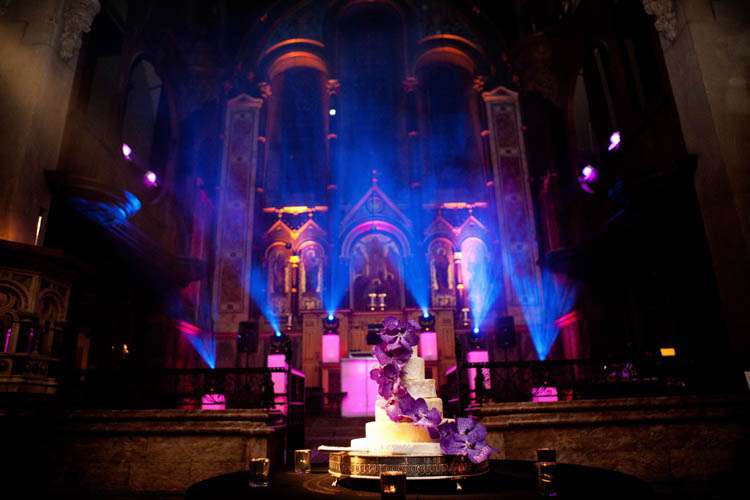 "At the cocktail party we had table centrepieces that were massive wine glasses that had black and gold goldfish swimming in them. The table names all represented various 'firsts' of ours; some were fairly standard such as first gig, first pets, first holiday, whereas others represented our slightly more saucy firsts (ie venues of).  As part of the quiz they had to match up which was which, which proved both surprising and taxing for the guests!"
Wow. Just wow…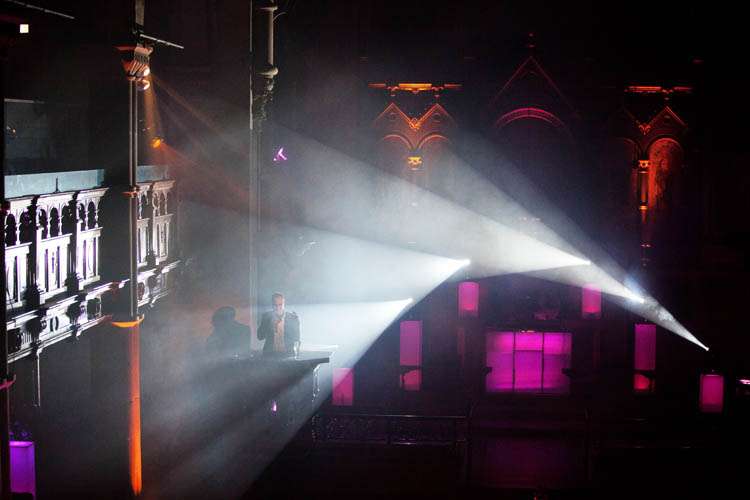 Huge love and thanks to Sarah & James and their photographers Annamarie and Kim for sharing this fabulous wedding today
Photography Credit: Annamarie Stepney Photography assisted by Kim Hawkins
Venue: One Mayfair, London
Bride's Dress: Britta Kjerkegaard from The Couture Gallery
Bride's Shoes: Yves St Laurent
Bride's Headpiece: Gillian Million Bespoke Design
Groom's Suit: Favourbrook
Groom's Shoes: Jeffrey West
Bridesmaid Dresses: Honeypie Boutique
Cheese Cake: Borough Market
Flowers: Bespoke Events
Hair: The Chapel, Islington
Make Up: Amanda at Inparlour