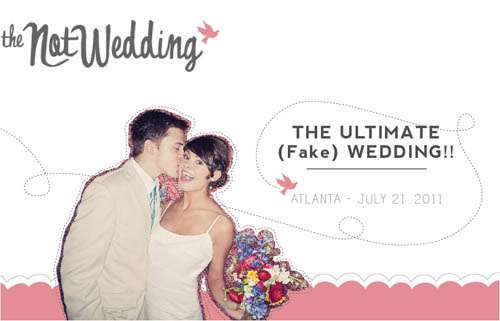 I have been a fan of The NOT Wedding ethos for the past couple of years. I love the concept of a wedding fair that thinks outside the box and shows off the best local Atlanta vendors by actually putting on a fake wedding!
This years event is going to be bigger and better. They explain,  "This time we're mailing wedding invitations in lieu of purchased tickets, we're having a full sit-down dinner catered by the amazing Sun In My Belly, and we are throwing in some pretty fun surprises to keep guests on their toes."
The event will be held in Atlanta on July 21st. Tickets are on sale now for just $40. Visit their new website, www.thenotwedding.com, for further details and to purchase tickets.
I can't wait to see the photos of the event afterwards and share them on these pages. You can see my coverage of the 2009 and 2010 events can be seen on the blog here and here.
*This is not a sponsored post. I just love.