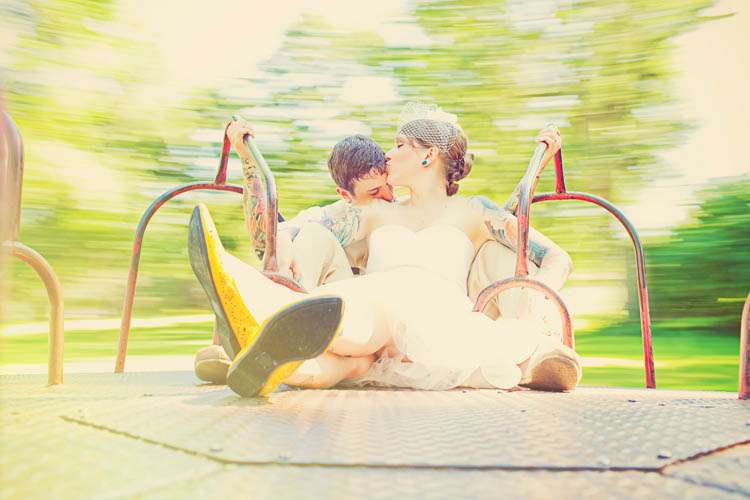 Teresa & Mat had my favourite style of wedding – colourful, fun and not-too-serious. In fact as soon as I saw these gorgeous images a big fat grin spread across my face and I can't wait to share that feeling with you all too.
To keep the day personal, the couple were married in Teresa's parent's back garden. The reception was held at Red Brick Theater, Adel, IA.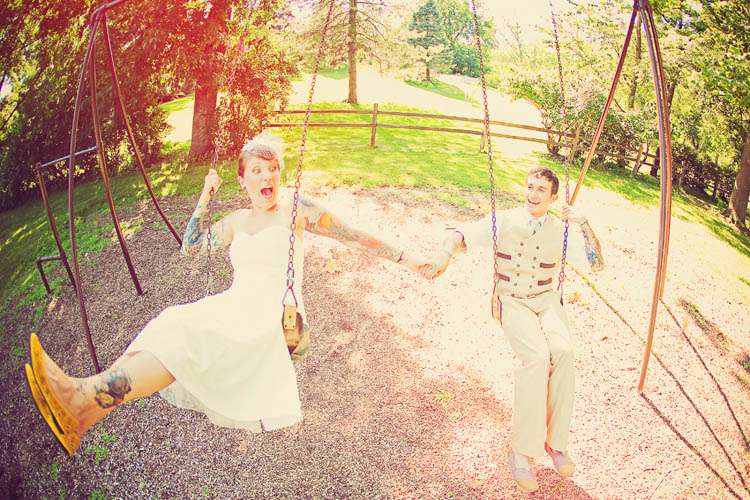 Teresa wore a dress by Amanda Archer whom  she found on Etsy. "I found her a year before our wedding, fell in love with her dresses and I could not wait to ask her to make mine," Teresa explained. "There was one problem, she lived in Portland and we lived in Chicago. Amanda was amazing to work with. She sent me swatches of fabric and took my measurements over email. She made the dress in Portland and I waited anxiously at home."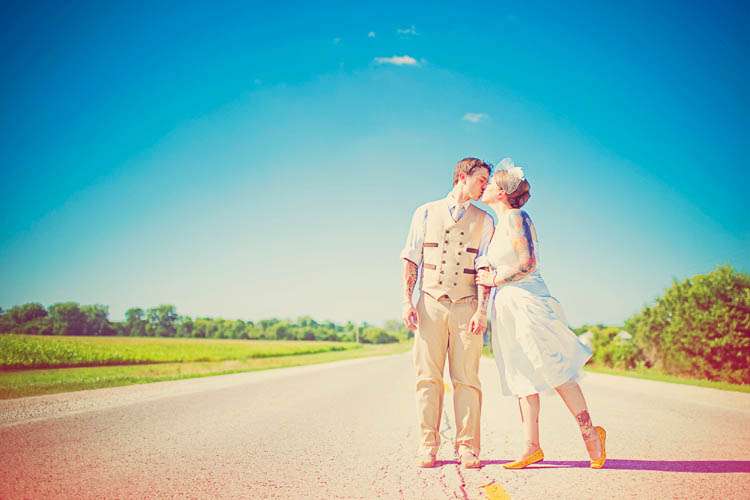 "About months before the wedding I received an email from Amanda saying they were relocating to Chicago!! It was such an amazing turn of events. A month before the wedding I went to Amanda's studio and tried my dress on. It fit like a glove. I don't know how she made it just perfect for me without even meeting me, she's just that amazing. I also had Amanda make my birdcage veil, an item I am so glad I went with. I love my husband, but I still have a secret crush on my dress."
With her perfect dress Teresa wore flat, yellow, vegan shoes from BCBG and a veil, also made by Amanda Archer.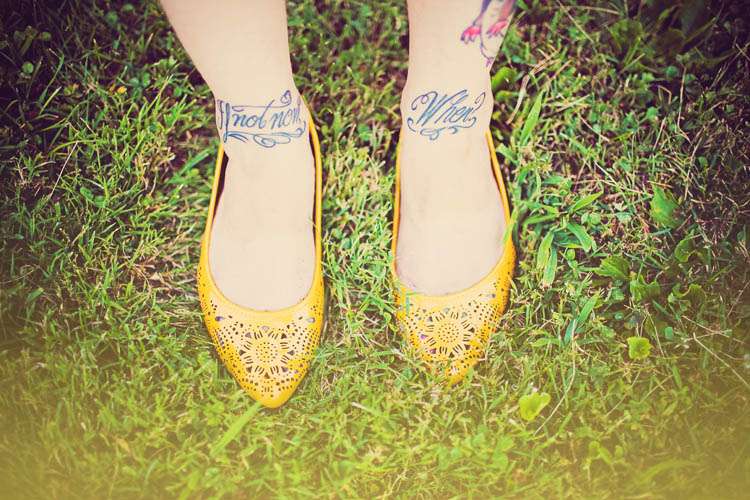 "Our wedding was complete vegan. We come from a background of animal rights and so do most of our friends. We found is completely necessary for our wedding to be vegan. Displaying our love for one another is a commitment we hold deeply, but so showing our respect for non-human animals. My dress and my husbands suit where made without the use of animal materials. Our bridesmaids and groomsmen all wore vegan attire as well. Our wedding cake, cupcakes, and root beer floats were all vegan. The soy Ice Cream for our wedding came from Chicago Soy Dairy!"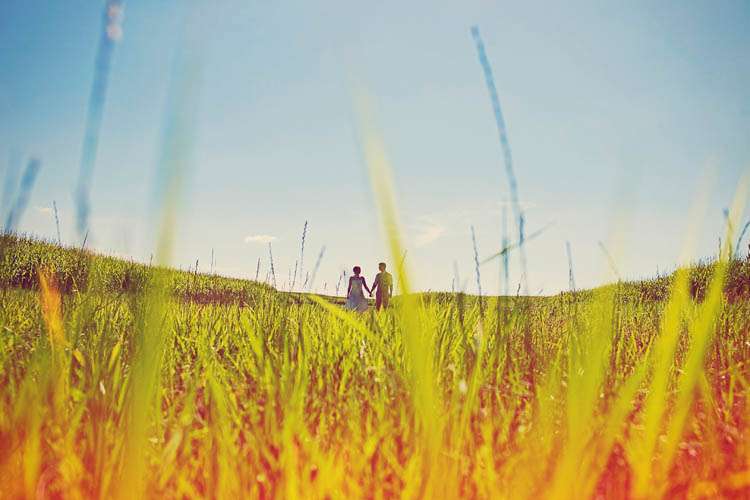 "Mat and I actually met through music," the bride told me. "We met one night after an Earth Crisis show. I mean how much more vegan straight edge can you get then that. When it came to our wedding we wanted it to reflect who we are and who our friends are. We encouraged people to show off their tattoos and bring ipods full of their favorite songs. Picking out music for our wedding was probably the hardest part. It had to be just right and represent us as a couple. We hired a four string quartet and bought them sheet music, so they could play songs we loved such as; Baby Elephant Walk (ha!), All of My Love by Led Zeppelin, Pretty Woman by Roy Orbison, and the opening song to my all time favorite hardcore CD; Reflections by Trial."
"It was not just the music that made our wedding different. The people we wanted to be in the wedding and help out with the wedding had to hold our beliefs. We asked our good friend Carey to marry us, a vegan straight edge icon (She may hate me for putting that.) We hired Matt Miller and Reagan Powell to photograph our wedding. We chose Matt because we felt his style best represent our outlook on life. We wanted unique photos that also showed what a beautiful and amazing day it was."
"Is there anything else you would like to add?" I asked…"CANNONBALLLLLLL!!!!!!!!!!!!!!" she replied.
Haha I love it!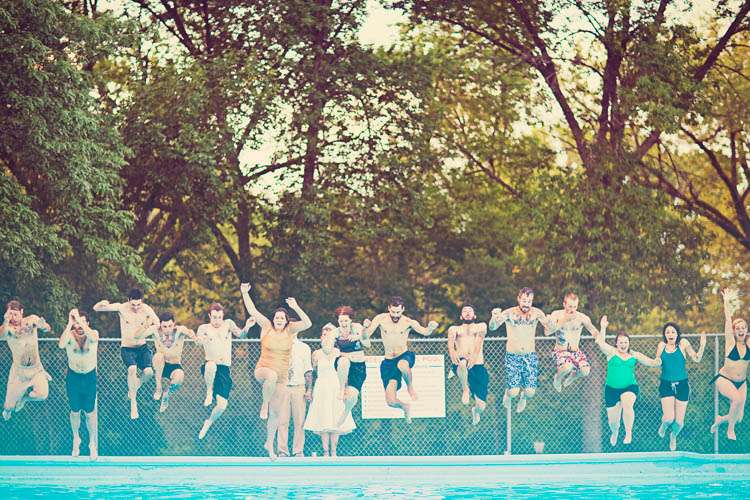 Huge love and thanks to Teresa & Mat and their awesome photographer (I love him!) Matt Miller for sharing their wedding with us today
Photography Credit: Matt Miller & Reagan Powell for Our Labour of Love
Ceremony Venue: Teresa's parent's back garden
Reception Venue:  Red Brick Theater, Adel, IA
Bride's Dress & Veil: Amanda Archer
Bride's Shoes: BCBG
Groom's Outfit: AJ Machete and Sons Clothier on Etsy
Cake: Fresh Cafe (Clive, IA)
Flowers: DiVine by Saley
Bridesmaid Dresses: ModCloth
Hair: Bombshell Betty's by Devan