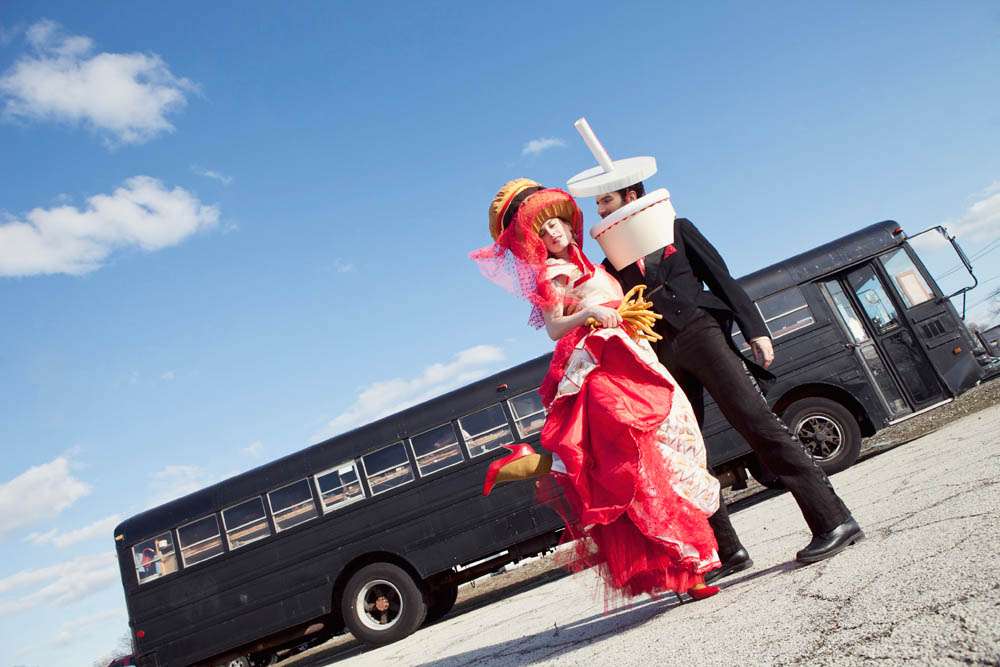 I don't feature a whole load of engagement or couple shoots on the blog, preferring to share all the incredible real weddings I get sent instead. However sometimes, just sometimes, a session stands out so much that I'd be mad not to share it. Remember the bunny suit session I featured recently? Or the awesome wolf-head shoot? (also by Love Me Do Photography)
Yeah, things like that are what rock my boat, not vintage picnics and balloons and cupcakes…not that they aren't cute as hell, but I just don't get very excited about shoots styled that way anymore. You see them everywhere and they've kind of been done to death huh? …and really, let's be honest, what does a shoot like that really tell us about the couple as individuals? Diddly-squat that's what.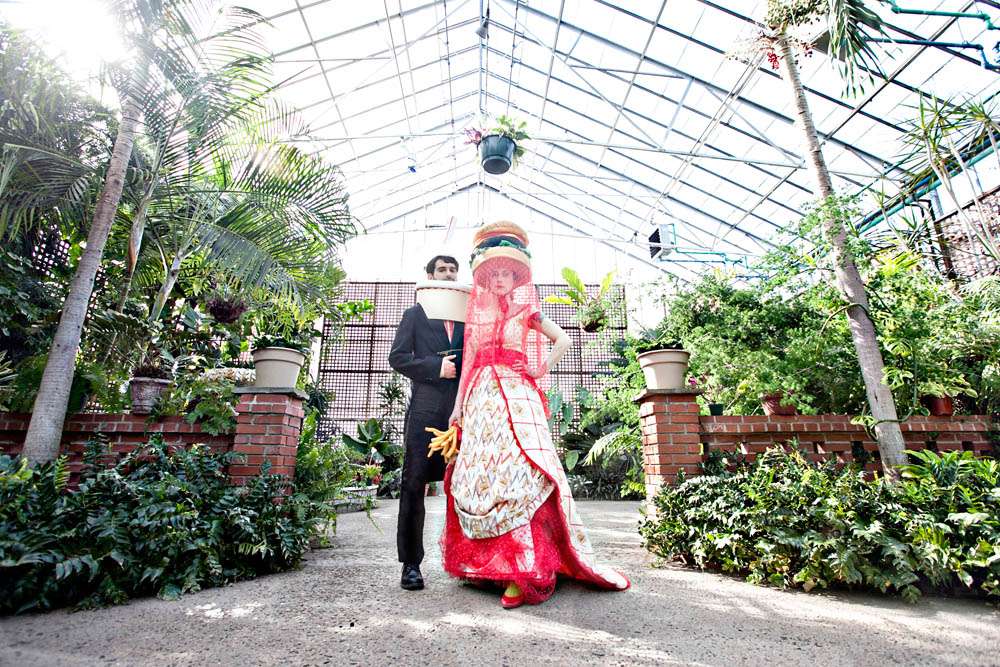 Anyway mini-rant over (!) I was sent Kim & Matt's photo shoot by the fabulous Carina & Amanda of Love Me Do Photography and lets' be honest, any couple that are happy to dress up as fast food are freakin' awesome in my book. "We wanted to have fun with this," Carina told me.  "Both of us felt like we've been seeing a lot of the same images show up in wedding photos; trends and whatnot.  We know it's hard to look at other people's wedding photographs and not get influenced by them, but we really wanted to take things as far away from all of that and really go outside the box.  We wanted to show that we can make a joke, be ironic, and still be artistic."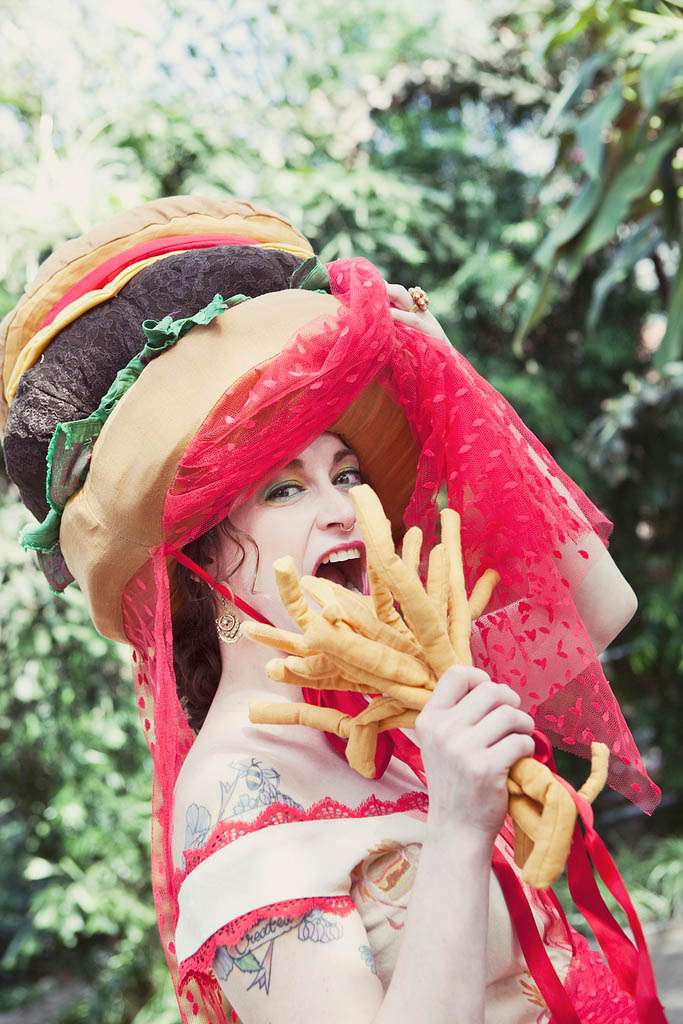 "The costumes were designed and hand made by Carrie Collins of Fabric Horse. She had exhibited them a couple of years ago at a Halloween party I photographed.  A few months ago I brought up the idea of having a bride/groom shoot with the costumes.  She agreed and we got to brainstorming.  Right off the bat I thought of having a school bus in the background.  Friends of mine owed one which they painted black and had it parked in a lot about 30 minutes away.  While Amanda, Carrie, and I brainstormed about other ideas, we collectively came up with the idea to have them be in natural surroundings.  My mind went to this greenhouse in Fairmount park.  We liked the idea of the hamburger/milkshake representing processed fast food, and the green house being the opposite and representing nature."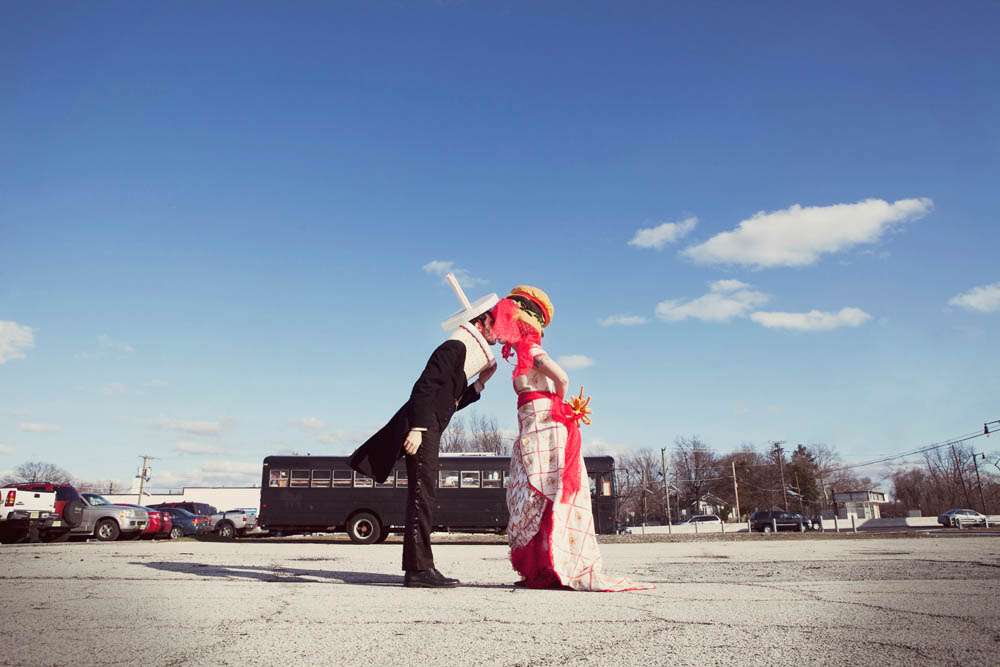 "We started thinking of endless scenarios to put the burger and milkshake in.  A fast food adventure if you will.  Next up, honey moon pictures on the beach, a night out on the town, chicken nugget babies??!  Carrie also wants to possibly make more of these types of costumes in the future, in which case we will be photographing them also."
How happy do these make you? Happy or hungry – it's gonna to be one or the other right? I can't wait to see more tasty fast food-inspired photo shoots from these guys in the future.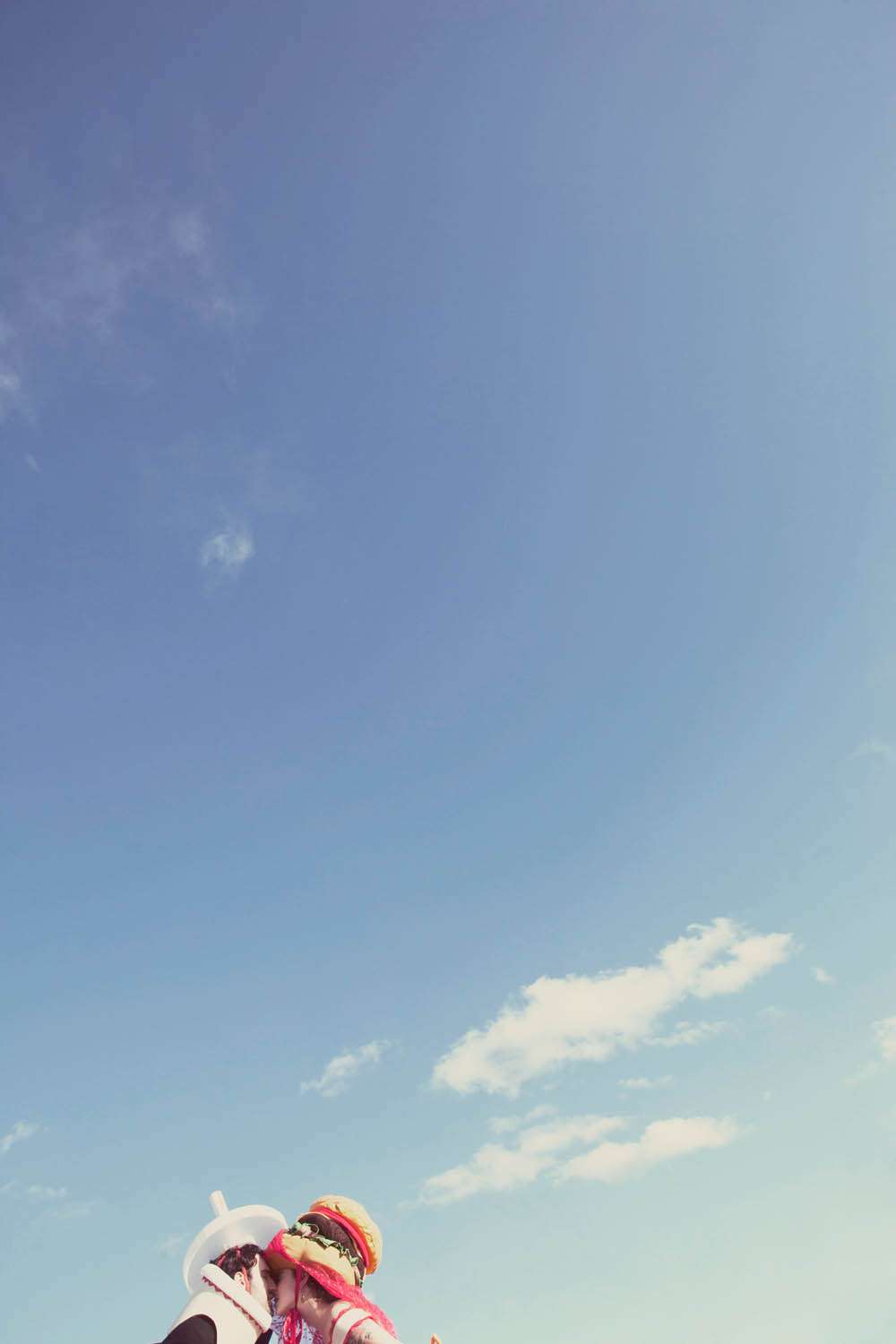 BIG love and adoration to Carina & Amanda of Love Me Do Photography for always pushing boundaries. Love you girls!
Photography Credit: Love Me Do Photography
Costumes: Carrie Collins of Fabric Horse (dress was hand painted by illustrator Mayuu Hayashi)