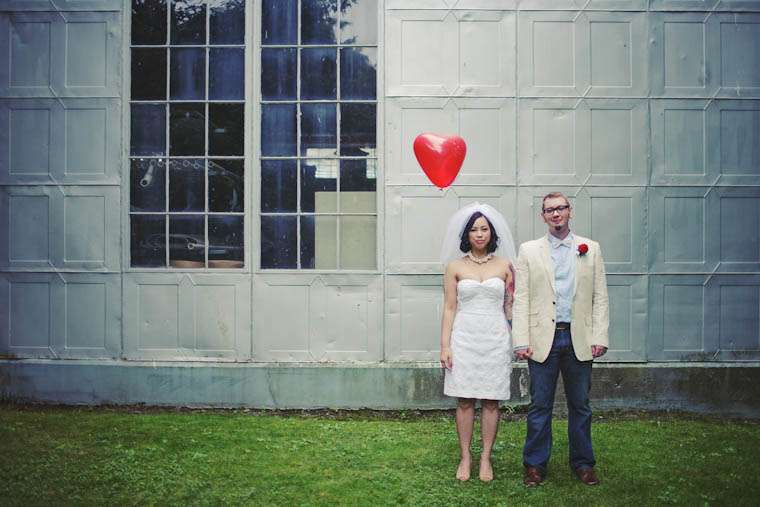 Tasha & Noah's beautiful backyard wedding is pure inspirational gold! I am super excited to share it with you today on this little wedding blog. I just know you're all going to love it just as much as I do.
The ceremony & reception took place in the couple's back garden and they asked all their friends & family to help out where they could to make the day a really personal one. "Noah and I wanted to have a small, chilled wedding that involved our families and close friends," Tasha told me. "Choosing red, white and blue for our Americana backyard BBQ wedding theme made finding coordinating fabric and accessories super easy."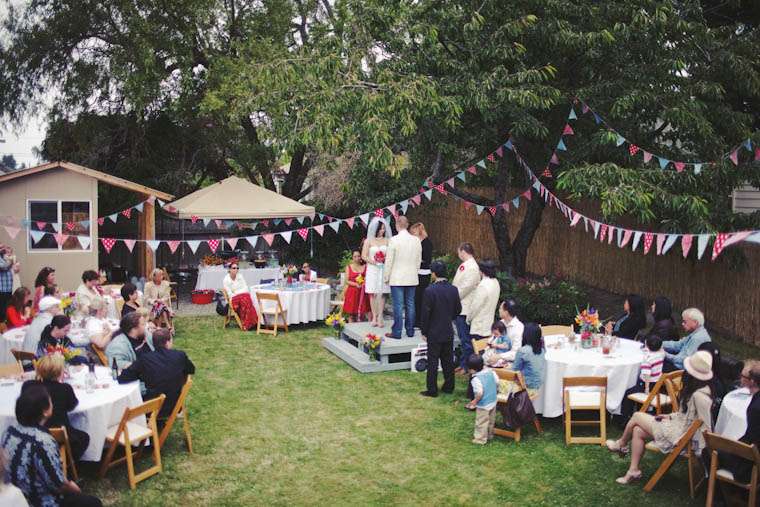 "Nearly everything was DIY- Noah made our Save the Date"s and invitations, Noah's mom made all the desserts, Noah's mom, grandma and aunt made the bouquets and bouts from a few bouquets from Pike Place Market.  My mom's friend made 200 feet of pennant flags from fabric I picked out at the fabric store down the street from my house.   My sister and her boyfriend cut up all the fruit for our drinks.  My aunt stamped all the BBQ bibs with a custom stamp that Noah designed.  My aunts put together the centerpices the day before.  On the day of the wedding, my mom and I set up all the tables, chairs, tablecloths, and centerpieces in an half an hour."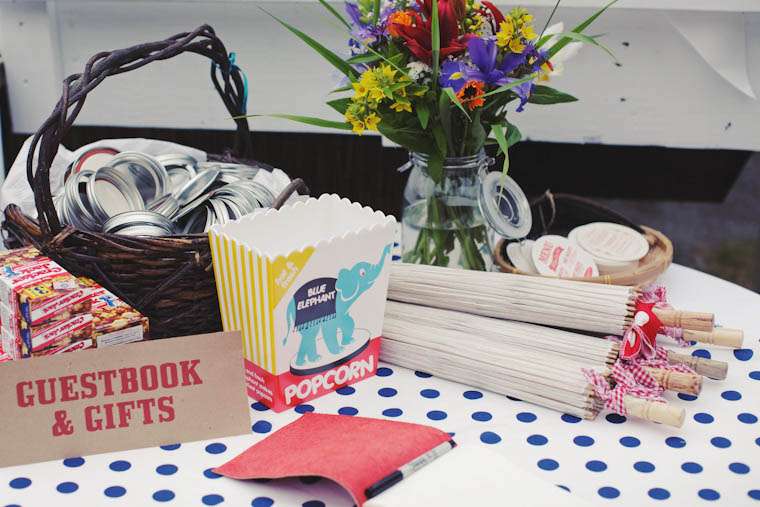 The couple didn't want to spend a lot of money to have their perfect day and knew they wouldn't have to with the help of their nearest and dearest. By having the wedding at home as well as DIYing pretty much everything, the wedding ended up costing less than $10,000 – that included their fabulous professional wedding photographer Ben Blood AND their honeymoon!
The bride wore a Calvin Klein dress that cost her just $60. Noah's Mum altered it for her and changed the neckline to a sweetheart style. Tasha's veil was from etsy, her AMAZING cork shoes were from Nine West, and her jewellery was borrowed or things she already owned.
The couple walked down the 'aisle' to music played through Noah's phone! He set up large outdoor speakers with a transmitter to play the music through. Their 'mobile/cell phone disco' also continued into their reception as the couple used it to play all their party songs instead of hiring a DJ or band. "Oh and the story behind the boombox?" asked Tasha, "well when it was my turn to walk down the aisle, Noah paused the music on his phone and my dad played the Vitamin String Quartet version of Weezer's Buddy Holly on the boombox.  When the ceremony was over, Noah played the original version of the song that was queued up to the chorus.  It was perfect."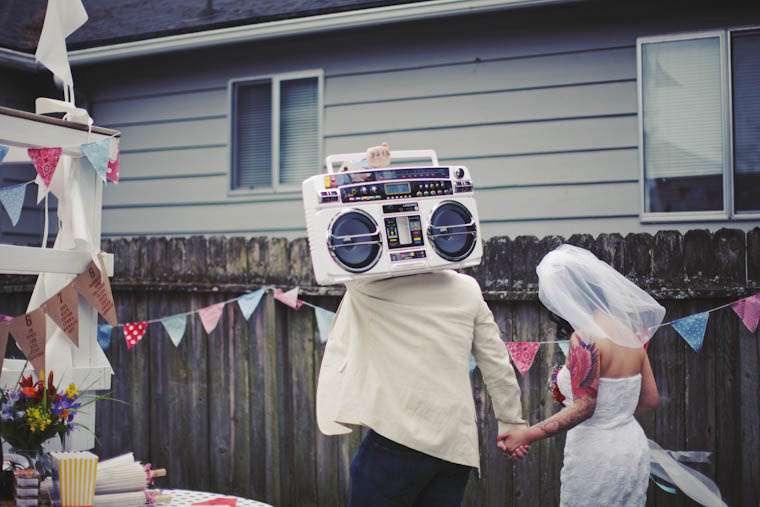 Perfect indeed. I am in total awe of this super creative wedding.
Huge love and thanks to Tasha & Noah for sharing their beautiful wedding and to Ben for sending over his photos.
Photography Credit: Ben Blood
Venue: Couple's Back Garden
Bride's Dress: Calvin Klein
Bride's Shoes: Nine West
Bride's Veil: Etsy
Groom's Outfit: H&M, Levi's & JC Penny
Bridesmaid's Dress: JC Penny (originally white and dyed red by Noah's Mum!)
Cake & Desserts: DIY – Noah's Mum
Flowers: DIY (sourced from Pike Place Market)
Music: DIY
Reception Décor: All DIY