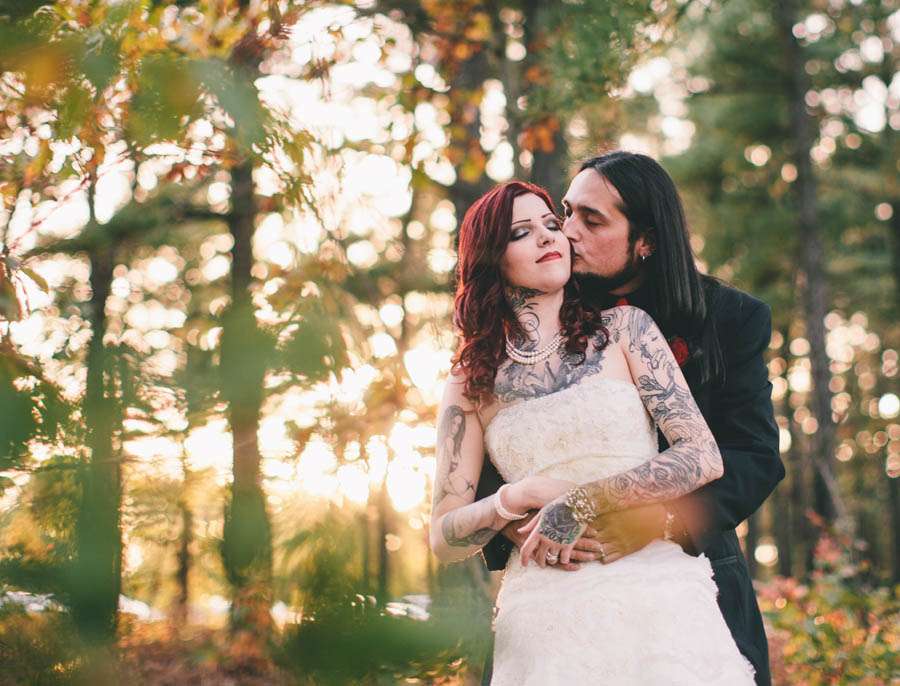 The New Jersey wedding of Lauren & Justin took place in October and had a vintage gothic theme. Red, black and white were the colours of choice and everything, although mostly handmade by the bride and her mother, had a really elegant twist.
"My mother and I planned this entire wedding ourselves" wrote Lauren. "We had help here and there from my father, husband and even my mother in law. I think I should also mention I work six days a week so all planning was crammed into my only day off.. Sundays… and the little bit of time after work if I had energy!"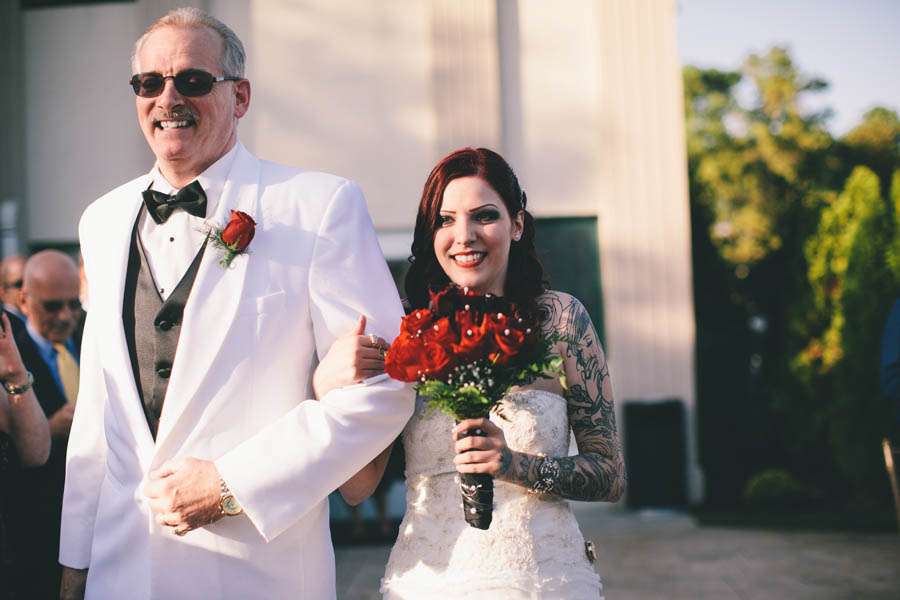 "My inspiration was to have some awesome traditions of a wedding, with my crazy twist of life added to it. Our theme was classy and twisted, crazy and beautiful! I wanted to wedding to be beautiful and classy and yet crazy and different like me and my husband. We did dark dresses, intense red accents and creepy Nightmare Before Christmas music that was covered by an orchestra. I wanted my dress to showcase all of my beautiful tattoos. I pretty much wanted a vintage inspired gothic traditional wedding and that's what I got."
"We handmade our wedding invitations and our card box which was one of those big fake looking books that you can buy from craft stores. I printed some of our gorgeous engagement photos onto sticker paper and customized our box to look like the story of our beginning. The back of the book even had a picture of us walking away from the camera."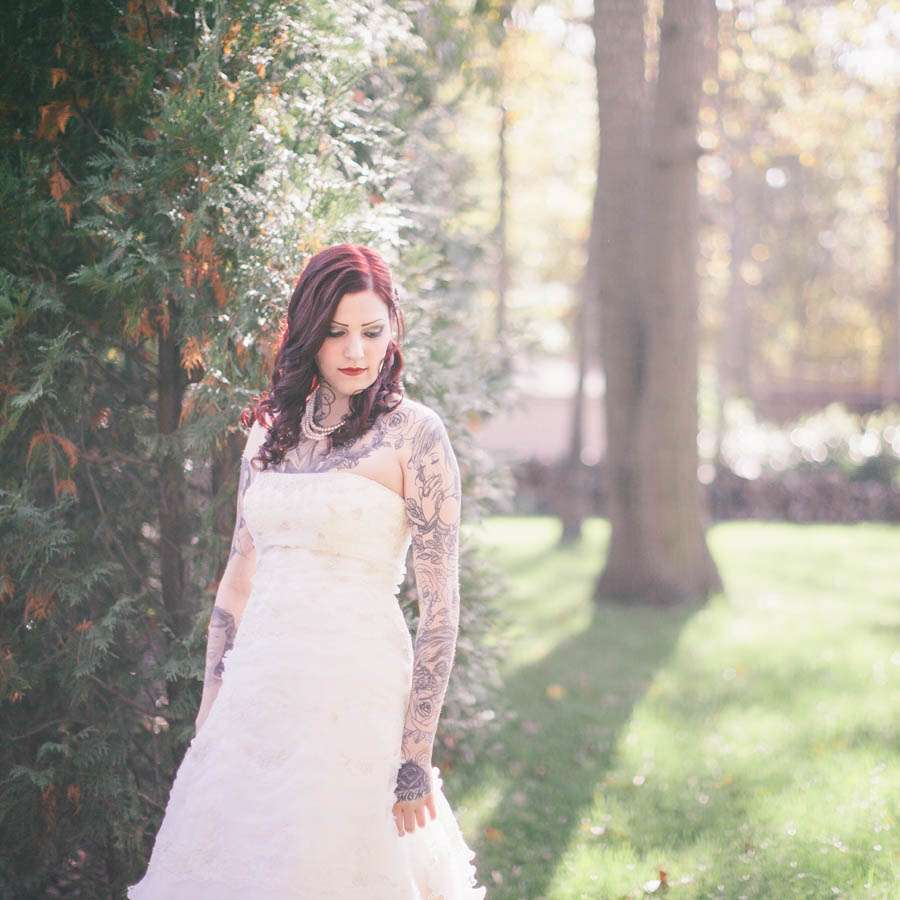 "We had black and crystal candelabras with red roses as the centerpieces. On the tables were red glass and ivory glass candle accents. A five foot projection screen that showed a slides of our childhood photos, families, and how we started our own family. We had a small metal tree that we hung hand cut leaves on for our guests to write words of encouragement or love. On the tree hung three heart shaped photo frames with pictures of our grandparents who had passed. Our favors were tree seeds. We wanted our guests to be able to plant a tree for us!"
"The entire wedding was amazing", she concluded, "picking one favourite memory would be impossible. Every part was memorable. Every detail saved in my heart and brain. Even when the wedding was over and I walked into a bar with my wedding dress on… I loved EVERY SINGLE ASPECT!"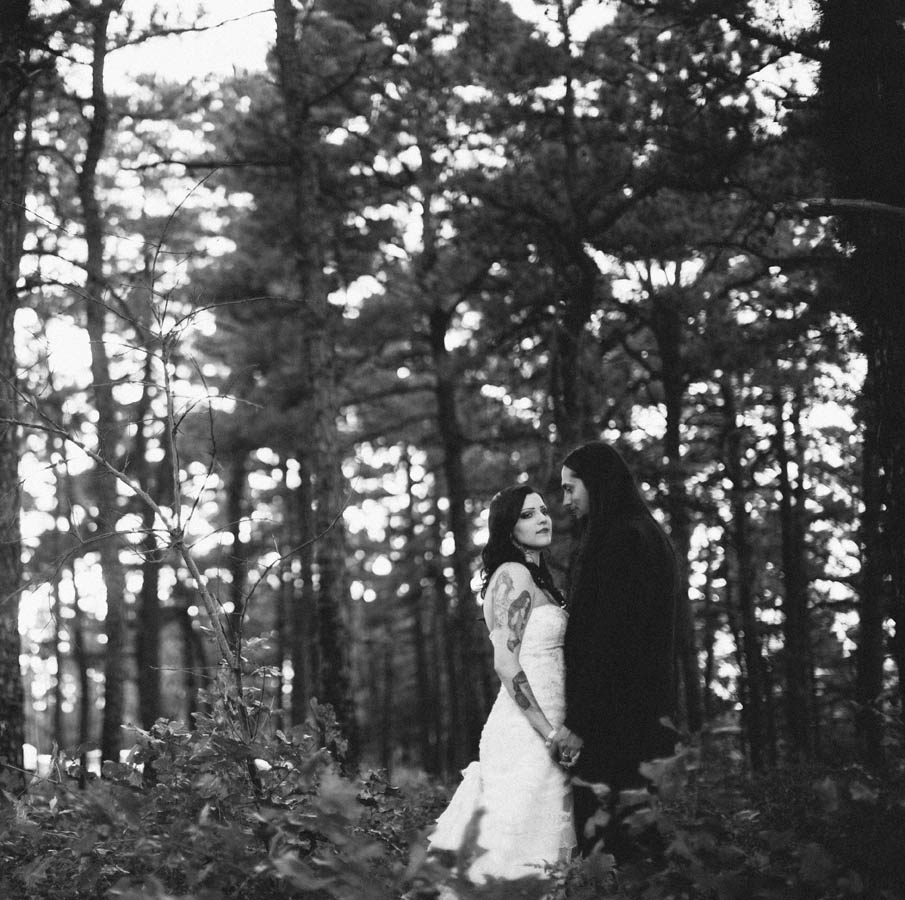 Beauty! Thank you to Lauren & Justin and their wedding photographers The Markows for sharing with us today.