It was Elvis' birthday on Saturday so I thought I'd mark the occasion by sharing Amy & Daylen's awesome Elvis-influenced Las Vegas wedding with you this morning!
They were married at Graceland Chapel, Vegas by Elvis (of course) followed by an informal and rockin' party reception at the MGM Grand in the Skyloft Suite.
"We had a reception with about 25 of us at a Skyloft Suite, then all of us took a party bus to Graceland Chapel to get married by Elvis, we chose the Blue Hawaii package and Elvis sang 3 songs," explained the bride. "It was the loudest and liveliest wedding ceremony ever, I'm pretty sure. We all sang and danced and cheered, so much fun and exactly how I want to enter into marriage, with a fun party."
"Our party bus however, ended up being a disaster; they were an hour late as they forgot to pick us up. After many calls they sent a rickety party bus with no AC, flickering lights and no music that eventually broke down on the freeway 5 minutes into our trip to the chapel. We then got picked up by another company with their party bus that did in face get us there safely and then tried to leave us at the Chapel (an amazing Groomsmen helped us out there), all in all, that really actually made the trip as we had an amazing time on the side of the freeway and we laugh about it now!"
"We didn't have the bridesmaids or groomsmen wear anything specific, we just gave everyone a theme and let them roll with it. I bought everyone fun sunglasses and glow necklaces to have fun with. I very much just wanted this wedding to be fun and relaxed. I didn't want the stress to be there, I wanted to laugh during the ceremony not cry (and laugh we did a lot of), I wanted it to be more of a good time than making sure everything was perfect, because it far from wasn't but that's what made it fun and unique in my eyes. I loved how I looked, I was comfortable and enjoyed the moment. If you watch the video or look at the ceremony photos, there was a lot of me dancing and singing as well as my husband and guests. I wasn't sure what to expect and the surprise of it all was the best."
Amy wore a dress from Anthropologie and an antique necklace handed down from her Mother. Daylen kept his look casual and rockin' with a shirt from J Crew and trousers from Banana Republic. His awesome bow tie was from etsy seller Me & Matilda.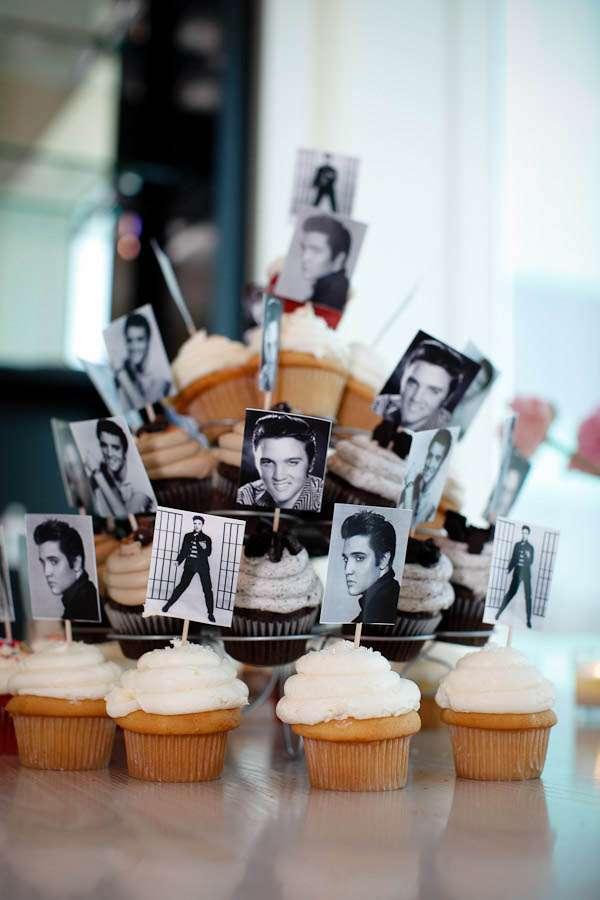 Huge love and thanks to Amy & Daylen for sharing their gorgeous and fun (despite mishaps!) wedding with us today
Photography Credit: Chris Schmitt Photography
Ceremony Venue: Graceland Chapel
Reception Venue: MGM Grand Skyloft Suite
Bride's Dress: Anthropologie
Brides Gold Cage veil: HeKnowsMyName on Etsy
Brides shoes – Charles David
Bride's necklace: – Real pearl necklace handed down from my mother
Brides hair & make up: Christine Copeland
Groom's shirt: JCrew
Groom's pants: Banana Republic
Groom's bow tie: Me & Matilda
Grooms suspenders: BeltOutlet on Amazon
Flowers: Melissa at Crazy Daisies in Vegas (no website)
Cupcakes: Caked Las Vegas (decorated by the bride with edible gold stars and cupcake toppers)
Cupcake toppers: custom made b&w photos of Elvis by Frosted on Etsy
Lolita Sunglasses: Fred Flare