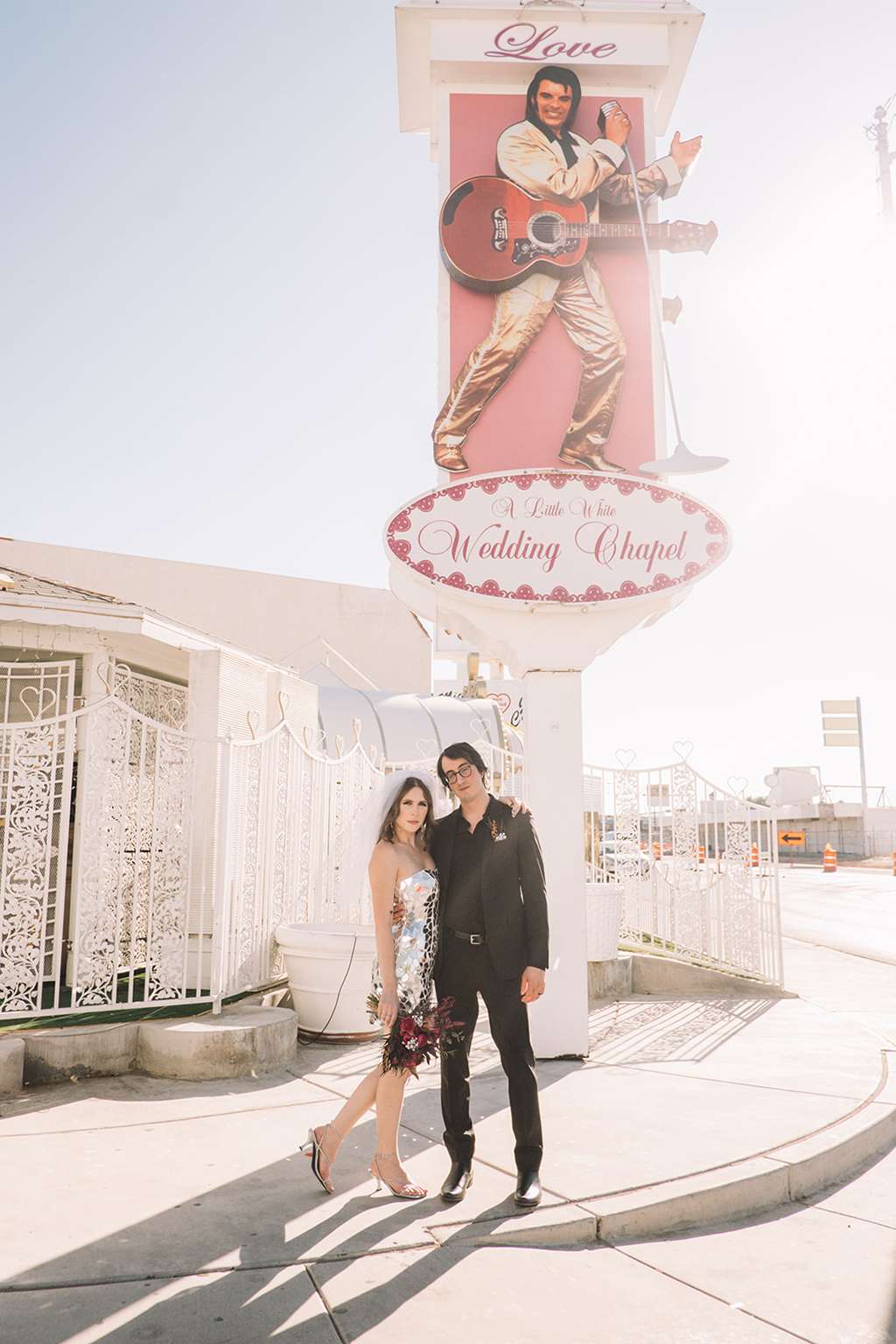 Mady and Frankie met while Mady was going for a job interview a little over 6 years ago. "I happened to notice a really cute guy making smoothies at the bar of the interview," she told us. "Later that afternoon I got offered two two almost identical job roles – of course I took the one with the cute guy, and he's now my husband!"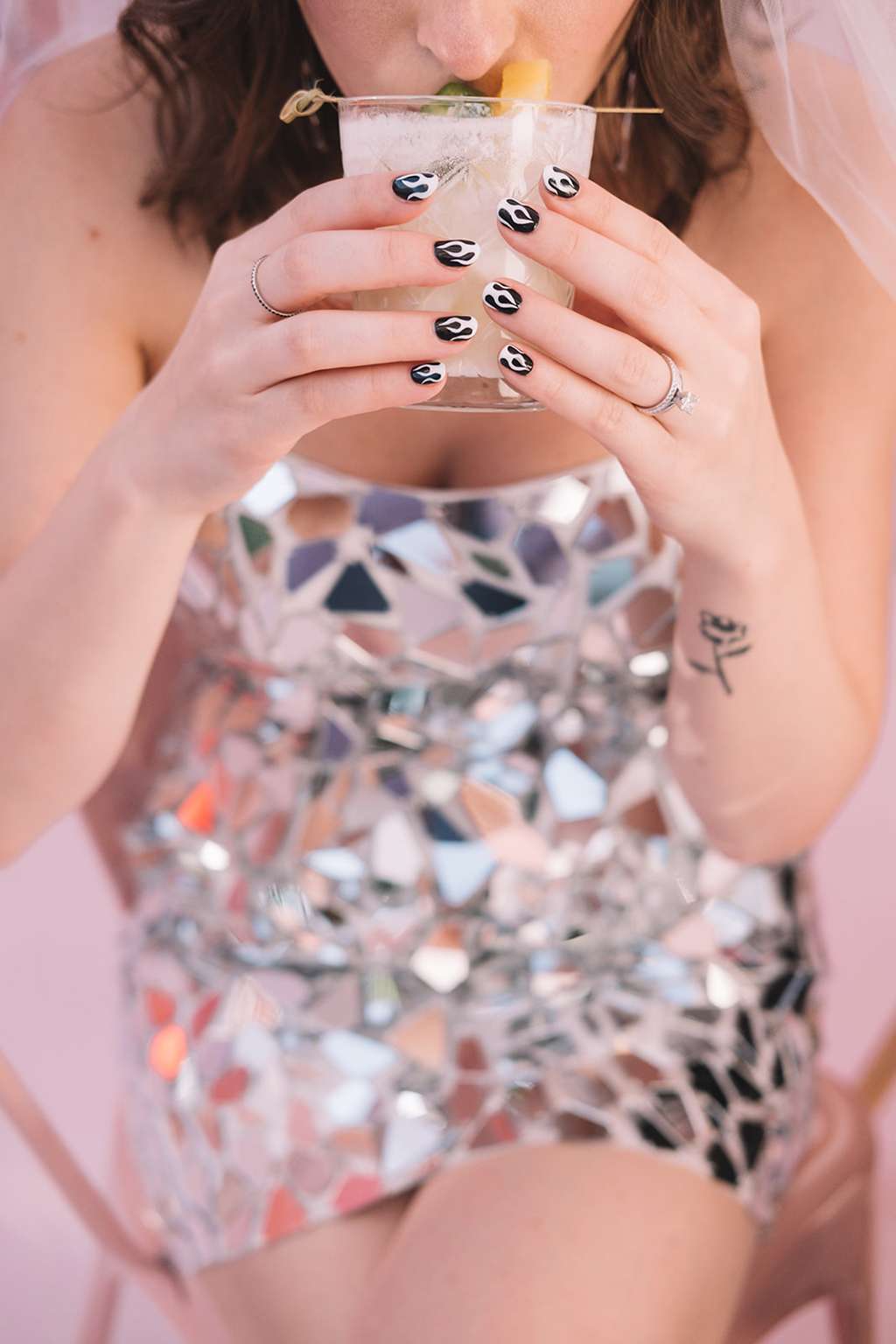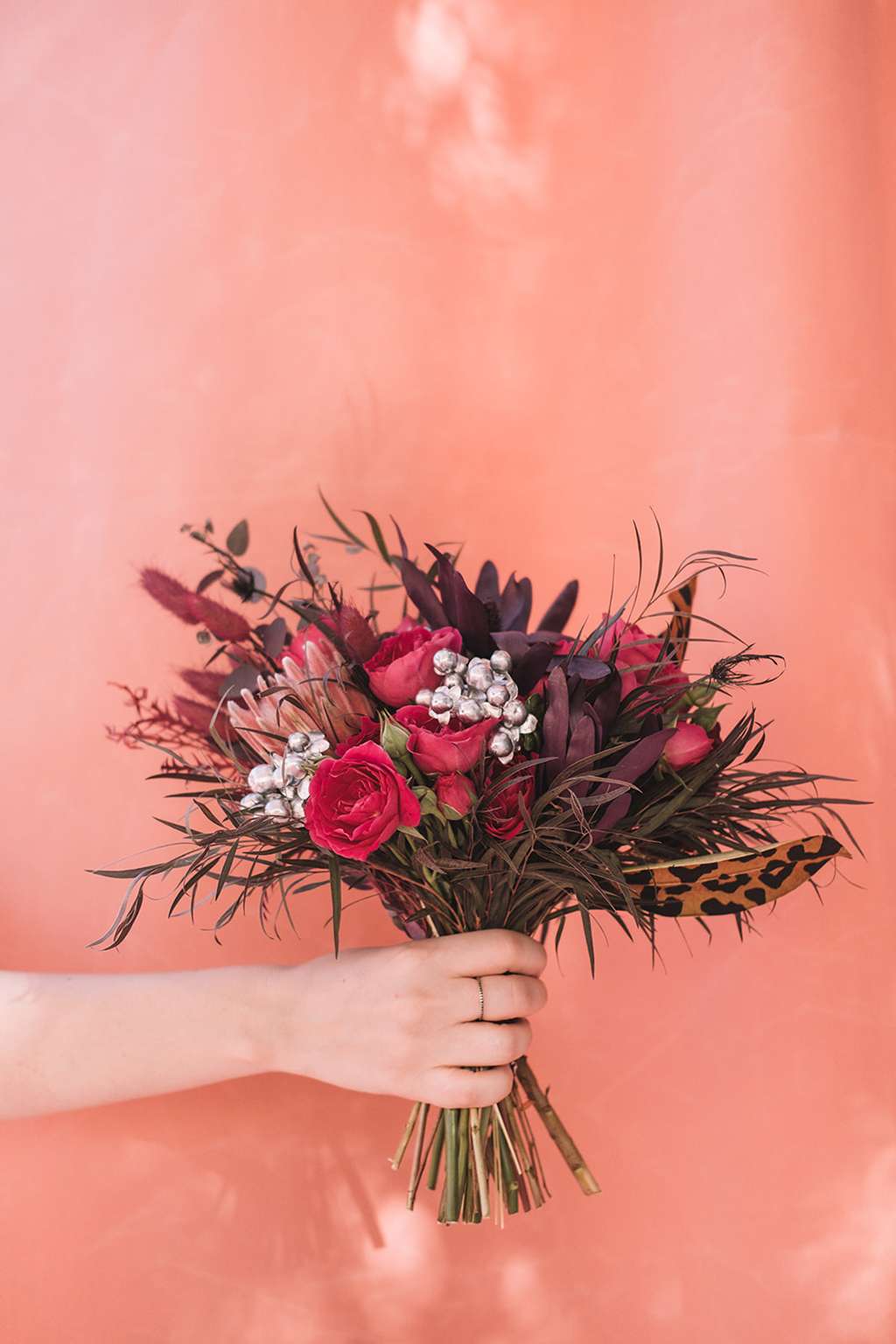 They initially had a bigger Las Vegas wedding planned pre COVID-19 with a budget of $20,000, but for their elopement they ended up spending around $5,000. This included everything from photographer, outfits, accommodation, right down to fuel for the car.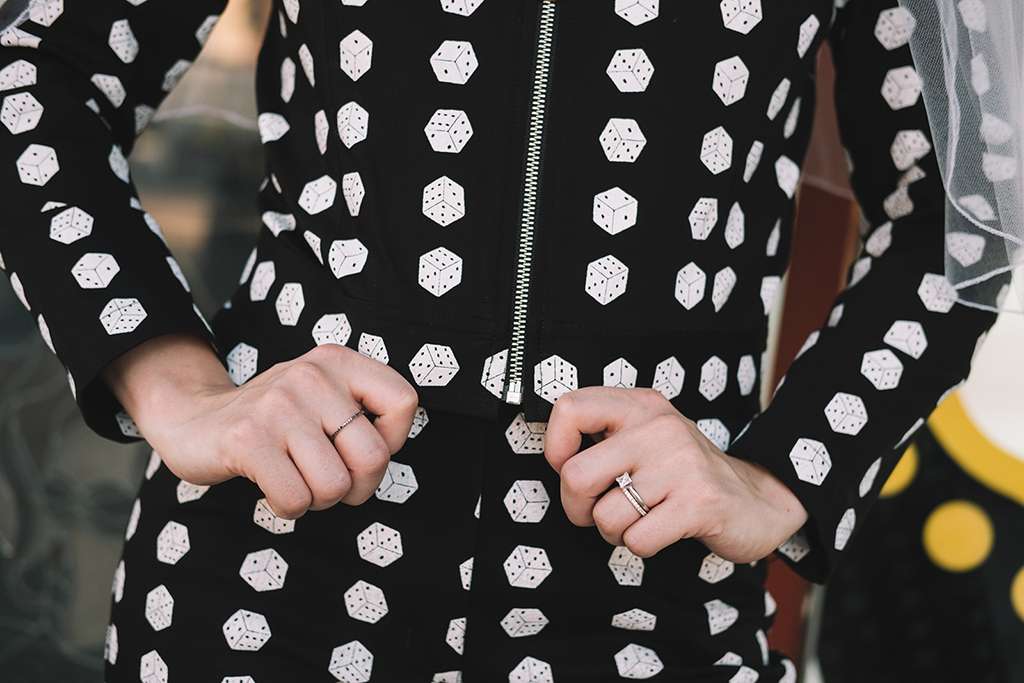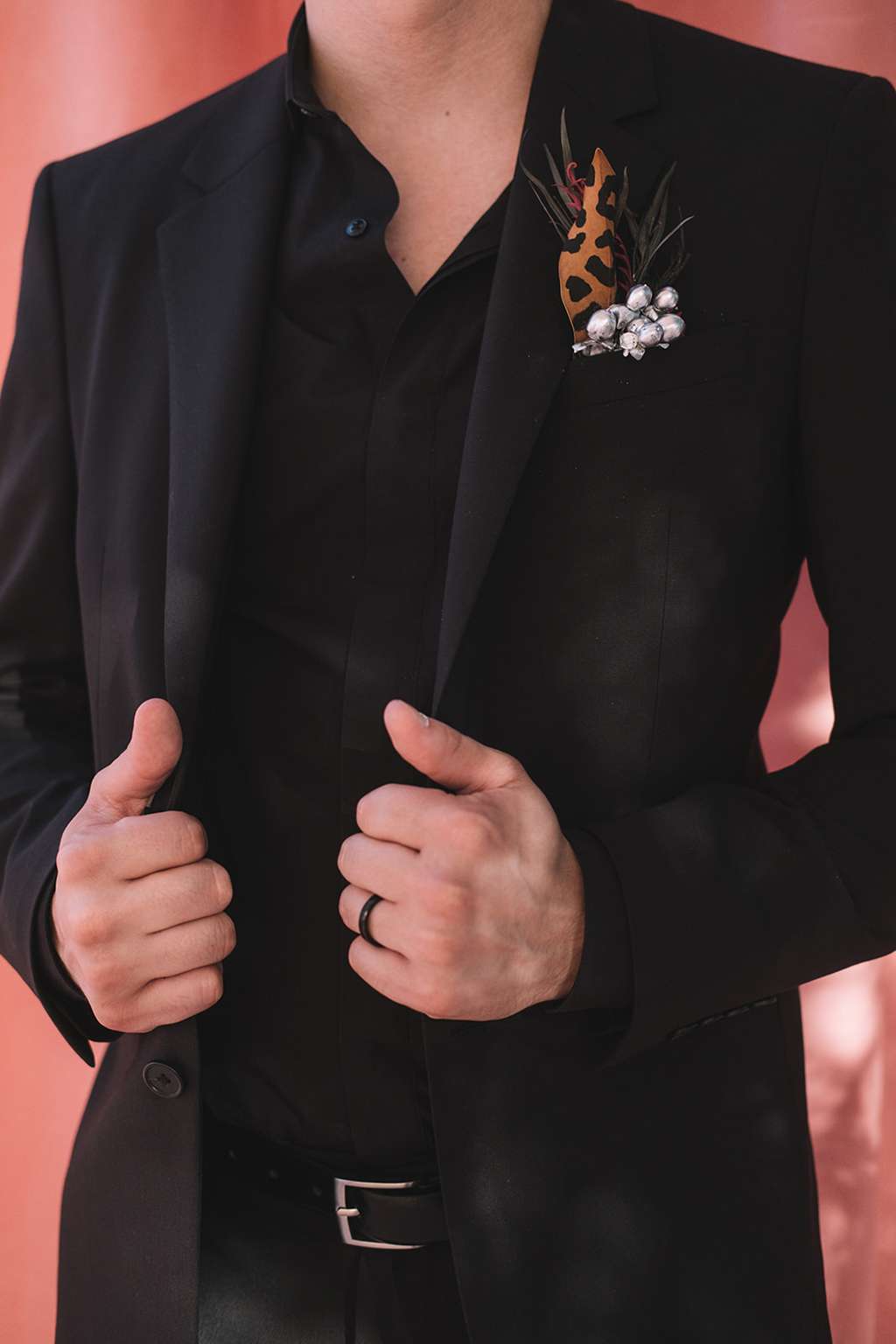 Mady was inspired by the space and energy at the bar Velveteen Rabbit for their wedding theme. "It's vintage and elegant and at the same time, innovative and eclectic. I remember walking in for the first time and being like 'if you could describe me in a bar this would be it.'" They hired the place for an hour after their ceremony so they could take photos and start their celebrations with some delicious cocktails.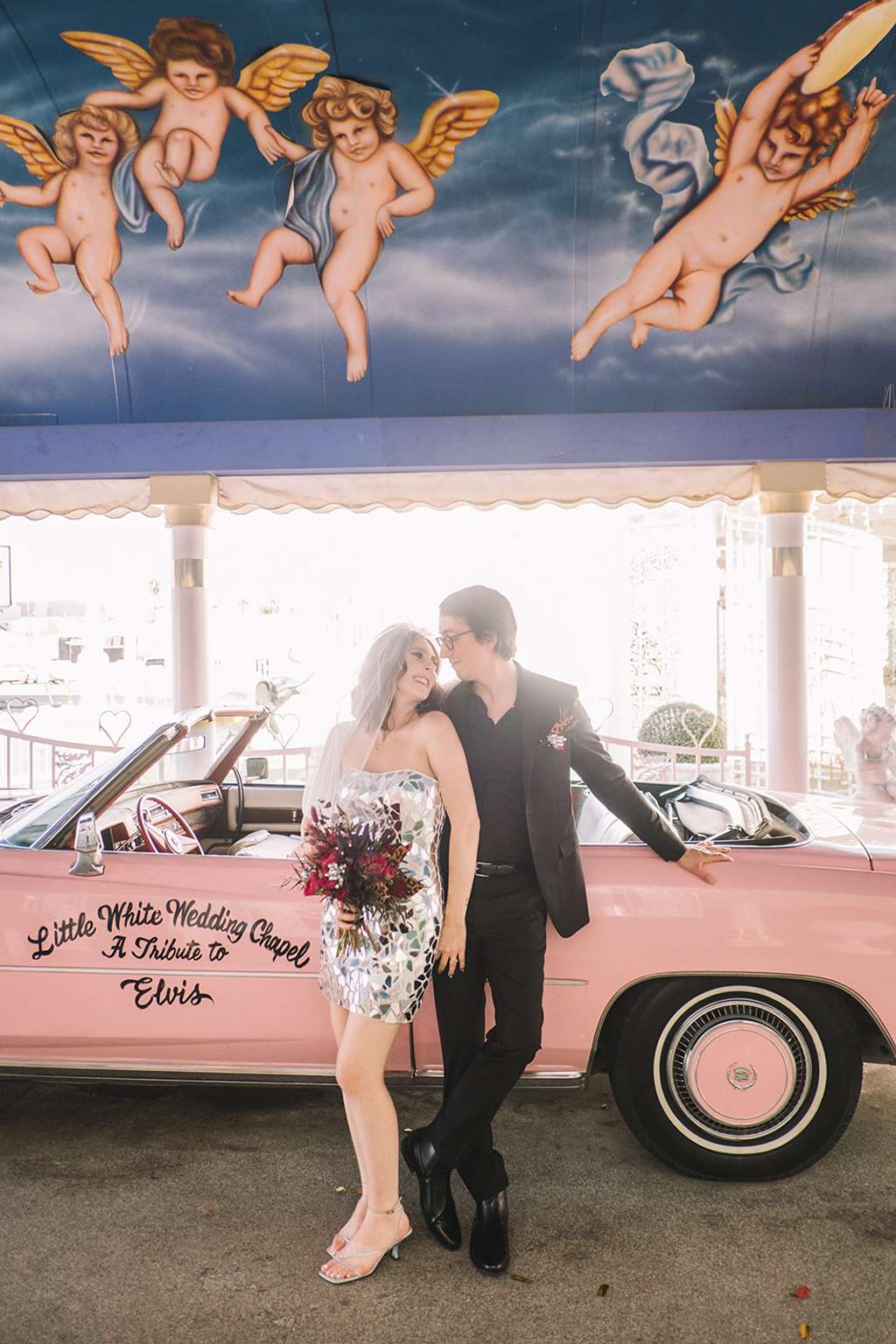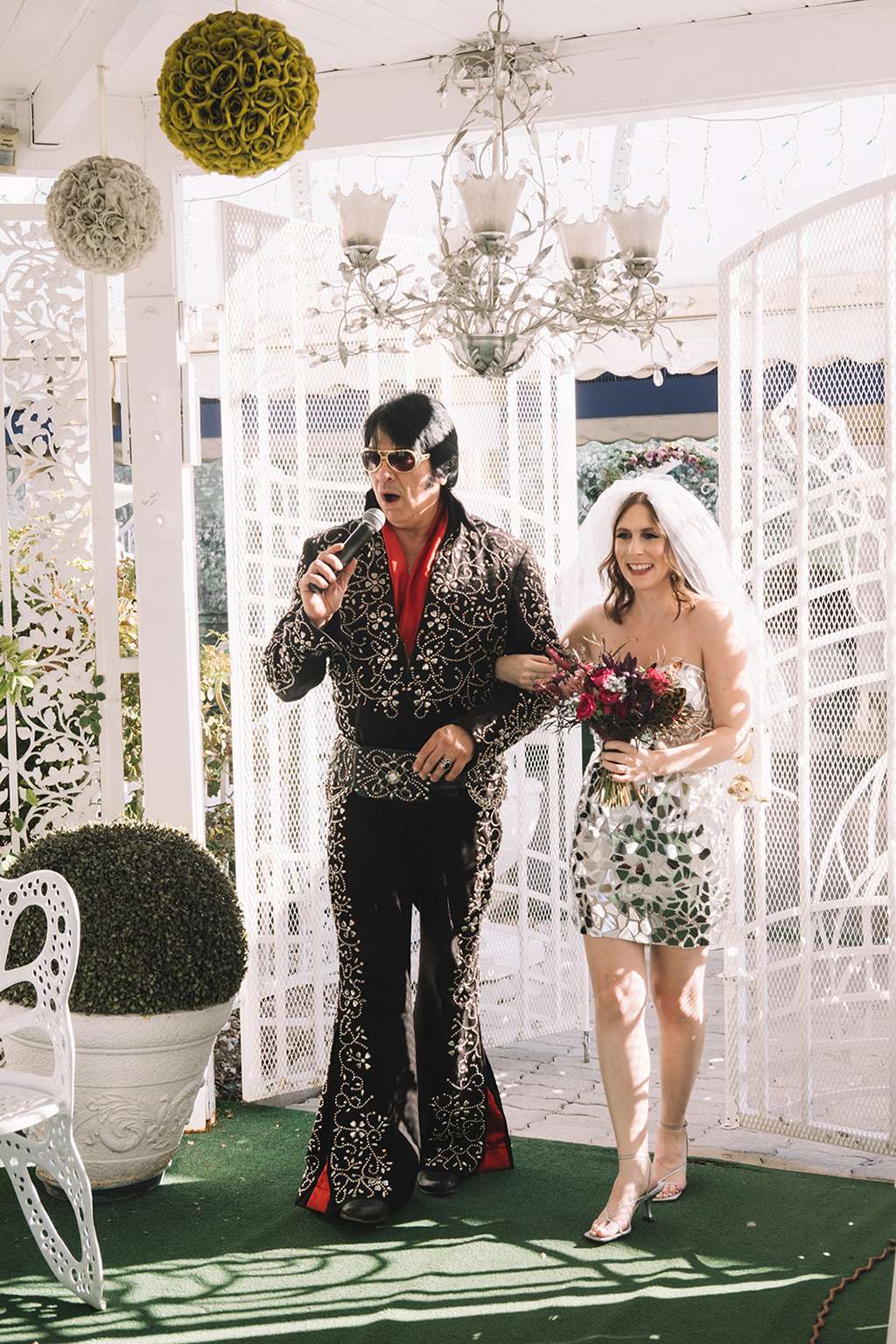 She also never envisioned herself in a traditional wedding dress, and always knew she wanted something unexpected. She chose a mirrored Sherri Hill dress for the ceremony, and changed into a Rose Cut Clothing suit for after so she could be comfortable and dance the night away. "All the items we bought were chose so we could and would wear them again. To me that means saving money because I will get my moneys worth out of them. I didn't want to buy something that was just going to sit in the back of the closet collecting dust on a hanger."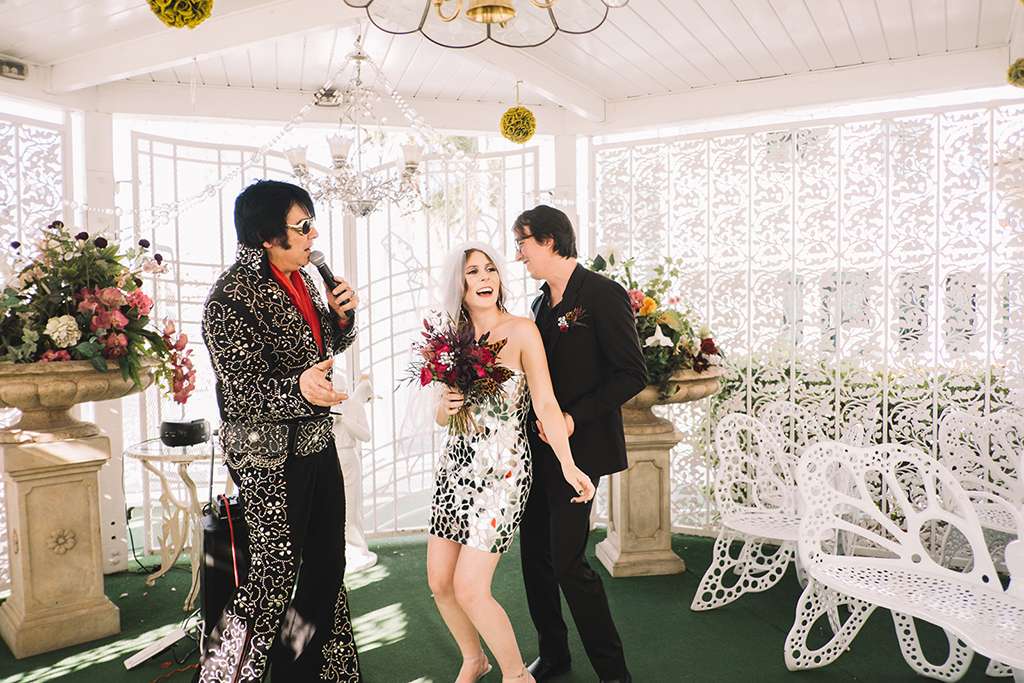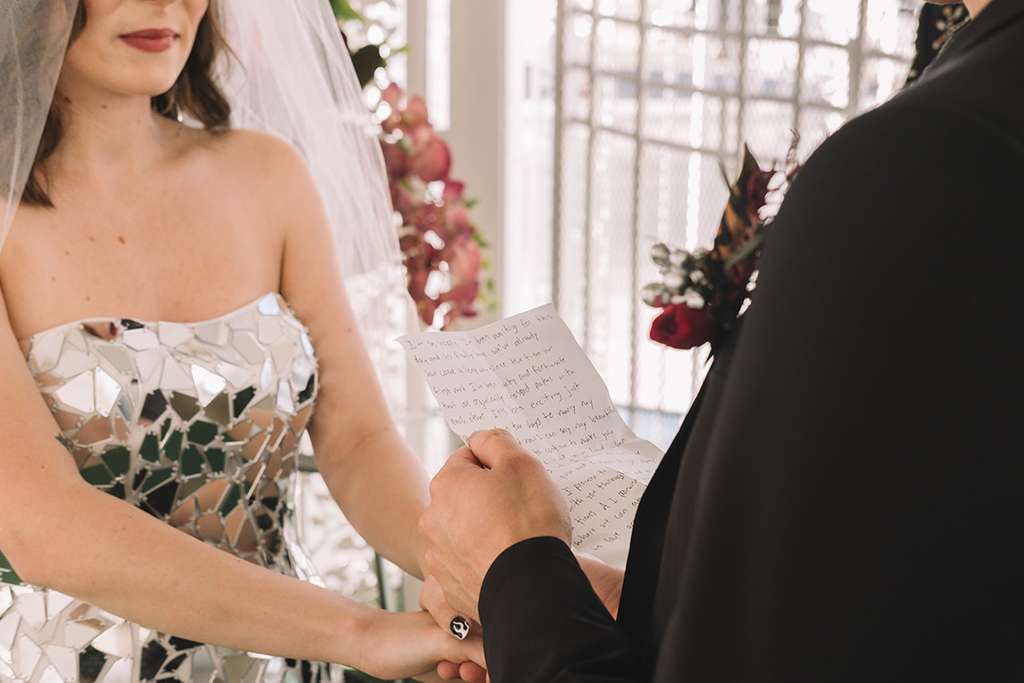 Their ceremony was held at the gazebo of A Little White Chapel, performed by Elvis, of course. "I knew long before even meeting my husband that I wanted to get married by Elvis," the bride told us. She was serenaded down the aisle to Can't Help Falling in Love With You. "When it was time for him to start the ceremony he forgot my name, which was hilarious. We reminded him and he followed with a classic 'thank ya, thank ya very much.' We exchanged personal vows that were followed by some tears and laughs. After Elvis pronounced us married he sang Viva Las Vegas and we had a short dance party in the gazebo. It was so cheesy and so perfect."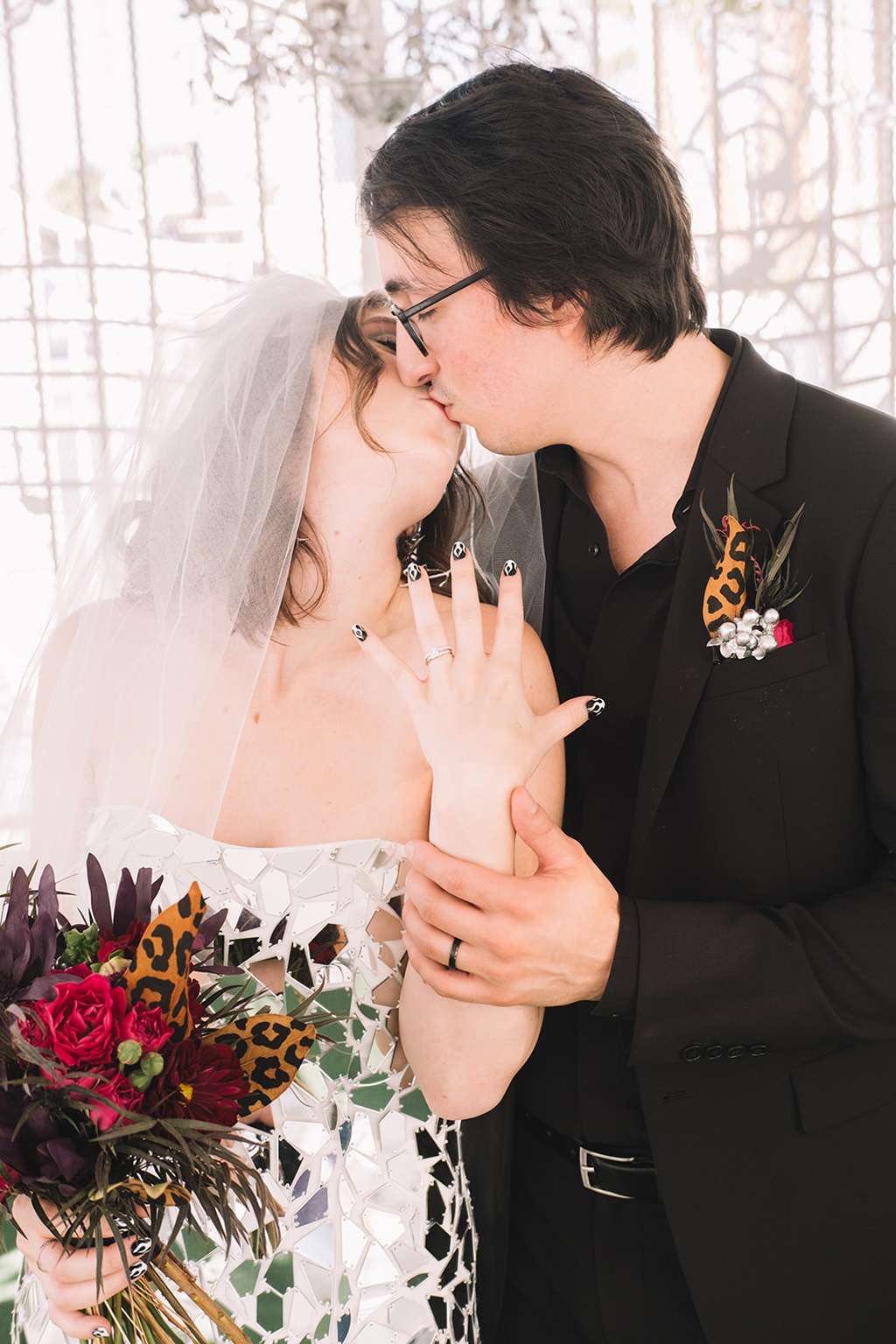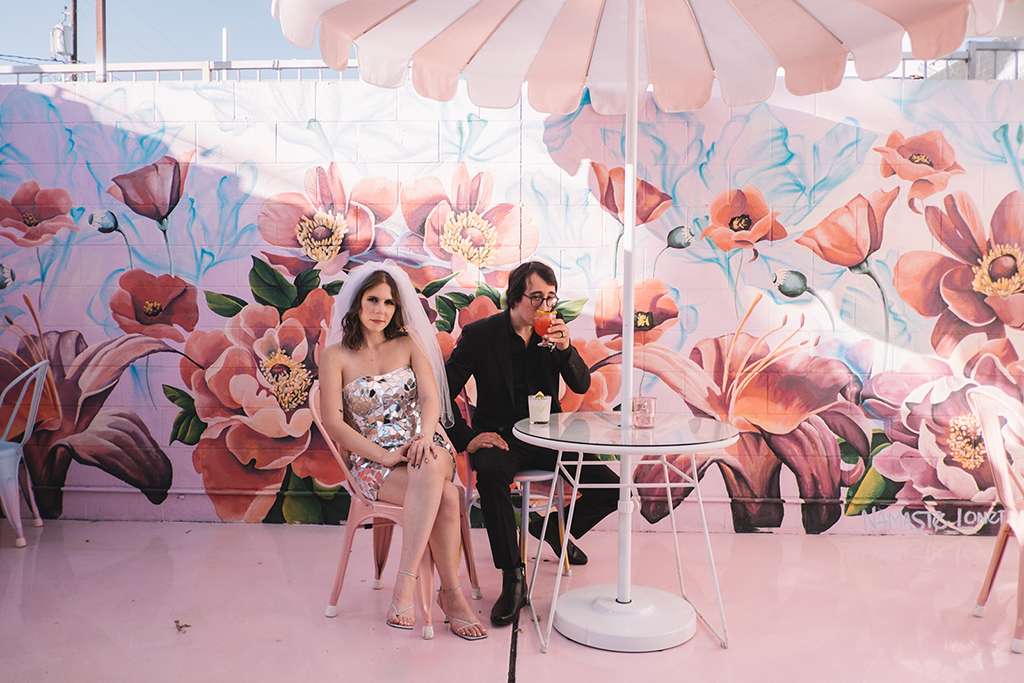 "Considering the circumstances of all that this year has brought I don't think we would've changed a thing. I'm glad we didn't wait to have our wedding until things got better because honestly who knows when that will be. We wanted to seize the day and I think we did that. We can still celebrate with family and friends at some point in the future there is no strict time line for these things. I know a lot of people are going through a hard time right now with everything going in the world."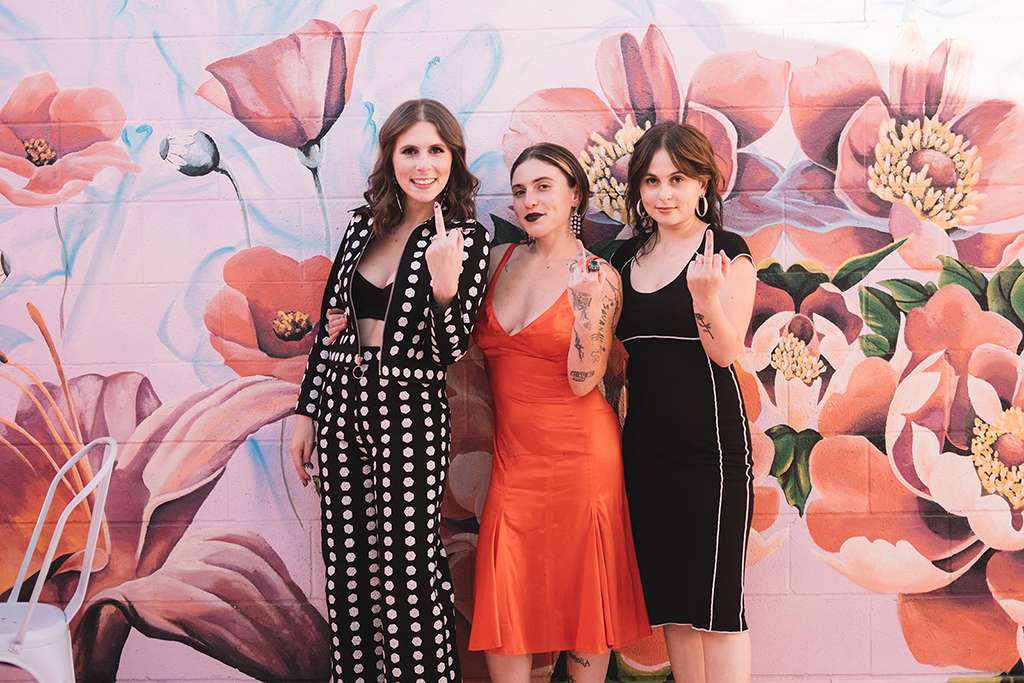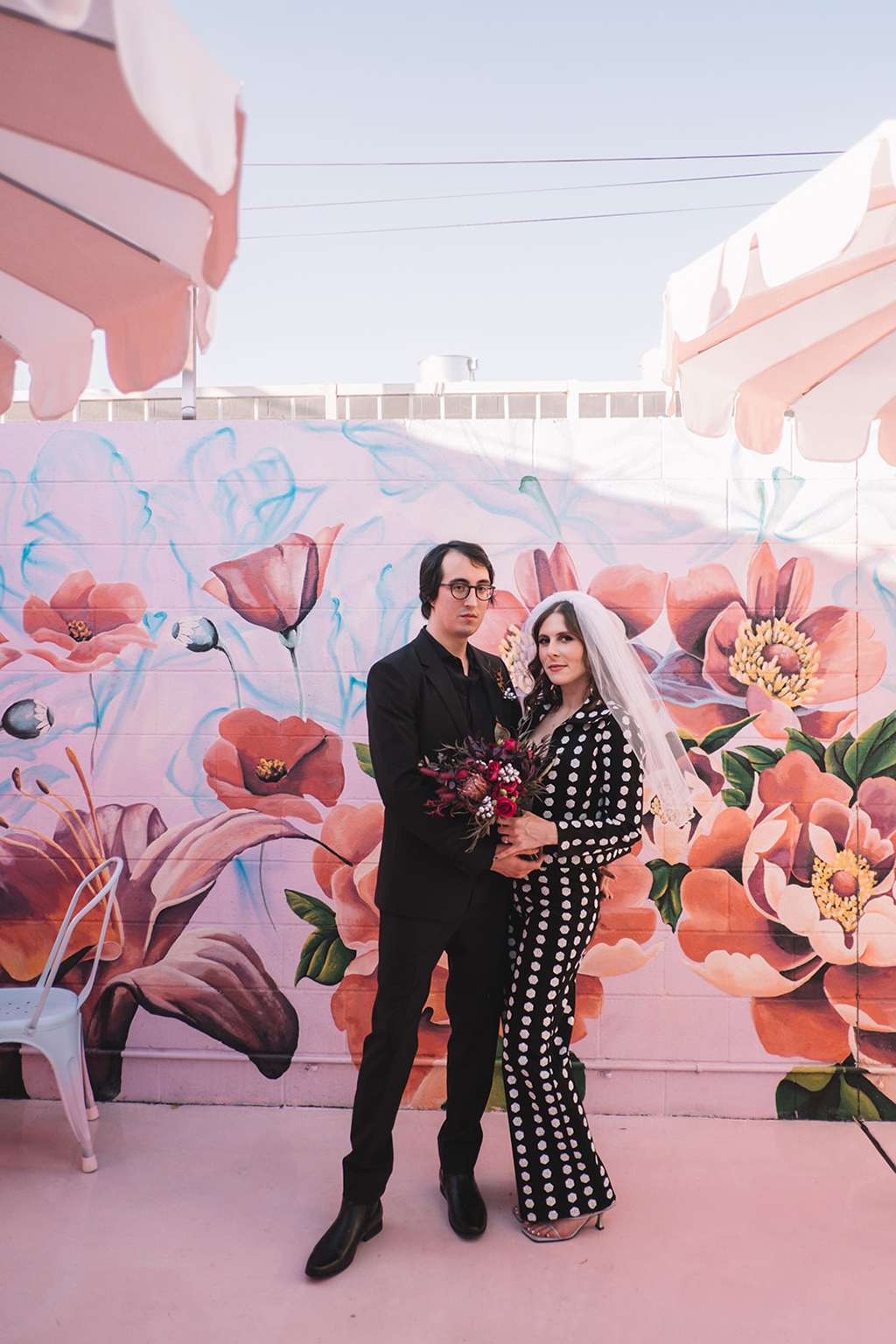 "Make sure to remind yourself of how lucky you are to be marrying the love of your life and that no matter what your wedding day looks like during these crazy times you are doing it with your partner in crime, so that is all that really matters at the end of the day."