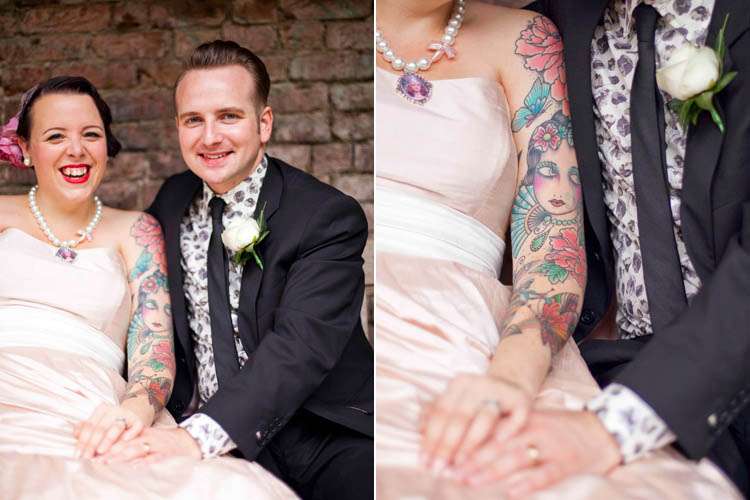 Laura & Andy's rockabilly wedding is pure class. Shot by the wonderful Chloe Browne of Caught the Light, the day exudes 1950's elegance and styling…with a big fat Rock n Roll twist!
"We did things differently by really letting our personalities and our interests shine through our wedding preparations," began the bride. "Both ourselves and our friends are immersed in the music dancing and lifestyle of the 40s and 50s Swing and Rockabilly scene.  It was inherent that I would wear a 50s style dress rather than a traditional wedding dress, that the details of our wedding would be centered around our love of vintage music, pin-up fashion, jive and jitterbug dancing, traditional tattoos, classic Chevy pickups!"
"Everything to do with the day reflected our day-to-day interests as well as some personal obsessions (particularly a certain Michael J Fox film from the 80's!) Rather than having a 'theme' our wedding day reflected us -eclectic, unconventional and fun-loving and we wanted it to go with a swing!"
"We wanted an on-budget, hand-crafted rock'n'roll wedding where everyone we love best in the world could come and share the fun of seeing us get hitched followed by an awesome party. In the evening we truly 'Rocked Around The Clock' with my Great Aunt and Uncle showing us kids how they danced it the first time round which was awesome!"
"I knew from the get go that I would be wearing a 1950's style wedding dress but still enjoyed the rites of passage of trying on some meringues beforehand. My Bridesmaid Hollie had nicknamed me 'The Anti-Bride' after every white dress I saw myself in left me in peals of laughter. I just felt like I was in fancy dress which I didn't want. I just wanted to feel like me. I had my heart set on a coloured dress – and the inspiration for the peach colour came from the dress that Marty McFly's 'mother' wears to the prom in 'Back To The Future'.  'BTTF' is our favourite film and not only was my dress an homage to it, but also our first dance was 'Earth Angel and then straight into Johnny B Goode' as an in-joke between us."
 
I just have to interrupt right about here and say that the Back to the Future references make me love this wedding even more! It's also my favourite film of all time and Gareth & I walked back up the aisle to 'The Power of Love' from the film. Anyway, sorry about that brief interlude…back to the task at hand…
"My dress was custom made by Caroline Arthur and my petticoat was custom made to match the colour of my dress by a Annabella Designs on folksy. Hollie had also had a lady on etsy make me a custom garter in leopard print and silver skull detail that I unwrapped on the day. It was so very 'me' and I was really touched.  I was originally planning to have the Heart Vivienne Westwood shoes but when I saw the cherry version I actually let out a small scream and hugged the sales assistant in Liberty! They cherry shoes then inspired the design of the bridesmaid's hats which I made from millinery items bought from MacCulloch and Wallis."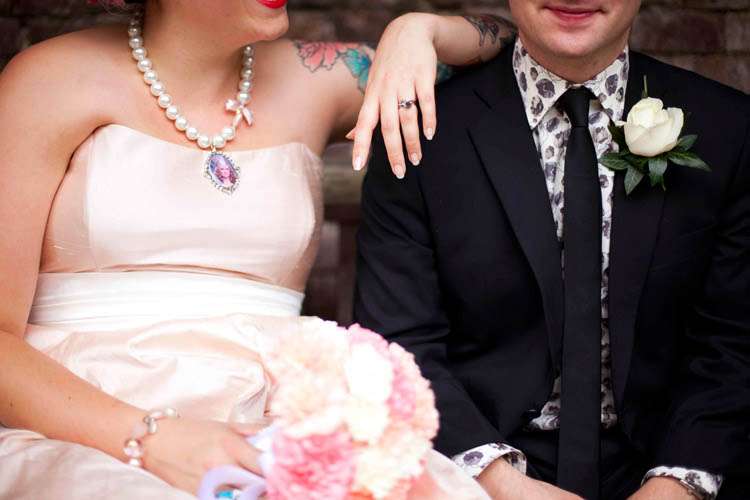 "I was insanely happy to find the 'My Pretty' Jewellery collection from Tarina Tarantino when I was planning my outfit as I have a life long obsession with The Wizard Of Oz. I was really torn between The Wicked Witch Of The West version but saw sense and went with Glinda The Good Fairy pearls and matching bracelet."
"The Bridesmaids and I each wore over sized heart rings, custom for the wedding by Clutterfly Jewellery who make Rockabilly inspired jewellery. It was the perfect answer to my 'Something Blue' – but with added glitter. The bridesmaids had matching red glitter heart rings declaring their love of 'TEA'! This matched our vintage teapots and teacups dotted around the mansion and reminded me of the brilliant vintage tea–hen-party they had thrown for me!"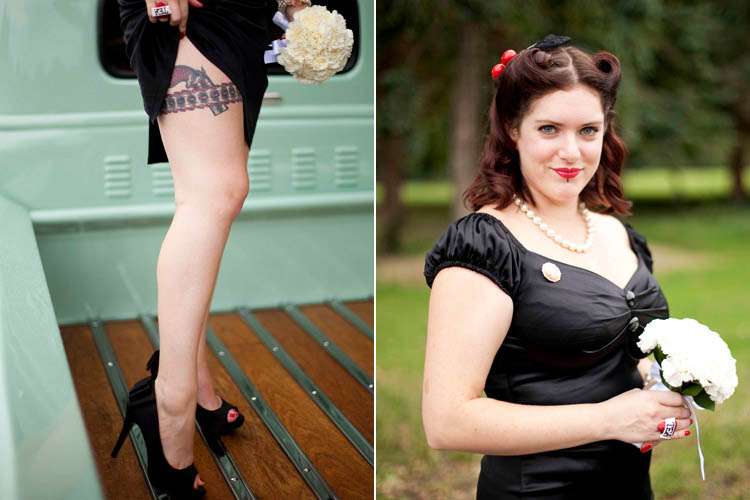 The couple decided to buck tradition and had the groom arrive in style at the ceremony in a Chevy. "As myself and my bridesmaids had a beautiful large Bridal suite to get ready in at the Mansion, we decided to turn tradition on its head and have the groom turn up in a vintage car – a mint green 1950s Chevy pickup," Laura explained. "I will always remember hearing the engine revving as it pulled up outside and feeling insanely excited that the ceremony was about to begin!"
Both the Laura & Andy are designers and met during their Design Degree at University. Therefore, in order to make everything super personal, the couple decided to hand make most of the wedding decor and details with help from their friends and our family. The group worked hard and created the tissue paper pomanders. the cake and crocheted cake toppers, the cd favours, the guest book and the family photo board. "Other goodies at the guest table included 40s style hand-held fans to help guests cool down after a jive on the dance floor and vintage pressed glass bowls filled with marshmallows, bon bons and other sugary treats."
"In the months prior to the wedding we spent our Sundays getting up at ungodly hours to scour car boot sales and charity shops to find stacks and stacks of vintage English china to create floral centerpieces with a vintage theme.. It was great fun and actually has become a bit of an obsession with us now owning six tea sets, cake stands, various odd tea cups, saucers and umpteen teapots. Even though the wedding was 3 months ago I still cant resist adding to the collection of vintage tableware and it has started to take over the flat! We displayed the teapots on stack of vintage books with romantic or just plain naughty sounding titles, tied with ribbon.  Surrounded by teacups spilling over with garden flowers and sugar bon bons. Each table was finished with the table number tied to the handle of one of several large vintage French keys to symbolize good luck and new beginnings."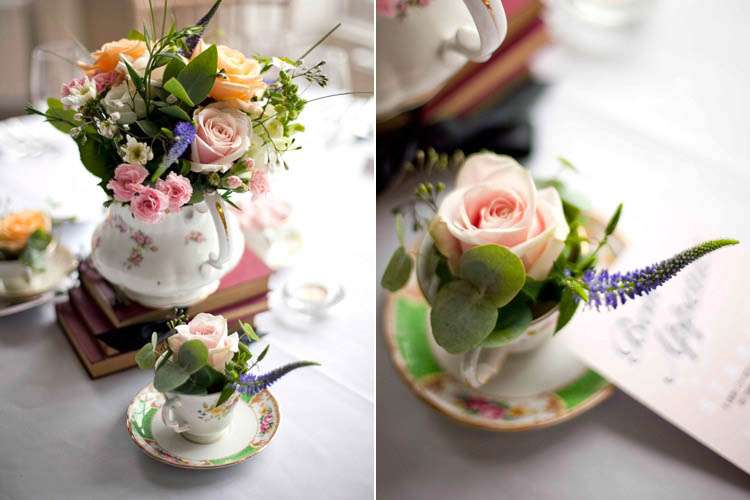 "A big thanks to Rock n Roll Bride for giving us the inspiration to 'do it our way' like so many other rock'n'roll couples!" concluded the bride. "And a big thanks to our fantastic wedding photographer Chloe at Caught The Light who is worth her weight in gold. Having Chloe shoot our wedding was like having another friend there rather than a stranger – she is so lovely and relaxing (and her pictures are heartbreakingly awesome.)"
"Our wedding day was the most unforgettable experience of our lives! – It is the most amazing feeling to walk into a room and see everyone you love smiling back at you. Since the wedding people ask us if it 'feels any different' now we are married and its so hard to put the reason why into words – but it really does. Getting married is the most life affirming wonderous thing we have ever done. Here's to the honeymoon period!"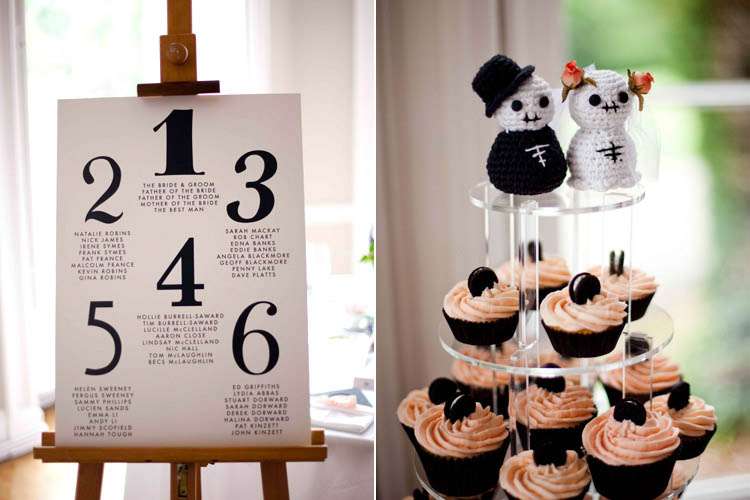 Huge love to Laura, Andy and Chloe for sharing this gorgeous wedding with us today. You can see more of Laura over on her blog, Frock n Roll Vintage.
Photography Credit: Caught the Light
Venue: Nonsuch Mansion
Bride's Dress: Caroline Arthur
Bride's Petticoat: Annabella Designs
Bride's Shoes: Vivienne Westwood
Bride's Jewellery: Tarina Tarantino
Bride's Hair piece: 2Adorn
Bride & Bridesmaid's Rings:  Clutterfly Jewellery
Bridesmaid's Dresses: Collectif
Bridesmaid's Hair pieces: MacCulloch and Wallis
Hair: Miss Betty and Mr. Ducktail at 'Something Hells', Kingly Court, Carnaby Street
Groom's Suit:   Bespoke by Sam's Tailor, Hong Kong
Groom's Shirt: Paul Smith
Groom's 1950s style skinny tie: Gresham Blake
Groom's Brogues: Rocket Originals vintage reproduction Footwear  
Cakes: DIY
Cake Topper: DIY
Cheese Cake: Garsons Farm Store, Esher
Flowers: BBL Designs