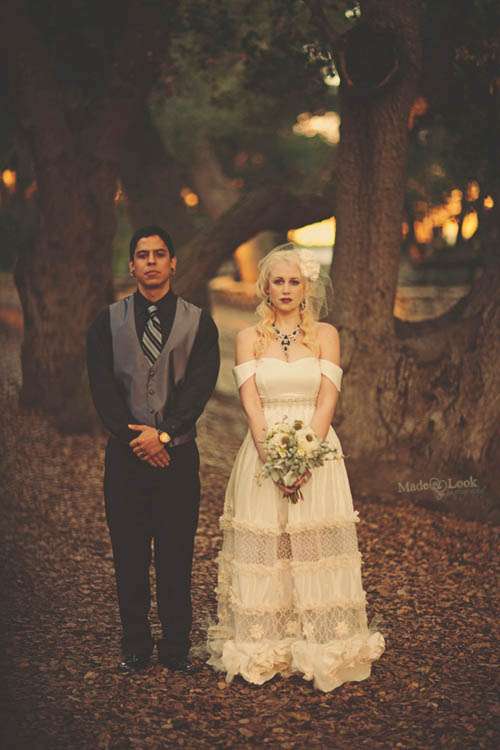 I sneak peeked Jamie & Miguel's wedding on my facebook page as soon as I got a sniff of how awesome their wedding was going to be. I am now so thrilled to now share the whole cantata (in all its glory) with you today! They certainly haven't disappointed.
The wedding took place the day before Halloween at Serenity Oaks Ranch, California. The time of year really dictated their theme, with gothic and spooky influences being injected alongside the couple's own quirky personal taste. What I love about their theme is that there is nothing tacky about their spooky wedding – no Day-Glo decorations or obvious Halloween plastic tat here!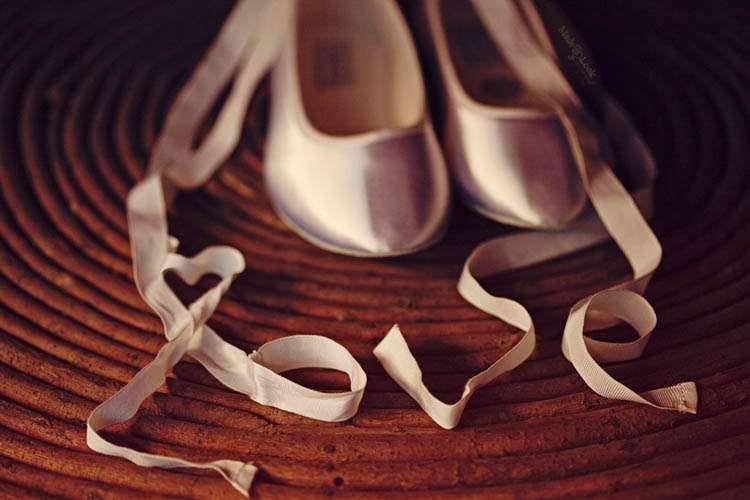 "My initial inspiration was Sleepy Hollow meets a carnival meets a dark wonderland," explained the bride. "The photographs were really important to me, and when I found Made You Look, I just about died. I love those girls, they're amazing and knew exactly what I wanted – they're mind readers!  I also wanted all the guests to wear all black! All I have to say is DIY weddings are totally worth it because it ends up really making your day!"
Jamie's incredible dress and veil were handmade by her Mother. Every rose and every strip of lace was sewn by hand – that's some serious love and commitment there, and the result is utterly fabulous! Her Mum now plans to open her own etsy store soon to sell her creations. I hope they will let me know when she does so I can point you all in her direction! Jamie's perfectly matched jewellery came from Tales of Camelot on etsy. It was an old Theatre piece and reminded Jamie of Scarlett O' Hara who she loves.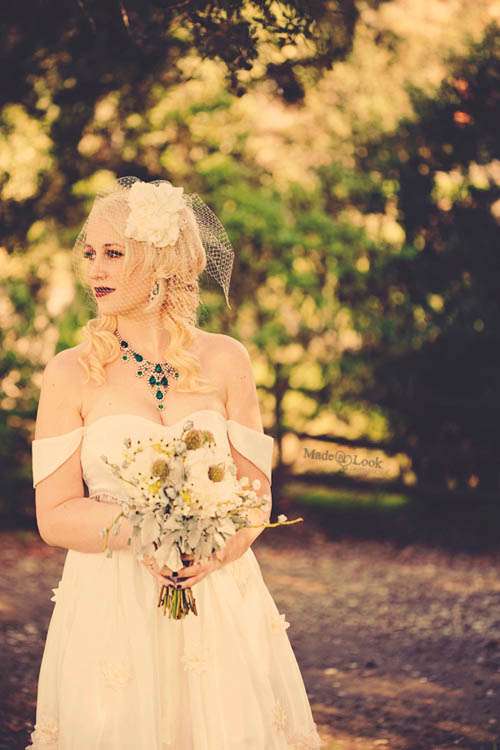 The bride let the bridesmaids choose their own dresses and wanted them to pick something they really loved. Inspired by the 1930's cabaret look, she found their necklaces at Charlotte Russe. They gave their styling a really "dark" twist which perfectly matched the spooky theme. The bride's Mum continued her DIY epic by making the girl's hats from supplies found most at Hat Shadows on etsy.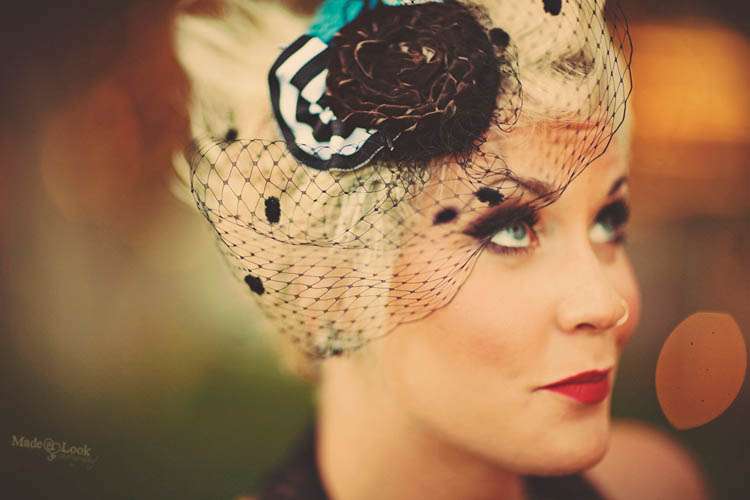 "My Mom made the table cloths and found all the old china from yard sales and thrift shops," continued the bride. "I used some of my favourite CD artwork to make the table numbers. I really love the white stripes so I wanted white apples like in their blue orchid video, so instead of using spray paint we did white chocolate! The invitations were done by JK Designs, another etsy store, and I drew up the design to have a tarot card look."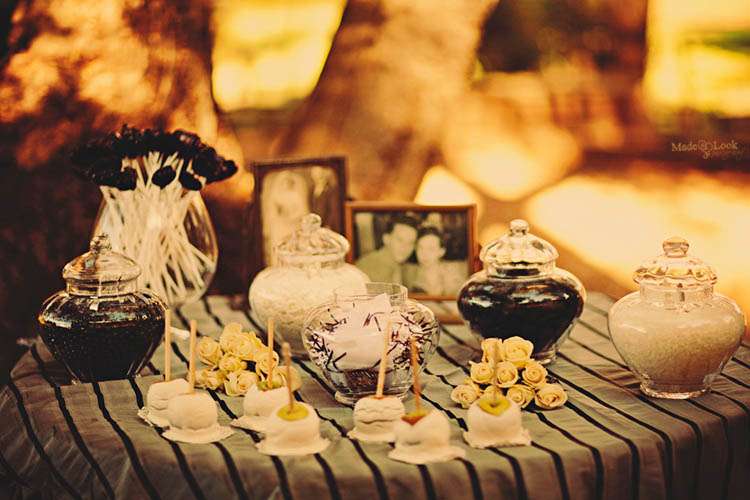 Spooky and fabulous! Huge love and thanks to Jamie & Miguel and of course their amazing photographer Christine for sharing their wedding and images with us today.
Photography Credit: Made You Look Studios
Venue: Serenity Oaks Ranch, California.
Bride's Dress/Veil: DIY
Bride's Jewellery: Tales of Camelot on etsy
Bride's Shoes: Online Bridal Shoes
Bridesmaid's Jewellery: Charlotte Russe
Bridesmaid's Hats: DIY and Hat Shadows on etsy
Reception Decor: DIY
Invitations: JK Designs on etsy
Cake: Sweet Layers Cakes, California
Flowers: Serenity Oaks Ranch personal florist