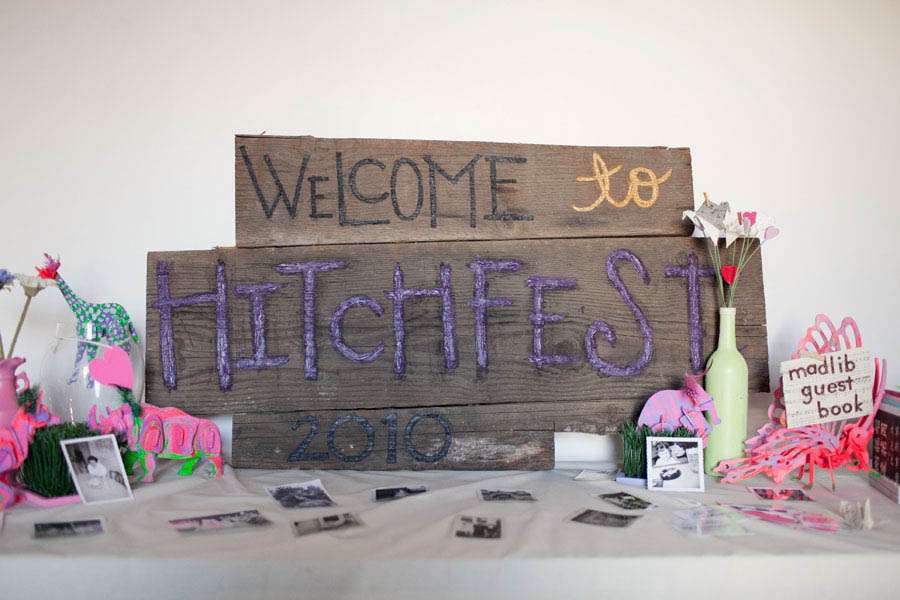 In the words of the lady herself, I am so titstastically excited to share Britt & Mike's wedding with you today. I have literally been on the edge of my seat since July in eager anticipation of seeing their wedding photographs. Most of you will already know Britt, the kick ass, controversial and Rock n Roll heavy-weight behind the the Bowie Bride blog. Words really can't express how awesome this chick is and how much I totally adore her and her killer blog.
As you can well imagine I nearly fell on the floor with excitement when Britt asked if I'd like to be the blog to share her wedding. Like she even had to ask!?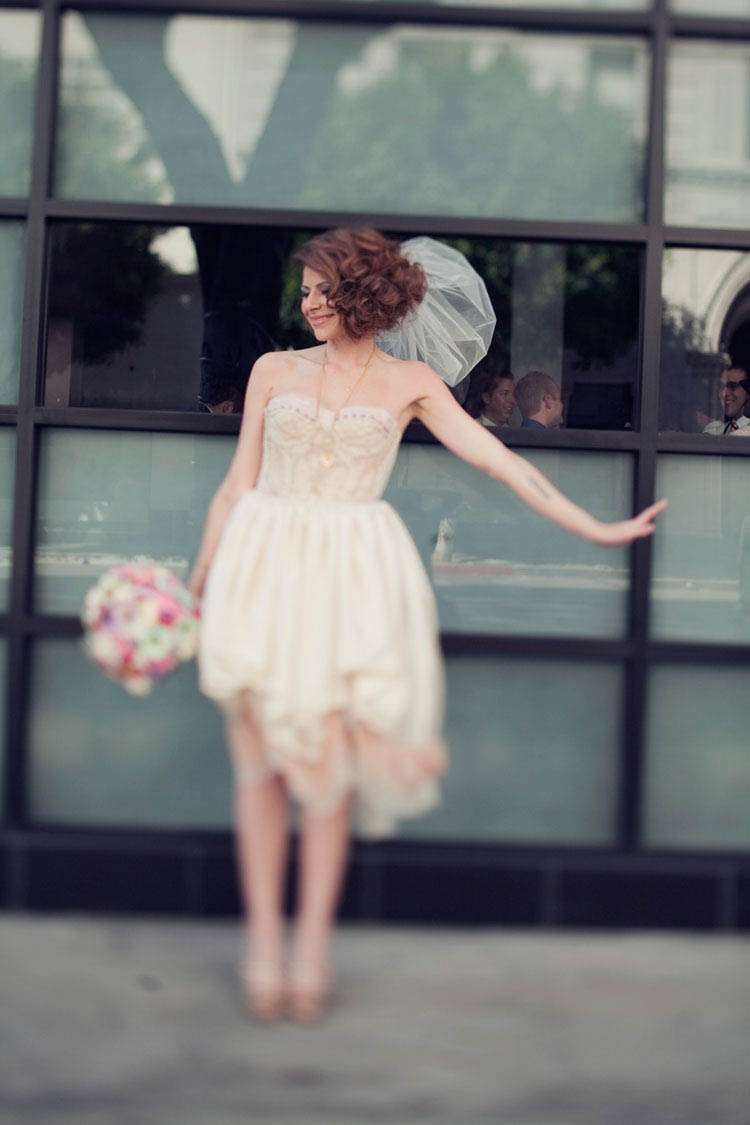 The couple were married at BOXeight Studios, a photography studio in downtown Los Angeles…and their got the subway there. Hell yes! No unnecessarily expensive wedding transport for these two! They were adamant that their wedding would be a reflection of them and would be filled with everything they love. Britt explained, "There was no way my husband and I were going to plan a one-day celebration for 365 days straight and spend 12.5K just to throw a wedding that didn't exude "us."  We wanted an urban/gritty/downtown/loft vibe. Something our guests could take the subway to. Something that promoted hardcore loving and hardcore boozing."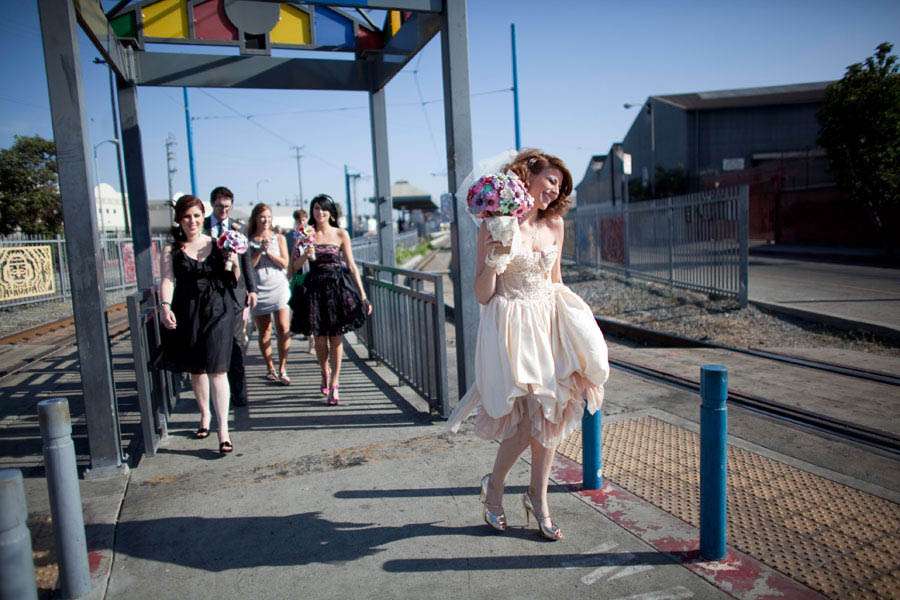 "We wanted to showcase food that was unique to LA, so we chose Korean/Mexican fusion tacos that were served off a truck. (LA is famous for their food trucks).  Overall, we focused on traditions that made sense to us as a couple, and ignored the traditions that didn't.  So once we got over the whole, "Do we really need to include this expensive and/or dated tradition that we could honestly care less about" aspect of it all, planning a wedding that exuded "us" became pretty easy. We reused a ton of materials for the DIY decor — most of which we found buried in our closets, or in our recycling bins… Like CD cases, corks, sheet music, bottles, vases, buttons, etc. You name it, we probably tried to reuse it for our wedding decor."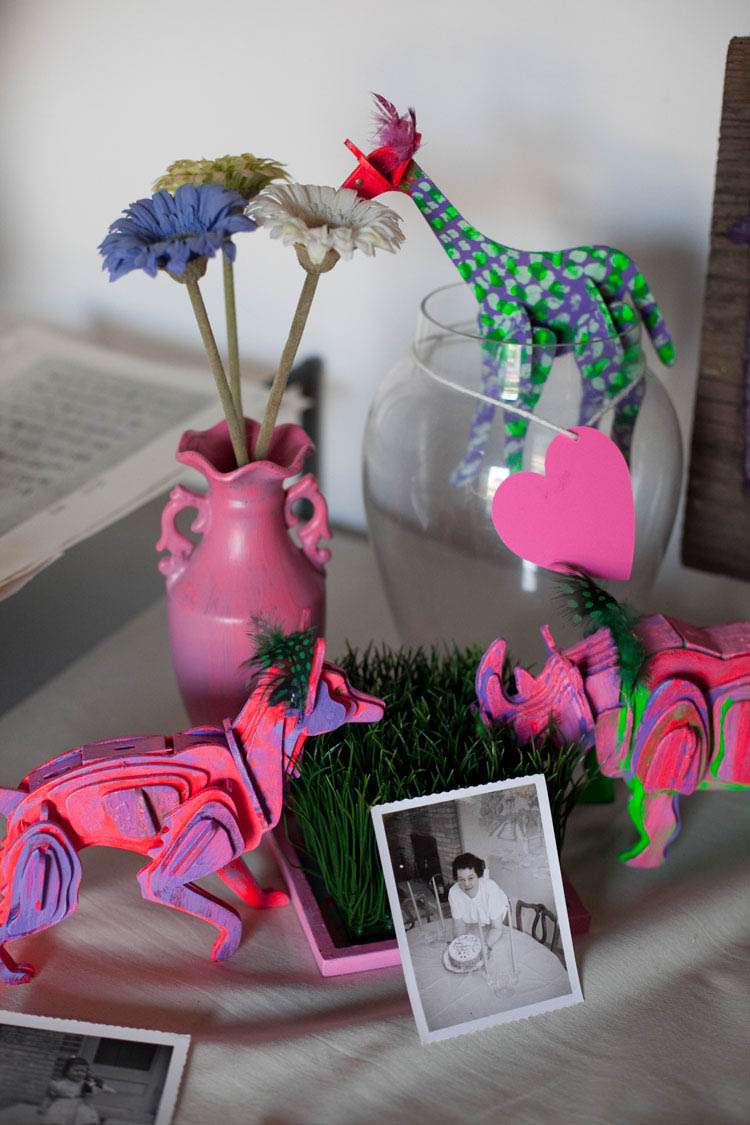 "Our sisters walked each of us down the aisle, as opposed to me being walked by my father, and Mike walking by his lonesome.  My other sister played our processional song on the electric guitar.  I wore a garter flask, and when my husband took it off for the toss, he first took a swig out of it. Everyone took a shot of tequila to set off the dance party… that ended up lasting til 3:00 AM, when the owner finally kicked everyone out."
Britt continued, "The beer and mead were homebrewed by the father of the bride.  We included a Marriage Equality Statement in our ceremony. Our Day of Coordinator, Just Wenderful, was fabulous and worked tirelessly the day of to make sure the venue was perfect. (I highly recommend hiring a D.O.C., btw).  We had the great fortune of getting to showcase an enormous, sparkly David Bowie-inspired art piece from Warhol-esque artist, PlasticGod. We ended up using it as a photo booth backdrop, and it was a total hit.  In fact, PlasticGod himself allowed us to use his art piece at our wedding after I asked him via Twitter. And he wrote me like 2 weeks before the wedding and said we could!  It was a huge surprise.  The powers of Twitter never cease to amaze me. We worked with Bon Moment! to custom design our concert poster themed invitation."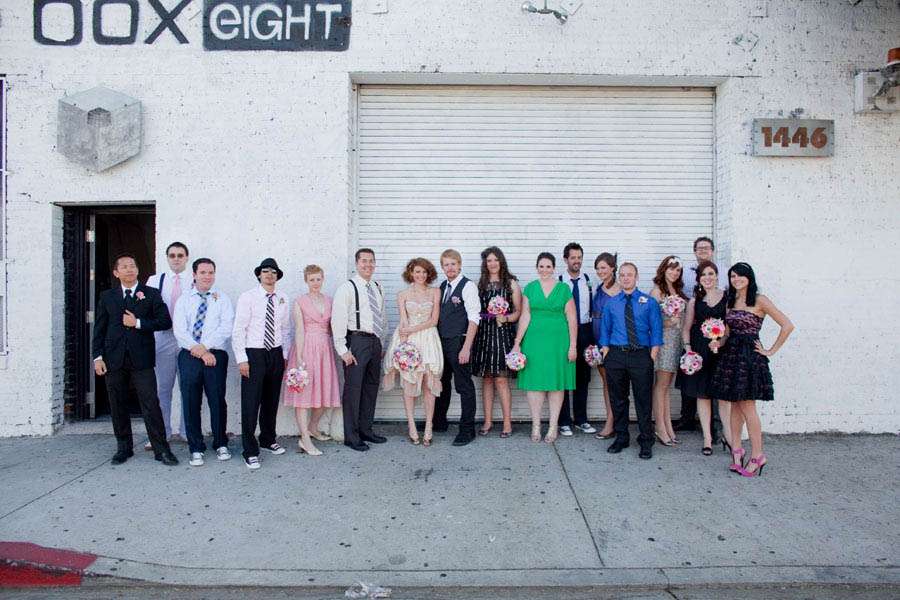 Britt originally bought a long mermaid gown from Watters. However after meeting and modelling for designer Deborah Lindquist at a local bridal show she decided that a short dress was what she needed. Deborah made Britt a custom made dress to her exact specifications for the discounted price of just $599!
As well as planning their wedding on a budget and to be a perfect reflection of them (no mass produced wedding crap here!) the couple decided to pretty much DIY as much as their physically could. One of my favourite elements has got to be Britt and her bridesmaid's bouquets (you can read the whole story of these on the Broke Ass Bride's blog here) Mike made chandeliers out of beer bottles,  the boutonnieres were crafted from fake roses, their guestbook was an impromptu Mad Lib book and they made lanterns out of cd cases.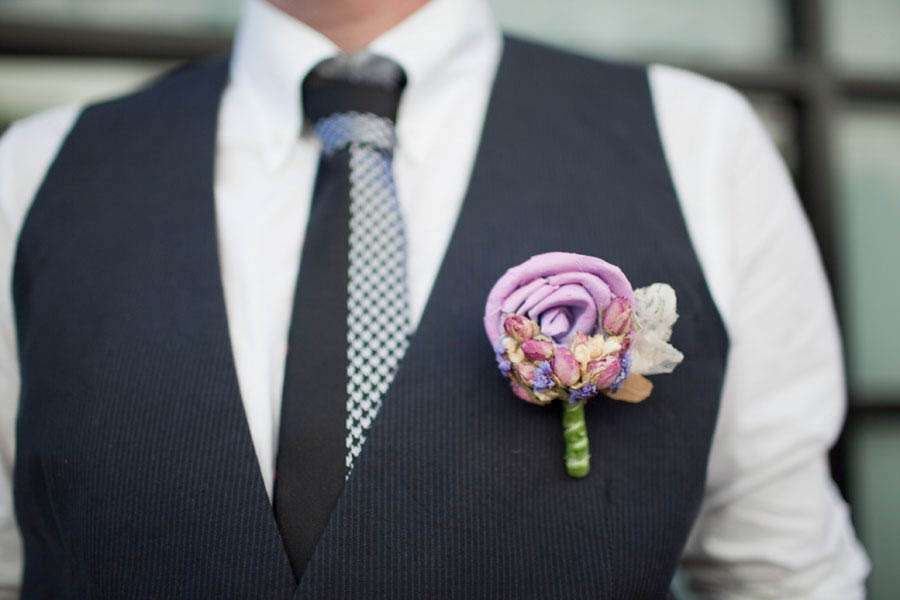 As I've said, words seriously can't express how in love with these guys I am. When I finally make it over to LA, hanging out with them will be number 1 on my agenda.
For more Bowie Bride goodness be sure to check out these greatest hits blog posts from her site. Love ya Britt!
Our Real Wedding Budget post
Wedding Trends post
Focusing on what matters post
Power Chant post
Wedding Guests Who Complain post
My bachelorette party in Vegas re-cap post
My drama with Weddingbee and my Miss Crack Pipe posts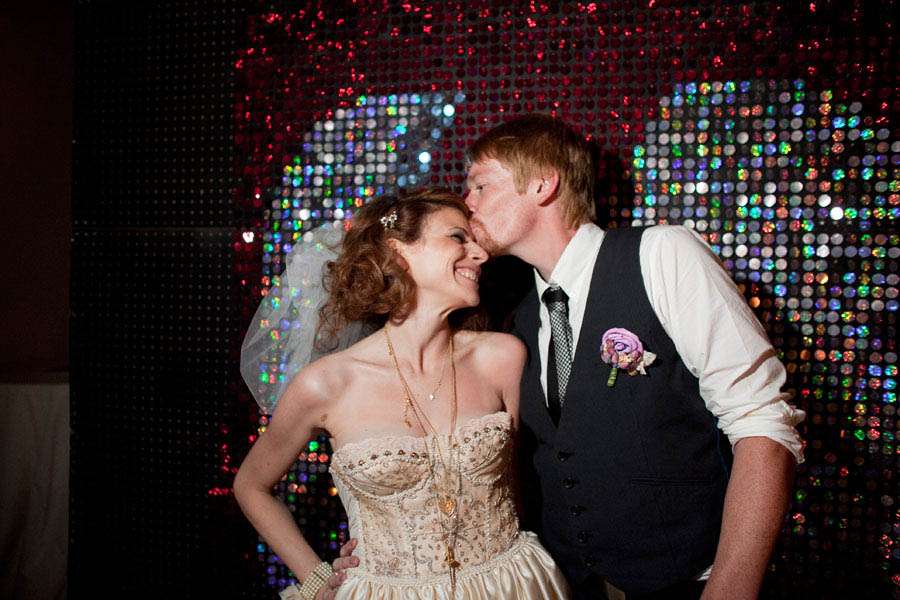 Huge thanks to Britt & Mike for selecting me as the lucky blog who gets to share their wedding and to their photographer Nicole for sending over these amazing images.
I also featured their awesome engagement session right here and Britt wrote me a guest post a few weeks ago all about doing it your own way. How lucky am I!?
PS this is officially the longest blog post in history – nearly 200 images. I really really tried to cut down…but I couldn't.