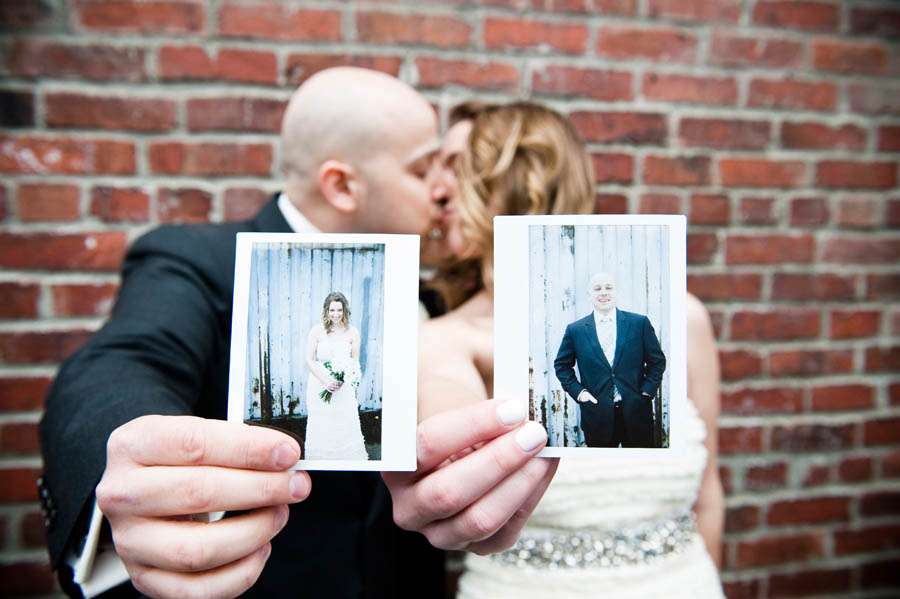 Jen & Ilan's spring wedding was held in a Seattle ballroom but it certainly wasn't your traditional ballroom wedding! "A DIY wonderland that could have been dreamed up by a love child of Dr. Seuss and Anthropologie," was how wedding photographer Laurel McConnell described it to me and I totally agree!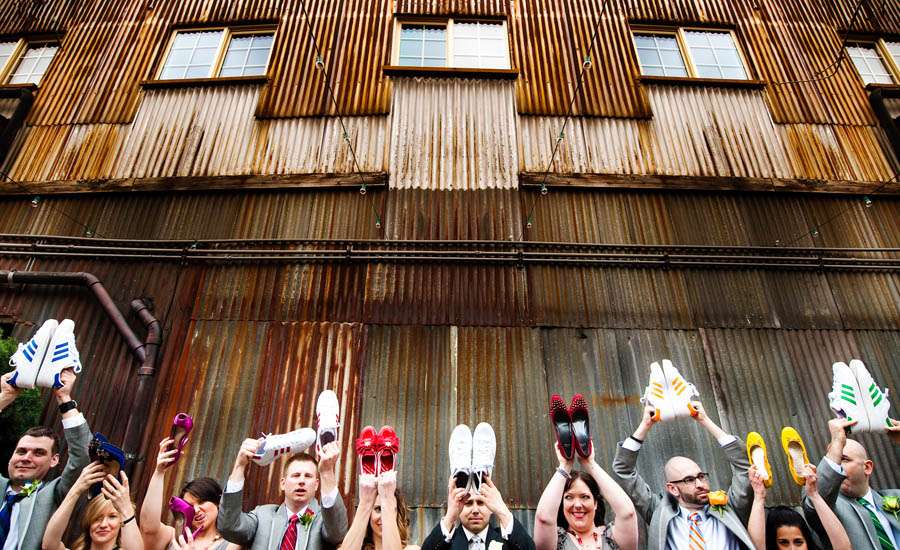 "The couple met while working for Adidas and so they paid homage to their employer/matchmaker with shoes and track suits for the wedding party," Laurel continued. "Every detail radiated Jen & Ilan and their history of coupledom. Ilan had his sneakers customized with their red wedding logo "J + I" and Jen's something blue was their initials and wedding date stitched inside her dress. On a trip to Jamaica (the groom's first trip out of the United States!) the couple discovered the "#9," which acted as the signature drink of the day."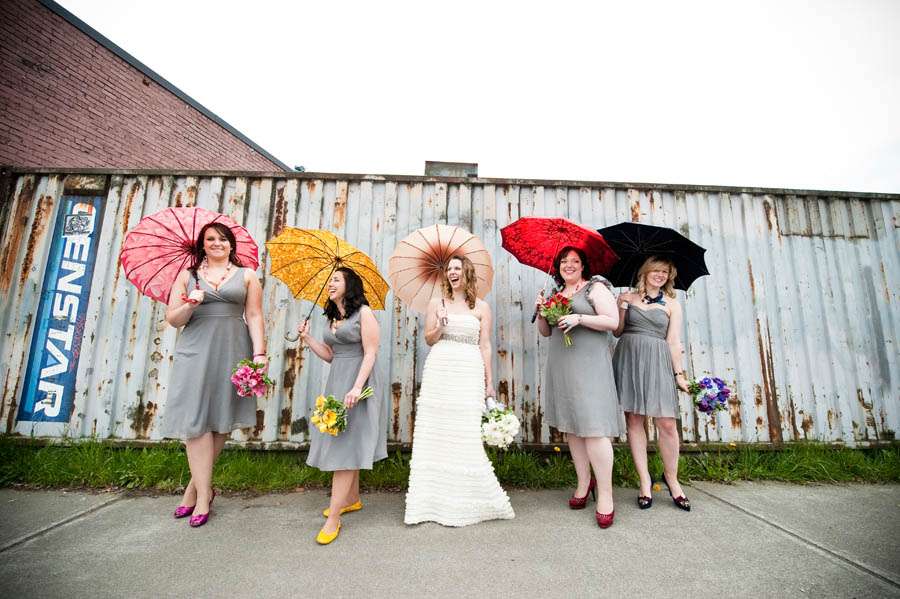 "Bottles of wine from their 1st date and engagement and for their 1st and 5th wedding anniversaries acted as the guest book. A deck of cards to play Jen's family's favorite card game of Shanghai Rummy were distributed as the wedding favors. Jasper's BBQ catered their super fun affair while feeding the groom's love of BBQ."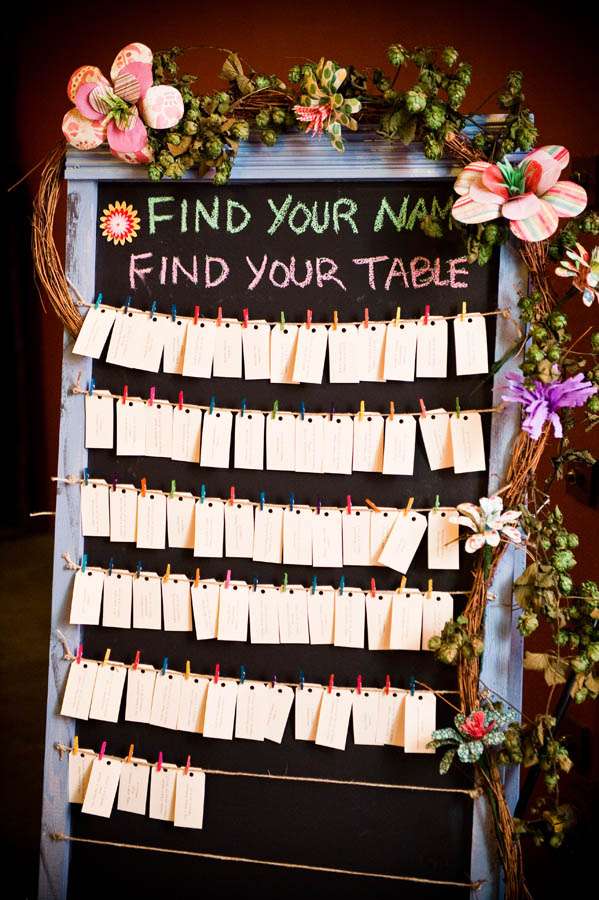 "Personal DIY creations were also the name of the game: the bride made necklaces for her bridesmaids to coordinate with their shoe & flower colors, she created the menus and programs in their whimsical wedding style, and the paper flower and birch bark centerpieces, the pedestals, and the cake stands were all designed by her parents."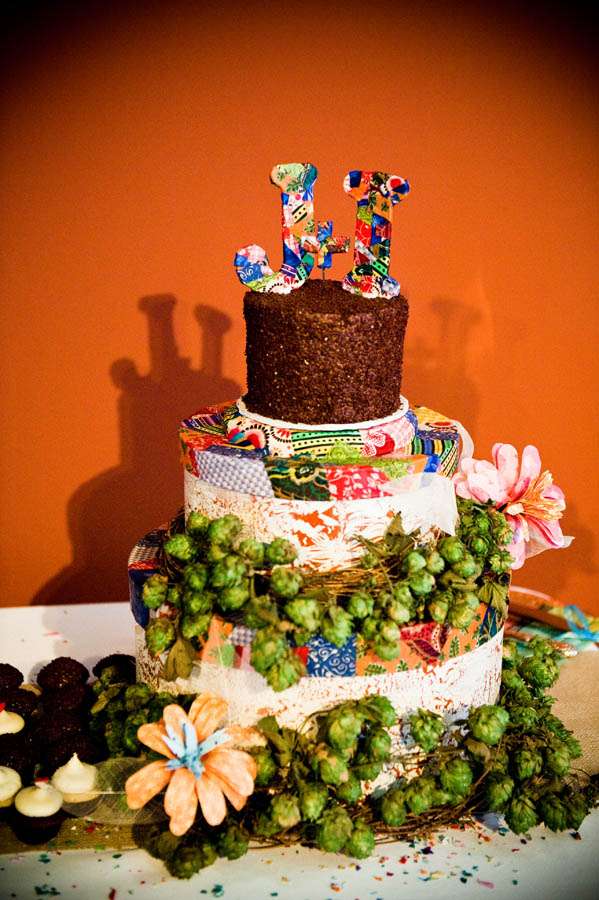 Amazing! Thank to to Jen & Ilan and their photographer Laurel for sharing today!
Supporting Cast:
Photography Credit: Laurel McConnell Photography
Venue: Georgetown Ballroom
Bride's Dress: J.Crew
Bride's Shoes: Adidas
Groom's Suit: Burberry
Groom's Shoes: Adidas
Groomsmen's Suits: Calvin Klein via Men's Warehouse
Bridesmaid's Dresses: J.Crew
Rings: AR Morris
Vintage Umbrellas: Bella Umbrella
Catering: Jasper's BBQ
Cupcakes: Trophy Cupcakes
Flowers: Buds and Blooms
DJ: Seattle Parties, DJ Leslie
Invitations: Hello Lucky