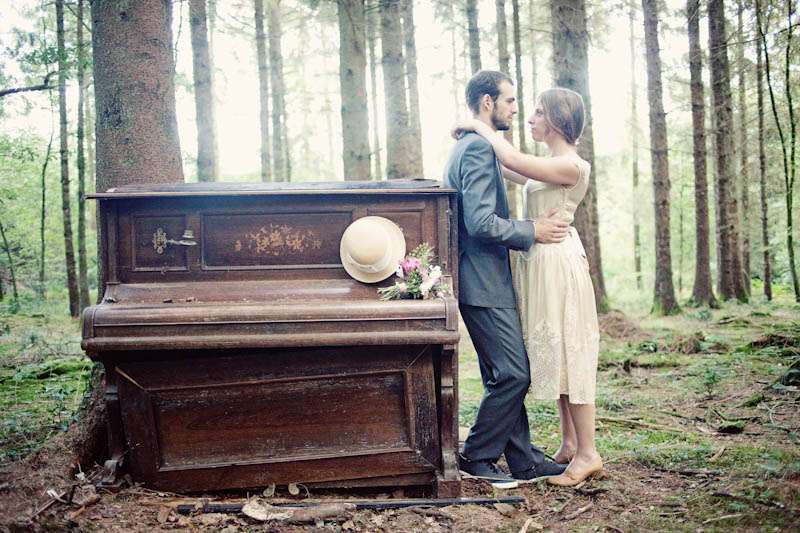 "Is that a piano…in the woods?!" I asked photographer Emma Case,  a stunned look on my face. When the affirmative came back I literally let out a little squeal of exhilaration that I was going to get to share Elise & Nick's wedding with you. Unbelievably, as the couple went with Emma to have their portraits done they came across this unusual yet fabulous prop just sat there. Now I know Miss Emma Case very well and I can just imagine the expletives of excitement that would have come out of her mouth when she laid eyes on that!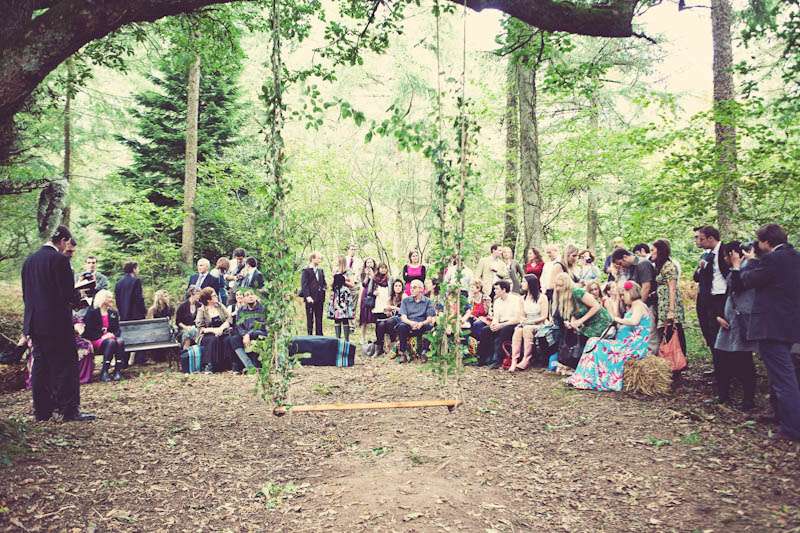 The festival style wedding took place at Middle Coombe Farm in Devon – a beautiful cob & thatch farmhouse and cider barn which sits in a sheltered valley surrounded by 200 acres of organic farmland and woodland. With help and support from their friends and family, the couple DIY and crafted their wedding to perfection, "What really blew us away was the amount of effort, love and support we got from all our friends and family," they explained. "The whole wedding was a DIY affair and everyone pitched in. We made the canapés, and all the decorations. Hundreds of metres of bunting were made by Elise, our mums and Laura – one of our bridesmaids. The cake was made by Elise's mum and Dad with the iced flowers created by a family friend. Nick's brother Anthony made welcome and direction signs; their was a family rota for the bar, the girls made the groomsmen's boutonnieres from greenery from the woods and friends arranged games and provided music and entertainment across the whole weekend."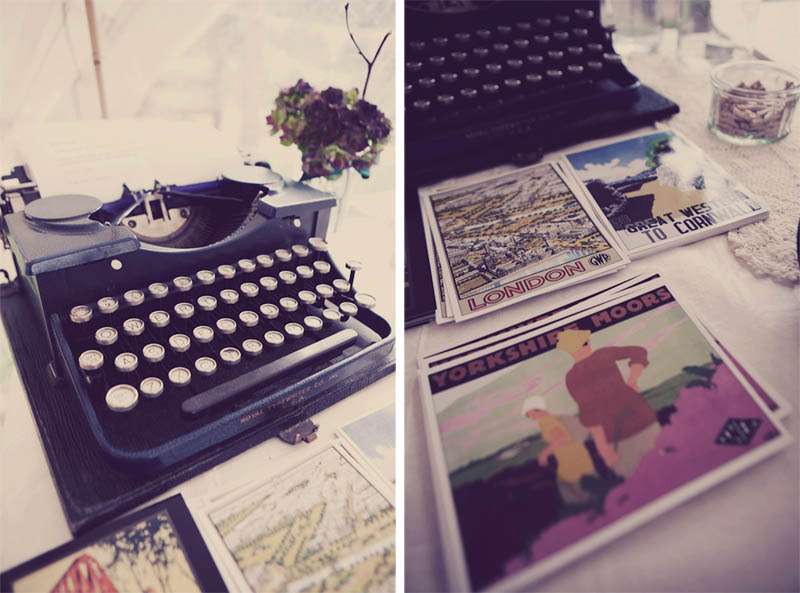 "Using Apples with little luggage tags tied to the stalks as the place settings seemed to go down well with guests and fitted the cider-barn setting nicely. We went to a pick-your-own the week of the wedding and hand-selected every fruit. We then asked guests to peg their named luggage tags to their glass so they could keep track of it and reduce the amount of washing up needed to be done throughout the day."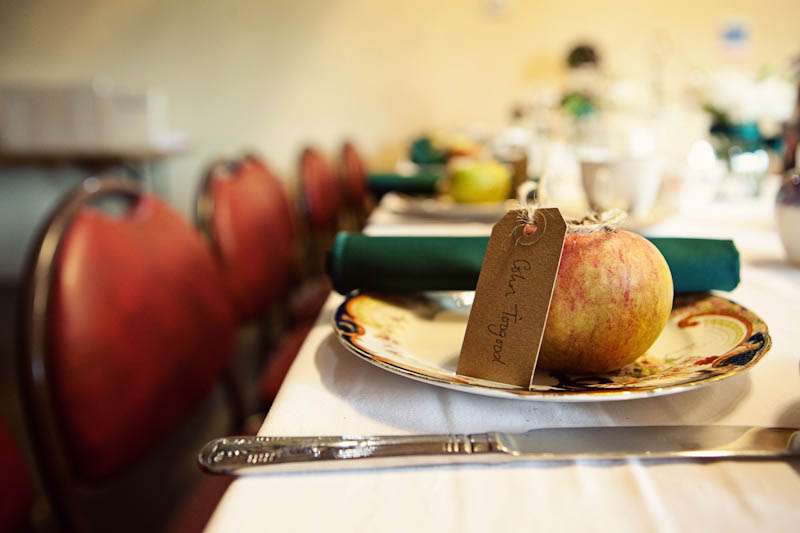 Elsie wore a gorgeous original 1920's vintage dress from The Vintage Wedding Dress Company, shoes from Office and pearls that were gifts from friends.
"We didn't set out with a fixed theme or an intention to do things differently but there we certain elements that we knew we wanted to include from day one," the couple concluded. "We wanted our wedding to be a relaxed, fun and home grown affair that reflected our values so we ended up with what can only be described as a village fête, tea party, festival shin-dig! The perfect way to celebrate our relationship! It was important to us that the wedding was as environmentally friendly as possible. Middle Coombe Farm was the perfect venue, with acres of organic farm and woodland to stroll through, a solar heated swimming pool to play in, and compost toilets. We used proper glass ware, cups and plates, eat locally sourced organic vegetarian food and drank local ale. Flowers were organically and locally grown and at night the tent and field were lit by solar lights and willow lanterns guests had made during the day."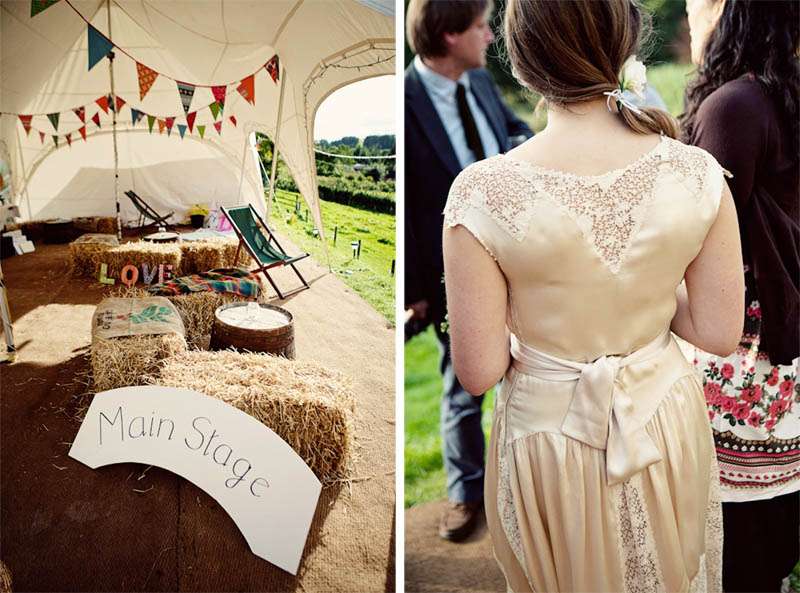 Guests were invited to camp over and over 40 of them did so. The field surrounding the venue, complete with druid's circle, was where they could pitch their tents. This field also played host to the afternoon games and the evening campfire. With guest camping over, they were able to continue the celebrations onto Sunday, providing breakfast and a BBQ lunch for everyone.
HUGE, massive and ginormous thanks to Elsie & Nick and of course the awesome Emma Case for sharing this wedding with us today. I DIE!