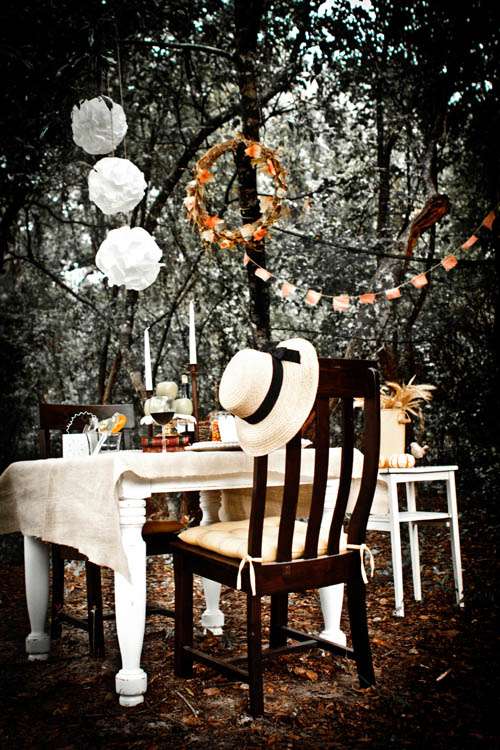 I hope you have a fabulous day dressing up, munchingtoo many sweets and bobbing for apples. I'm actually not a huge fan of Halloween – trick or treaters scare me and I don't really like dressing up (except if it's as a bride of course!) However, here's my bit of Halloween-related inspiration for you all. How beautiful is the autumnal-themed table spread? The classy version of Halloween methinks!
"This shoot was an inspiration of the Fall season hitting," photographer and stylish Andi explains, "I wanted this to be a "mysterious table for two" in a woodsy yet chic style for the festive time of year that brings all things sweet, orange and leaves falling. Handmade White Cupcake Liner Pom Poms, burlap table cloth, homemade meringues and vintage thrift store finds. This inspiration came to me while thinking of an airy, yet mysterious forestry picnic instead of the bright usual garden style we see in the Spring, this is my twist. All elements that I think of when the Halloween season approaches. I hope that this can inspire brides that are having weddings this fall as well as any other autumn events!"
Happy Halloween my dears!
Thanks to photographer & stylish Andi for sharing
Photography, Styling & Decor Staging: Andi Mans Photography