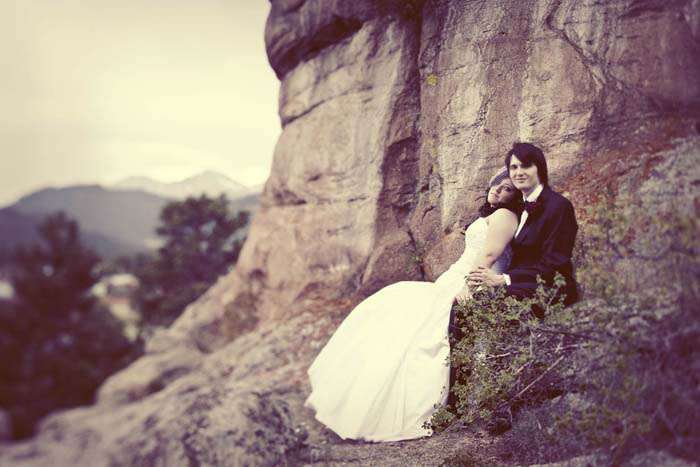 Mindy & David got married at The Stanley Hotel in Colorado, the hotel that provided the inspiration to Stephen King for The Shining.
"Our first thoughts about what we wanted our wedding to look and sound and feel like were all over the board" the couple told me. "Our first decision was the location.  We had stayed at the Historic Stanley Hotel the summer previous, and while we were familiar with much of the folklore of the place, we were delighted to find character that goes far deeper than "haunted joint."  We had a wonderful time and felt a connection to the Stanley."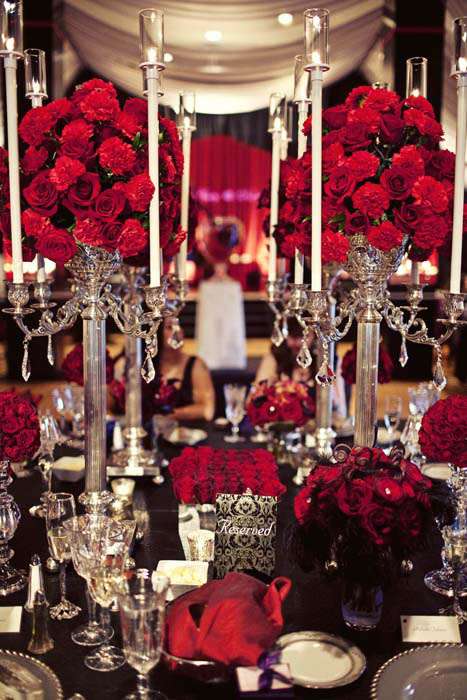 "Touring possible locations in Denver and the surrounding area, we visited many nice places with good things to offer.  When we returned to the Stanley to consider it as a wedding location, though, it was immediately evident to both of us that we found our place.  Other locations offered beautiful wall finishes or breathtaking views, but no other option had the richness about it that the Stanley oozed.  The often cracking paint (new paint jobs last less than a year there) and imperfections added to the individual nature of the building that really resonated with us.  The main downside to the Stanley is the fact that they host multiple weddings every weekend in the summer, and we didn't want to be 'just another wedding.'  In the end, it just inspired us to create something individual and extraordinary."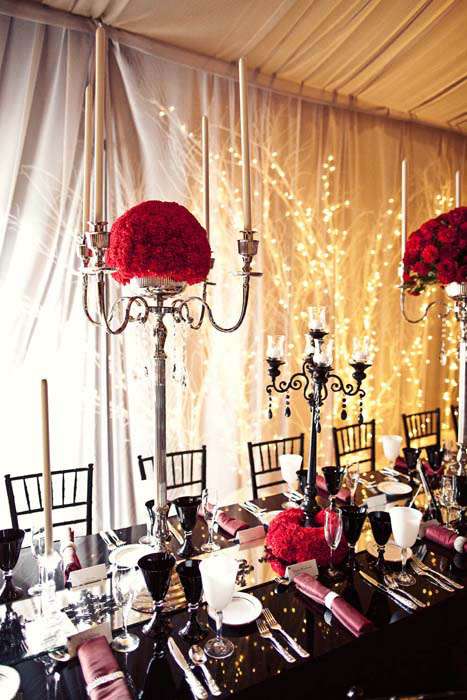 And the certainly did that! For their theme, the groom started a collection of images that continued to grow at odd angles and tangents (tanks and military-begarbed women rendered in watercolor, fonts made from smoke, an art-deco staircase) while the bride mentally changed to a grand new thematic idea every week or two (classic/traditional, vintage Hollywood\film noir, gothic futurist).  "We talked quite a bit about what of all our ideas had something in common, and which ideas had nothing in common with anything, ever.  We came up with a small list of things we both would like to see, regardless of the direction our minds took us.  We wanted lace, feathers, red roses, candle light and architectural elements. The end result was an elegant, simple but sophisticated ceremony that let us be at the center, visually as well as literally, followed by a reception that was like stepping into pure imagination.  We couldn't have asked for, or imagined, more."
Massive thanks to Mindy & David and their photographer Matt for sharing this wedding with us. I love!
Photography Credit: Matt Alberts Photography
Videography Credit: Studio Z Films
Planner: Kelly Karli from Frosted Pink Weddings
Venue:  The Stanley Hotel
Bride's Dress: Mina by Sophia Tolli
Cake: Elegant Bakery
Flowers: Design Works
DJ: Phil Peralta of Simply Entertainment 
Hair/Make Up: Kyle Mancuso & Tiffany Giovanini