This is totally sad so you'll have to forgive me. Also, it's 6:30am and I've been awake for 3 hours. I don't know why and maybe my mind is going a bit haywire but I just came up with this ridiculous idea for a blog post so I'm going to run with it.
I was watching 'Don't Tell the Bride' with Gareth the other day (for those of you who aren't in the UK, it's a TV programme where basically the groom plans the whole wedding – he picks and organises literally everything – the venue, the dress, the flowers, the invitations, the theme – it's brilliant!)
I bet lots of couples do this as they watch this show, but Gareth & I got chatting about what he'd do if he had to plan our wedding. Now I've either subliminally trained him well or he's been paying close attention to the blog and just not telling me but OMG his ideas were quite frankly awesome. As soon as he said "short vintage dress from Fur Coat No Knickers (yes he named the shop!), mismatched colours, a kind of summer meadow theme" I was sold! So much in fact that I totally want to marry him all over again and have him plan the whole thing.
Anyway…I thought I'd make a little montage of his vision. Can I just make it clear that I am aware, as someone who got married 2 and half years ago, how incredibly sad this is but I kinda wanted to share it all with you. Happy Sunday Lovin' people!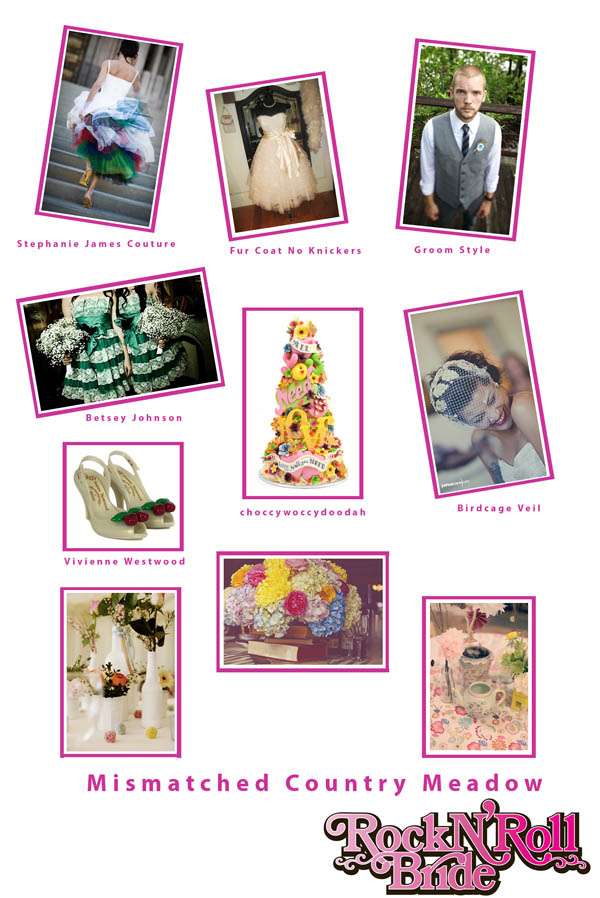 Credit – Left to Right starting from top left:
Photograph by Aaron Delesie, dress with multi-coloured tulle underskirt by Stephanie James Couture
Vintage dress by Fur Coat No Knickers
Photograph of groom by Daniel Lateulade Photography
Photograph by Christine Chang, bridesmaid dresses by Betsey Johnson (Gareth actually he'd like the bridesmaids in the same dress in different colours but I found it really hard to find a photograph)
All You Need is Love cake by choccywoccydoodah
Photograph of birdcage veil by Joshua Caine
Centrepiece ideas (L-R) photograph by Tiffany Mumford, photograph by Our Labor of Love, photograph by Simply Bloom Photography
How do you think your other half would plan your wedding if you let him? Why not send me your groom's ideas!?