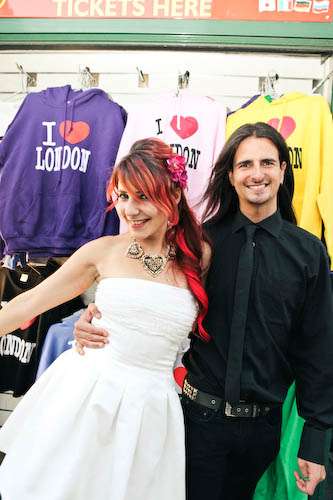 Kate & Mike's London punk wedding took place a few weeks before the couple moved to LA (Jealous!) so it had a distinctly punk rock vs Americana theme. The couple booked Celine Chaplin to take some portraits and to document their fun-filled reception.
Kate told me all about their day – including a very funny story about Mike's wedding day hair cut! "Since we were moving to Los Angeles a couple of weeks after the wedding, Mike & I were totally hectic so we really needed some help with the wedding. My sister and my Mum were amazing at putting the wedding together. My Dad even chipped in and sorted the meal out! i'm a total control freak but on this occasion, I'm glad i let someone else take over because they did such an awesome job."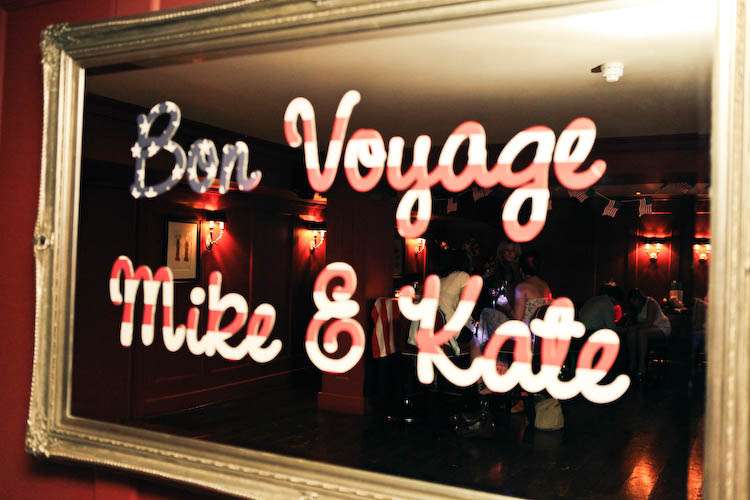 "Mike has always been known for his long hair, and ahead of the move to LA, he decided to cut it off for a change. He raised £700 for charity by doing it and everyone at the party chipped in and contributed to cut. Pre-emptive song to the big chop was 'The Final Countdown!" Lucky he did it after the wedding and not before, as a haircut by about 25 people was pretty much all over the place- he had a small tufty ponytail on top of his head from where someone had missed a bit. great look!"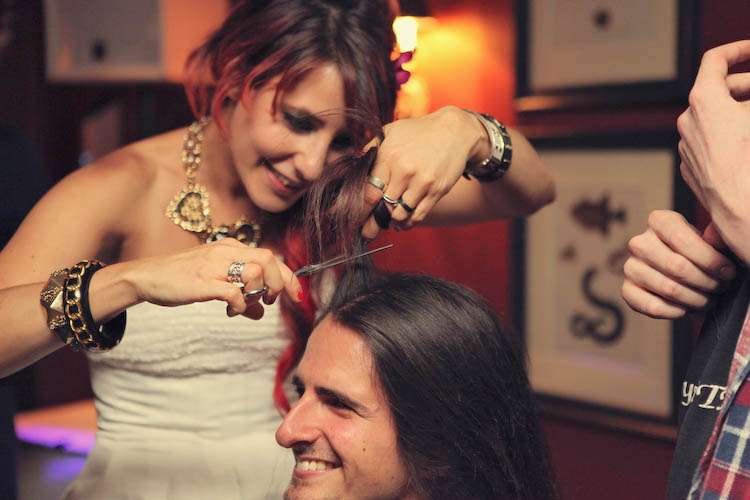 "Since Rock n Roll is really what brought us together in the first place, and neither of us are particularly conventional, it was important that the day reflected that. We had The Wildhearts and The Replacements playing as we took our vows. The day was totally perfect and couldn't have been better.
After the party the pair hopped onto a rickshaw ("28 years in London and I've never taken one" said Kate) to a penthouse suite at The Soho Hotel. "Rolling up at the hotel in our wedding stuff and clutching a cardboard cutout of mickey mouse, about to check into the penthouse was brilliant!" Kate laughed.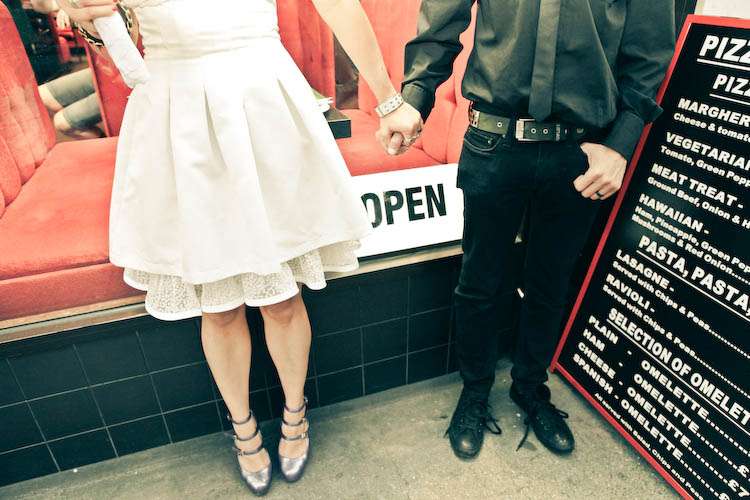 Thanks to Kate & Mike and their photographer Celine for sharing this fab wedding with us today
Photography Credit: Celine Chaplin Photography
Ceremony Venue: Chelsea Registry Office
Lunch Reception: The Bluebird Restaurant, Chelsea
After Party: Bentley's Bar, Piccadilly
Flowers: Chivers of Charlotte St
Bride's Dress: Betsey Johnson
Bride's Shoes: Vivienne Westwood
Bride's Jewellery: Betsey Johnson & Patricia Field
Groom's Outfit: skinny black jeans, black shirt, black tie, studded Lowlife Belt and Cons
Make up/Hair: Bride's sister
Cake: Hummingbird Bakery