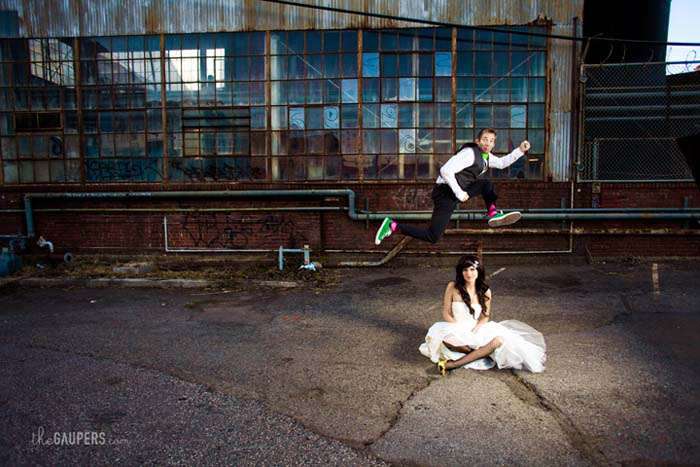 This ccccrazy couple had a pretty mad wedding followed by an equally (in fact maybe more so) insane trash the dress style shoot. Alongside their photographers, Steph & Ryan wanted to show that the assumptions that some couple's have about trash the dress aren't necessarily true and trash the dress shoots don't literally have to mean your dress is completely destroyed. However by not be afraid of getting the dress a little bit dirty, you really can end up with some totally unique images. I wanted to share a selection from both the couple's wedding and photo shoot as I know both sets of photos bring a huge smile to your face! I love these two!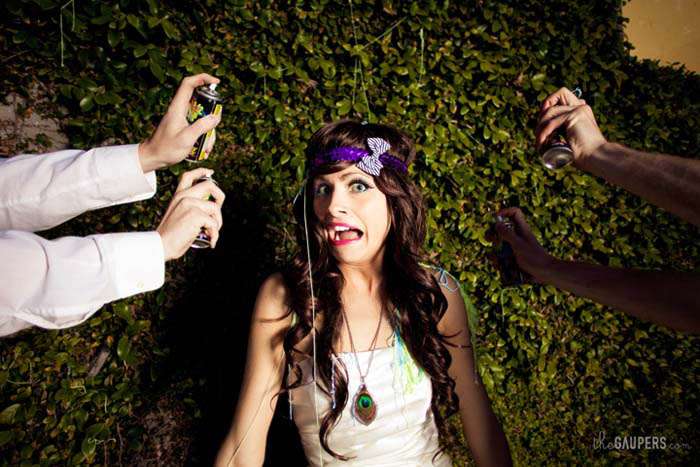 For their 'dirt don't hurt' shoot the couple went all out will silly outfits, crazy wigs, silly string, creative make up and a whole lot of neon! There is no doubt in my mind that you are going to love these.
Be sure to watch the video after the 'jump' too!
Talking about their wedding, the couple explained "Our inspiration was basically to live up our day to the fullest by keeping a bit of our conservative background while adding in extra flare to show our personalities. We wanted to be creative but not so much to scare our Grandma's away."
"We knew that this wedding would be crazy considering our friends and family so we tried to incorporate their personalities into all of our choices for decoration/wardrobe. I think another thing to add is the chicken limo. Since it was meaningful to us (our first date) we wanted to have it pick us up at the church directly after the ceremony. Most of the attendees of the wedding knew about this part of our history, so it was a nice surprise and added quite a bit of uniqueness to our wedding."
Thanks to Steph & Ryan and their photographers The Gaupers for sharing these today
HupfersTrashTheDress from GAUPERphoto on Vimeo.
Photography Credit: The Gaupers
Wedding Day info:
Ceremony Venue: Irvington Presbyterian Church, Indianapoli
Reception Venue: Rathskeller Restaurant, Indianapolis
Bride's Dress: Allure bridal
Bride's Veil & Hairpiece: Custom designed by Marie from Paris Connection
Bride's Shoes: DSW and Converse
Bridesmaid Dresses: They all picked their own from AriaDress
Groomsmen Suits: Men's Wearhouse
Ties: Express
Groom's Shoes: Vans
Flowers: Mcnamara Florists 
Cake: Splendid Cake creations 
Catering: Rathskeller
DJ: Travis Bell
Hair: Jamie Palin at Style Salon in Broadripple, IN
Make-up done by Aimee Achenbach