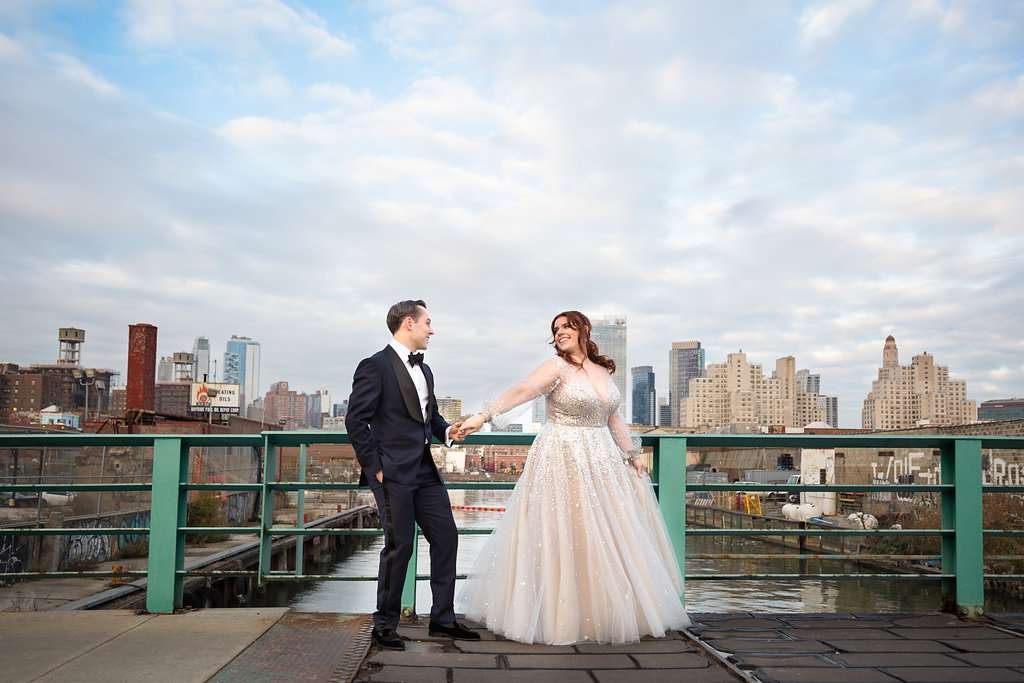 Alysha and Cody's 'celestial neon' wedding was exactly that – a day made of dreams. Their glamorous ceremony, held in the coolest industrial warehouse space in Brooklyn, New York, was bedecked with sparkly, starry wonder and neon lights as dazzling as the couples themselves. It promised to be lit AF, and it totally delivered.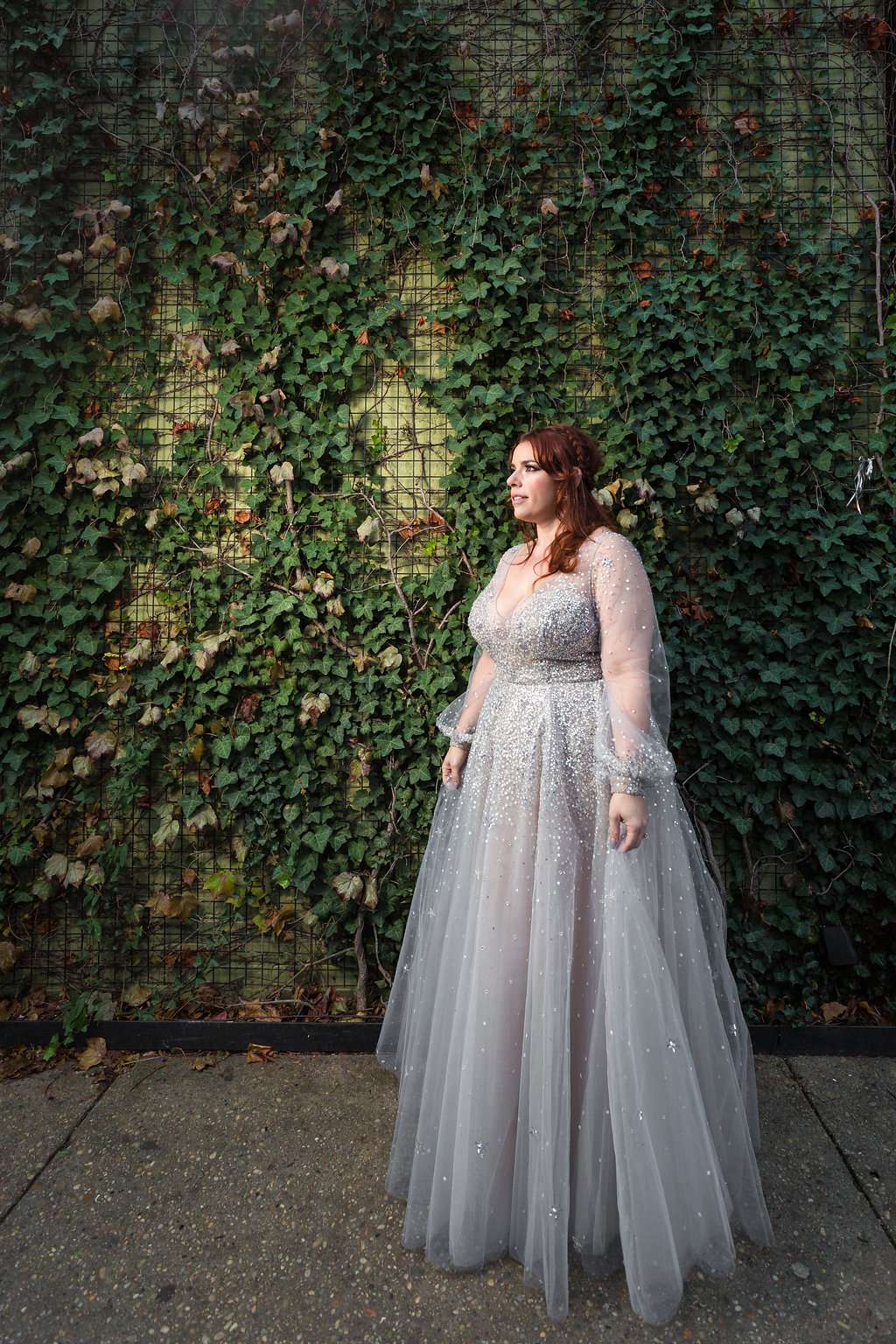 First and foremost, let's talk about Alysha's DIVINE galactic wedding dress, which inspired the whole day. "I I had heard that you're supposed to pick the dress first and then everything else falls into place," Alysha explains. "I knew I didn't want white, so I fell into this dove grey kick, and before you know it I had an appointment at the Hayley Paige trunk show at Kleinfeld. My dress kinda looked like a galaxy, so I thought 'That's it'. I was obsessed with paper moons from the 1920s, so it was a perfect theme: moons, stars and celestials."
This glamorous, old-school celestial vibe extended to the wedding stationery from Go Go Snap on Etsy, and their gorgeous Catbird and Sofia Zakia wedding rings too.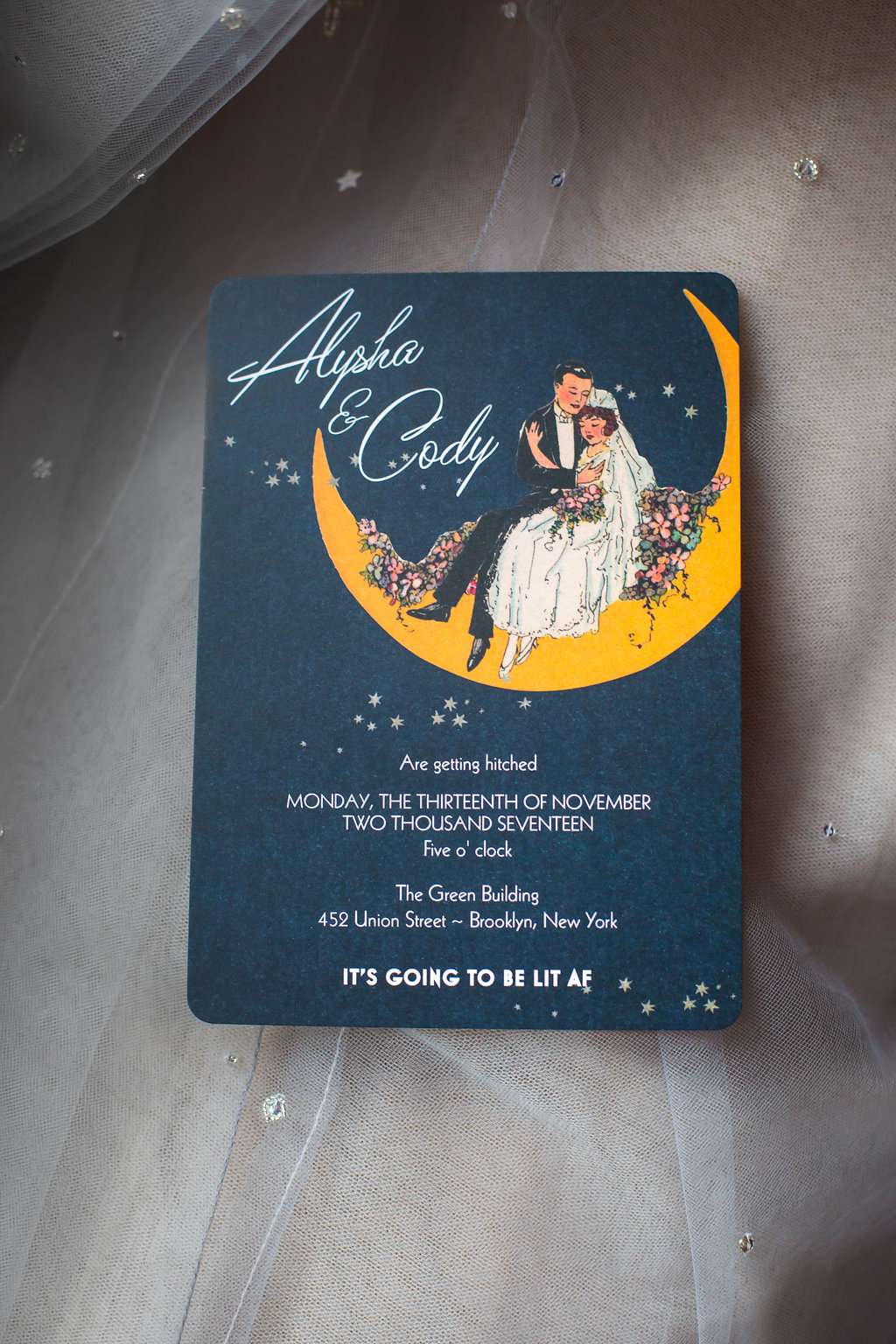 "For the theme, I bought like 40 paper star lanterns of various sizes and disposable LED lights and fishing wire and hung them from this beautiful ribbon installation that we rented. We DIYed pretty much all the decor and luckily, I have the best family and friends, and they all worked their asses off the day of and the day after! I wish I would have known that before though, as I may have hired some people to do it instead. I was trying to be budget conscious!"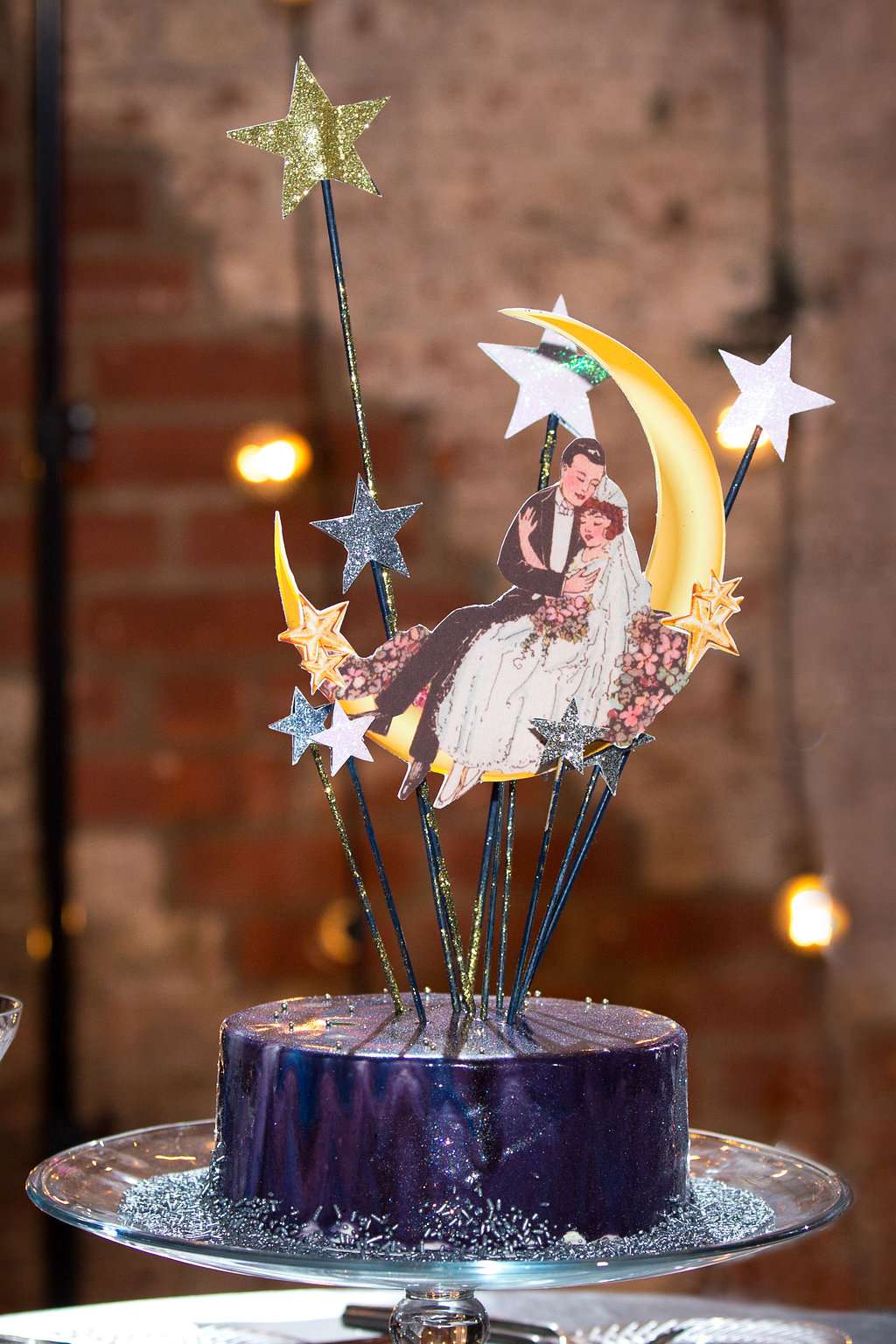 Whilst aesthetically Alysha and Cody's day was the height of old school glamour, their big day was super relaxed, with Alysha calling it a "Choose Your Own Adventure situation. We didn't have a bridal party because I can't imagine ranking my friends, and we didn't have assigned seating because I didn't want to dictate what experience everyone had by deciding who sat next to them."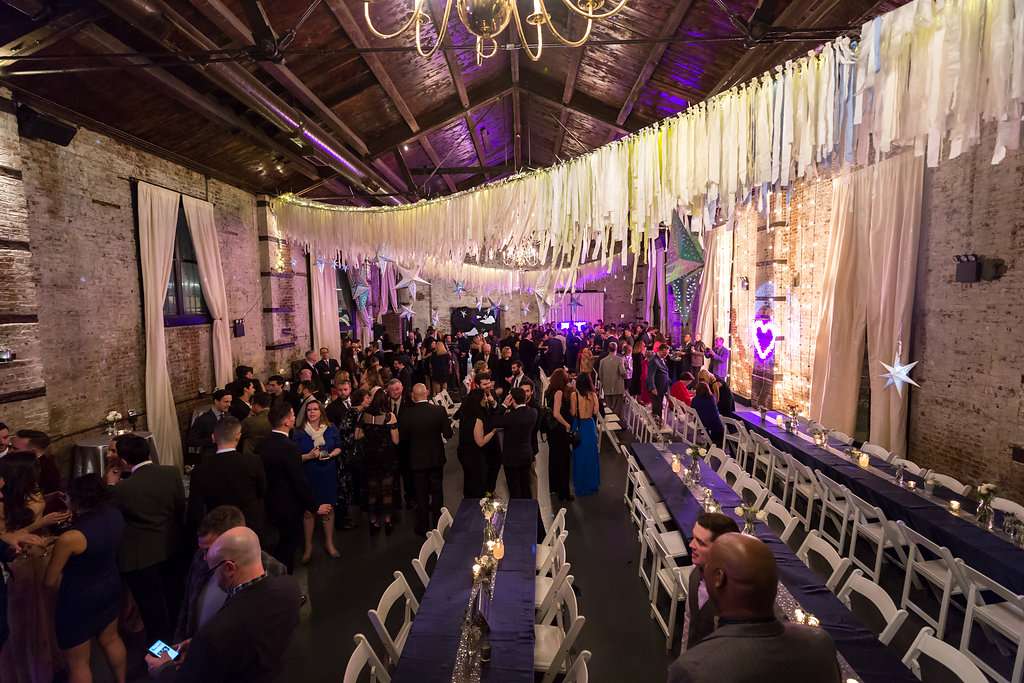 I mean, you can tell from that that it was an amazing day anyway, but just wait til you hear about what happened during the ceremony. "It was a very short, non-denominational one, filled with love and laughs, and even a roast portion. And we had a surprise drag queen!" Alysha explains. Both of her parents walked her down the aisle as she didn't want to leave her Mum out, and their close friend Jeff Blumenkrantz officiated it fantastically. "He slayed from the opening line, 'Queerly beloved…'" Their dog Dizzy was also their flower girl and ring bearer, covered in celestial garlands with the rings on it.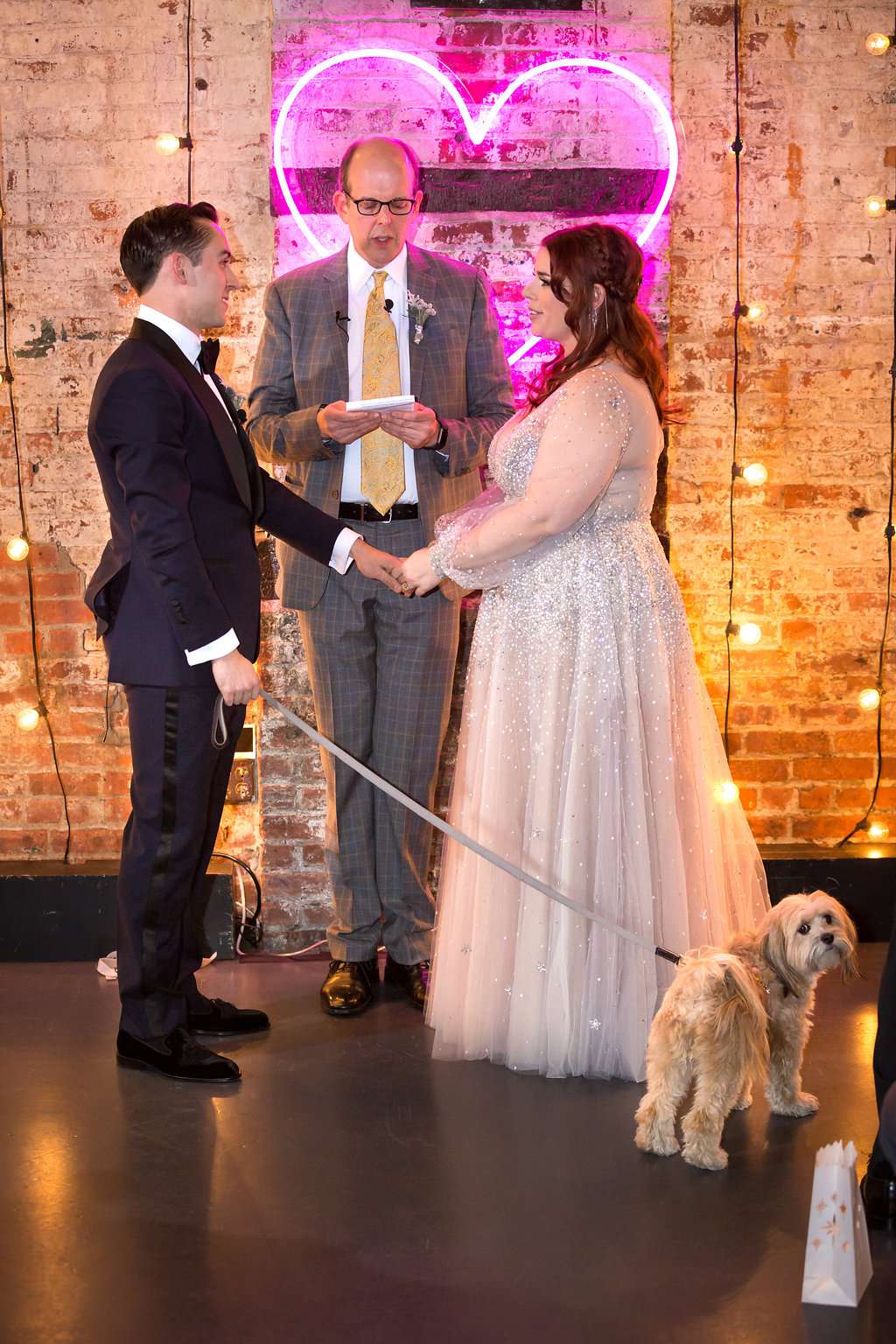 As Alysha and Cody are both Broadway actors, they held their wedding on a Monday to ensure that they could enjoy the day with all of their pals. It also meant the venue was half the cost it would have been on the weekend! "While traditions are lovely, the wedding industry has sort of dictated what a wedding should include. I say, a wedding should include things that make you happy and things that you love – so break the rules, and do your own thing." So if you wanna slay in a dove grey dress on a Monday, you do that. Alysha did, and her and Cody's wedding was the bomb.