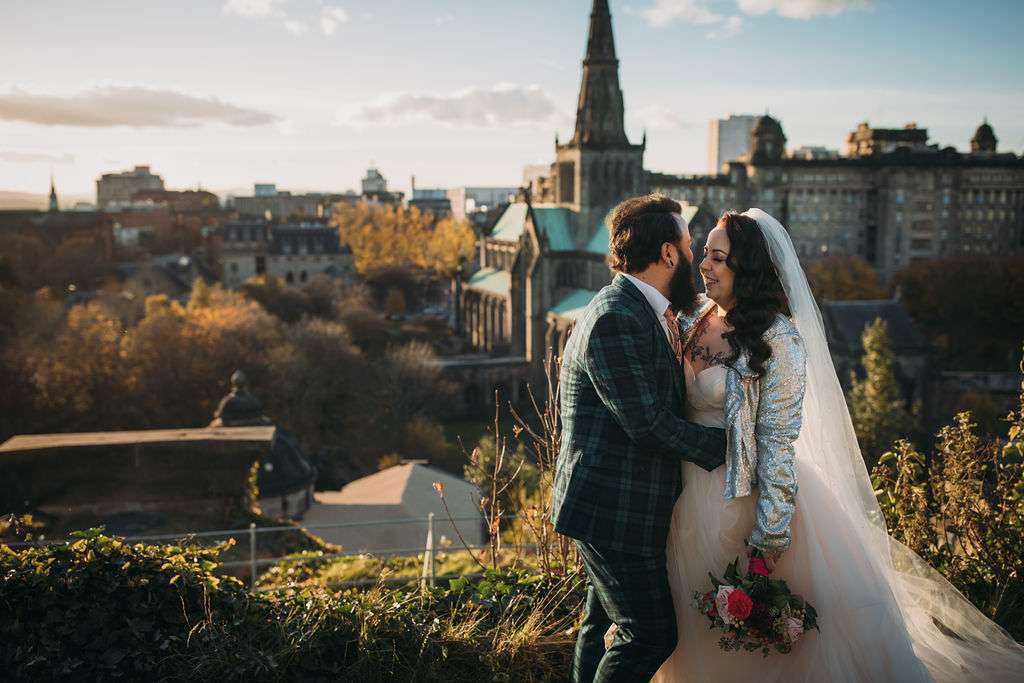 Both Jade and Jamie are big fans of Halloween so knew they wanted to get married at this time of year and base the theme on that. Their initial concern was that they didn't want anything looking too tacky and more like a Halloween party, so they focused on a mix of neon, tartan, sequins, skulls and brightly coloured pumpkins for a fresh take on theme.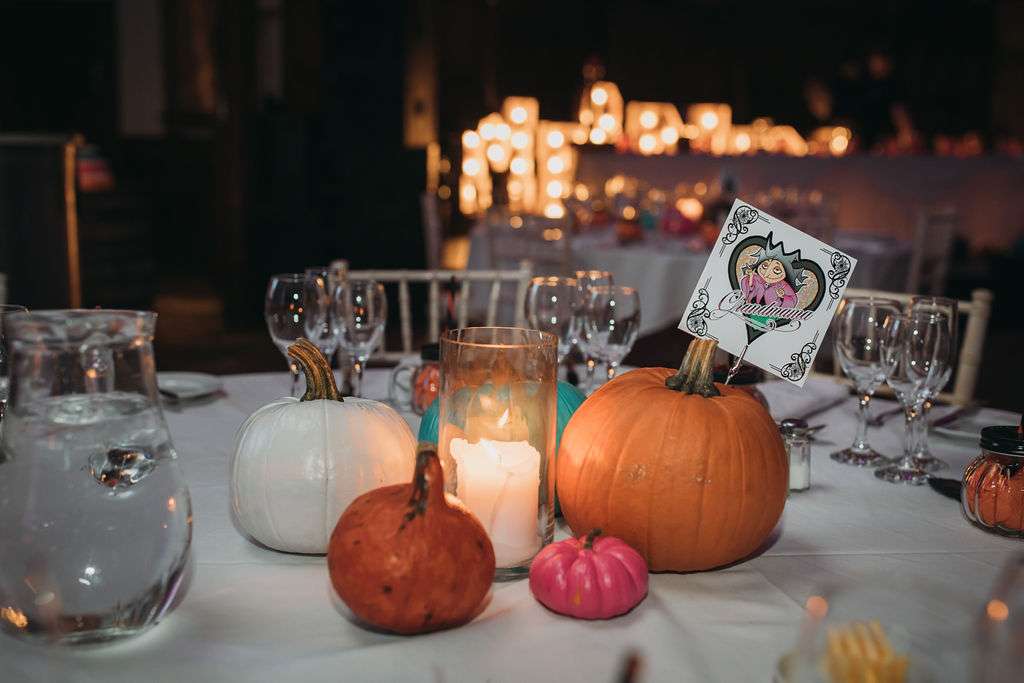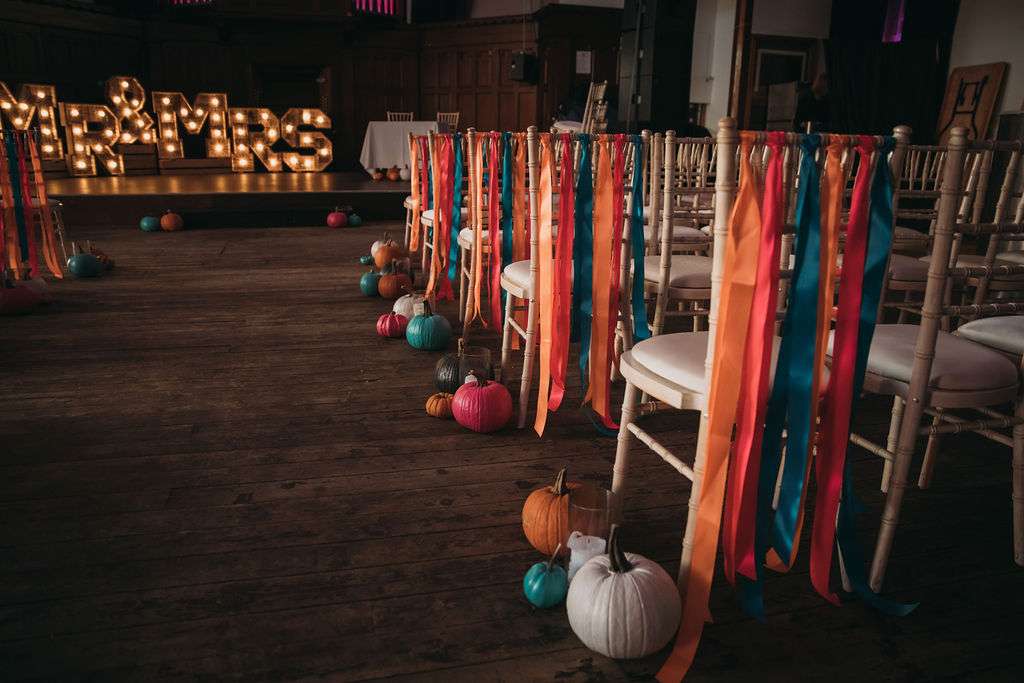 They used Pinterest, Instagram and of course, Rock n Roll Bride as massive sources of inspiration. The phrase 'Till Death' stuck with them from the beginning, with Jamie even DIY'ing a massive neon sign as well as using it in their vows and then getting it tattooed on their arms shortly after the wedding!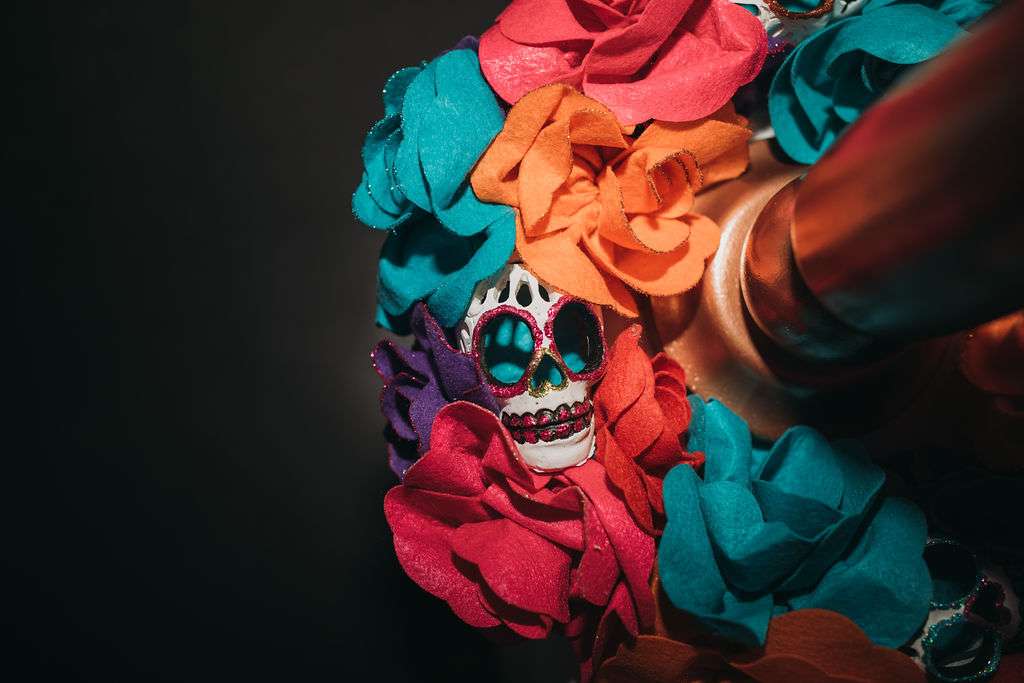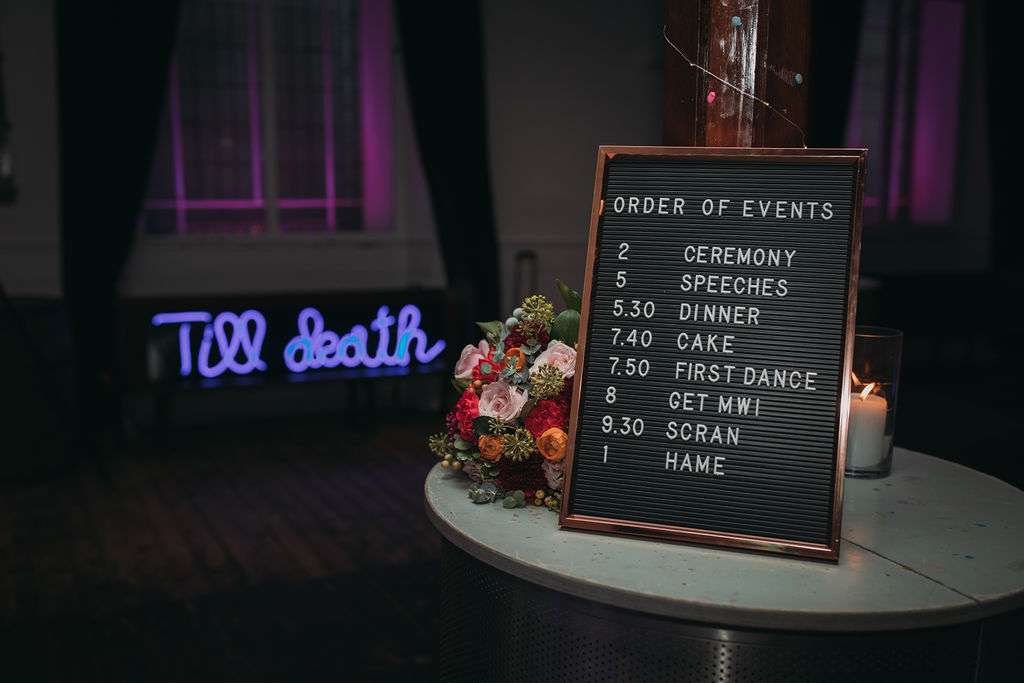 With a budget of £8500, every single decision they made for their day was based purely on what they wanted to do as a couple. They focused on things they love and memories they wanted to make and treasure forever. "We are known as the 'weird goffs' of our friendship group, but I think even they were blown away by our dedication to the Halloween theme when we hand painted all the pumpkins and choose the Addams Family as our table names." said Jade.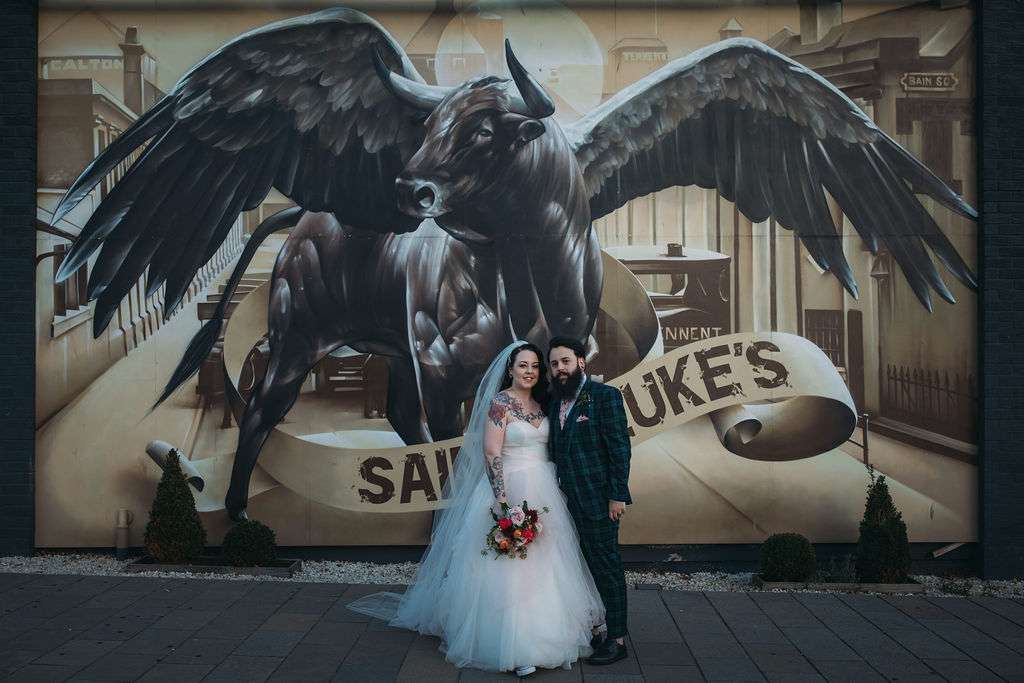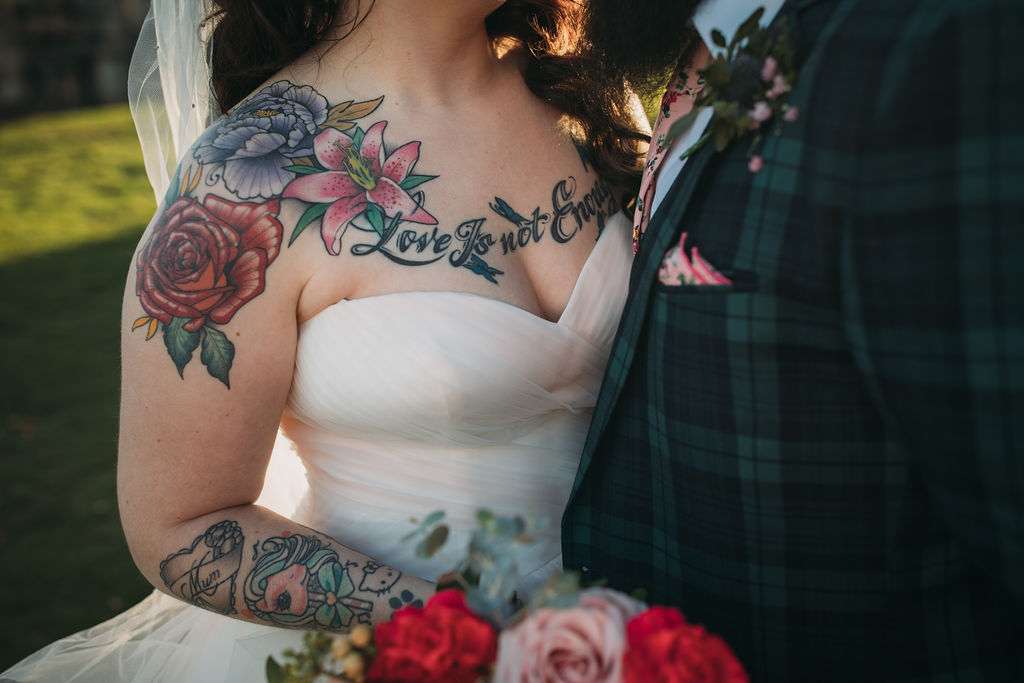 They originally hired a decor company to complete their vision for the day, but they closed down a few weeks before the wedding so they took the decision to just do the rest themselves. Jamie really pulled it out the bag with his crafting skills!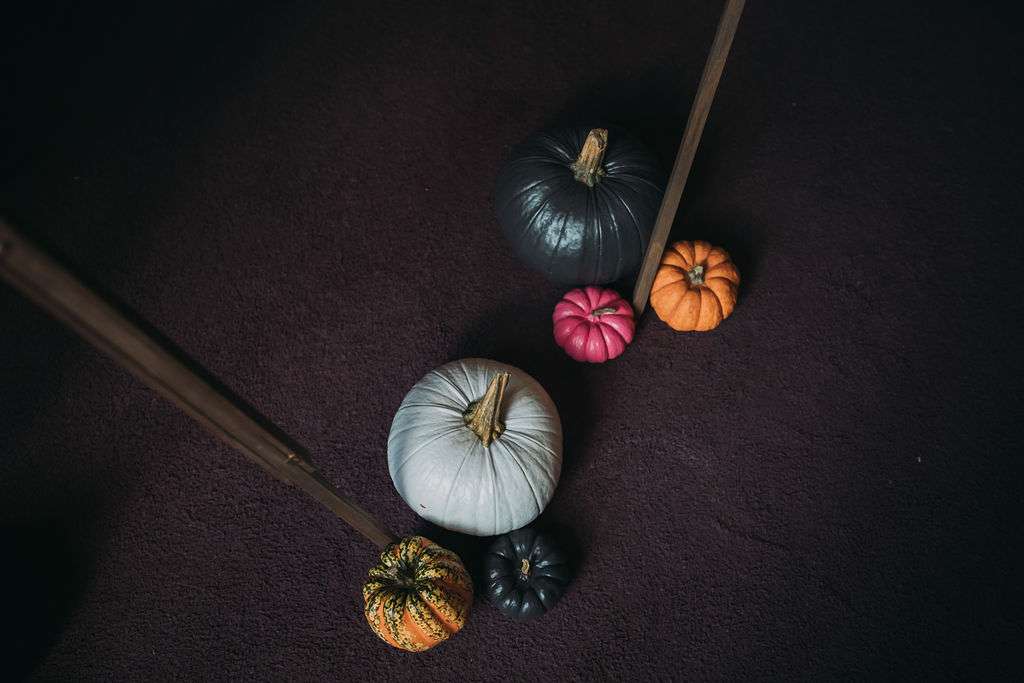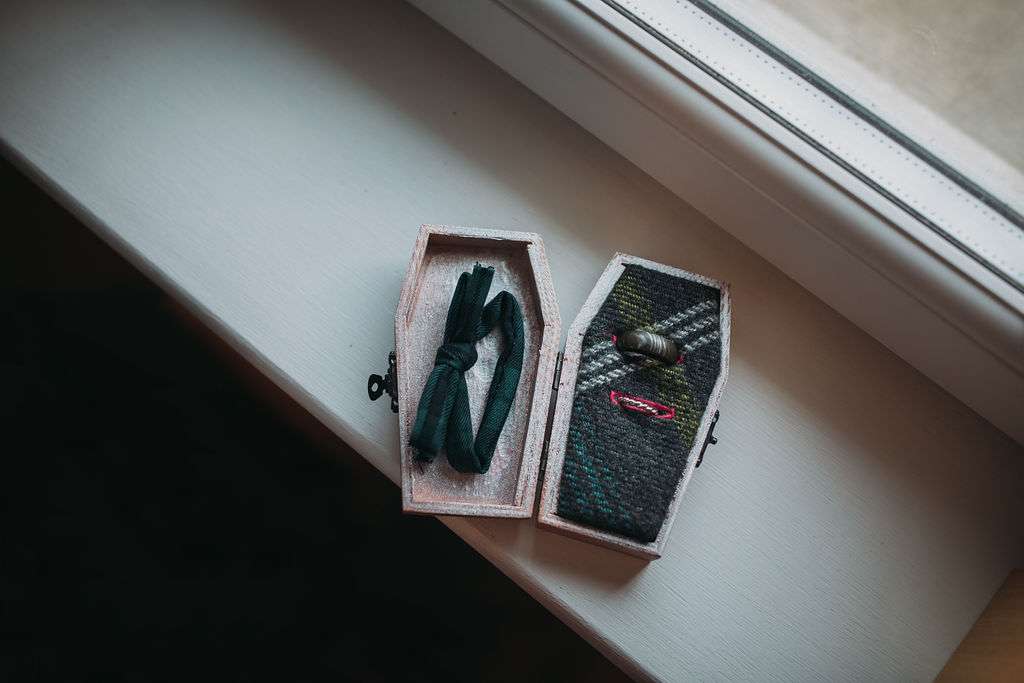 They scoured shops for pumpkins with stalks, sourcing the majority from Lidl and spray patenting them pink, teal, black and white. He created the coffin shaped guest books and designed the Addams Family table names and temporary tattoo station. They worked together on the invites, chair ribbons, ribbon backdrop and welcome sign. "Both of us having a creative design background helped massively," said Jade. "DIYing can be stressful and time consuming but seeing everything come together made us feel such pride that we'd done most of it ourselves."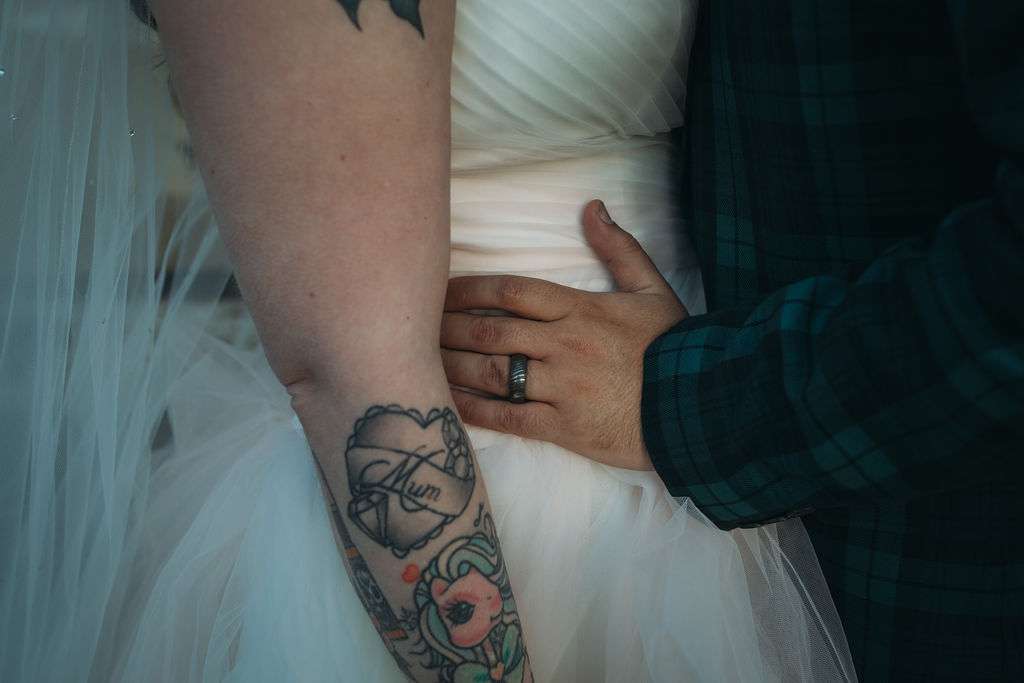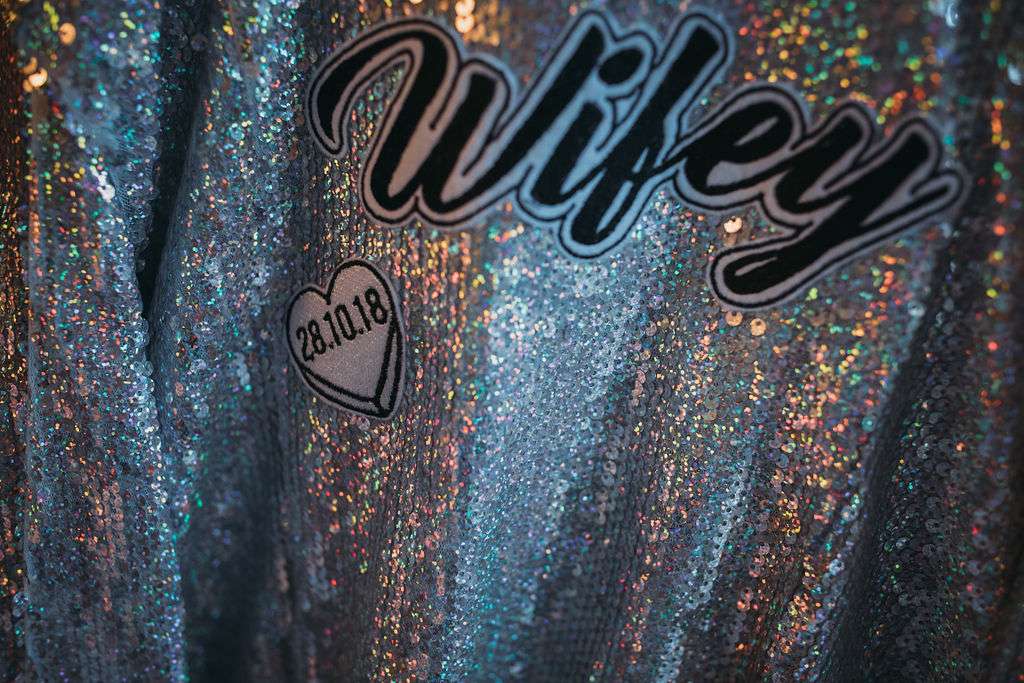 They decided on a Humanist ceremony, including a handfasting, ring warming and drinking from the Quaich. They had readings from their families. They wanted every guest to be involved in their special day to show how much they love them all. Jade was walked down the aisle by her mum to Lonely the Brave's Backroads and they left the venue to a metal cover version of John Legend's All of Me amongst a shower of black heart-shaped confetti.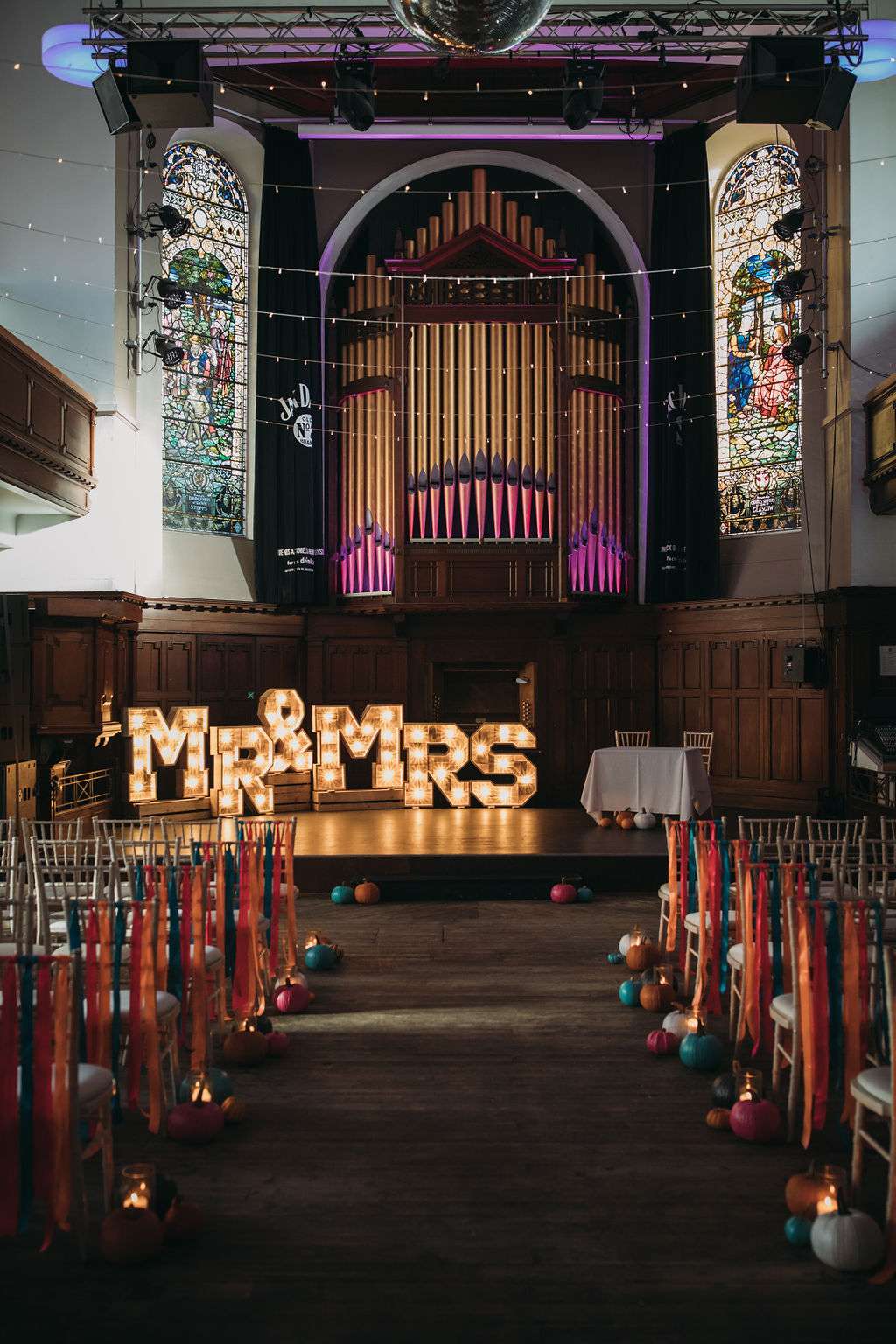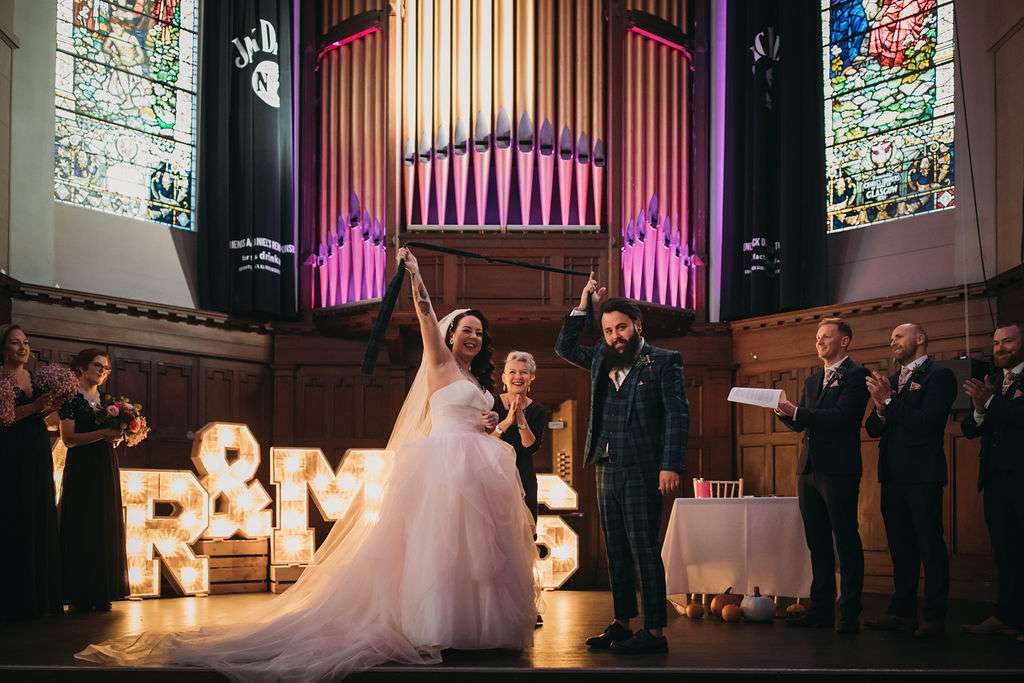 After the ceremony they headed to the Glasgow Necropolis for photos. "It was one of the best decisions we made. We had a beautiful autumn day with clear blue skies so you could see all over Glasgow from up there. Walking through the old gravestones in my pink princess dress and his teal tartan suit we felt like rock stars, everyone kept stopping to stare and congratulate us. It was really nice to have some time away too."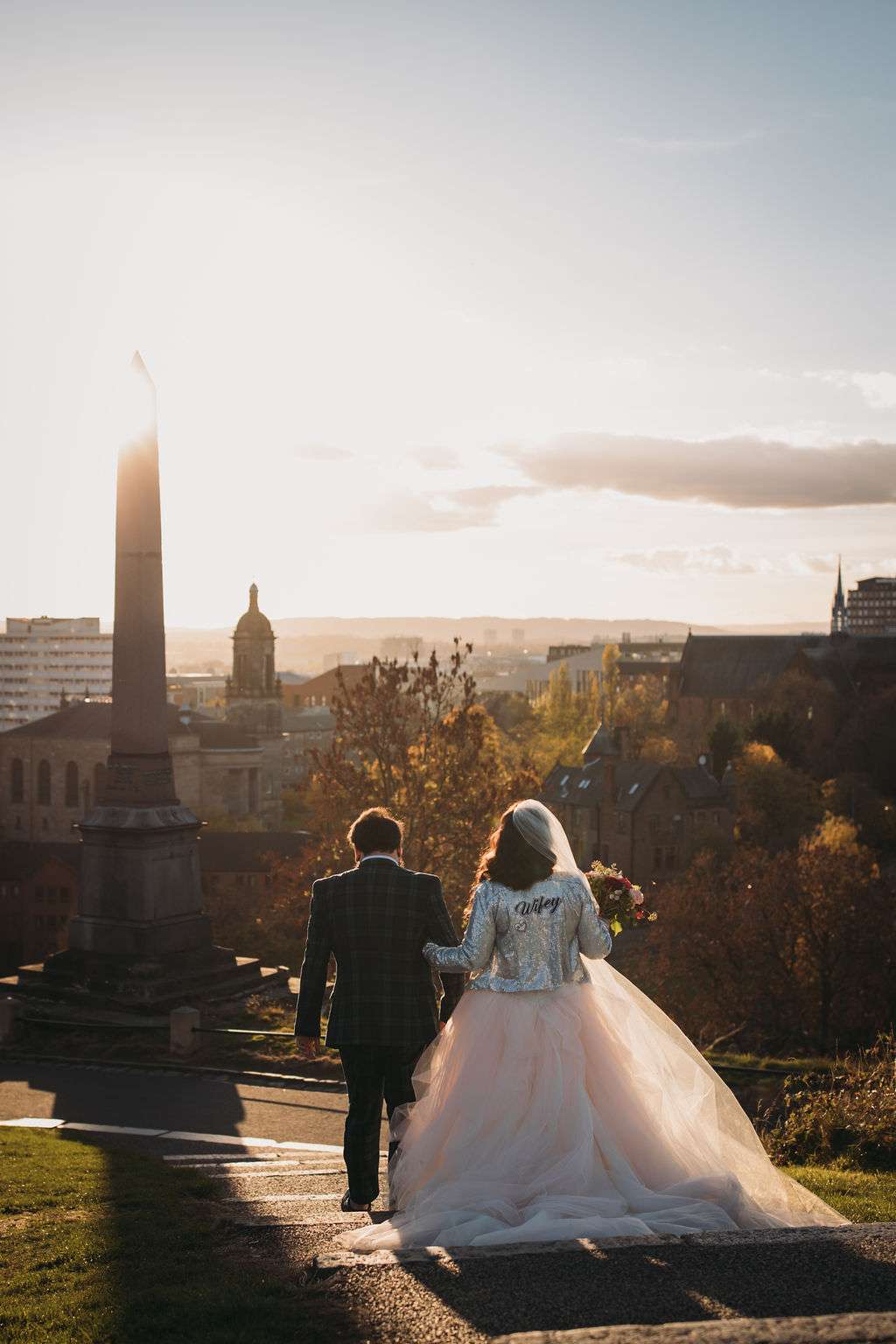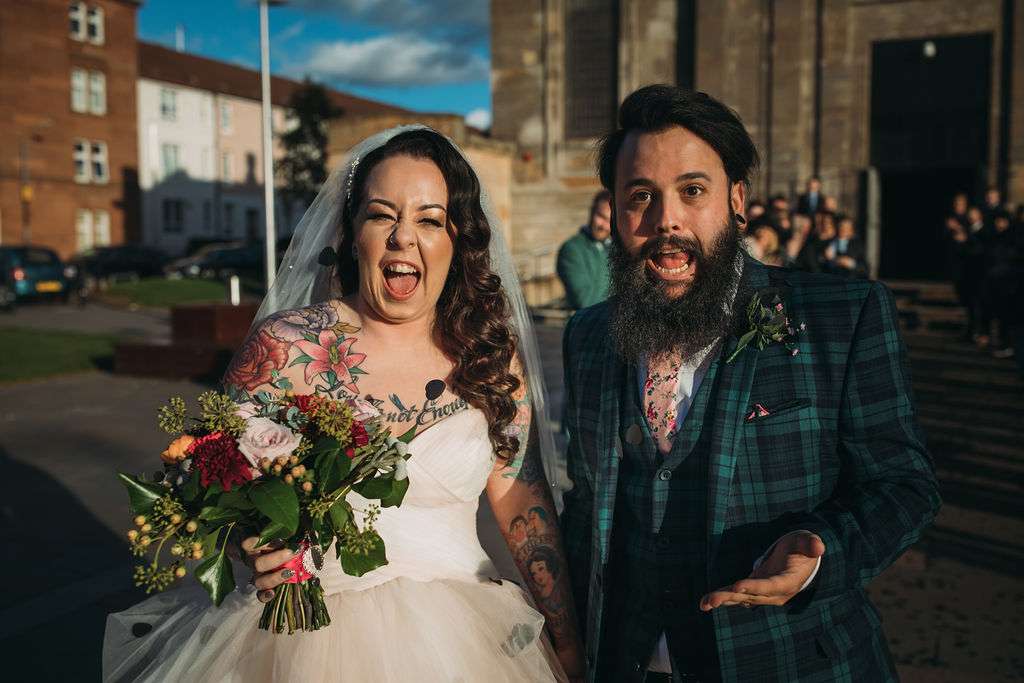 Another highlight of the day was their reception; "Dancing crazily to Fall Out Boy, The Used and All American Rejects that night with all our close friends was pretty amazing. Our DJ used to work in the nightclub we all went to when we were 17/18 and played all the classics!"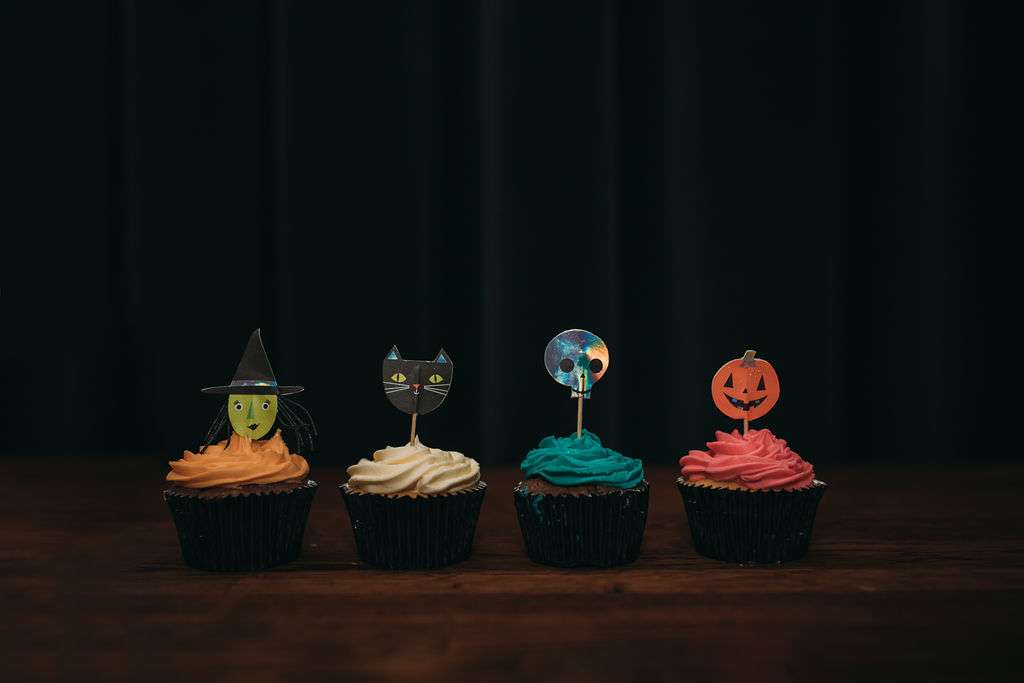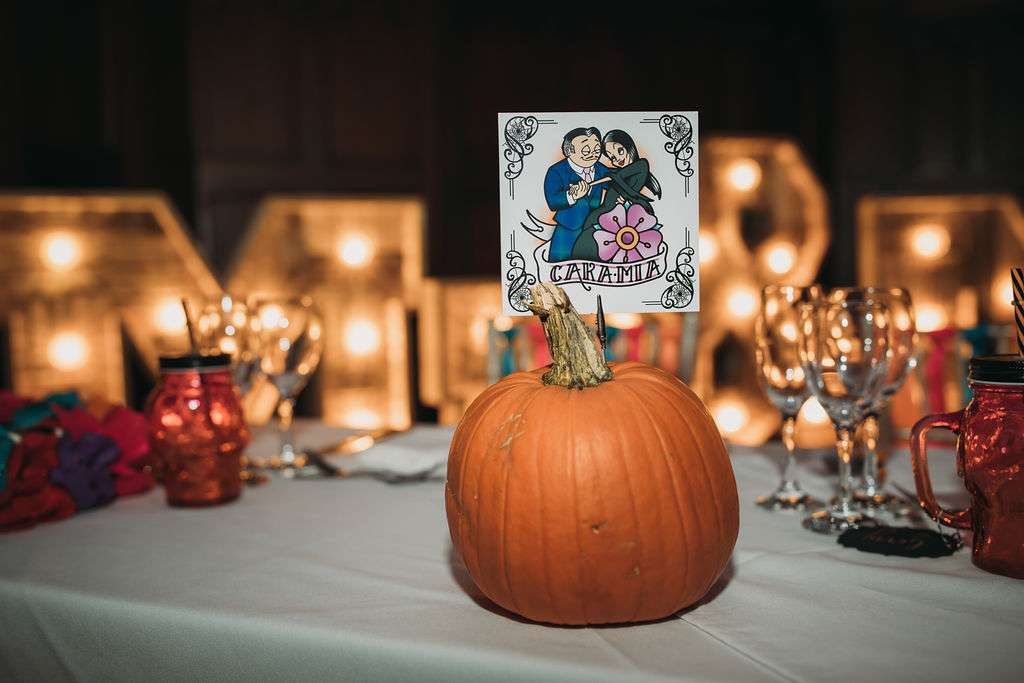 The one thing the couple wished they knew before planning their wedding was quite how much time and effort it would involve, "It really takes over your life," laughed Jade. "We had over two years between booking the venue and the wedding date and it can take it's toll when it becomes all you think about. We booked a mini break abroad three days after the wedding which I'd highly advise to celebrate and chill out."