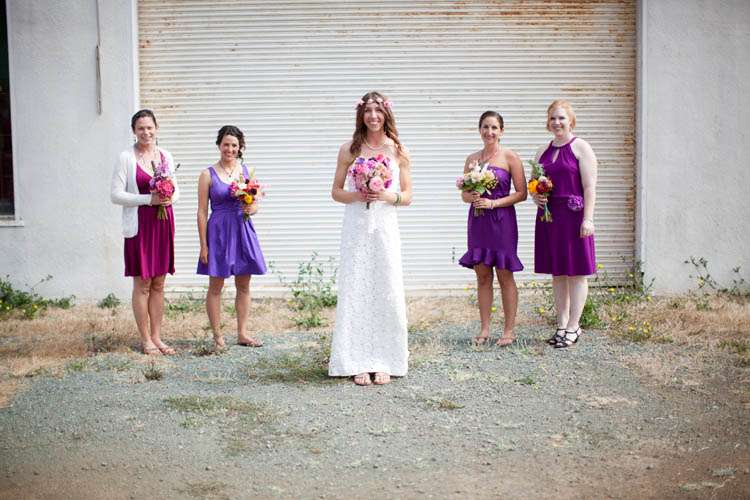 You love the diy weddings don't you? Yeah me too so here's another gem for you. John & Rose did everything themselves. They also looked for ideas on how to save money on pretty much everything. Rose wore a gorgeous second hand Nicole Miller called the Vintage Daisy Dress which she found online as well as hand making all the flower arrangements and her bouquet (the bridesmaids also made their own bouquets.) Rose's parents made the cake and her brother made the stand, they had friends who made the desserts. Rose kept her look unfussy with sandals from Steve Madden and a necklace that had belonged to her Mum and a bracelet (made by John) that she already owned and a flower halo which she made herself from flowers from her parents' back garden.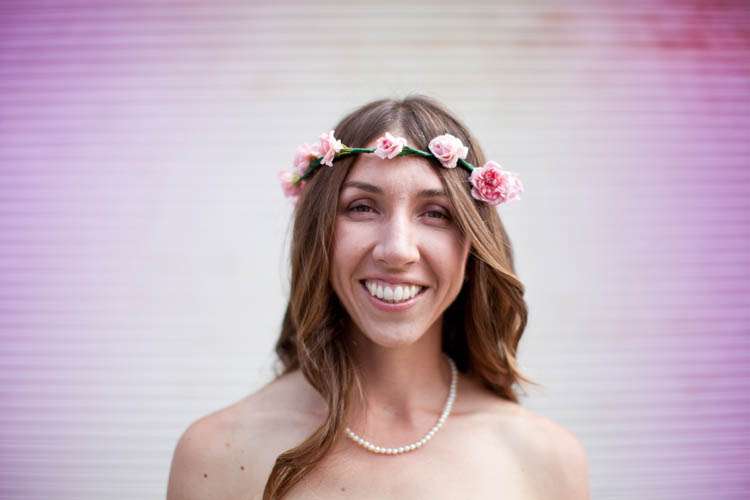 "Years ago I ripped a picture out of a J Crew catalogue, (before John and I met even…)" Rose told me, "of a wedding dress that was very very similar to the one I wore.  When John proposed I thought of the dress and found it was still available from J Crew, however it was $3000, much more than I was interested in spending.  So, I searched and searched for something similar in all the stores around from Salinas to Santa Barbara, to no avail.  Eventually I started searching the internet, and found the Nicole Miller vintage daisy dress (the one I wore) but it had been discontinued, and I could only find used options, that weren't too affordable.  One day I came home from work early with a headache, and was looking around on ebay, and found the dress I wore, a brand new dress almost identical to the one in J Crew, for $350 instead of its original price of $1400!  Wow!  The minor problem was it was a size 16… but I bought it anyway, it came with tags attached in mint condition.  I took it to the Fitting Image seamstress in San Luis Obispo, and she basically made me a new dress.  I was stoked!!!"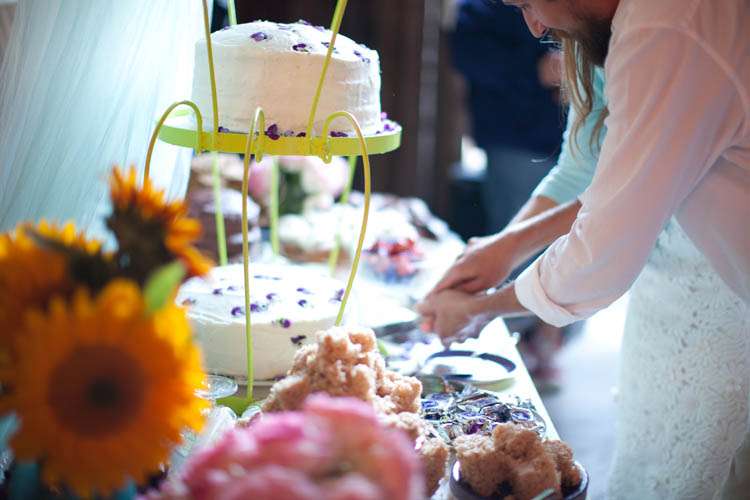 The couple also hunted thrift stores for things they could use which included the mismatched tablecloths and pretty much everything you see on the tables (crockery, cutlery etc.) The napkins were also handmade by the bride and her maids out of scraps of reclaimed fabric. The groom made the archway that they got married under a few hours before the ceremony out of beechwood and rope as well as sandblasting pint glasses (which the guests were allowed to keep) which were filled with home brewed beer! Rose's Dad also grew some hand planted oaks, ferns and pansy's which they gave away as favours.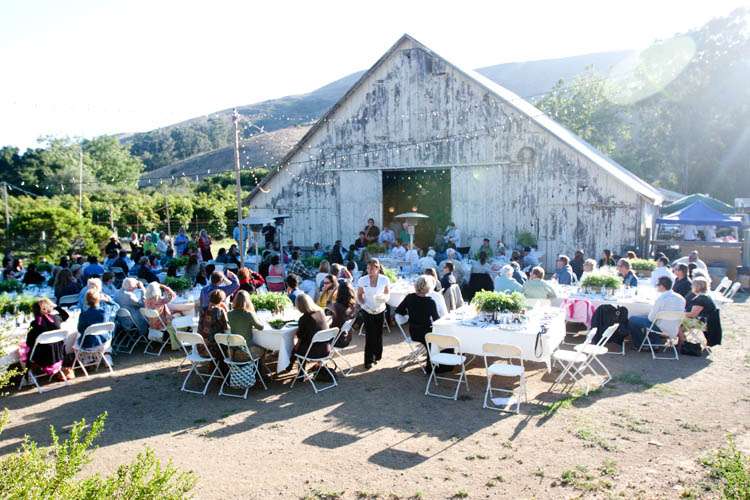 Thanks so much to John & Rose and their photographer Shannon for sharing their wedding today
Photography Credit: Moore Photography
Ceremony: Cayucos, Ca. beach
Reception: Cayucos Creek Barn in Cayucos, Ca.
Bride's Dress: Nicole Miller
Bride's Headpiece: Diy
Bride's Shoes: Steve Madden
Cake: Diy
Cake Stand: Diy
Flowers: Diy
Bridesmaid Dresses: Selected by the Bridesmaids
Hair & Make Up: Maggie Bridges with Salon Om in Avila Beach, Ca.
Band: Cuesta Ridge Mountain Boys