I'm not one to go back on my promises, so here's the gorgeous Scottish wedding to follow on from Sean & Nicola's 'Great Outdoors' engagement session that I posted last week. The pair wanted a really laid back, family-orientated day and they chose Mugdock Park for their ceremony and The Local Town Hall for their reception. "We only really considered one option for a ceremony venue, which was Mugdock Park" they began. "It is an amazing place at the beginning of the west highland way, and we loved going there for mountain-biking, having barbecues or just strolling around. We met up with the park manager and we had to prove ourselves as fans of the park before they let us go ahead with it, as they have only 2 weddings a year there.  Our wedding was set around the old castle ruins, and my younger cousins provided the uplifting music by playing the violin and clarinet."
"The reception venue was a local town hall, which had typical town hall features, but also a unique charm. Most importantly, it had a cheap bar! The hall was bare to begin with, but a troupe of family and friends worked hard the day of the wedding to decorate it beautifully with fairy lights and bedside lamps from their houses! I hired vintage mismatched china from Tatty Mac for a shabby-chic feel, and the cutlery and remaining crockery was hired from Cairns and Scott. We used old jam jars on the tables for tea candles, and randomly popped flower stems into old-style water bottles. Sean's mum, being a keen gardener, used flowers from her garden, with some rustic-looking pots as table-centres."
The couple skipped a lot of the traditional fare in favour of really personal touches including the flowers, which Nicola's Mum collected and put together and the cake, which instead of a traditional one was replaced with cakes made my their friends and family members. "Instead of a traditional wedding cake, we asked a bunch of close friends and family if they would be willing to make their signature cake to lay out on a dessert table. The result was a wonderful variety of people's tried and trusted recipes, which was mouth-watering" the couple said.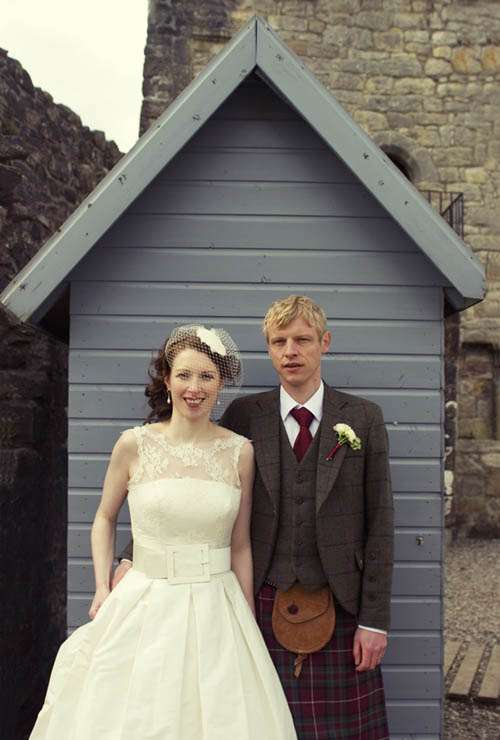 Nicola looked gorgeous in a Stephanie Allin dress, "My dress was another relatively quick decision, I found it in Eleganza Sposa in Glasgow, the first shop I went to, and it was one of the first dresses I tried on.  As soon as the dress was on, I knew it was perfect, and I could tell by my mum's face that she agreed. I was kicking myself for even trying it, as I knew it was too expensive for me, so I left it. I tried on no others, and months later, the shop offered to sell me the sample dress at a reduced price! As the dress was 50s style, I wanted to get the bridesmaids a similar style, but knee length.  I got them made by Amanda at Rene Avonya,who  was great with her ideas and flexibility. I hadn't planned on a deep pink, as none of the girls are particularly "girly", but they looked great on the day and suited the colouring of the bridesmaids."
A lot of the lovely vintage details were diy jobs and were done by the bride's sister in law, Rowan "such as spray-painting old pictures then using it as a blackboard for a table plan. Our table numbers were images from the engagement shoot which incorporated numbers, which made us far happier than having to choose a cheesy theme for table names" Nicola explained.
Thanks to Sean & Nicola for sharing their gorgeous Scottish wedding with us today and to Sam & Sequoia of Mirrorbox Photography for sending over the images
Credit: Mirrorbox Photography
Venue: Mugdock Park & Local Town Hall
Bride's Dress: Stephanie Allin
Bride's Shoes: Schuh
Fascinator with birdcage veil: Made by the Mother of the Bride
Earrings: Borrowed from Maid of Honour
Bracelet: Gift – Something Old
Bridesmaid's Dresses: Amanda at Rene Avonya
Groom's Kilt & Jacket: Slanj Kilts
Flowers: Made by the Mother of the bride
Cakes: Homemade
Catering: Groom's Brother in Law