Roxana & John's incredible Mexican fiesta wedding was shot by the amazing Katherine O'Brien with a Holga, a Hasselblad and a Polaroid camera. The results are not only magical, but give a really unique and different perspective when looking back. In fact looking at these awesome images is almost like a crazy, exciting acid trip…in a good way of course!
The bride, a costume designer, custom-modified her dress with dress with ribbons, rhinestones and a favorite brooch that was her Great Aunt's. Her groom wore a gold western belt buckle with the initial S for a bit of extra personality.
The couple added lots of fantastic details to suit their papel picado theme (a natural fit given their Texan roots) including tissue paper flowers lining the railings and tables, a custom card box in festive colours that looked like a wedding cake and grosgrain ribbons tied to the cedar arbor with fleur de lis topped markers. They also used Mexican loteria cards as escort cards which they clipped to a red ribbon hanging on an old wooden door. They then put matching cards on each table with a cowboy boot filled with wildflowers as the centrepieces. The wedding cake was topped with a Day of the Dead Bride and Groom.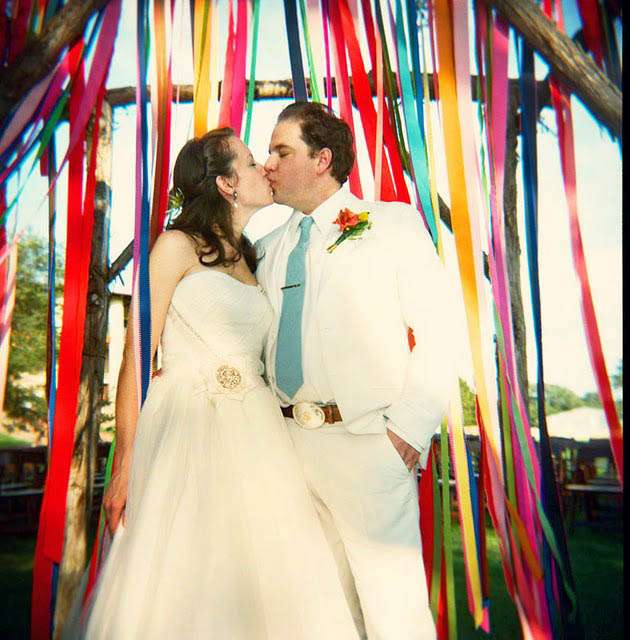 Thanks to Katherine for sharing this incredible wedding with us today!
Credit: Katherine O'Brien
Venue: THURMANS MANSION
Flowers, cakes, favours, bride's dress, bride's shoes, bride's accessories, bride's jewellery, groom's outfits, bridesmaid dresses, hair/make up were all  DIY
Mariachi's: La Compania/Ruben Banda    258-4963