You might remember these two from their 'Coney Island Cool' engagement session. Well as suspected, their wedding was just as amazing!
Jess & Bryan's is my favourite kind of wedding. I love the fashion, I love the style, I love the amazing diy touches and the whole chilled out and creative vibe of the day. "We really wanted usto be present in everything that was a part of our day" the couple told me. "We tried to make, and do, as much as we could for our wedding. This meant enlisting the help of our talented and wonderful friends and family to make paper cupcake toppers, straw flags, escort cards, wooden signs and much, much more!  We all got together the day before the wedding to set up the entire tent and yard and then relaxed with a night of BBQing and laughing. 
For the few outside vendors we did hire, we made sure that we worked with amazingly talented people who obviously care deeply about their craft, like our photographer Lindsey and caterer Kim. Some of the more unique characteristics of our wedding include an outside secular ceremony performed by a former judge and environmental activist, handmade everything, jeans allowed, vegetarian pigs in a blanket, a cotton candy machine, tattoos, mini birthday cakes for special guests and a hand made vintage inspired wedding dress. The best compliments we've received about our wedding have been, 'Best wedding yet!' and 'It was so you!' "
I flipping LOVE it!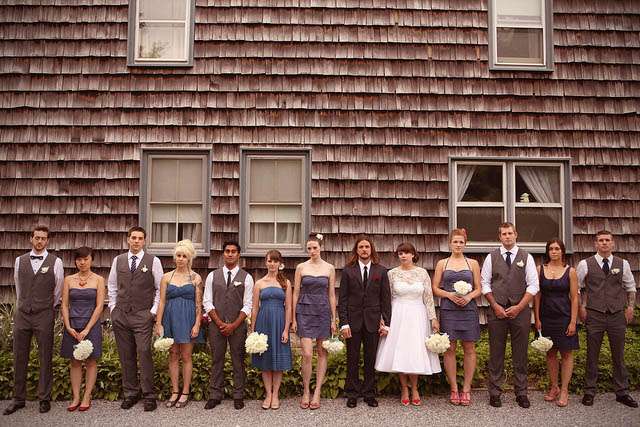 Thanks to Jess & Bryan and to photographer Linssay for sharing this fabulous wedding with us today
Credit: Lindsey McKinley Photography
Venue: Groom's parents back garden
Bride's Dress: Custom made by Cindy Ferrara
Bride's Shoes: Vivienne Westwood
Bride's Engagement Ring: Vintage
Bride's Wedding Ring: Oli and Me
Bride's Earrings: Vintage
Groom's: Suit: Theory 
Groom's Tie: Marc Jacobs
Bridesmaid Dresses: JCrew
Groomsmen Suits: Express
Flowers: Kim Stahl of Trio
Bridesmaids bouquets: made by the Bridesmaids
Catering: Trio
Cake: Trio
Favours: Diy
Hair: Jane Trieu
Makeup: Diy