Why have I never seen a Psycho themed wedding before? This is so incredibly cool! Robert, a film director, and his bride Suzi, a make up artist, sent out generic invitations for their June 5th Wedding.  It included a strict meeting time and hints of being transported  to a secret location. 
This year is 50 years since Psycho terrified audiences all over the world and the film-loving couple thought that the very house that the movie was filmed it would make the perfect location for their wedding. It was the first ever wedding held at the Psycho House. The pair really went all out with their theme which started when and the groom appeared from the House escorted by none other than Norman Bates as Mother.   He descended the famous staircase and the bride entered from Janet Leigh's room #1.   The recessional ended with Robert carrying Suzi back to the hotel under the watchful eye of Norman Bates.  
After the ceremony the guests signed the hotel ledger, sipped champagne and posed under the Bates Motel sign before piling back on the bus and heading Michael's Bar and Grill, Burbank for the reception.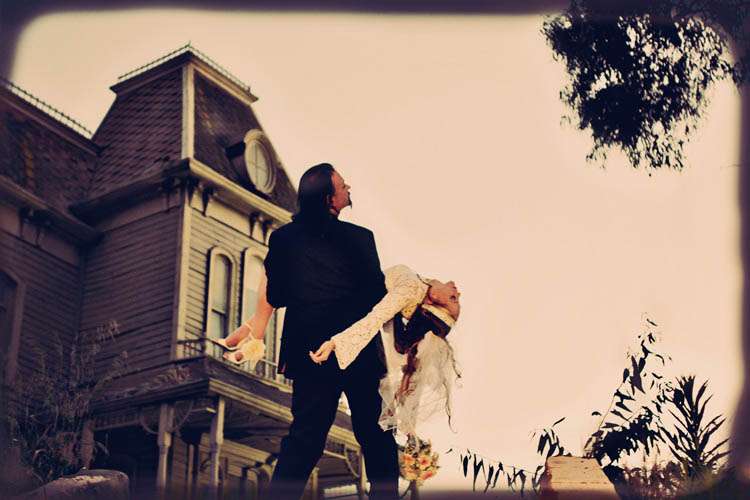 Thanks to Robert & Suzi and their photographer Marnie for sharing this awesome wedding with us today
Credit: Marnie Goodfriend Photography (Plaid Tie Photography)
Ceremony Venue: The Psycho House
Reception Venue: Michael's Bar and Grill, Burbank
Bride's Dress: Diane Von Furstenberg
Bride's Shoes: Nina
Bouquet: DIY, LA Flower Mart
Make Up: By the bride
Hair: Maggie Goodner, Salon Sin E