Sue & Shonagh actually got married in May 2008, however following the sad passing of Sue's Mum Hilary to Cancer just recently, with the full co-operation of the couple, both myself and photographer Caroline thought it would be a fitting tribute to share their whimsical and wonderful wedding with you today.
Sue (in the tartan dress) and Shonagh (in the blue dress) were neighbours of Caroline and as soon as she heard the couple we getting married she jumped at the chance to photograph it. Another friend, who also lived in the same building, Vonny Mullock, made both the brides' dresses. Sue got ready in their flat and Shonagh got married in Vonny's flat. The couple met on the landing between when they were both ready and headed out together to get married.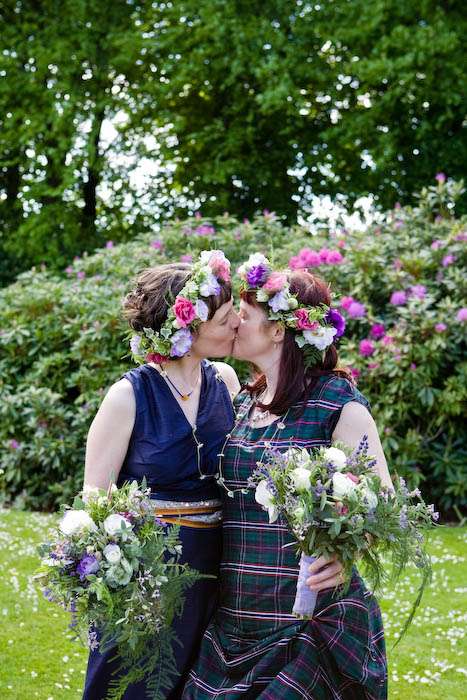 Their humanist ceremony and reception were held in the Pollokshields Burgh Hall in Glasgow, which is a lovely old building sitting in the middle of Maxwell park. The flowers look totally incredible and were all supplied by Floral Haven in Pollokshields, Glasgow. I can't decide what I love more –  the bouquets, the head wreaths or the ceremony arch! They also had very touching readings and a hand bonding ceremony.
Thanks to Caroline for working with me on this touching feature.
"Sue's mum Hilary, who has sadly passed away a couple of weeks ago, is the one in picture 'S&S-23' doing the speech and in the final picture 'S&S-8 in the pink cardigan. So this is a little tribute to her and a memory of a happy time they shared together. I read somewhere once that heaven is simply the reliving of a single magnificent moment or feeling for eternity."
Credit: Candy Snaps