Wow wow wow. Kelly & Sean sure knew how to rock a wedding! From an emotional ceremony, to a family-orientated reception to a crazy-fun party, the whole day looks like an utter blast! "The one thing that we dislike about weddings is how they are all alike" they told me. "We understand its tradition and that's how its supposed to be done, but why? why is there a set pattern?  We wanted our wedding to be personal to us. We wanted to start our own traditions and do things unique to our style. The theme of our wedding was basically "Things We Love" and  it ended up being the perfect reflection of us. We did whatever we wanted and nixed things we disliked. we strived to make it intimate and personal. Our wedding was hands down the best day of our lives, we had everything we loved, surrounded by everyone we love and made sure to marry the heck outta the one we loved!"
The wedding too place at The Allan House. They had a short and sweet ceremony outside which was full of touching moments. The groom's grandfather was a groomsman! He really relieved the tension during the ceremony when he whistled at the bride as she walked down the aisle…what a lovely idea to involve such a special member of the family in the wedding in this way.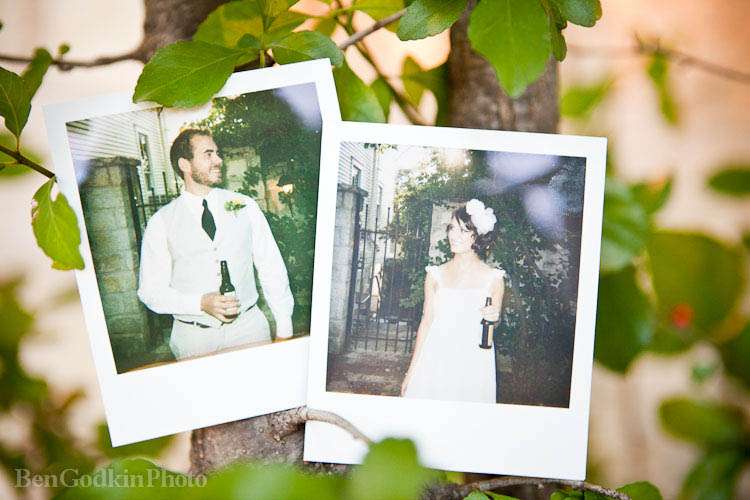 The gorgeous details ranged from bright sunflowers to popcorn favours, jam jar centrepieces and a polaroid guestbook station. The bride wore a Christos Bridal dress andAnthropologie and her bridesmaids looks radiant in their sunny Linda Asaf Design dresses. The boys all wore suits from J Crew.
Then came the madness! As you can see from the photographs, their evening reception was an all-out party fest!  Radiostar kicked off the night with a Metallica cover song, Nothing Else Matters for the Bride & Groom's first dance which pretty much set the tone for the whole night. The couple finished the night by being whisked away on a Pedicab. I love it!
Credit: Godkin Photo
Bride's Dress: Christos Bridal
Bride's Shoes:  Anthropologie
Hair: Rachel McDaniel of Topaz Salon
Make-up: Kathy Miller of Vitali Salon
Groom's and Groomsmen attire:  J Crew
Bridesmaid Dresses: Linda Asaf Design
Bride's Jewellery: "it was my something borrowed"
Band: Radiostar
Flowers: Donna Foster from Central Market
Mini Tartletts: Stardust Pastry
Catering: Royal Fig CateringCoordinator: Cortney at BZ Events 
Venue: The Allan House
Escape Plan: Roadkill Pedicab Co.