So I was going to blog this next week but I literally can't wait. I saw Annette & Brian's totally gorgeous wedding on my friend Micheal Antonia's (aka the dj extroidinate behind The Flashdance) blog and like the lightning bolt that I am (when I come across something that's as awesome as this) I was straight in there with my request to feature it. So, alongside Micheal, the photographers Our Labor of Love and Annette & Brian themselves, I am more than ecstatic to share this way-too-rad wedding with you today.
"We really just wanted to make the wedding feel like us – yet still stick to the traditions that are so important to our families" the newlyweds told me. " We really wanted a vintage and homemade, crafty feel to the wedding.  Crafting is a big part of our lives and we have our own crafting blog called Daily-Craft, so it was really important for us to make things.  Annette screen printed all the wedding invitations, while Brian lined each envelope with vintage sheet music. Annette is an avid quilter, so she put together a "sign our quilt" area, instead of the traditional guestbook.  Because of her librarian roots, we used tons of books for decor and a vintage card catalog for table setting cards.  Annette "cataloged" each guest to their assigned seat.  Music is really important to Brian (he's in about 5 bands now?) and Annette (a Music Librarian, to be exact), so we used lots of vintage sheet music in the details of our wedding.  Besides using sheet music to line each envelope of our invitations, Brian also created all of our table number signs using a little construction paper and sheet music.  Brian also got to play dj during the cocktail hour, putting together a very special mix of music for our guests to enjoy as they sipped on cocktails and ate h'orderves.  Going back to the Armenian roots, cooking is very important in Annette's family, so we decided to make homemade jam for each of our guests as favors.  Annette screen printed little tops with our silhouettes, making them a tiny bit more special.  Even though we had lots of little details in our wedding, we made sure to let go on our wedding day and just have fun… it was perfect!"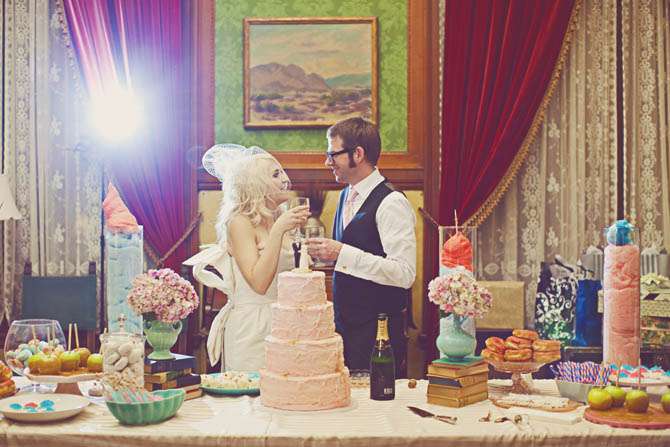 Wow so cool…I just LOVE sharing weddings like this! The bows, the pink, the Rock n Roll but oh-so-girly details. I get such a buzz out of it and I hope you all do by seeing it.  Be sure to check out the complete list of all their amazing wedding vendors after the 'jump'…oh and go check out their engagement session by the amazing Max Wanger. I have literally no words.
If you want to learn even more about this awesome wedding, then keep an eye on Daily-Craft as over the next few weeks the couple will be posting all about their wedding craft projects!
Huge thanks to Micheal, Annette & Brian for working with me on this feature.
Credit: Our Labor of Love
Ceremony Venue: Holy Family Catholic Church, South Pasadena CA
Reception Venue: Castle Green, Pasadena CA
DJ: The Flashdance
Flowers: Z's Garden, Glendale
Cake: Sweet & Saucy Shop, Long Beach CA
Favors: Homemade Jam, by the bride and her mom
Bride's dress: Bride's drawing and design, constructed by Mina Design and Tailoring
Bride's shoes: Paris Hilton
Bride's veils: black poufy veil from Fascinating Creations /Front sparkly veil from YJ Design 
Engagement Ring: Antique, circa 1895-1897, sized by Vazgen Mkhitarian, Downtown LA
Wedding Band: Custom made ring by Albert Mkhitarian, Downtown LA
Bridesmaid dresses: Betsey Johnson
Groom's outfits: Alfani Red Collection
Hair: Crystal Banzuelo from Unity Salon, Fullerton
Makeup: Image by Lisa
Wedding coordinator/planner: Veronika Pedrosian, Completely Couture